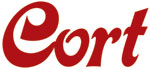 SEOUL, SOUTH KOREA — Cort expands its Core Series of acoustic-electric guitars with the introduction of three new models: the Core GA-Blackwood, Core-DC Mahogany, and Core-PE Mahogany. While the GA-Blackwood represents a newly added Grand Auditorium body style in the series, the Dreadnought Cutaway Mahogany and Parlor Mahogany are strong builds offering popular body shapes. Suitable for any playing style, these three all-solid guitars are made with the same discipline, focus, and many of the same features that have made the Core Series one of Cort's most popular and award winning acoustic collections.
Introduced in 2020, the Core Series of guitars was designed to remind players of what truly makes acoustic guitars great: simple elegance balanced by excellent playability and natural acoustic tones. Known as the 'Core Essential,' Cort's all-solid design sheds away non-essential, flashy features, forming the foundation of these three new models. In this series, Cort proves that what's "tried-and-true" can also be innovative. The Core GA-Blackwood is a series-first Grand Auditorium, with a body ideally sized between the large Dreadnought and more intimate Grand Concert. With its 25.3-inch neck scale, the GA is great for both strumming/flatpicking and fingerstyle playing.
The PE-Mahogany is a standout of its own, with its historically accurate and aesthetically appealing shape. Based on the revered vintage parlor body guitars from the 1930s, the 14th fret neck-body joint with 24.75-inch neck scale not only imparts a vintage look and feel, but produces a prominent low-end and surprisingly loud volume for a guitar of its compact size.
Not to be outdone, the DC-Mahogany's body delivers big volume with clarity, powerful low-end, rich midrange, and lush highs. The smooth cutaway allows easy and comfortable access to the high frets.
A high-quality selection of tonewoods forms the core of this series. The Core GA-Blackwood offers sonic characteristics that represent an ideal blend of several tonewoods, as blackwood delivers the rich low-end of mahogany, the brightness of maple, and the ethereal overtones of rosewood. Its dense characteristics result in both responsive clarity and power.
Another acoustic favorite forms the foundation of the DC-Mahogany and PE-Mahogany. The mahogany back and sides sound darker than spruce, producing a warmer tone and a full, rich midrange. Underneath the surface, Cort's hand-scalloped x-bracing lightens the load and frees up added top vibration. From the outside, the Open Pore finish not only enhances the resonance of the tonewoods but further reduces the weight of the guitar for improved playability. Each model is finished with black binding for a splash of sophistication.
Keeping with the theme of simplicity, Cort has selected a Fishman® Sonitone EQ system that's installed internally without cutting out any of the woods. The system retains all the natural resonance and pure acoustic sound that other systems aren't capable of. The controls are also simple and intuitive, with just Volume and Tone.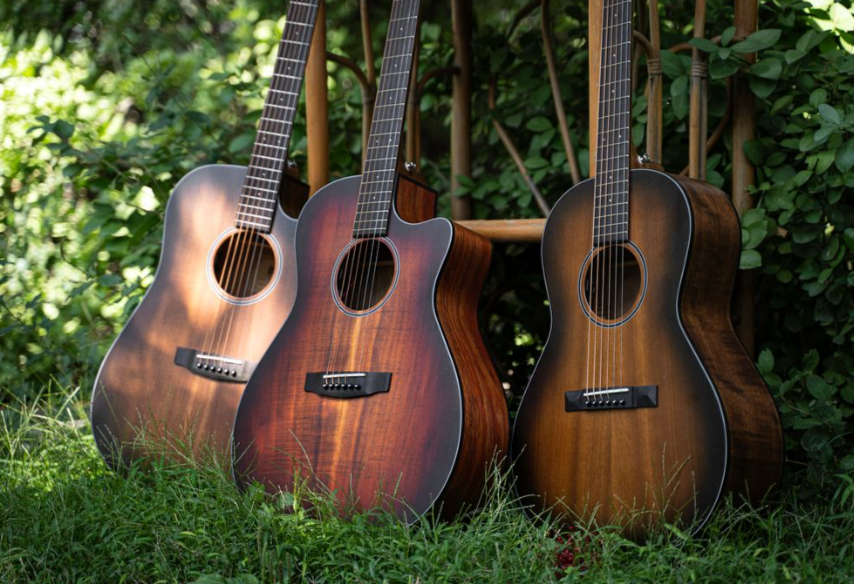 The three new Core Series models feature an ovangkol fretboard and mahogany neck, a combination that produces a warm mixture of balanced tone and deep sustain. Additionally, all three guitars have 20 frets with white dot inlays, an ABS black rosette, and an ovangkol bridge. On the PE-Mahogany, a historically accurate feature appears in a unique 'pyramid' bridge, which resembles narrow-type wooden bridges that were used in the vintage guitars from the 1930s. To top off the classic look of this model, Cort adds vintage open gear tuners with ivoroid knobs.
On each Core Series model, Cort has upgraded the nut and saddle to genuine water buffalo bone for the most natural and transparent transfer of string vibrational energy into the body and neck. This quality is further enhanced by the dovetail neck joint. Both the PE-Mahogany and GA-Blackwood offer a wider 1 3/4-inch (45 mm) nut width, while the DC-Mahogany offers a 1 11/16-inch (43 mm) nut width.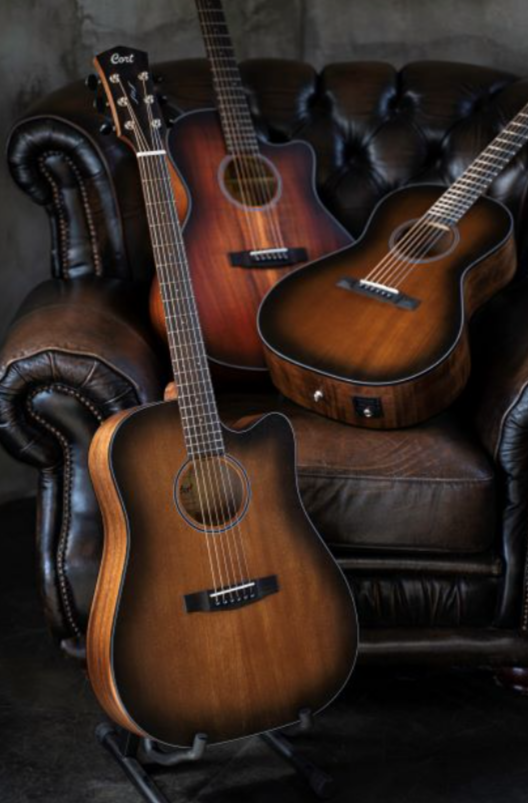 To protect these fine instruments, Cort includes a deluxe soft-side case that combines the best attributes of a hard case with the flexibility of a padded gig bag.
With the Core Series, Cort proves that simple can be elegant, and uninhibited can be all-solid. Players are invited to unleash their natural creativity with the Core Series GA-Blackwood, DC-Mahogany, and PE-Mahogany.
Core-DC Mahogany w/case: MSRP: US$899.99 / MAP: US$629.99
Core-GA Blackwood w/case: MSRP: US$999.99 / MAP: US$699.99
Core-PE Mahogany w/case: MSRP: US$999.99 / MAP: US$699.99
Get a closer look and watch a demo at www.cortguitars.com.