The market for synth plug-ins is, to say the least, saturated. So much so, it has become quite a challenge to stand out, especially when the goal is to create an original synth, and not simply a recreation of a famous classic synth.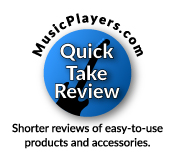 We weren't familiar with Vengeance Sound, so when we were asked to check out their VPS Avenger soft-synth, it was with a definite air of skepticism. But man, are we glad we did! Within an hour of one of our editors exploring this synth, he was already spreading the word to other members of our team. In a word: Hot!. This is a great sounding and musically inspiring, modern synthesizer.
Category

Value

Rating

Features

20%

Usability

25%

Sound

25%

Documentation & Support

10%

Price

20%

OVERALL RATING = 3.7 Stars, which earns it a
WIHO Award!


3.6 stars or better: Outstanding, WIHO Award




3 stars or better: Worth considering




2 stars or better: Suited to specific needs




1 star or less: Not recommended
VPS stands for Vengeance Producer Suite. There's a lot of power and functionality here, all in a single plug-in. To generally sum up, Avenger brings together analog, sample-based, and wavetable synthesis, by incorporating almost 600 wavetables, thousands of waveforms, hundreds of samples, powerful routing, sample import functionality, 47 filter types, drag-and-drop modulation, a re-sizable GUI, multiple arpeggiators and step sequencers, sixteen sub-outs, and over 900 presets. A more specific list of some of the features includes:
Up to eight oscillator modules, and each oscillator can have its own synthesis model
Oscillator models include classic VA synthesis, Freeform (draw your own oscillator shape), Shape (import any one-cycle waveform sample into an oscillator shape), Wavetable synthesis, Multisample/Resample, FM synthesis, Granular synthesis, Feedback synthesis, Drumkits (real drum kits!), and Live Loop Guitar Player Module
Up to eight arpeggiators
Up to eight step sequencer modules
Up to eight modulation envelope modules
Up to eight pitch envelope modules
Up to four AMP modules, with each have its own analog AHDSR envelope
Four Shaper modules
Four LFO modules
Drum Sequencer
Ability to choose the order of the modules
"ModMatrix" system allows you to drag a source to any target on screen
Six routable effects buses (and 30 effect types)
Wavetable Envelope Editor (596 wavetables)
930 factory presets (5GB file to download)
Dedicated Undo button for one-click reversal of edits
The Macintosh and Windows software includes support for VST2, VST3, AU and AAX formats. Installation (via a serial code authorization online) was easy, with just a few extra downloads for additional content to load into the core soft-synth.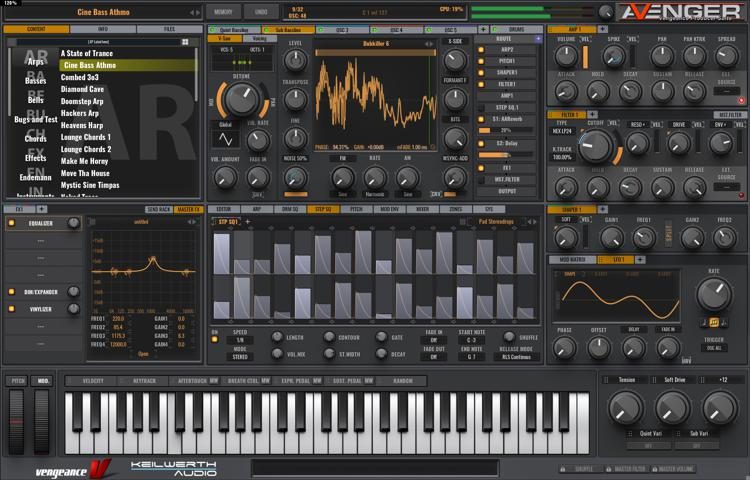 There's a lot going on in the interface, but fortunately there's a button in the top left that enables you to resize the GUI if you need to see something more clearly. The screen is divided into logical, functional areas. To the left are the file browser and effects sections; in the middle are the Oscillator section and its various editors, sequencers and modulation controls; and to the right are the Filter, Amp and Shaper sections, as well as the Modulation Matrix. At the very bottom are the virtual keyboard and wavetable view, as well as five assignable Macro knobs and buttons.
Since this is a QuickTake look, some details are beyond the scope of this review, but clicking a waveform shows its sample and editing controls in the main editor window. Each module seemed to work in a similar fashion: click on something, and you are instantly presented with choices. This provided a very quick "instant gratification" effect of seeing and hearing what something does. Players who enjoy sound design will love Avenger! While synthesis knowledge will certainly help you get the most out of Avenger, most things were straight forward. For example, the arpeggiator window looks as so: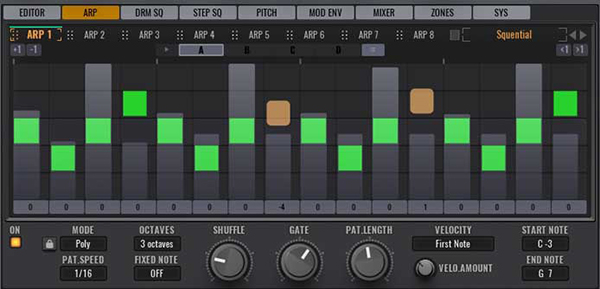 As you can see at the top, you can create and save eight different arpeggios in one preset. Between these and all the oscillator and routing options, combined with Macros and MIDI learn, you could create a whole ensemble in one preset, similar to many of today's hardware synths and workstations.
For those who play more than tinker, we must say the presets are great. Make no mistake, while the acoustic instruments are decent, and some unique, the pianos probably won't replace your dedicated piano plug-in. Avenger's strength is clearly the synth sounds with an ear towards dance/trance/electronic music. These sounds are different than what you have heard elsewhere, both in sonic tone and their pulsating rhythms. Avenger sounded so good that while exploring the collection of presets for this review, we kept getting sidetracked by our own musical ideas that these sounds were inspiring. That, indeed, is the highest praise we can give an instrument.
While we didn't spend a great deal of time on this (YET!), we were impressed by the drum editor section. This is surprisingly robust and looks as follows: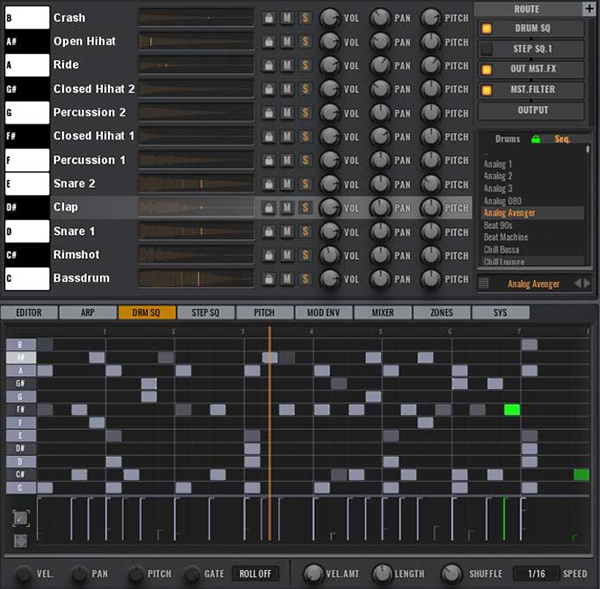 There are ready-made loops available, but you can edit them or create rhythms from scratch. This could be a dedicated plug-in all on its own, but happily, it's just another module in Avenger. Impressive!
The effects are quite good, and some were developed by ArtsAcoustic, including a number of vintage-sounding effects. Modern effects like bit-crusher are useful for sound design. The effects window looks like so: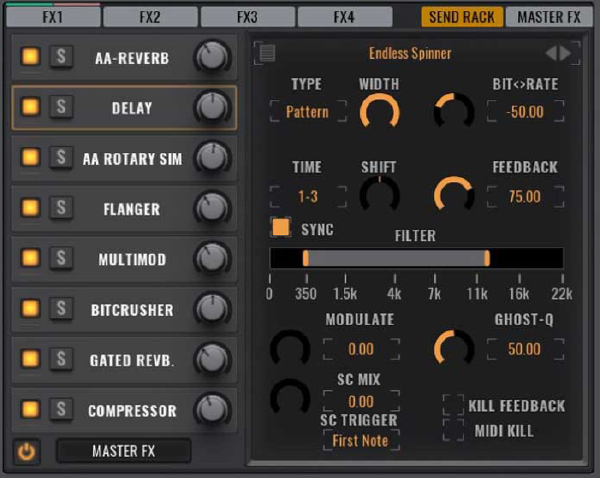 Overall, we were very impressed by VPS Avenger. It sounds amazing, and the sonic possibilities are limited only by your imagination. If you're a synthesis newbie, this might not be the easiest place to start in terms of learning and understanding synth programming, but if you've got some experience under your belt, Avenger is a treat that you won't quickly outgrow. And, the presets alone will have you creating inspiring music right off the bat. This is a worthy sonic addition to any MIDI studio.
In the USA, VPS Avenger is available exclusively from Sweetwater.com.
Contact Information
Vengeance Sound
www.vengence-sound.com