A Night Dedicated to Music and Arts Education Celebrating Moby
Adopt the Arts' 7th Annual Benefit Gala held at The Wiltern Theatre in Los Angeles on March 7, 2019 proved another entertaining and moving experience for all in attendance.

In collaboration with well-known artists, entrepreneurs, policy makers and the general public, Adopt the Arts is dedicated to improving the academic performance of every child through the gift of making music and art.
Adopt The Arts is focused on developing strategic relationships with educators, administrators and board members to ensure that most underserved schools in the district are identified and ultimately, helped. Co-founders Abby Berman and Matt Sorum believe that it is morally and ethically incumbent upon the public-at-large to foster the creativity, hopes, dreams and imaginations of our children.
"I'm one of the lucky ones that was able to have three classes a day in high school that were music related. In those days electives were a choice that included arts and music," Sorum told Forbes last week.
"I never gravitated to academics and would have found myself very lost without the arts. I've used everything I learned at that age in my everyday life moving forward and truly believe kids need a well-rounded curriculum to survive in a modern world. This is where they learn about creativity and innovation. I know I did," Sorum continued.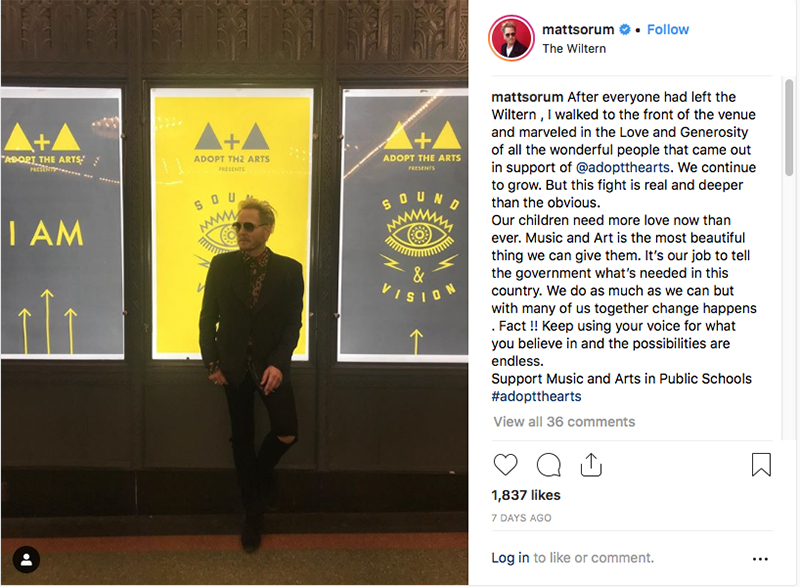 The night opened with hosts Jane Lynch and Mayim Bialik, who spoke about the importance of arts education.
"My favorite hour of every day when I was in high school was the hour I spent singing in the choir. Most of my friends were people I met in choir and in my theater arts/acting class. The highlight of every year was the school play, whether I had a role in it or not. I would do anything to be a part of it. Props, costumes etc. Anything. I loved being a part of the team. I still do," Lynch told Forbes.
Guests were delighted by an electrifying performance by British singer-songwriter Kate Nash. Nash dazzled in a sequined dress and gave a riveting performance of "Trash," followed by her smash hit "Merry Happy."
The Crystal Method then took the stage and got everyone out of their seats with a DJ set that featured a special, harmonica performance by Franky Perez (Scars on Broadway, Apocolyptica, Deadland Ritual).
Finally, Moby, recognized worldwide for his fusion of rapid disco beats, heavy distorted guitars, punk rhythms and detailed production, took the stage receiving the Adopt the Arts Sound and Vision Award for his contribution to the music and arts industry. Moby shared a heartfelt message about the importance of arts education and frankly addressed the irony of LA's public arts education being continuously underfunded, while the economy of Los Angeles is mainly supported by creatives.
Moby went on to share how proud he was to be a part of a community of artists and activists championing arts education. The highlight of the night was when Moby performed his greatest hits, backed by a local children's choir benefitted by Adopt the Arts.
"Arts education (gives) children an invaluable outlet, and enables them to make sense of their feelings and the world around them. Arts education promotes neurogenesis and actually can increase IQ and test scores," Moby told Forbes.
"I think people believe this is important but the folks that decide where school taxes go miss the point. We're not trying to create the next rock stars. We have students that could be the next Steve Jobs," adds Sorum.
Adopt the Arts' 7th Annual Benefit Gala raised thousands of dollars to benefit arts education.
"After everyone had left the Wiltern , I walked to the front of the venue and marveled in the Love and Generosity of all the wonderful people that came out in support of (Adopt The Arts). We continue to grow. But this fight is real and deeper than the obvious," Sorum went on to say of the event via Instagram.
"Our children need more love now than ever. Music and Art is the most beautiful thing we can give them. It's our job to tell the government what's needed in this country. We do as much as we can but with many of us together change happens."
To date, Adopt The Arts has donated more than 1000 instruments to 30 LAUSD schools and has fully funded the music program at two area Elementary Schools. Each school has been "adopted" by a celebrity or public figure, exposing children to inspirational people who have worked hard for their successes.
For more information about Adopt The Arts or to make a contribution to help advance the cause of arts education in schools, visit www.adoptthearts.org.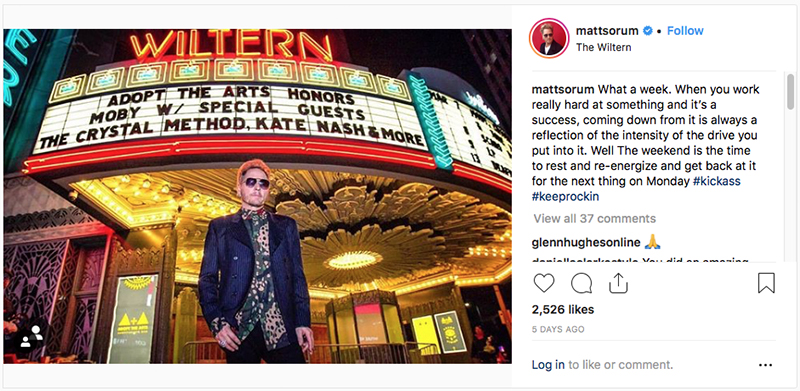 Feature Photo: Jennifer L. Pricci