(CORAL GABLES – May 9, 2019) The Frost School of Music (FSOM) at the University of Miami is pleased to announce it will host the 2019 Guitar Foundation of America's (GFA) International Convention and Competition from June 17 through June 22, 2019. This annual event brings together approximately 600 classical guitar masters and enthusiasts from all over the world, including some of the most elite performers of classical guitar. The 2019 GFA International Convention and Competition will be co-hosted by Dr. Federico Musgrove Stetson (B.M. '07 D.M.A. '17) founding member, President and Executive Director of the Florida Guitar Foundation and adjunct faculty member at the FSOM. He is joined by Rafael Padron, Assistant Professor of Practice and Program Director of Classical Guitar at the Frost School of Music.
The six-day convention includes three concerts per day, a wide array of lectures, hands-on workshops, masterclasses and private lessons, a comprehensive vendor exposition and luthier showcase, Hall of Fame awards ceremony, and two guitar orchestras, open to all attendees. The GFA Convention is also home to three divisions of prestigious classical guitar competitions. The winner of the GFA International Concert Artist Competition is awarded an extensive international tour, along with a cash prize, recording contract, and publishing contract. The International Youth Competition (IYC) has both senior and junior divisions that offer young players the opportunity to perform for an elite panel of judges as well as the large GFA audience. Winners of the IYC receive cash awards and generous prizes from our sponsors. The 2019 Convention will also feature the third annual International Ensemble Competition (IEC), with divisions for youth and adults in small and large ensembles.


In commenting Dr. Federico Musgrove Stetson and Rafael Padron jointly stated: "We are excited to host this years' GFA International Convention at the Frost School of Music in Miami. We look forward to welcoming guitar enthusiasts from all over the world to experience our beautiful campus and facilities and the vibrant musical destination of the great city of Miami."
The 2019 GFA Convention will also incorporate GFA's new Guitar Summit youth camp, a six-day sleepaway camp for students ages 11-18. Guitar Summit students will have the opportunity to attend convention events while also participating in special workshops, performances and fun activities with convention artists and special guests.
The Guitar Foundation of America (GFA) is the world's leading classical guitar organization, promoting excellence in performance, literature, research, and education of the classical guitar. For complete details on the event visit the GFA website at www.guitarfoundation.org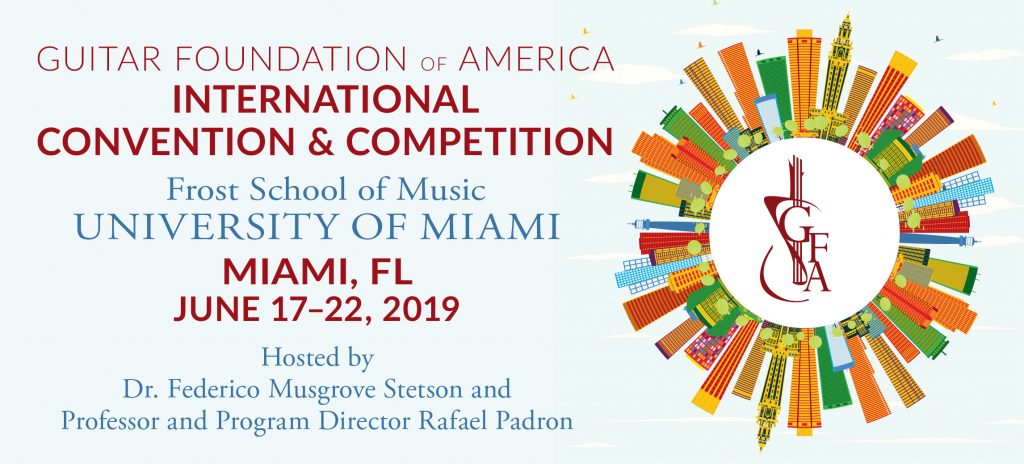 About Frost School of Music
The Phillip and Patricia Frost School of Music is one of the largest and best music schools located in a private university in the U.S., and one of the most comprehensive and relevant in all of higher education. With over 700 students and 100 faculty members it is a top choice for instrumental, keyboard and vocal performance as well as composition, music business, music education, music engineering technology, music therapy, songwriting, jazz, studio music, and more. It is one of two schools created in 1926 when the University of Miami was founded. The naming gift from Dr. Phillip and Patricia Frost in 2003 was a historic occasion. The Frost School of Music seeks to transform lives through the study and performance of music, and to enhance music's future as the result of the most innovative and relevant curricula in higher education. The Frost School of Music is devoted to excellence and a culture of collegiality, in which a diversity of people, musical styles, and careers are valued. The Frost School of Music is a community of musicians committed to advanced musicianship for all Frost students across a broad array of majors and programs. The Frost School of Music seeks to elevate the community through intensive, sustained outreach to underserved populations. The Frost School of music strives to enhance the cultural richness of the University of Miami, South Florida and throughout the world as the result of world class performance, scholarship and research. For further information, visit: www.frost.miami.edu