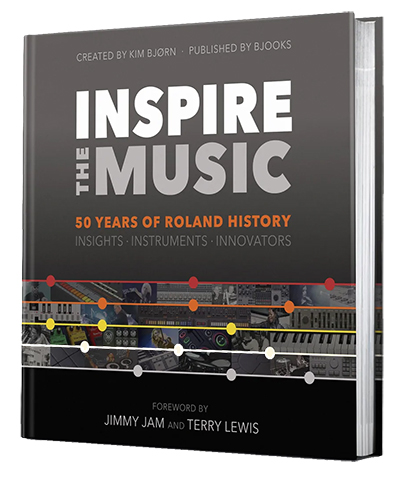 We loved Synth Gems 1 from BJOOKS, which is a beautiful coffee table book that takes a wonderful look at a wide range of historic keyboards and synths, so it was with great enthusiasm that we received Inspire the Music: 50 Years of Roland History, by Kim Bjorn. Given that Roland is celebrating 50 years of existence this year, it is not entirely surprising that some type of Roland commemorative book was written. Having the fantastic publishers at BJOOKS produce such a tome was merely icing on top of the cake. What was surprising to this editor, however, is how much more than just a colorful coffee table book, Inspire the Music, actually is.
The nearly 400-page book is divided into sections: Groove, Drums, Guitar, Keys, Synth, Studio, and History (of the company itself).  Each section is then divided into multiple chapters, which generally go in chronological order of the first instrument in that genre, and moving through time with each new historical gear addition, arriving to present day.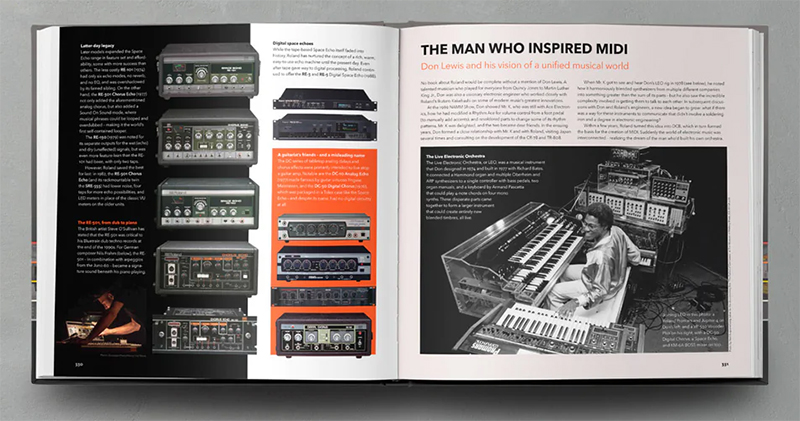 While there are many fantastic photos of Roland gear throughout the book, there's a lot of great stuff you'll discover if you actually READ it! There are explanations of not only how an individual instrument worked, but also what its significance to music making in general was. Many of Roland's instruments were trendsetters in various ways and across various genres of music, and that is all captured here. Some of us at MusicPlayers.com are old enough to know when these instruments were new and all of these things were happening (yes, this editor bought his Roland Juno-106 new in early 1986), but both older and younger musicians will enjoy reading about the impact and evolution of both Roland instruments and music in general.
Another great feature throughout the book are the various interviews. There are over 90 interviews with artists, DJs and producers including: Thomas Dolby, Jimmy Jam & Terry Lewis, Ali Stone, Omar Hakim, Sister Bliss, Howard Jones, Orbital, Richie Hawtin, Peaches, Culture Club producer Steve Levine, Guy Fletcher of Dire Straits, Clive Deamer of Radiohead, Ginger Shankar, Swizz Beatz, Rachel Z, Nick Rhodes and Roger Taylor of Duran Duran, Nita Strauss, DJ Jazzy Jeff, Steve Stevens, Johnny Marr of The Smiths, Buffy Sainte- Marie, electronic music pioneer Jean-Michel Jarre, Yana Reznik, Jeff "Skunk" Baxter of the Doobie Brothers, Rance Dopson, Bonnie McIntosh, Egyptian Lover and quite a few others.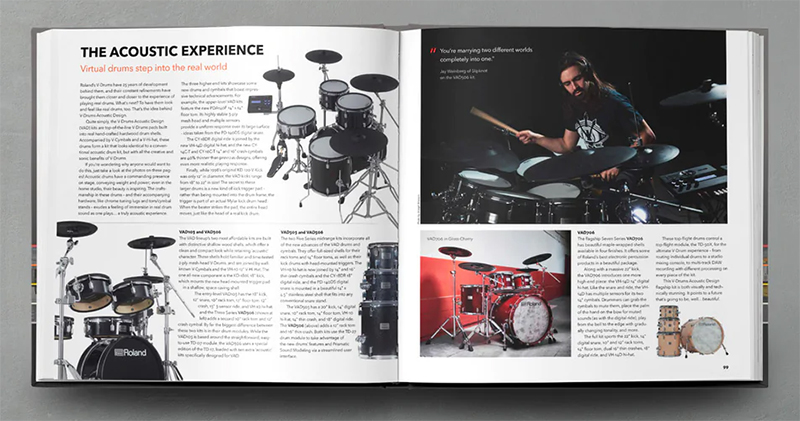 One final aspect we especially enjoyed was the interspersed tidbits of "How did they do that?" For example, did you know that Phil Collins' "In the Air Tonight" drum beat (prior to the famous drum fill) was a Roland CR-78, set to preset Disco 2A, very slowed down, with gated reverb and compression? We didn't either! There's quite a bit of "who was using what" as you go through the book, and that was cool to read about.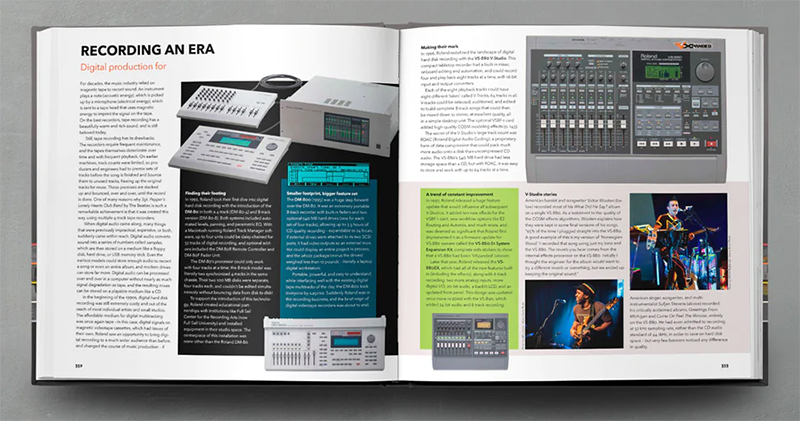 All in all, this is a wonderful encapsulation of Roland's first fifty years. Even better, it's not just glorifying Roland products, but it puts them into context with specific artists and their impact on music in general. Whether you play Roland and BOSS gear or just love music in general, you should find plenty of interesting and entertaining information on tap within these pages. And it makes an excellent holiday gift, too!
Contact Information
BJOOOKS
https://www.bjooks.com