Ibanez has a long tradition of building guitars that deliver outstanding performance and value, checking many feature boxes while simultaneously not breaking the bank. The Ibanez EHB1505MS Bass not only meets those expectations but shatters them. This is the first multi-scale bass that we have formally reviewed, and we were all very impressed with the sound and playability of this bass.
The Ibanez EHB1505MS makes a great choice for a multi-scale bass that not only sounds, looks, and plays great but also that does not cut corners to meet its price point. The EHB1505MS shares its DNA with a few other headless four, five and six string siblings in the Ibanez lineup, but this model delivers everything we could ask for in a modern instrument.
Category

Value

Rating

Features

20%

Usability

25%

Sound

25%

Documentation & Support

10%

Price

20%

OVERALL RATING = 3.7 Stars,
which earns it a WIHO Award!


3.6 stars or better: Outstanding, WIHO Award




3 stars or better: Worth considering




2 stars or better: Suited to specific needs




1 star or less: Not recommended
To anyone on the fence or intimidated by the thought of a multi-scale bass, the Ibanez EHB1505MS is highly worthy of consideration due to its surprisingly easy-to-adapt playability, construction, price, and—most importantly—tone!
Features
The Ibanez EHB1505MS arrived in a nicely padded gig bag. We were immediately impressed by the striking good looks of the Pacific Blue Burst Flat, poplar burled top, and then subsequently with the weight, balance, and apparent build quality.  The chambered body was evident from the moment we grabbed the bass due to its ultra-light weight. The finish on this bass is a smooth, glossless satin with some distressed sections on the front and back, with a blue tinted and pitted Poplar burl wood top. In short, it's gorgeous!
Many players might be intimidated by the multi-scale, 24-fret neck due to the angled fret appearance. You may have heard some players refer to these types of necks as having "fanned frets" but while that describes the aesthetics, it doesn't describe the functionality. A multi-scale design has different scale lengths from string to string in order to provide better intonation, string tension, comfort, and playability.

The multi-scale design concept goes back to an early 1900's patent, but was popularized in recent years by boutique instrument builder, Dingwall. Compared to most Dingwall basses, though, the Ibanez EHB1505MS bass is easier for most players to adapt to since the scale length is only 35" to 33" from B to G. A typical Dingwall neck runs from 37" to 34" making for an extremely long reach on the low B string. (For additional reference, a typical Jazz bass has a 34" scale length.)
The gorgeous nine-piece Panga Panga/Walnut, graphite-reinforced neck has a 19.7" radius with 24 medium, stainless-steel frets and a Panga Panga wood fretboard. The fretboard features off-set Abalone dot inlays and luminescent side dots, and the extended body cutaway at the lower horn provides easy access to all 24 frets. The width at the nut and 24th fret are 1.77" and 2.91" respectively.
The active electronics include a master volume and blend control for a pair of Nordstrand Big Split hum-canceling pickups at the neck and bridge positions. The EQ is of the three-band variety which includes bass and treble controls at +/-18db with a preamp bypass toggle switch and a variable stacked midrange control at +/-15db. Variable midrange controls are very useful when dealing with tricky room acoustics. Also, to note, the treble pot is also a passive tone pot when the toggle switch bypasses the preamp. The system requires just one 9-volt battery to operate.
The bridge is extremely well thought out and features five separate saddles with adjustments for string spacing, action, and intonation. The width of the string spacing is set to 18mm but is slightly adjustable in either direction. A beautiful, machined piece of art, we must say.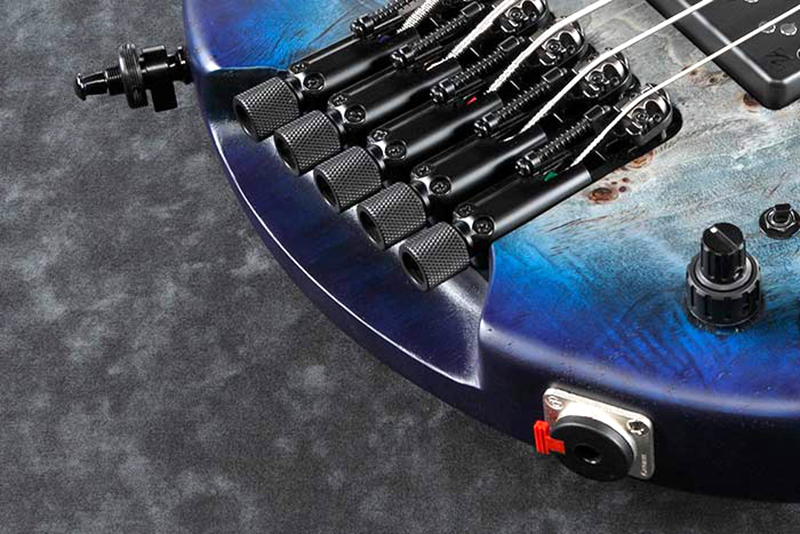 The tuners for this headless instrument are located at the bridge making quick tuning adjustments a bit tricky. The ratio of the tuning gears is such that you must turn the knob a lot to make even a subtle tuning adjustment.
The EHB1505MS bass includes a few extras including Schaller S-Locks strap locks (the new/improved design), Allen wrenches, a finger ramp, and manual.  For those not familiar with a finger ramp, this piece of wood is placed between the neck and bridge pickups and is kept in place by the included sticky tape on the back side of the wood. Many players like anchoring their hand above the pick guard as it provides for more consistent playing. The ramp provides a similar experience for guitars lacking a pick guard.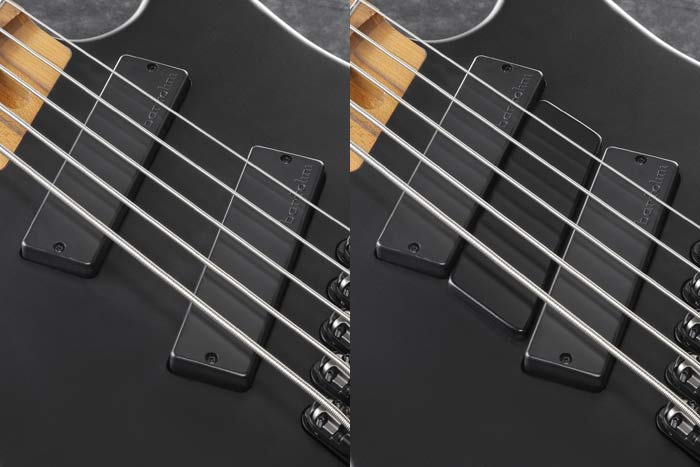 Usability
The first question on every players' mind is undoubtedly, how does it feel to play a multi-scale bass? This is quickly followed up with, is it difficult to play? In short, it feels mostly the same, and perhaps better, than your standard bass. While looking at the fretboard with its angled fretwork, we at first feel like things looked slightly "off," but running scales up and down the neck for a few minutes, we quickly adapted to the angled frets. In very little time, we were surprised how quickly our fingers adapted to a multi-scale neck. Before we knew it we were playing without really thinking much about the multiscale design at all. The frets have less of an angle than what you'll find on a Dingwall bass (we have those in our studio), and by comparison, the Ibanez bass is much easier to adapt to than the Dingwall with its increased angle and extended scale length.
One thing to note due to the multi-scale length, the G string is very taught and that may take a bit to adjust to. Perhaps, using a slightly lighter gauge on the G string could help with this.
The action needed only minor tweaking after shipping to us, but once adjusted we could not stop playing this bass! The bass balanced well on our lap and since there is no headstock, neck dive is a non-issue. Bassists who tend to opt for upgrading components on their basses will find themselves with extra cash in their pockets as we simply could not find any reason to modify anything on this bass.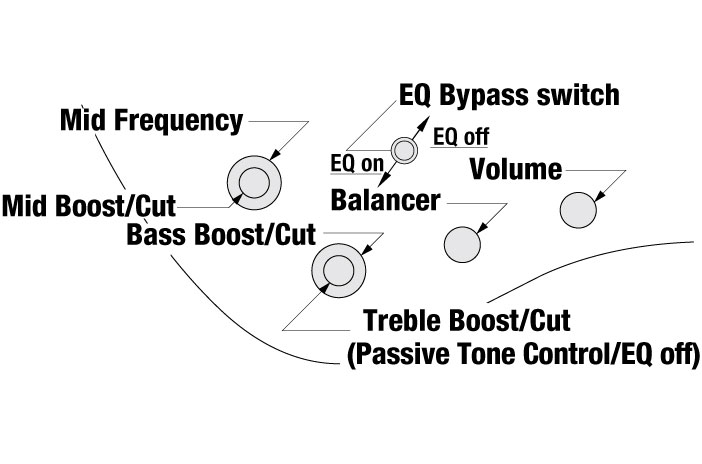 With the action set low we were able to reach every note on all 24 frets on all five strings. Except for the A string around the 14th fret all notes rang clearly with very little to no fret noise. The remedy for the A string was just to raise the action slightly and fret noise was gone. But even with the action set low, the fret noise was pretty negligible overall and allowed this bass to be a very good choice for many advanced playing styles.
String spacing was set to a comfortable 18mm which allowed for comfortable slapping and popping. The unique body shape has a slanted African Mahogany back which conformed nicely to our body. As for the control layout, if you are a player who moves around a lot and are prone to accidental knob hits you might appreciate the placement of the controls which were towards the lower bout of the bass and slightly better out of harm's way.
The ¼ inch jack (photo above) is a high-quality Neutrik connector which you rarely see in basses at this price level. Your cord will break before you accidently pull the cable out of this instrument!
String changing took a little getting used too. You need to use an (included) Allen wrench to loosen the string lock at the headstock to remove the strings. And, we had to be careful to cut the strings to the right length in order to avoid having a gnarly looking headstock.
Once again, Ibanez has delivered a killer bass that defies all expectations.
Sound
Of all the five-string basses that we have played (including many boutique instruments), the Ibanez EHB1505MS bass has the most focused B string of them all. We played thru a variety of bass amps and recording interfaces. As for bass amps we used a Phil Jones Micro 7, Phil Jones DB400 with C4 extension cab, Eden WTX1000N with Aguilar 1x12 cabs, and a EBS HD360 rig. As for direct recording interfaces we used a Noble, REDDI, Avalon U5 and V5, Sonic Farm 2di4, Teegarden Audio Fatboy, Chandler LTD1 and a Brent Avril 1028.
In every scenario the Nordstrand Big Split hum canceling pickups and the active EQ system yielded highly focused and bold tones—especially on the lower strings. The recipe for this bass is a very good one, tonally. For players who like that burpy, mid-forward sound ala Jaco, this bass has that sound even more so than Jazz basses we have typically gravitated towards for this kind of tone. Some basses are one-trick ponies, but the EQ system is very versatile on this bass. We were able to add a lot of girth to the bass tone while still maintaining forward mids without the bass getting muddy or messy sounding. Backing off on the mids and moving to the neck pickup gave us a deeper, throatier sound hinting at a P-bass-ish type of tone.
Documentation and Product Support
The Ibanez EHB1505MS includes a familiar Ibanez care manual plus tools for basic maintenance. There is plenty of information related to the EHB1505MS on the Ibanez website.
Price
The Ibanez Bass Workshop EHB1505MS (MSRP $2,342.21) sells for approximately $1,700, which is an amazing value for a bass of this build quality. Kudos to Ibanez for pulling this off. In comparison to other five-string basses, you would need to pay much more to reach this level of refinement and boutique-ness. The feel of this bass is certainly different from your classic models, however once you acclimate yourself to the multi-scale neck (a quick adjustment), you will be rewarded with great feel and some unique tones that complement your bass collection nicely.
Contact Information
Ibanez
www.ibanez.com