Focusrite has been making fantastic preamps for decades, and in the modern computer-based recording age, they've been building great audio interfaces as well.
In general, audio interfaces over the years have gotten better, and a big part of that reason is that the connecting protocols and standards have improved: from serial to USB to Firewire to USB 3 and now, to Thunderbolt. The Focusrite Clarett Pre8X is a Thunderbolt audio interface with impressive specs and a very attractive price, making it a great solution for any Mac-based studio in need of pro-quality inputs at project studio prices.
Category

Value

Rating

Features

20%

Usability

25%

Sound

25%

Documentation & Support

10%

Price

20%

Overall: 3.6 Stars, which earns it a WIHO Award!
3.6 stars or better: Outstanding, WIHO Award
3 stars or better: Worth considering
2 stars or better: Suited to specific needs
1 star or less: Not recommended
While more of an evolutionary product than a revolutionary one (i.e the changes are mostly about adding Thunderbolt support), if you're in the market for a quality Thunderbolt audio interface priced right for the project studio, you should definitely put this on your list to check out.
Features
The Clarett 8PreX is Focusrite's flagship Thunderbolt interface. Though their website says you need to supply your own Thunderbolt cable, ours came with a red one, to match the chassis of the Clarett. The 8PreX has eight analog inputs that can each accommodate mic– or line–level signals; the first two, located on the front panel, are strictly ¼ inch and provide instrument-level inputs for the direct connection of electric guitars or other instruments.
The inputs on the rear have both XLR and ¼ inch jack connectors on each channel. Each input has independent phantom power control, polarity reversal, and a high–pass filter. The rear panel has five pairs of line–level outputs on ¼ inch jacks as well as a pair of monitor outs, while there are two independent headphone outputs on the front of the unit.
The 8PreX also has two pairs of optical In and Out sockets supporting up to two, eight-channel audio transfers using the ADAT protocol, plus separate stereo, coaxial S/PDIF In and Out, MIDI In and Out, and BNC word clock input and output. At base sample rates this allows for up to twenty-six inputs and twenty-eight outputs, all of which are available simultaneously. To clarify further, each optical input/output can carry eight audio channels at 44.1/48 kHz sample rate, four at 88.2/96 kHz, or two at 176.4/192 kHz.
The 8PreX also allows you to switch the hardware input metering to show the banks of digital inputs instead of the analog ins. There is also a feature that allows you to make available the output from stand-alone programs (i.e., iTunes) as input for recording.
Going back to the front panel, a black rectangular area to the right has the main volume control, plus Mute and Dim buttons, and a very clear six-segment LED array that shows levels for the main output and each of the eight analog ins (switchable to digital ins, as previously mentioned). There are also Thunderbolt and MIDI LEDs to show all is well (or not) with your connection.
Of note, on each channel, there is an LED indicating the activity of the new Air feature, which is engaged via software on a per–channel basis. In place of Focusrite's Liquid Channel preamp modeling technology (found in their previous interfaces), this feature is based on the Air setting found in the Focusrite ISA430 MkII preamp. Air mode essentially changes the impedance and frequency response via an analog filter that occurs before the A-D conversion. It is interesting that this analog change can only be accessed via software, but regardless, we did like using it! (We will talk about this more later.)
While many of these features are not breathtakingly new, what is new are the specs. With supported sample rates of 44.1 kHz, 48 kHz, 88.2 kHz, 96 kHz, 176.4 kHz, and 192 kHz, check out these numbers from Focusrite:
Microphone Inputs
Frequency Response 20 Hz - 20 kHz +/-0.1 dB
Dynamic Range 118 dB (A-weighted)
THD+N 0.001%
Noise EIN –128 dBu (A-Weighted)
Maximum input level +18 dBu
Gain Range 57dB
Line Inputs
Frequency Response 20 Hz - 20 kHz +/-0.1 dB
Dynamic Range 116 dB (A-weighted)
THD+N 0.005%
Maximum input level +26dBu
Gain Range 57dB
Instrument Inputs
Frequency Response 20 Hz – 20 kHz ± 0.1 dB
Dynamic Range 111 dB (A-weighted)
THD+N 0.001%
Maximum input level +14dBu
Gain Range 57dB
Line & Monitor Outputs
Dynamic Range (Line Outputs) 119dB
Dynamic Range (Monitor Outputs) 117dB
Maximum Output Level (0 dBFS) +18 dBu
THD+N 0.0007%
These may be hard to decipher if you're not a trained audio engineer, but to put it in a perspective: these numbers, at this price, are generally superior to similarly-priced competing products and approach the specs of interfaces that cost significantly more. Put simply, the Clarett has very good specs.
Unlike some pricier products in the Focusrite lineup, connections to the line-level inputs do not bypass the onboard preamps entirely, which may be an issue for some purists who wish to connect outboard preamps to this recording interface. According to Focusrite's tech support staff, "The line input signal goes through the variable gain section of the preamp allowing the user to set the input level of their line level audio sources. However, the Clarett line inputs are designed and optimized for low noise and distortion and with Air mode disabled, will not color the signal."
Last, but certainly not least, is the fact that this interface uses Thunderbolt. This is a fast protocol (theoretical speeds up to 10Gb/s per channel), faster than USB 3 (5Gb/s)—which is ten times faster than USB 2, and certainly faster than Firewire 800 (800Mb/s). It reduces latency to the point where it isn't much of a factor anymore. This allows you to make practical use of buffer sizes as small as 32 within Pro Tools and allows you to create custom monitor setups (using the Focusrite Control software) without having to be concerned about latency and timing issues. In real life, that means you don't have to turn off plug-ins because your interface can't keep up, as was often the case in DAWs just a few years prior. As per Focusrite themselves:
Round Trip Latency (ms) tested at 96kHz on OS 10.10 and Mac Pro
| | | | |
| --- | --- | --- | --- |
| Buffer Size | Pro Tools 11 | Logic Pro X | Cubase 7 |
| 32 | n/a | 1.67 | 1.67 |
| 64 | 1.38 | 2.33 | 2.33 |
| 128 | 2.29 | 3.67 | 3.67 |
As you can see, a latency of 1.38ms is practically nothing, though admittedly these are numbers from Focusrite and the specs of their test Mac are unknown. Nevertheless, this is very low latency, which allows for monitoring setups not previously possible. The included Focusrite Control software is used for configuration and setting various options in the hardware (more on this in Usability).
Our only disappointment: no inclusion of a USB 3 or USB Type-C interface and Windows support. Thunderbolt exclusively makes this interface an Apple-specific affair for the most part, and it's such a nice piece of hardware that we wish everyone could make use of it.
The 8PreX includes some bundled plug-ins, too, including Softube's Time and Tone Pack, with TSAR-1R Reverb, Tube Delay, and Saturation Knob. Also included is the Focusrite Red 2 & Red 3 plug-in set, which models Focusrite's classic Red range equalizer and compressor hardware.
Usability
The included Focusrite Control software is a big part of the 8PreX's functionality. You need at least Mac OS X 10.9 to run it, so for those of you running 10.8.5 to maintain compatibility with older versions of Pro Tools, this may not be the best interface for your needs. We used a 2011 MacBook Pro running Mac OS X 10.11 and Pro Tools 12.3 for testing and had no issues. We downloaded and installed the latest version of the Focusrite Control software (version 1.0.5 at the time), which then automatically updated the interface's firmware the first time we ran it. After that, we were good to go. Our hardware was recognized, and we got the setup screen below:
Focusrite Control allows you to set up custom headphone mixes and control specific aspects of the session, such as routings to/from specific hardware inputs and outputs, session sample rate, creating custom mixing input/output templates (including naming inputs and outputs), and turn On/Off the AIR setting on the inputs. Thankfully, the PreX retains your settings without the Control software, allowing you to use it as a standalone interface as needed.
Using the 8PreX was quite easy. Note, however, the unit is not bus powered, so you do have to plug it into an outlet, as well as connect it to your computer via Thunderbolt. The software was simple and streamlined, and although very well laid out, a little splash of color would have been nice.
Typically, one compromise with compact audio interfaces is that the knobs are extremely close together. We're glad that Focusrite stuck the 8PreX into a 2U enclosure as it leaves more "wiggle room" to adjust levels without accidental bumps of adjacent knobs, but still, the gain controls aren't hefty enough for easy, on-the-fly adjustments while tracking vocals, as you might do with a dedicated preamp or vocal channel strip when you seek to avoid use of compression on the input chain.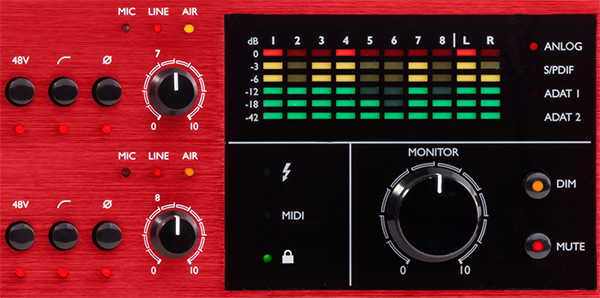 As for the rest of the interface… just hook up your cables, fire up your favorite DAW, and off you go! One note, however: using Mac OS X 10.9.x and later, our MIDI connections worked without a problem, but the Focusrite MIDI interface was essentially invisible when we tried to use it on an older system running Mac OS X 10.8.5.
Sound
The Clarett 8PreX is a nice sounding interface! We recorded three sound sources into Pro Tools, each with and without the Air setting. In all cases, the sources sounded better to our ears with the Air setting enabled, and we suspect most owners will leave the circuit engaged all the time, except perhaps when recording certain sources that are best left as sonically pure as possible.
The preamps in the Clarett 8PreX yield a pleasingly clear, neutral sound on their own, but the Air setting adds a bit of warmth and presence without getting thin or tinny. Having worked with a variety of other Focusrite interfaces over the years, the improved audio specs certainly surpass the Saffire and Scarlett range of interfaces.
We recorded a Rhodes Mark I piano direct without any effects, a Juno-106 synthesizer, and a vocalist singing through an Audio-Technica AT4047 SV condenser microphone. Since the Rhodes is a passive instrument without any preamp, we were pleased that there was enough gain (adjustable via a potentiometer) in the Pre8X to get a satisfactory signal level.
Interestingly, the Air effect had its most subtle effect on the Rhodes, more pronounced on the vocals, and most pronounced on the Juno 106. And when we say pronounced, we mean in a good way; not artificial.
As a bonus, we have to comment on the inclusion of the Red 2 and 3 plug-ins in particular, further increasing the value proposition here. These are worth a few hundred dollars on their own, and their installation should not be overlooked when unboxing this product. The compressor and equalizer from the Red series are outstanding sounding recreations of classic hardware. Since first exploring them a year ago, they have become indispensable staples for basic instrument tracking and mixing.
Documentation and Product Support
There are downloadable manuals for both the interface and the software, though the operation is extremely straightforward for this device. The manuals should address any questions that may arise, though.
Price
The Focusrite Clarett Pre8X (MSRP $1,599) sells for approximately $1,300. The sound quality is excellent, and the built-in Air effect adds a nice color to your recordings if you so choose. The abundance of inputs gives you plenty of connectivity, and the Thunderbolt interface gives you low latency that was previously unattainable. While it would be nice if there was an additional USB connector for more universal connectivity, what you get for the price (not to mention the fantastic, included plug-ins) is an excellent value and easily worth your consideration.
Contact Information
Focusrite
ww.focusrite.com
Evaluation Short-List
MOTU 8M
Universal Audio Apollo 8 DUO - Thunderbolt 2