While we are sure that you may have used other popular brands for your microphone needs, beyerdynamic offers a professional alternative product line that many musicians have yet to discover, and which simply should not be ignored. The TG V70 and TG V50 microphones reviewed are worthy of high accolades for both their design and performance.
Beyerdynamic is hardly what you might call "the new kid in town." The company's history dates back to 1924 Berlin, Germany, and they are responsible for the first studio dynamic microphone. Well-known artists from all over the globe such as The Beatles, Abba, and Bob Dylan, to name a few, have trusted beyerdynamic microphones for their performances.
| | | | |
| --- | --- | --- | --- |
| Category | Value | TG V50 | TG V70 |
| Features | 20% | | |
| Usability | 25% | | |
| Sound | 25% | | |
| Documentation & Support | 10% | | |
| Price | 20% | | |
| Overall Rating | | 3.6 Stars, which earns it a WIHO Award! |  3.8 Stars, which earns it a WIHO Award! |
"To design, engineer and manufacture superior quality professional audio products" is beyerdynamic's mission statement. We can honestly say that they have more than lived up to that statement regarding the TG V70 and TG V50 microphones. We were extraordinarily pleased with the performance of each microphone in various live and studio settings. Compared to the microphones that were normally used in these settings, the beyerdynamic microphones consistently outperformed "the popular choices."
Features
The TG V70 and TG V50 are beautifully crafted dynamic microphones—exactly what you might expect from German engineering. Boasting sleek, tapered looks, both microphones feel extremely durable. We opened up each microphone box and found them in soft zippered storage cases along with clips to fit different sized mic stands—and beyerdynamic stickers!
The TG V70 and TG V50 are both available with or without on/off switches. Each model has sturdy, mesh baskets and flat surfaces, which are ideal for close placement near any sound source. The baskets are easy to unscrew for purposes of cleaning and have foam linings that cover the capsules.
Unique to beyerdynamic is something known as Sound Channeling Technology. The microphone is designed by using special sound geometry and high tech acoustic fabric behind the diaphragm. The two-stage treble resonator allows for clearer stage reproduction. Special holes were placed in the casing of the microphone to influence a frequency-independent polar pattern. All of these factors contribute to beyerdynamic's high quality sound.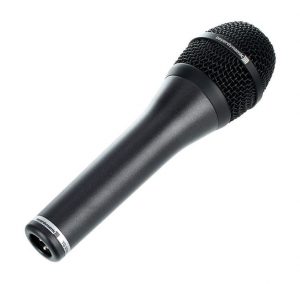 TG V70
The TG V70 is a dynamic microphone, comparable to a Shure Beta 87a but with a slightly wider polar pattern. As a supercardioid microphone, the Beta 87a is least sensitive at 125 degrees. The TG V70 is a hypercardioid microphone that is most sensitive to sounds coming from behind, and it rejects sounds at 110 and 260 degrees. The amplitude at which a sound is heard increases due to the sounds from the rear being picked up at a wider angle. For this reason, it is important to avoid placing your monitor directly behind this microphone or it will result in feedback.
The TG V70 has a close frequency response of 25Hz-18kHz and a distant frequency response of 90Hz-16kHz with a bump at about 5kHz and another at 7kHz. The TG V70 is best suited to use with weaker vocals over loud band, live performances.
TG V50
TG V50 is a dynamic cardioid microphone similar to the widely used Shure SM58 with a bit of a higher-end frequency response. As with all cardioid microphones, the TG V50 is most sensitive directly in front of the sound source. At about the120 degree range is where you will find the most sensitivity.This type of microphone is least sensitive at its sides and completely rejects sound from behind.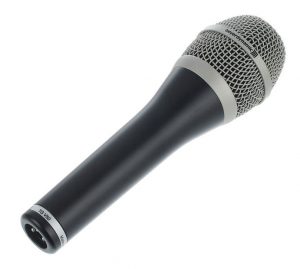 The TG V50 close frequency response is 50Hz-17kHz and its distant frequency response is 80Hz-17kHz with a bump at 5kHz and 9kHz. This microphone gives vocals a clear and upfront presence in a live mix.
Usability
We had the opportunity to test the TG V70 and TG V50 in two live venues and in one of our studios. In each setting we were pleasantly surprised by the performance of each microphone.
We started a cover band, pop/rock gig using our usual microphone and then switched to the TG V70 about halfway through the first set. Immediately we found this microphone to be very easy to handle because of its design and weight of 0.76lbs. There was also little to no handling noise whenever we placed it on the microphone stand or removed it.
The venue was small—and so was the area in which the band set up. It was interesting to see just how well the TG V70 performed in close proximity to other sound sources in this type of live setting. In particular, the space between the drums and the singer was quite close. In these situations, we would normally expect tons of feedback and a multitude of bleed from the drum cymbals. We noted, remarkably, there was absolutely zero feedback.
For the second set, we decided to use the TG V50. Again, we first switched back to our usual mic and then switched half way through the set to the TG V50. This microphone handled equally as well weighing only 0.60lbs. As mentioned earlier, a cardioid microphone will reject sounds from behind and is least sensitive to sounds from its sides. That being said, it seems like a great choice for an instrumentalist who does not spend all of their time right on top of a microphone, like a backing vocalist.
Back in the studio, we tested both the TG V70 and the TG V50 through a PreSonus Studio 192 audio interface. We found that both microphones reached 49db before feedback—impressive! We felt that given the small size of our studio's control room where we tested the microphones and our relative proximity to our studio monitor speakers, these microphones handled a more than acceptable amount of gain-before-feedback.
Sound
The TG V70 and TG V50 are part of beyerdynamic's Touring Gear Series. These microphones were designed specifically for live performances, so taking them to the show was a must. But since some artists are more comfortable recording with a dynamic microphone in the studio, we decided to give them a spin in that setting, too.
At the first live performance, we noticed that the TG V70 gave quite a boost to the singer's chest voice, which is the weakest area of her voice. The TG V70 added a big presence boost in this midrange part of her voice. The clarity and sharpness of tone was superior to her normal microphone. Using the TG V70, her lower range cut right through the band no matter how high their volume (which at times was extraordinarily loud being a six-piece rock band).
We noticed that the TG V70 was more resilient in the high frequency range and very robust in the low frequency range. Also of note was how nicely the TG V70 resisted monitor feedback. We had the guitarist use the microphone for back-up vocals and his talk box. Both sounded awesome through the TG V70!
We were anxious to hear how the TG V70 would sound in our studio. We had a vocalist sing a blues song to test this microphone against the average condenser microphone. Needless to say, we were more than pleased with how the microphone performed throughout the session. The TG V70 was even used to record all guitars on the track, too, substituting for a typical SM-57 in this application. The sound was very focused throughout. When listening back to the recording of the TG V70 it was hard to believe that we used an economical dynamic microphone (for the vocals).
As for the TG V50, it delivered a similar, high-quality performance on stage. In comparison, the singer's voice still had quite a bit of presence, reinforcing her weaker chest voice area. The quality of tone might be perceived as a little more rounded. Although this model was not as "in your face" as the TG V70, the singer was still able to work the microphone dynamically without her voice getting lost in the mix. We were careful not to use too much gain on the TG V50 as it might have resulted in feedback.
The guitar player also sang through the TG V50. This microphone worked well for him for back-up vocals. We also thought this microphone was a good choice for the guitarist's talk box. Finally, we used the TG V50 in our recording session only for the vocals. This microphone also sounded fantastic, so we decided to use clips of it in the final vocal recording.
Our overall feeling: Both the TG V70 and TG V50 are exceptional sounding microphones. You only need to decide which model best suits your performance need. The TG V70 is an excellent choice for voices that tend to be weaker in the lower registers. The TG V50 is a great option when you don't need the low-end reinforcement.
Documentation and Product Support
Beyerdynamic included specification sheets and a manual in the packaging of each microphone. We were very pleased with their customer support line, too. Our call was answered promptly, and we were even given a direct line for technical support. The beyerdynamic website lacked technical product data, however. They have an area set up for it, but no information is presently provided. A two-year standard warranty applies to both microphones.
Price
The TG V70 (MSRP $299.99) sells for approximately $200.
The TG V50 (MSRP $199.99) sells for approximately $100.
The reasonable price tag on both of these microphones and their outstanding design quality and audio performance makes them great choices for live applications, and worthwhile options for various uses including in the recording studio. Bands would be served well to keep a couple in their equipment cases as they flatter the voice in different ways than your more common vocal mics. We intend to keep a few of these on hand.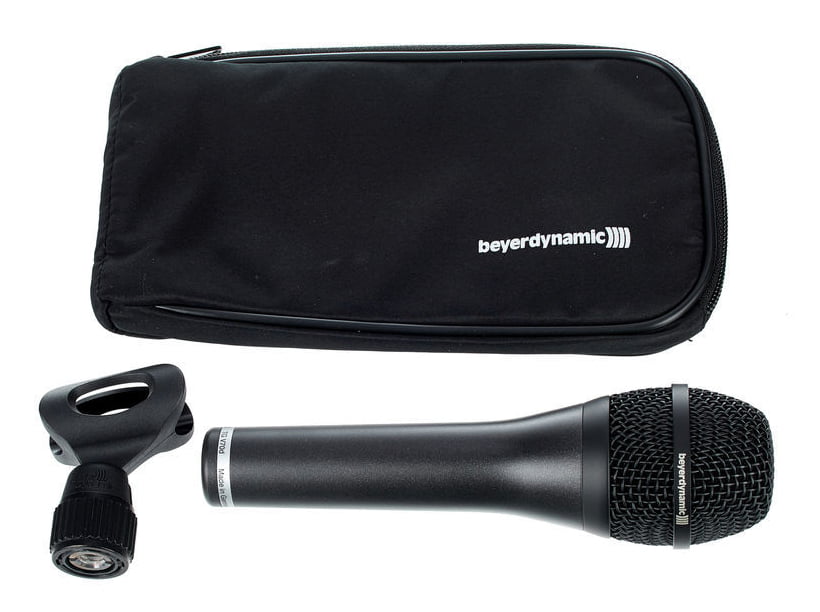 Contact Information
beyerdynamic
https://north-america.beyerdynamic.com/microphones.html
Evaluation Short List:
Shure SM-58
Sennheiser e935
Audix OM-5