Shining Black, Shining Black
Genre:
Metal
Musicianship:
Songwriting:
Production & Engineering:
Vibe:
Overall Rating:
3.38
The newly formed metal outfit Shining Black, featuring Mark Boals and Olaf Thorsen, dropped their self-titled debut last month via Frontiers Music. A label renowned for its inspired hard rock and metal releases, that status is easily preserved with Shining Black, an exhilarating new album that we simply couldn't stop listening to. It's an intriguing collaboration between talented musicians to say the very least.
Now it may seem fairly obvious from Boals' and Thorsen's names on the album cover that they are the highlights of the musicianship on Shining Black's debut, and you would be correct in making that assumption. Foundry frontman Mark Boals, who was also a vocalist for Yngwie Malmsteen and Royal Hunt (among others), displays his talent in the melodic metal genre by belting out compelling and flexible vocals on just about every track. Meanwhile, Labyrinth guitarist Olaf Thorsen's incredible guitar work, consisting of both powerful melodies and shredding solos, helps carry the record throughout. While both musicians complement each other perfectly, you can't overlook the equally strong drum work of Matt Peruzzi, rhythmic bass provided by Nik Mazzucconi, and haunting, somewhat gothic, keyboards by way of Oleg Smirnoff (all three of whom, incidentally, are Thorsen's fellow bandmates in Labyrinth). Music-wise, everything blends together seamlessly on this album (the great mix doesn't hurt, with appropriate space and balance given to each instrument).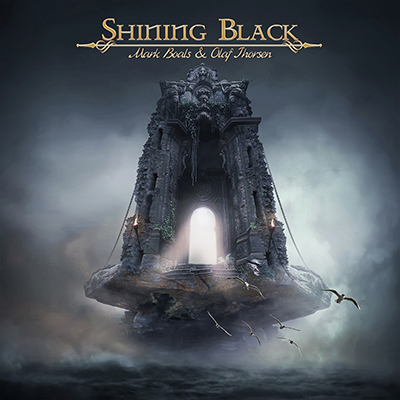 In terms of songwriting, Shining Black laid down some solid tracks for a debut effort—well composed musically, and the lyrics are impactful. Due to the energetic vibe and sharp production quality, I'll be sure to stick around for the band's sophomore release down the road as well. Some highlights on this release include the title track, "Shining Black," the rip-roaring "My Life," which contains particularly impressive lead work by Thorsen, "The Day we said Goodbye," and the strong closer, "We Fall."
Overall, Shining Black is a strong record that marks a promising entrance for this group, and the performances have a prog metal quality about them, with each player showcasing fantastic chops in support of the songs. Think the Scorpions meet Ghost but with a keyboard player ripped from a prog metal band. As far as melodic heavy metal goes, Shining Black is a fine example of the genre's quality nowadays, which deserves more attention. Whether they'll consider themselves a full-fledged band, or just a part-time collaboration every now and then, we certainly hope there's more to be heard from this group in the future. It's worth noting that we could all use more great music to carry us through these unprecedented times, and Shining Black is certainly worth adding to your summertime metal playlist to help you rock your cares away.