Carl Martin (East Sound Research) has roots dating back to 1990 as a pro sound and rental company, and for nearly as long making custom effects pedals for professional touring musicians. Boasting an impressive artist roster including players like Andy Timmons, Pete Thorn, and Joe Bonamassa, Carl Martin features an impressive collection of more than 40 effects pedals, easily filling guitarists needs as a one-stop shop for whatever it is they'd like on a pedalboard.
Category

Value

Rating

Features

20%

Usability

25%

Sound

25%

Documentation & Support

10%

Price

20%

OVERALL RATING = 3.5 Stars


3.6 stars or better: Outstanding, WIHO Award




3 stars or better: Worth considering




2 stars or better: Suited to specific needs




1 star or less: Not recommended
A product dreamed up by fusion guitar wizard, Greg Howe, the Greg Howe's Lick Box was created to fill a guitarist's overall need for boost, distortion, and overdrive in one pedal. If you're a tone junkie looking to add multiple flavors of solid dirty tones to your rig, this pedal might be a worthy addition to your pedalboard.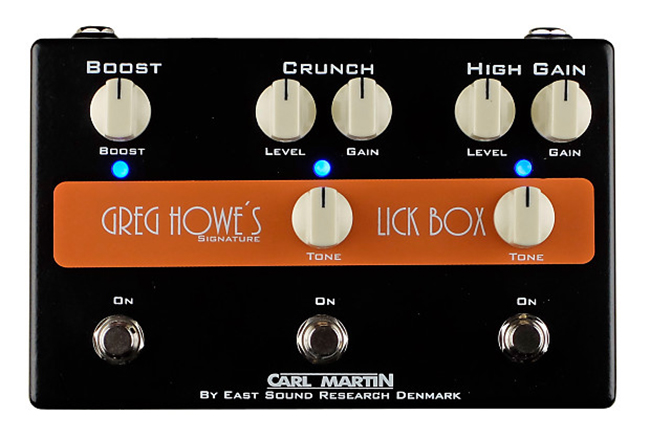 Features
The Greg Howe's Signature Lick Box is a guitar effects pedal engineered to recreate Greg Howe's signature sound, combining maneuverable high gain and crunch tones as well as a boost function. The pedal features a robust cast metal housing complete with quarter-inch input/output jacks, seven amplifier-style knobs, and three On/Bypass Carling-style channel switches. Powered via a standard barrel 9V input, Carl Martin boasts their new DC/DC converter that allows for maintaining +-12V circuitry while using a 9V power supply, allowing for extra headroom. Note: this pedal CANNOT be powered by a 9V battery. It requires a power adapter or pedalboard power supply.

The pedal offers three channels labeled Boost, Crunch, and High Gain. Each can be used independently or in succession, running from High Gain --> Crunch --> Boost respectively. When activated, the channel brightly illuminates a blue LED light.
The Crunch and High Gain channels offer distortions adjustable to preference with corresponding level, gain, and tone knobs. Each adds a unique coloration and playability when activated independently or in conjunction. The third channel acts as a clean boost, adding up to 12dB of volume and punch without altering tone coloration. With all three LEDs shining, this pedal can deliver scathing leads at blistering volumes.
The pedal is nearly 7.5" wide by 4.75", which gives this pedal a significantly large footprint, similar to other brand "twin" pedals. Given its function and flexibility, in theory and practice this pedal can turn your non-channel-switching amp into a multi-channel beast.
Usability
The Lick Box is plug-and-play assuming you have standard 9V power at your disposal (a power supply is not included). Weighing in at just over a pound and a half and equipped with a foam-lined base, the Lick Box remained nice and stable on a pedalboard when handing the knobs and activating the channel footswitches. The foam base and metal casing also protect the internal components from some inevitable roughhousing commonly associated with this type of equipment.
Experimenting with the High Gain and Crunch channels, the two distortion channels offer unique feels and maneuverability between levels of gain and tone, but a lot of the dynamics are lost when both are active in a cascading chain structure. Striking a balance between over-saturation and unflattering clipping distortion became the main obstacle to running two channels simultaneously.
On its own, the boost function elevates the overall volume of your instrument. This is especially useful for cutting through the mix during leads or solos or for adding emphasis in general to your output. Sending the already hot signals from the High Gain or Crunch (or both) channels into the boost results in a distinctive "signature" Greg Howe sound, emphasizing the mid-range while abandoning definition from the highs and lows.
Sound
Our first sound test was through a Soldano SLO100, a 100w firebreather (which needs no introduction) mated to a Friedman 4x12 cab loaded with both Celestion Vintage 30s and Greenbacks. We inserted our Lick Box into Loop 3 of our TC Electronic G-System and played a Knaggs Severn X for the duration of the gig. During our sound test, we found we were able to really make the overdrive sound from the amp stand out and shine even further, without changing the amp's sound at all by using the boost feature of the pedal. The boost was completely transparent and served well to change the character of the amp, but not the tone. It made this aggressively-voiced amp react a bit more abruptly, and took some of its manners away (in a good way). Our notes were more immediate and had more even sustain with the boost engaged, as well as giving us an ever so slight bump up in volume.
We found the Crunch and Hi Gain channels of this pedal a bit too much for the amp's high gain channel. However, the SLO100 is a two-channel amp, so switching to the clean channel, we were essentially able to create a four-channel amp. On the clean channel, the distortion sounds from the pedal really shined nicely. No, it did not sound better than a $4,000 hand-wired head. It did, however, offer us more diverse tonal options through the amp's clean channel, which made our setup significantly more versatile for that day's cover band gig.
The Crunch channel made our amp's clean voice completely gritty, and we especially liked the sound with the tone knob somewhere around 1:00. Crunch was dialed in at a healthy 3:00. There was a solid midrange boost with this setting, and standing directly in front of the amp or a PA speaker lent a bit of a honky, almost shrill sound (which is sometimes necessary to cut through a mix). However, stepping aside from the amp and just about everywhere else, it was a very nice overdriven sound for playing melody lines and rhythms. The High Gain channel of the pedal was ideal for leads. Although it lacked the saturation and aggressiveness of this amp's high-gain channel, it offered us another hi gain variation that became welcome and refreshing to our ears.
Our next sound test was in our home studio, and we plugged the pedal into our Fender Pro '57 Reissue. We decided to have a little (ok, a lot of) fun and use our Kiesel Jason Becker Tribute guitar, outfitted with a Floyd Rose for this sound test. The Fender amp has a 15" speaker, so we were curious to hear this pedal through it. Fender amps are great platforms for pedals as a rule, and the 1x15" Pro is fantastic all around.
The boost on the pedal pushed the Fender amp into its signature, unmistakable growl even earlier than it typically reaches it (which is nearly at full volume). No, it's not a high-gain or even a mid-gain sound, but it is an instantly recognizable Fender sound, which we've heard no other amps do. We took the liberty to dime out the Crunch and High gain channel on the pedal. As we experienced at our gig earlier, the High Gain channel on the pedal seamlessly picks up where Crunch leaves off. This turned our mostly clean, one-channel Fender amp into a multi-channel hot rod! Dialing the gain back a little on the High Gain channel and activating just a little bit of boost really made this setting soar. We did have to be cautious with the boost, because this quickly went from just enough to way too much clipping, with nothing in between the two.
We liked the way the pedal translated through the 15" Eminence speaker, and it never got flubby while sweeping the channel's single tone knobs. We now had a perfect Fender clean, a faster-to-breakup Fender clean thanks to the transparent Carl Martin boost, a crunch channel for rhythm work, and a high-gain lead channel.
Documentation and Product Support
The pedal shipped with a three-page manual, which detailed operation of the pedal as well as specs and suggested settings. True to 2018, everyone and everything is online, and the manual lives on the Carl Martin website as well. Speaking of which, the website is laid out fantastically. Aside from images and YouTube videos of all of their products, their Contact Us tab leads to links for dozens of countries. Whether you're in Singapore or South Africa, you have at least a link and maybe a contact phone number to get you in touch with someone to answer your questions.
Carl Martin gives a pretty standard, one year "If it breaks and you didn't kill it stupidly or on purpose we will fix or replace" warranty. Calls to the provided number on the website were answered instantly (seriously, the phone didn't even ring, they picked up immediately). Our questions were answered timely and adequately as well. This was a great customer service experience.
Price
The Carl Martin Greg Howe's Lick Box sells for $260. This is on the higher side for overdrive pedals, though to be fair, we've played some single-channel pedals that are priced almost as high. Given two channels of overdrive plus the fantastic clean boost, we think players should consider this if they have the real estate on their pedalboards and could benefit from a multi-channel, versatile overdrive that can suit a wide variety of situations.
Contact Information
Carl Martin
carlmartin.com
Evaluation Short List:
Keeley Tone Workstation
JHS Double Barrel V4
Wampler Paisley Drive Deluxe