Convenience, massive input/output capabilities, seamless integration with Pro Tools HD, USB 3.0 connectivity, on-board, low-latency FPGA effects, and last (but not least), stellar sound and conversion quality.

These are a few of the qualities that had us excited about the Antelope Audio Orion 32 HD. For the pro user that has been waiting for better integration with Pro Tools HD without compromising quality, the Orion 32 HD marks the dawn of a new day. Not only for Antelope Audio as a company but also for the implications and direction of the pro audio industry as Avid (makers of Pro Tools) cede territory once guarded tirelessly.
Category

Value

Rating

Features

20%

Usability

25%

Sound

25%

Documentation & Support

10%

Price

20%

OVERALL RATING = 3.8 Stars, which earns it a
WIHO Award!


3.6 stars or better: Outstanding, WIHO Award




3 stars or better: Worth considering




2 stars or better: Suited to specific needs




1 star or less: Not recommended
It isn't all about Pro Tools, however, as you can of course use the Antelope Orion 32 HD with any popular DAW, and the box provides tremendous flexibility for pro studios and power users by enabling USB and HD interface use concurrently. Imagine being able to mix or track audio on your Pro Tools rig while an assistant, co-engineer, or artist works on a beat or edit, all from the same interface in real time. None of this would matter, though, if the interface didn't sound stellar. And, as with the other Antelope products we've tested and installed into our studios, (like the fantastic Orion Studio Rev. 2017 reviewed here) this is another box ready to record hit records on.
---
Features
The Orion 32HD provides 24-bit audio up to 192kHz, 124 dB dynamic range, and connectivity via both an HDX port and USB 3.0. It delivers up to 64 channels of simultaneous streaming I/O over USB and HDX, and up to 32 channels of analog audio at all sample rates.

The Orion 32HD has 32 line-level inputs on DB-25 connectors. There are no on-board preamps as you may be accustomed to with other products in the Antelope lineup—this one is waiting to interface with your collection of premium preamps. And if you're lacking in the preamp department, the Orion 32HD provides just the right excuse to also purchase a fantastic Antelope Audio MP32 32-channel preamp.
We were thrilled to get our hands on the Antelope Orion 32HD because this unit delivers the first third-party interface solution directly compatible with Avid Pro Tools HDX systems (formerly only Avid HD I/O was compatible).
The rear of the Orion 32HD includes eight DB25 connectors providing 32 analog inputs and outputs as well as ADAT, S/PDIF, USB 3.0, and HDX inputs. The front panel includes clock rate and type options along with five programmable presets buttons for easy recall. The Orion 32HD features Antelope Audio's fourth generation, renowned clocking technology, and jitter management in addition to MADI.
Managing this expansive I/O is the Orion 32HD Control Panel software application (Mac, Windows, iOS), which enables you to access capabilities not directly addressable from the front panel of the device. Inside the Orion 32HD, you'll find a large collection of effects ranging from modeled vintage EQs and classic compressors to Antelope's own Auraverb reverb! Many of the effects names reflect real-world products, such as the Impresser, which will be quite familiar to users of the popular Empirical Labs Distressor, but the Antelope team added a few tweaks such as adjustable frequency settings for the High-pass and Band-pass side-chain filters. There's no mistaking where the Tubechild670 or the BA-6A limiters came from, either. There are numerous SSL models among the collection, too. Antelope also includes their own custom-designed, modern compressors and EQs should your taste lean more towards today than yesterday.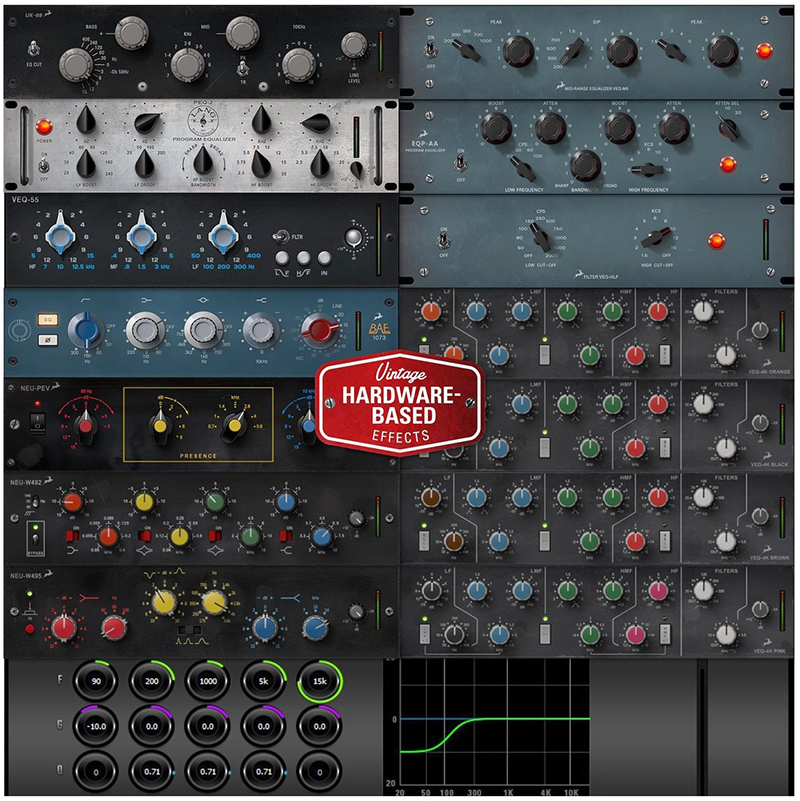 Antelope's Igor Levin designed the Stay-Levin compressor, which provides the sound and feel of a classic '60s tube-driven unit, while some of the other processors have a modern sheen typical of feed-forward compression.
Auraverb is an entirely new reverb designed by Antelope, and it has intuitively named controls that affect the entire tone spectrum, such as a Color control that can shift the tonal spectrum from dark to bright and a Richness control that impacts overall reverb density.
While some of the other Antelope Audio interfaces include guitar amplifier and microphone modeling (in addition to the compressors and EQs), those models are not included here as the Orion 32 HD has no onboard preamps.
Usability
Integrating the Orion 32HD is simple thanks to its range of built-in connectivity options, offering HDX and USB 3 interfaces for both Macintosh and Windows computers. The immediate win here is the ability to run a Pro Tools HD session while simultaneously streaming USB audio to another DAW such as Ableton Live. Additionally, the USB connection could be connected to another computer altogether enabling editing or music creation with simultaneous Pro Tools mixing for example.
We tested the Orion 32HD with both an Apple Mac Pro (4-core 3.4Ghz Xeon) and a custom-built audio PC workstation with a Dual Xeon CPU setup (3.0Ghz, 48 cores). Audio interface performance has evolved over the years, and Antelope Audio claims near-zero latency in the Orion 32HD. Without getting bogged down in the details of milliseconds, we will simply say that our experience tracking with the Orion 32HD supports their claim of super-low latency. Running basic effects and processing directly in the interface instead of relying on your host computer and associated plug-ins makes it easy to track with compression, gates, reverb, etc. across multiple tracks with zero performance impact on the host computer—and zero latency if relying upon direct monitoring of the audio outputs.
We had no trouble tracking inside Avid Pro Tools 12 with a buffer as low as 64 in a large session at 48K.
The Orion 32HD is managed via the Orion 32HD Control Panel (accessed via a Launcher application, which manages firmware and software updates). The interface provides a unique, multi-colored, grid-like interface through which you simply drag and drop to make connections from your desired source inputs to target outputs. Antelope takes full advantage of color and shading to provide one of the most elegant software interfaces we've seen for controlling studio hardware, but most users will find the interface initially daunting.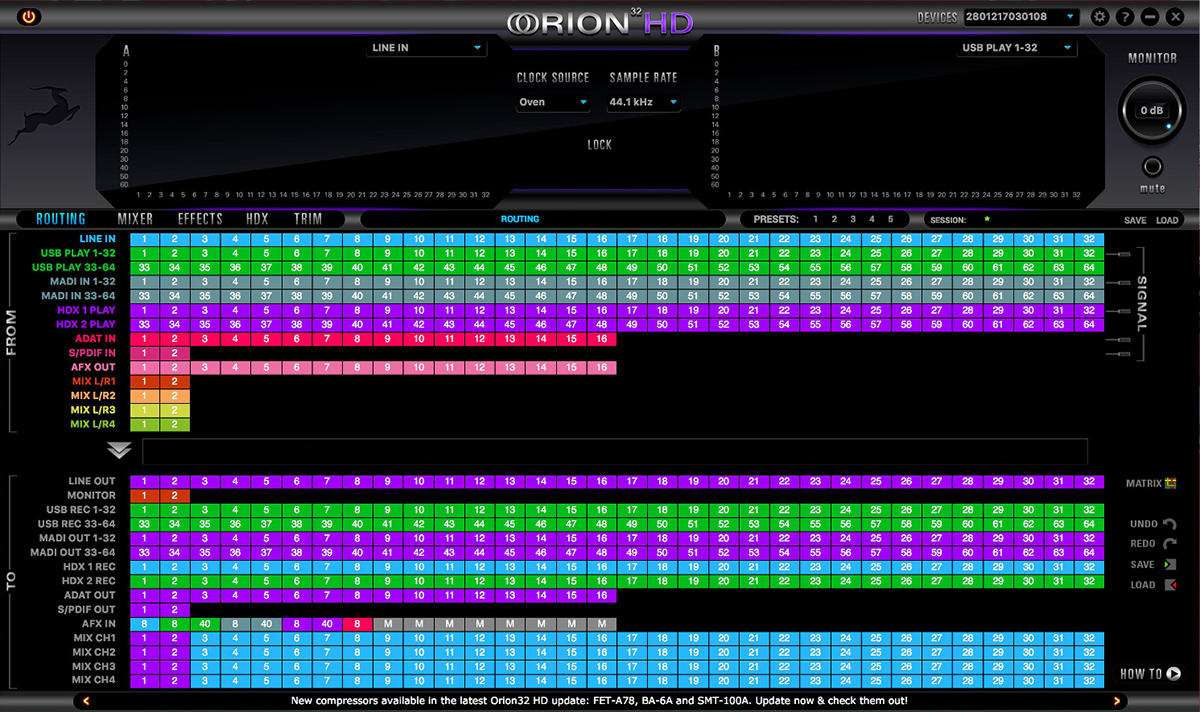 One challenge is that until you map inputs to outputs, you get no audio output from the Orion 32HD, which can prove quite alarming the first time you attempt to use it. A brief tutorial video helps you get up and running quickly, though, and once you understand the i/o grid, you'll find that this elegant interface is extremely functional and efficient. We would suggest that at the least, Antelope set the default route from computer USB audio to the first master outputs, so a user can install everything, open iTunes or another audio player and hear that the system is in fact working.
We connected the Orion 32HD to our Mac via the included USB 3 cable and to the PC via the HDX ports. Its greatest utility was allowing for simultaneous mixing of a song on the powerful PC and editing and track preparation on the Mac. This saved time and dramatically streamlined our studio's workflow. But even if you're just a one-computer facility, having Antelope hardware directly interfacing with your Pro Tools HD system is a dream.
The one area where the Orion 32HD falls short (and not by any great measures) is on its front-panel controls, simply because you have no real clue what half of them do from a simple glance at the device. After reading the manual, however, we were able to make use of the controls, and there was in fact easy control over signal levels for recording, individual headphone levels for monitoring, and more. The Orion 32HD actually provides more hardware control from the front panel than most comparable products, but this flexibility comes at the expense of a lack of intuitiveness. Fortunately, we could control everything from within the software, which is also quite useful if the interface lives in a rack beyond your arm's reach. Such is the case at our facility; the tech room is 30 feet behind the main mix console.
Sound
While most modern converters sound good, the Orion 32HD sounds better than most. We love the clarity and punch of the Orion 32HD. The detail and lack of smearing is stunningly good, providing excellent conversion and narrowing the gap between high resolutions like 96kHz and lower ones such as 48k or 44.1kHz.
Moreover, the built-in effects sound outstanding, and if you like to make certain gear decisions in advance of tracking, you'll love having the ability to assign classic modeled compressors and EQs within the hardware instead of running a suite of classic plug-ins in your DAW. We love having SSL tone and BAE Neve EQ's to shape things on the way in. Additionally, the Lang PEQ2 and Antelope feed-forward compressor make for a gorgeous combination on the mix bus.
Still, make no mistake, the focal point of the Orion 32HD is its stellar conversion quality. To give a frame of reference: the now discontinued but legendary 10M gave rise to the conversion quality of the Orion 32HD. For those not familiar, this coveted piece sold in the $10,000 ballpark region and was the darling of many top mastering facilities. That legacy carries over in this converter, and it doesn't disappoint.
Documentation and Product Support
The Orion 32HD documentation is a bit light on some details, but the Antelope Audio website and their associated YouTube channel contains a ton of useful tutorial videos that cover everything about the device's operation. You'll definitely want to watch the introduction video before getting started, as well as many of the other videos if you really want to utilize this interface to its fullest potential.
Additionally, Antelope has really stepped up their game with live, knowledgeable, support technicians—some of the best we have ever encountered as we explored some more complex system configurations.
Price
The Antelope Orion 32HD sells for $3,595 and includes a USB 3 cable. There are certainly less costly alternatives on the market, but if you're looking for pro studio quality, the Orion 32HD delivers fantastic value when you consider the quality of its conversion, the huge I/O count, Antelope's legendary clock, and the superbly modeled instruments and effects waiting within.
Contact Information
Antelope Audio
www.antelopeaudio.com