Space Elevator, II
Genre:
Rock
Musicianship:
Songwriting:
Production & Engineering:
Vibe:
Overall Rating:
3.63
It's amazing that Britain's Space Elevator sound so downright American! This is no British Invasion nor the coming of a new wave, but if we had to put our fingers on it, it's more like the second coming of Pat Benetar—classic, '70s- and '80s-tinged, American rock n' roll.
On their second record, simply named II, Space Elevator continue to deliver a great blend of catchy, pop rock music that is rooted in classic rock with a slight pop rock element. The Duchess hooks you right in, delivering stellar vocals that are well paired with David Young's limitless selection of catchy, classic guitar riffs and grooves. We wouldn't be surprised to discover that The Duchess got her start singing on London's West End, with a vocal deliver that is commanding in that Broadway theater sort of way, and videos we've seen show that this mystery woman knows how to rock (and also has the most awesome catsuit wardrobe).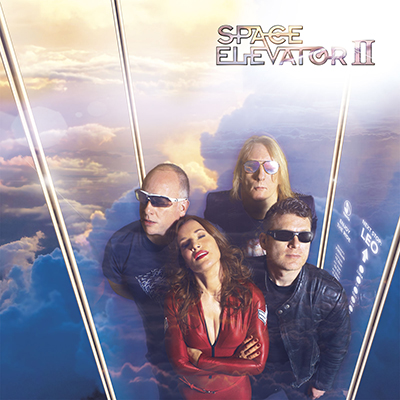 Bands today don't write songs like these, and while the vibe may take you back a few years, it comes across as something fresh and pleasantly different. Young's guitar work is excellent, and while a discerning ear will notice the obvious Brian May influence, the band's style of songwriting is more in the vein of Pat Benetar, Heart, and Meatloaf, with only a side helping of Queen.
We love when the band branches out from their core rock sound into more innovative and funkier jams like the infectiously funky "What You Think About That?" and the groovy "Crazies (Take Me Home)" that each showcase the fantastic musical talent throughout the band.
A solid rhythm section, great guitar riffs and tones, sexy female vocals with rock attitude… it's all here in spades. Space Elevator's II delivers more of what you got from I, though with a bit less keyboard work (which we actually miss), but you'll keep coming back for more anyway. Did we mention the great guitars and vocals? This is old-school rock, and as such, it happens to sound quite new. Whether or not they've hit us with their best shot yet, only time will tell.