Category

Value

Key Largo
Rating

KL-8
Rating

Features

20%

Usability

25%

Sound

25%

Documentation & Support

10%

Price

20%

---

Key Largo Overall Rating =
3.6 Stars, which earns it a WIHO Award!

KL-8 Overall Rating =
3.5 Stars, which earns it a WIHO Award!
Radial Engineering is highly regarded for their tour-grade mixing products that range from DI boxes to signal splitters and boosters to preamps and more. Over the past few years, they turned their attention to providing compact mixing solutions for keyboard players, first in the compact and clever Key Largo mixer-on-the-floor, and next, with the rack-mountable KL-8 mixer.
Whichever product you choose will come down to its suitability to the task at hand. Both products do a superb job mixing your keyboards along with computer-based audio, and Radial has brought some very clever engineering ideas to the table that make these products stand out. The sound quality and build quality of each mixer is as stage- and studio-worthy as anything else bearing the Radial name.
Features
Key Largo

The Key Largo is a keyboard mixer housed in a compact metal box the size of an oversized effects pedal. With this unique product, you get three stereo analog inputs for keyboards plus a USB audio interface to which you can attach your laptop or computer for audio output.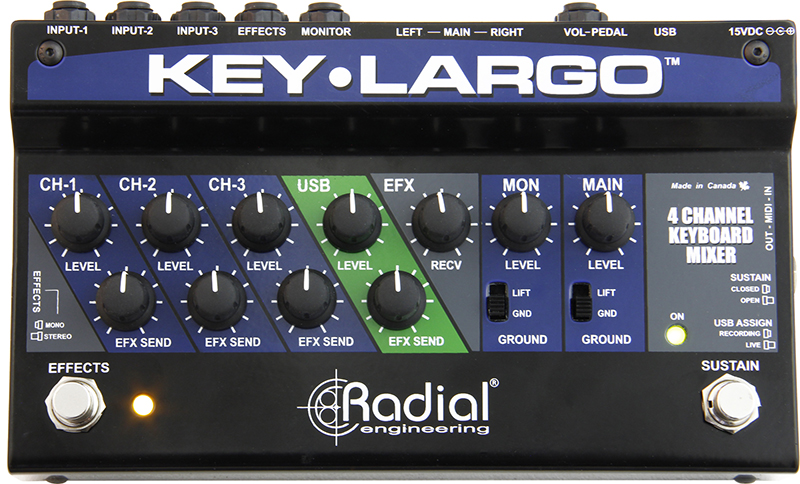 There are two sets of outputs including balanced XLR outputs for the PA system and a set of quarter-inch outputs for your personal monitoring solution. The balanced outputs are transformer-isolated to eliminate noise from possible ground loops, and both outputs have their own ground lift switches.

An effects loop relies on a pair of quarter-inch TRS jacks, and you can attach rack effects, pedals, or a stereo volume pedal. The loop has a hard bypass available via one of the footswitches on top. The second footswitch is a basic sustain pedal that passes through to one keyboard of your choosing. A recessed switch on the side of the Key Largo lets you set the polarity for use with any keyboard.
The audio interface serves two functions. It can act as a USB audio interface to get sound out of your computer and mixed with your physical keyboards, or, at the flip of a switch, it turns the entire Key Largo into a recording interface, and it sends three stereo channels of audio to your computer for recording. The specs are 24bit/192kHz with 105dB dynamic range. Nice!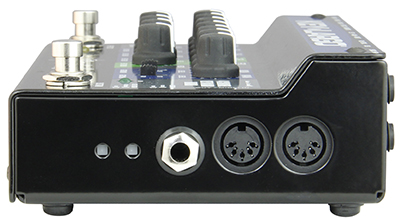 A pair of DIN-5 MIDI jacks on the side pass data directly between the MIDI ports and the USB port so that you can attach any MIDI keyboard to the Key Largo in order to serve as a controller for your laptop/computer.
KL-8
The KL-8 brings a few additions to the table beyond the convenient, 1U rack form factor. It starts out with four stereo input channels and provides two USB interfaces that mirror each other, intended for touring professionals who utilize redundant computer systems in case of a system failure.

As with the Key Largo, the USB interface specs are 24-bit/192kHz, but here, a footswitch can be used to toggle between the inputs in an instant.
Both sets of outputs on the KL-8 feature balanced XLR connectors, each features a ground lift switch, and there are two stereo effects loops, one of which can optionally be used as an input for a fifth stereo keyboard. There's an onboard summing mixer, too. At the push of a button, you can set the output to mono, perfect for that worst-case gig scenario.

The KL-8 adds a cue mix on each of the first four inputs. Engaging the cue mix circuit removes that channel's output from the main and monitor mixes but sends the signal to the pair of headphone jacks. When all hell breaks loose, or you're simply figuring things out at rehearsal, you can hunt for your missing sounds or rehearse a riff without sending your signal to the front-of-house. If only our drummers and guitar players came with such a feature!
There are two sets of aux inputs for use with pedals or rack effects, and one of them can be used with a volume pedal to control the volume of your entire keyboard rig. An optional JR1-L remote footswitch can be used to toggle the effects loop on/off.
A recessed toggle on top of the unit lets you change the loop functionality. This Aux Return Assign switch lets you choose between All Outputs and Monitor & Headphones Only. This is fantastic for a few different scenarios:
1. Receiving a click track that you need to hear but not route to your main output.
2. Personalized keyboard monitoring! You could receive a band-minus-keys music mix from your engineer and blend its level with your keyboards to taste for your own personal monitor mix. The significance of this feature is huge for live performers.
As with the Key Largo, a pair of DIN-5 MIDI jacks pass data directly between the MIDI ports and the USB port so that you can attach a MIDI controller keyboard.
Finally, multiple KL-8 units can be linked together with a standard TRS cable to form a larger mix system for a big keyboard rig via Link Send/Receive jacks on the rear. In this setup, all of your signals end up at the Main and Monitor outputs of the final KL-8 in the chain.
We have two very minor grievances with the KL-8. First is the limited visual signal monitoring. Although there are LEDs for signal present and clipping on each channel and the outputs, we would have preferred a multi-stage indicator for levels across the outputs, though we realize front panel real estate is somewhat limited. Second, we would love for the main output knob to be a different color, perhaps reversed, so at a glance on a dimly lit stage, you don't accidentally adjust the main output when you really meant to grab the monitor output or the dangerously close headphones knob.
Usability
Both keyboard mixers are easy to use, and in typical Radial fashion, they are each built like a tank. The Key Largo is meant to take abuse wherever you set it (more on that later), while the KL-8 is going to add just over six pounds to your rack. Heavy metal, baby!
Key Largo
It's so cute! And at a glance, you'd be forgiven for mistaking it for a large guitar effects pedal. The form factor is unique, as we've never placed a mixer on the floor in one of our rigs. But if you want to use the effects loop bypass pedal or the sustain pedal, that's where it needs to live.
As a sustain pedal, this is pretty utilitarian because obviously, a Carling-style footswitch does not feel like a nice pedal-shaped sustain/hold pedal, but if you're trying to economize for a gig, this will enable you to leave a pedal at home or in the gig bag.
The effects loop worked well with pedals, and if you're playing vintage keys, you'll love being able to take your classic BOSS CE-1 and share it across multiple classic, keyboards of yours like a Rhodes, CP-80, and more. If you're not going to Velcro the Key Largo to a pedalboard, you can attach a set of rubber feet (included) for more secure placement on top of a keyboard or on the floor.
We love the functionality of the Key Largo but have a love/hate relationship with the form factor. If rapid setup/teardown are needed for a gig with five other bands and ten-minute stage turnovers, the need to patch everything on-the-fly could eat up precious time unless you can pre-stage your setup and wire up a snake for your audio and sustain cables. Plus, you'll need a spot to plug in the wall-wart power supply.
For studio session work and rehearsals, Key Largo is fabulous, and having the built-in audio interface is one less box and set of cables to manage. We do wish that the Key Largo had a power switch, however. It's on as soon as you plug it in, which is fine for the stage but less flexible in your personal studio space where many players typically turn their gear off at the end of a session.
If you want to mount the Key Largo to a pedalboard, it requires 15VDC/260mA.
KL-8
The KL-8 uses a 4-pin locking in-line power supply (external), to which you attach a standard IEC power cable. We might question the use of this power supply in other circumstances as you can't simply replace this wall wart mid-tour, however this device is intended to be housed permanently in the back of a rack and thus shouldn't pose a problem. If concerned, though, you could always purchase a spare power supply from Radial.
The KL-8 just may be our favorite compact line mixer for a pro keyboard rig ever. Controls are spaced nicely, and the white knob detents are easy to see in dim light. We love the flexibility that the design provides, and having a pair of headphone jacks instead of just one (typical of most line mixers) was super convenient when we needed to work something out with one bandmate while not disturbing the others.
The mono summing feature was particularly useful, and although we didn't test the USB interface for recording the output of our rig, we loved having the interface to our laptop full of soft synths integrated directly into our mixer. This freed up 2U worth of rack space where we needed an external audio interface previously. Even adding a second KL-8 to a rig would still let us shave a rack space from our rig.
With "modern" keyboards, we didn't need to utilize the effects loops for external effects processing, but we loved how easy it was for us to have real control over personal monitoring. Unless you're touring with a dedicated sound engineer, keyboard players are typically at the mercy of a random house engineer, and if you've ever been frustrated by not hearing yourself well enough without causing issues for other bandmates' monitor mixes, the KL-8 really improves your situation.
After flipping the recessed switch on top of the unit to "Monitor & Headphones Only," we patched the studio monitor mix into one of the loops and presented the KL-8 with a mix that did not contain any keyboards, and connected our in-ear monitors to the headphones output. Using the Aux Return control, we could mix the level of the "rest of the band" with our keyboard mix however we needed, without impacting anyone else. Ordinarily, we would have been patching in the monitor mix in a club setting, but had to conduct this test in our studio due to the Coronavirus situation rendering club dates moot for the time being.
There is no power switch on the KL-8, but here it's completely unnecessary as the device lives in an equipment rack which will undoubtedly have a power conditioner that provides a master power control.
Sound
With audio specs of 20Hz—20kHz range and -90dB signal-to-noise ratio, the Radial Key Largo and KL-8 sound great. What you get is the sound of your gear, as quiet or noisy as the source keyboards are, and what you don't get is extraneous noise. The units are gain staged in such a way as to accommodate a wide range of keyboard volume output from vintage electromechanical keyboards to modern-day synthesizers, though we strongly recommend running your vintage keyboards through some Radial DIs with Jensen transformers like the fabulous JDI (reviewed here). Another nice detail: the USB audio input is staged to prevent audio clipping regardless of how hot a signal you send from your computer (assuming it's not clipping at the computer output).
These are pro-grade mixing products that belong in your studio or stage rig. And should you find yourself on a noisy stage, the ground lift switches on either product may be all you need to clean things up. In the case of the KL-8 in particular, though, you're probably running through a power conditioner in the first place. But hey, at least you have options.
Both products are a worthy addition to any keyboard rig.
Documentation and Product Support
Radial's product documentation is excellent, with all functions clearly illustrated and explained.
Price
The Radial Key Largo (MSRP $450) sells for approximately $380.
The Radial KL-8 (MSRP $xxx) sells for approximately $700.
The Key Largo presents a good value for the combination of functionality and performance. But the KL-8 is slightly pricey at $700 for just 4-5 analog keyboard inputs (though the value proposition is better if you'll take advantage of the USB audio interface for computer-based virtual instruments).
If you want to wire up a studio full of keyboards, you may need more than one KL-8, which puts you into the price range of a wide variety of digital mixers that may better suit your needs in the studio. But for a pro-level rig you can gig or tour with, this mixer is a dream come true. We expect to see a few of these Radial mixers in our keyboard setups.
Contact Information
Radial Engineering
www.radialeng.com