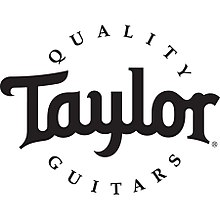 El Cajon, CA July 18, 2019 - Today Taylor® Guitars is excited to announce the latest addition to its lauded Builder's Edition lineup with the new all-koa Grand Auditorium Builder's Edition K24ce. The company has also released a new wave of V-ClassTM Grand Concert models, making the award-winning bracing system standard in all U.S.-made editions of the body shape (300 Series and up), including Taylor's first-ever V-Class 12-string models. Additionally, Taylor has added a beautiful new vintage-hued Satin Sunburst finish treatment option to its 100 Series; the Big Baby Taylor is now offered in walnut; and a statement-making black gloss finish is now offered on a pair of 200 Deluxe Series models.
BUILDER'S EDITION K24CE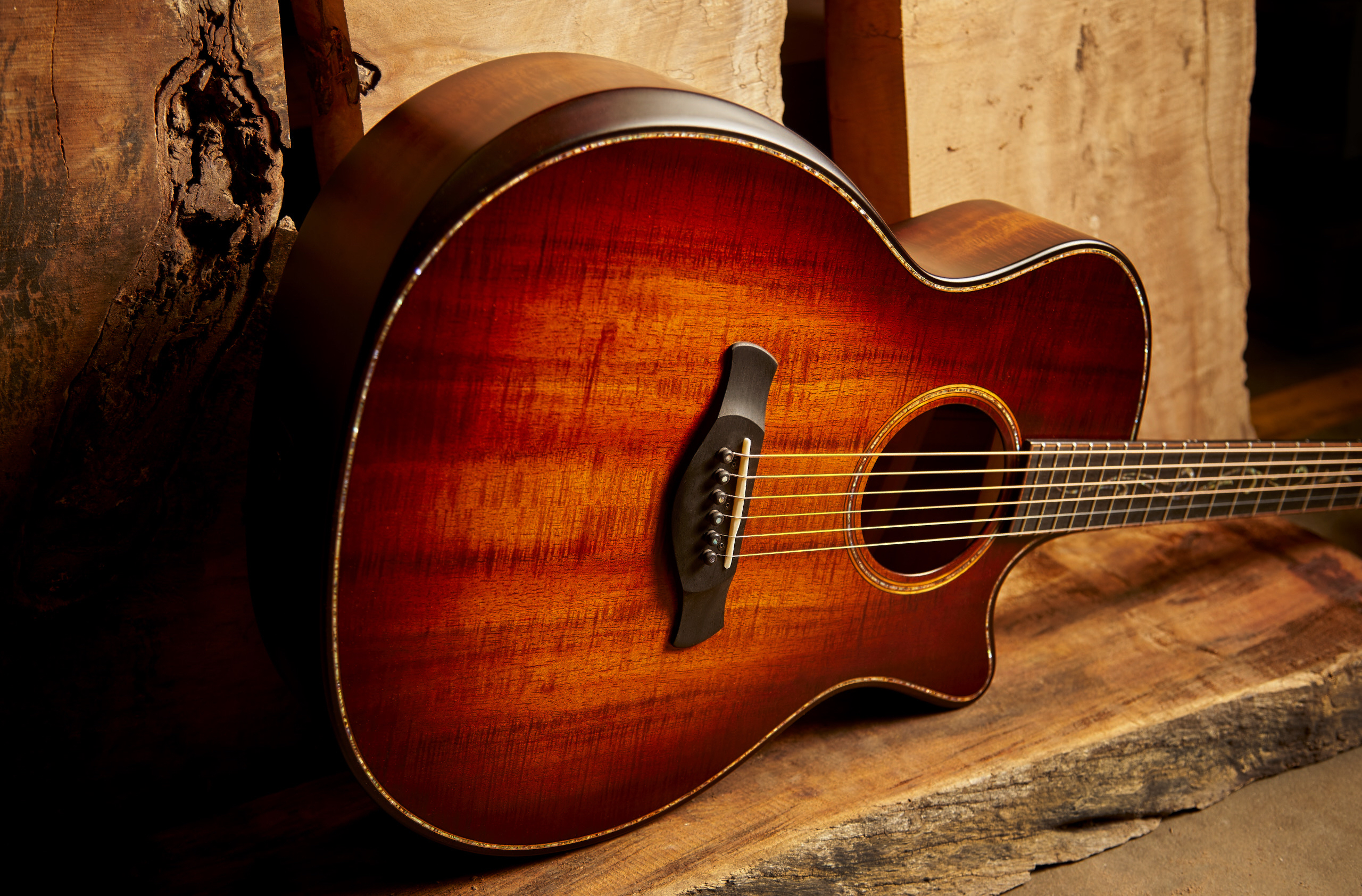 Building on the big success of the original Builder's Edition model, the Grand Auditorium K14ce, Taylor's new Builder's Edition K24ce marks a return to its Koa Series with a couple of notable distinctions. The most obvious is that koa's seductive beauty is on immediate display with a gorgeous koa top. And with its sleek and inviting body contours, the curve appeal is every bit as satisfying as its visual charms. Player-friendly features include chamfered body edges, a beveled armrest, and an elegant double-carved cutaway, which incorporates a compound curve that flows cleanly into the neck heel, along with a finger bevel, making upper-register notes comfortably accessible. Another notable difference is the contoured Curve Wing bridge that debuted on Grand Pacific Builder's Edition models earlier this year.
Tonally, the koa top on the K24ce will give this guitar a slightly darker voicing than its spruce-top counterpart.  With Taylor's V-Class architecture inside, the guitar will yield other enhanced acoustic traits — improved volume, sustain and intonation — including wonderfully balanced articulation across the frequency spectrum. Between the V-Class framework and the controlled response of the hardwood top, this guitar will shine in an amplified setting or in front of a mic.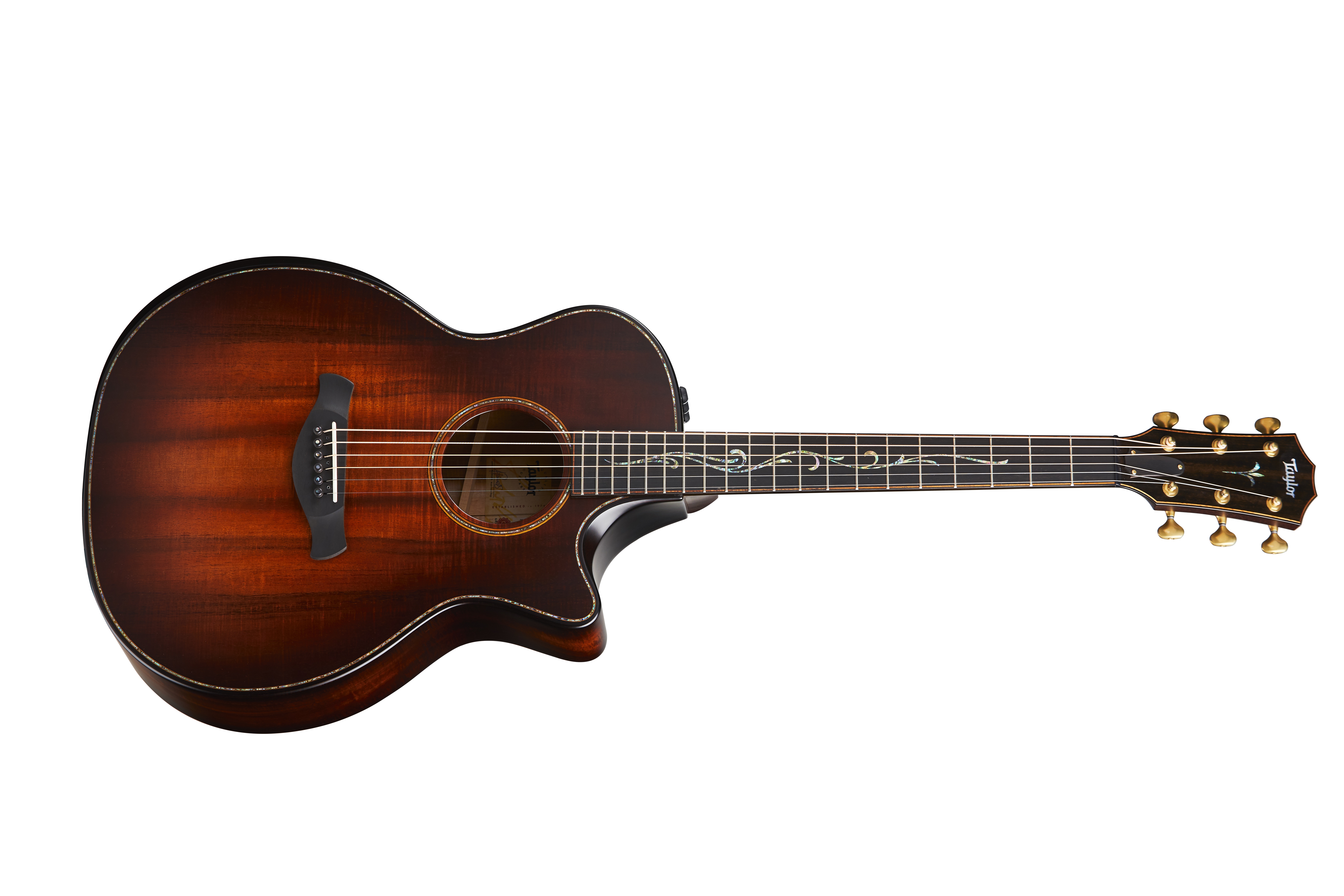 The guitar's finish treatment features a Kona Burst together with Taylor's proprietary Silent Satin finish. Beyond the artfully muted sheen and smooth feel, the finish reduces the sound of the player against the instrument — a benefit for recording applications. Elsewhere, paua abalone and koa trim trace the body's contours in the form of top and back purfling with a complementary soundhole rosette; the fretboard and peghead showcase paua Spring Vine inlays with thin koa purfling lines adding an elegant finishing touch; and Gotoh Gold 510 tuners (21:1 tuning ratio) complete the ultra-premium look and feel of the guitar.
The Builder's Edition K24ce will be available starting at a street price of $5,299.
NEW V-CLASS GRAND CONCERT MODELS
Starting this summer, V-Class bracing will now be available in steel-string Grand Concert guitars from the 400, 600, 700, 900, Koa and Presentation Series at Taylor dealers everywhere. That means that all Grand Concert models built in the El Cajon, California factory (300 Series and up) will now feature the V-Class architecture.
This new wave of V-Class Grand Concert models boasts a variety of different tonewoods and unique voices. A pair of rosewood guitars — the 412ce-R (Sitka spruce top) and the 712e 12-Fret (Lutz spruce top) — both share rosewood's heritage of rich, sparkling tone, with all that harmonic content further enhanced by the V-Class architecture. The 412ce-R makes a great choice for working musicians who need a pro-level guitar that isn't too precious to load in and out of the van, with minimal appointments, a sweet musical voice, and great-sounding onboard electronics for gigging. Meanwhile, the 712e 12-Fret displays the sonic benefits of V-Class bracing in another appealing way, as the repositioned bridge — a distinction of the 12-fret neck/body configuration — opens up even more warmth and sustain.
By applying his V-Class voicing framework to a maple guitar, Taylor master guitar designer Andy Powers has opened up a broader palette of sonic colors for players to explore. The 612ce 12-Fret leverages maple's player-reflective properties to offer new levels of tone control and versatility, blending touch sensitivity and acoustic power in a way that gives this 12-fret Grand Concert remarkable dynamic range for its size. The 12-fret design also reveals surprising low-end warmth when the player wants it. Together with the slinky handfeel of the 12-fret neck, this guitar is an inspiring discovery waiting to happen.
V-CLASS 12-STRINGS
Among the group of new Grand Concert models are four V-Class 12-strings from the 300 and 500 Series. Though the V-Class architecture was originally developed by Powers for a 6-string guitar, when adapted for a 12-string, the resulting sound reveals its tonal virtues in a remarkable new way.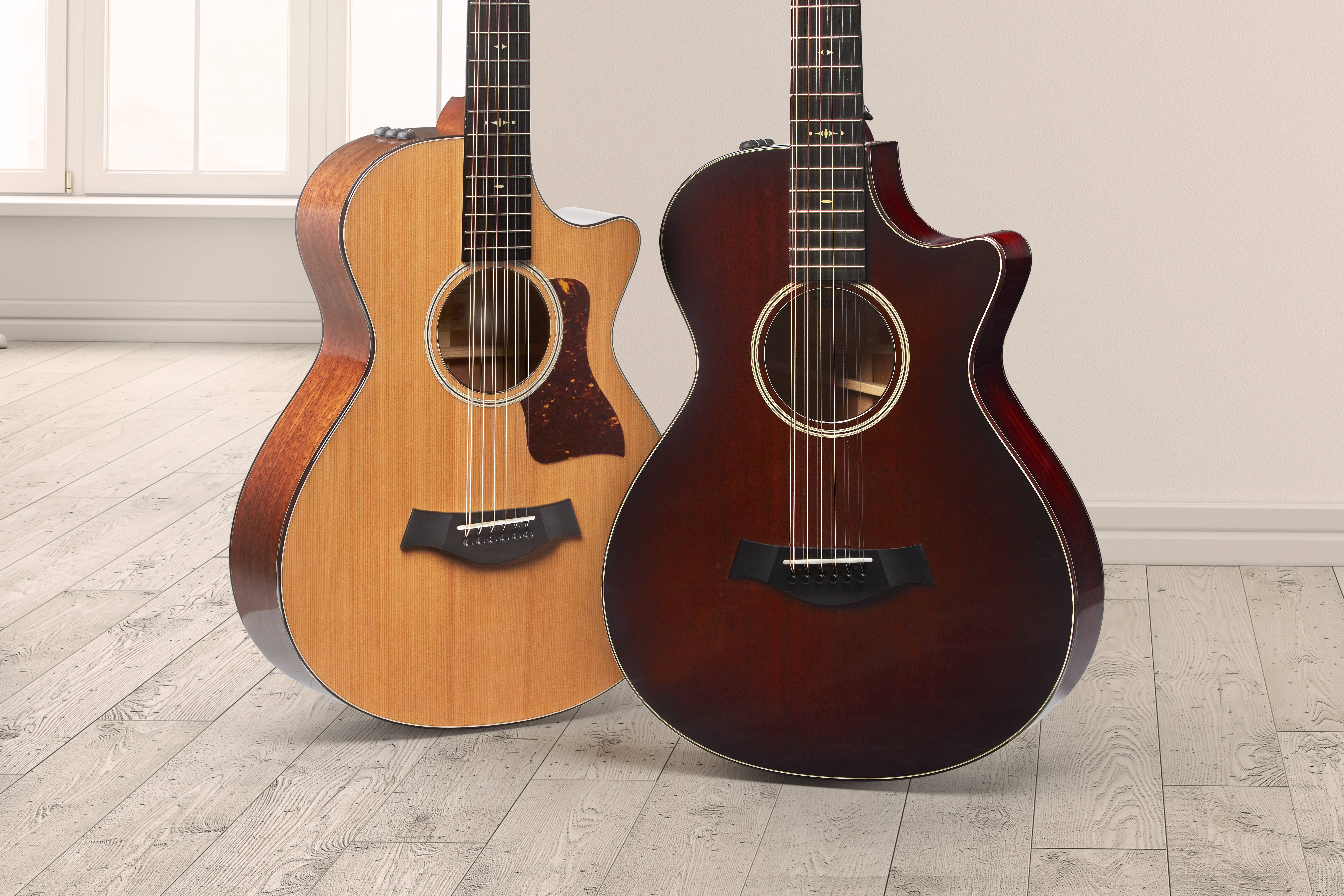 As Powers points out, a 12-string guitar presented an even greater test of V-Class's sonic capabilities, in particular the ability to produce greater pitch accuracy and harmonic agreement between notes. Twice as many strings vibrating against a vibrating diaphragm means more notes and overtones to control. "You're taking a string and adding another next to it that has the same musical note but is expected to double up a perfect octave overtone of the first note," Powers explains, referring to the octave relationship between the E, A, D and G string pairs. "That's tricky because you want a mathematically perfect octave harmonic of this lower fundamental note, but since it is a second independent string, it will generate its own harmonic series." But the V structure creates so much stability parallel to the strings, a string isn't nearly as able to alter the pitch on the small octave string next to it.
Another innovative design stroke for the 12-strings is a new double-mounted string anchoring system, which allows each string pairing to be anchored at the bridge under a single pin. With a single row of six bridge pins instead of 12, the strings all have a consistent break angle over the saddle, which contributes to more tonal consistency in the guitar's voicing.
"I feel like I finally get to play a 12-string that's in tune," says Powers.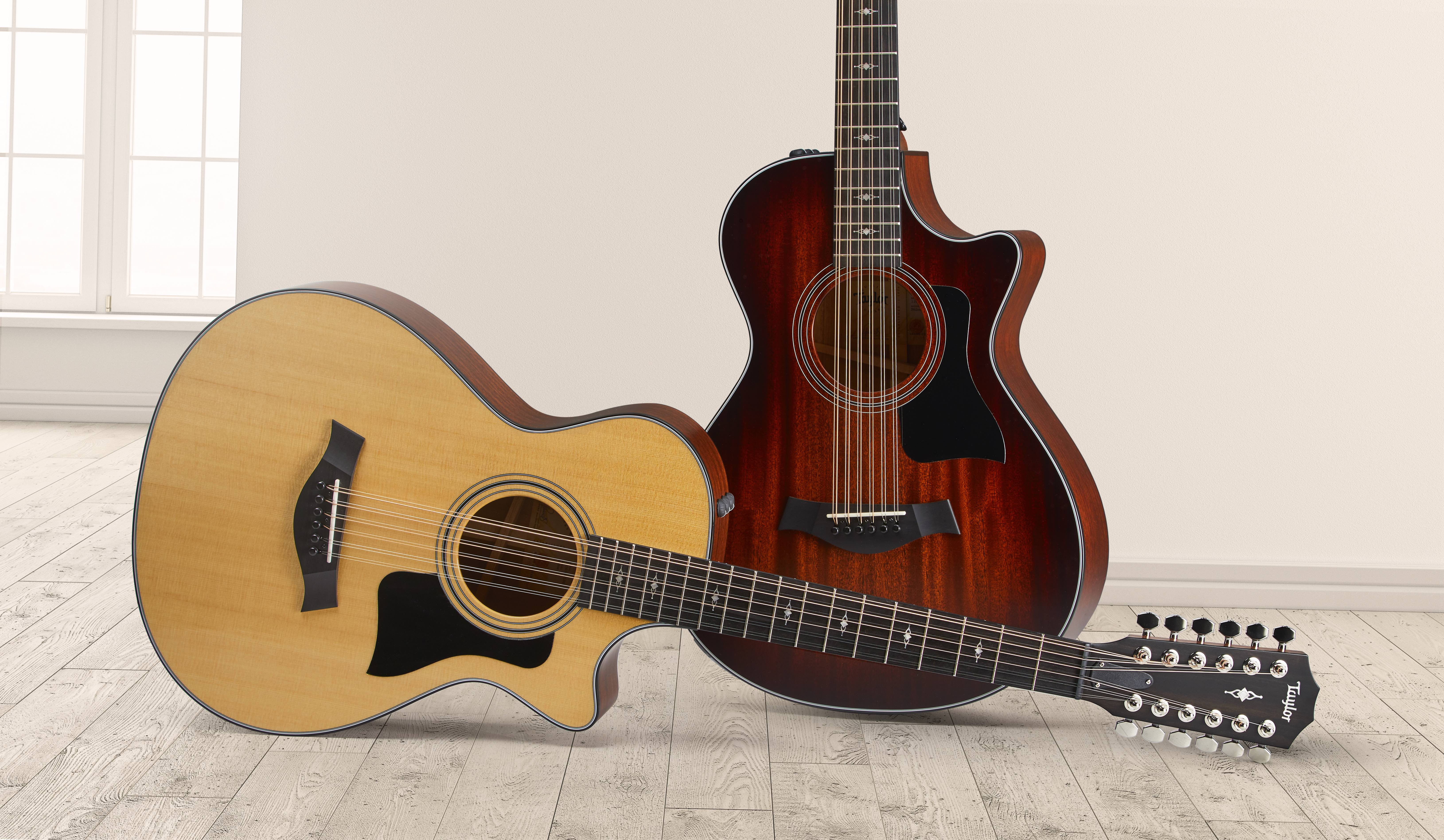 Within the 300 Series, the 352ce and 362ce deliver exceptional tone and playability. The 352ce combines sapele back and sides with a Sitka spruce top for a traditionally shimmery 12-string sound, while the 362ce's pairing of blackwood with a mahogany top lends a dry midrange and a touch of low-end presence. The small footprint of the Grand Concert body also makes the 12-string experience more physically accessible thanks to its small frame, while the the V-Class pattern adds power and sustain to both models while ensuring accurate intonation all the way down the neck. The 500 Series also features two enhanced 12-string models: the 552ce and 562ce. The former features a Western red cedar top with mahogany back and sides, blending the characteristic dryness of mahogany with the cedar's warmth and soft-touch response. The 562ce is an all-mahogany 12-string, full of midrange presence and clear overtone bloom thanks to the power of V-Class bracing.
BLACK 200 DELUXE, SUNBURST 100 SERIES, & WALNUT BIG BABY
Taylor has also added a dark flair to the 200 Series with a pair of deluxe-edition guitars that feature an alluring glossy black finish: the acoustic-electric Grand Auditorium 214ce-BLK DLX and 12-string Dreadnought 250ce-BLK DLX. The 214ce-BLK DLX features a solid spruce top for top-end sparkle and room-filling power, matched with layered maple back and sides. The 250ce-BLK DLX  shares the same wood pairing and churns out big, grandiose tone that's rich with octave shimmer. Both models are appointed with crisp white binding and an Italian acrylic rosette, which strike an eye-catching contrast against the gloss-black finish treatment.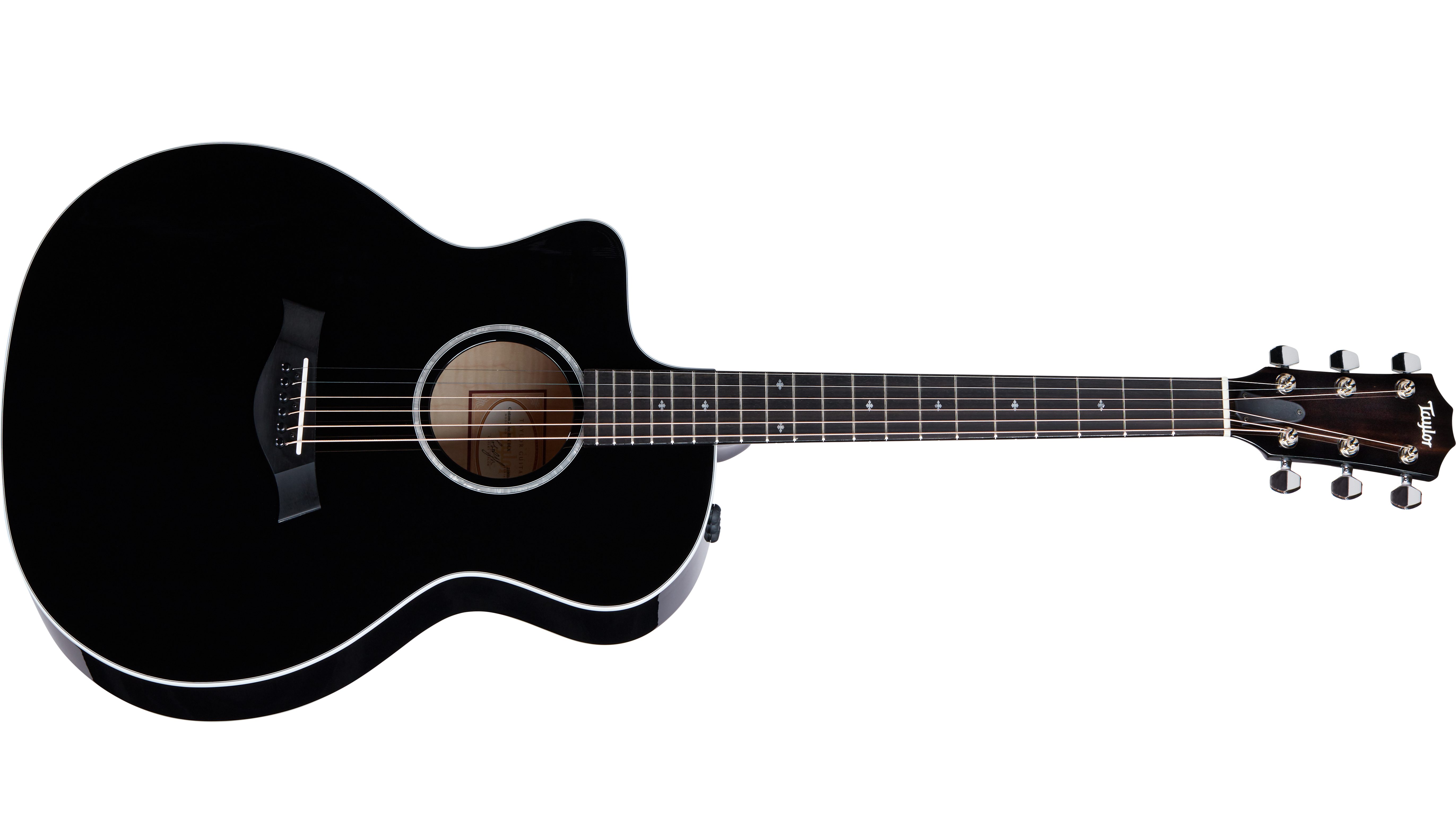 Taylor's 100 Series also sports a new vintage-hued Satin Sunburst top. The attractive color update levels up the visual appeal across the entire family, including the 12-string 150e-SB and nylon-string 114ce-N-SB. The guitars feature layered walnut back and sides, a solid spruce top, and a maple neck.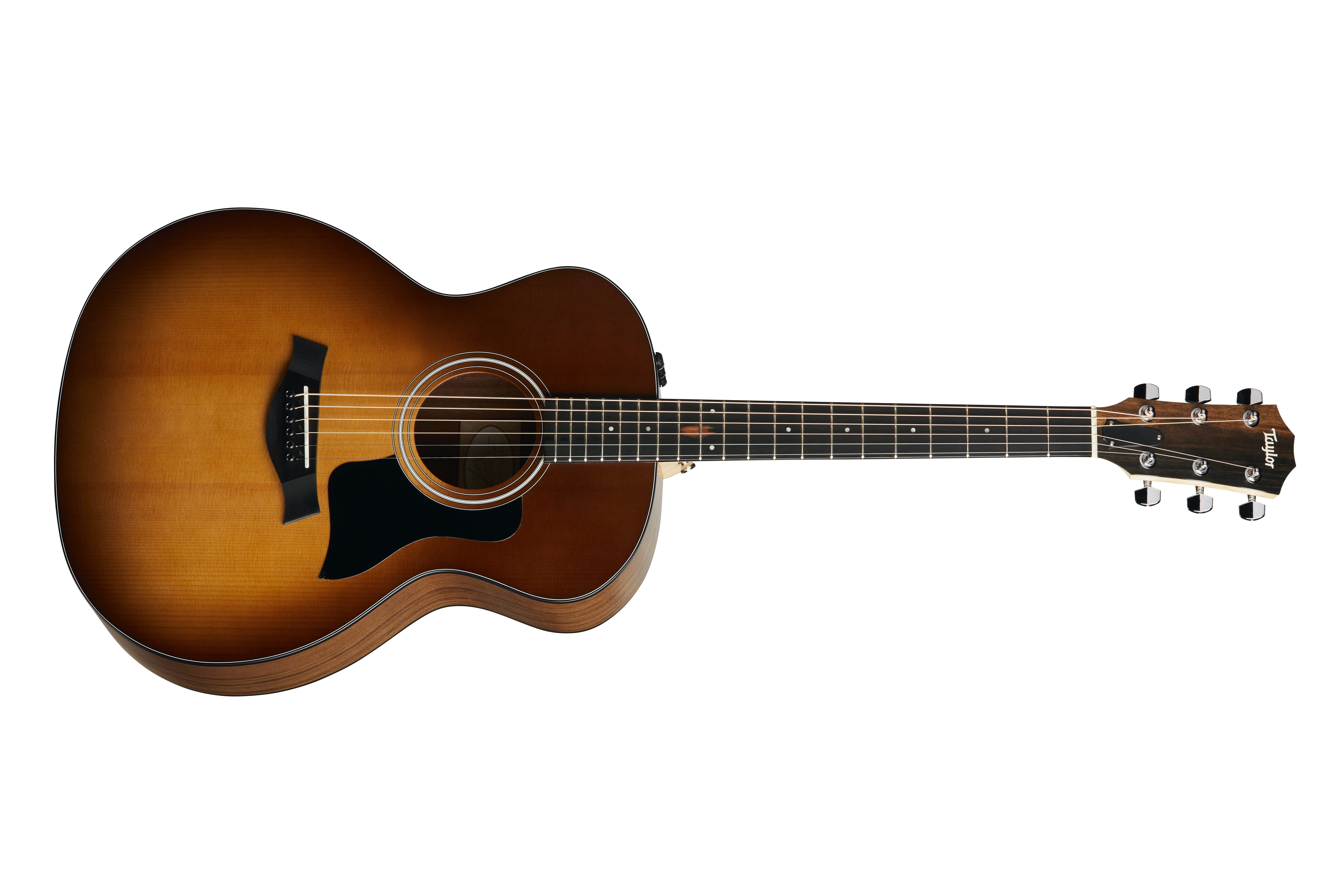 Finally, Taylor's popular budget-friendly Big Baby also enjoys a refresh this summer to include layered walnut back and sides with a solid spruce top and onboard ES-B electronics. Standard specs include a 1-11/16" nut width and 25-1/2" scale length. These guitars are appointed with 4mm dot Italian acrylic fretboard inlays, a faux tortoiseshell pickguard, and include a Taylor gig bag.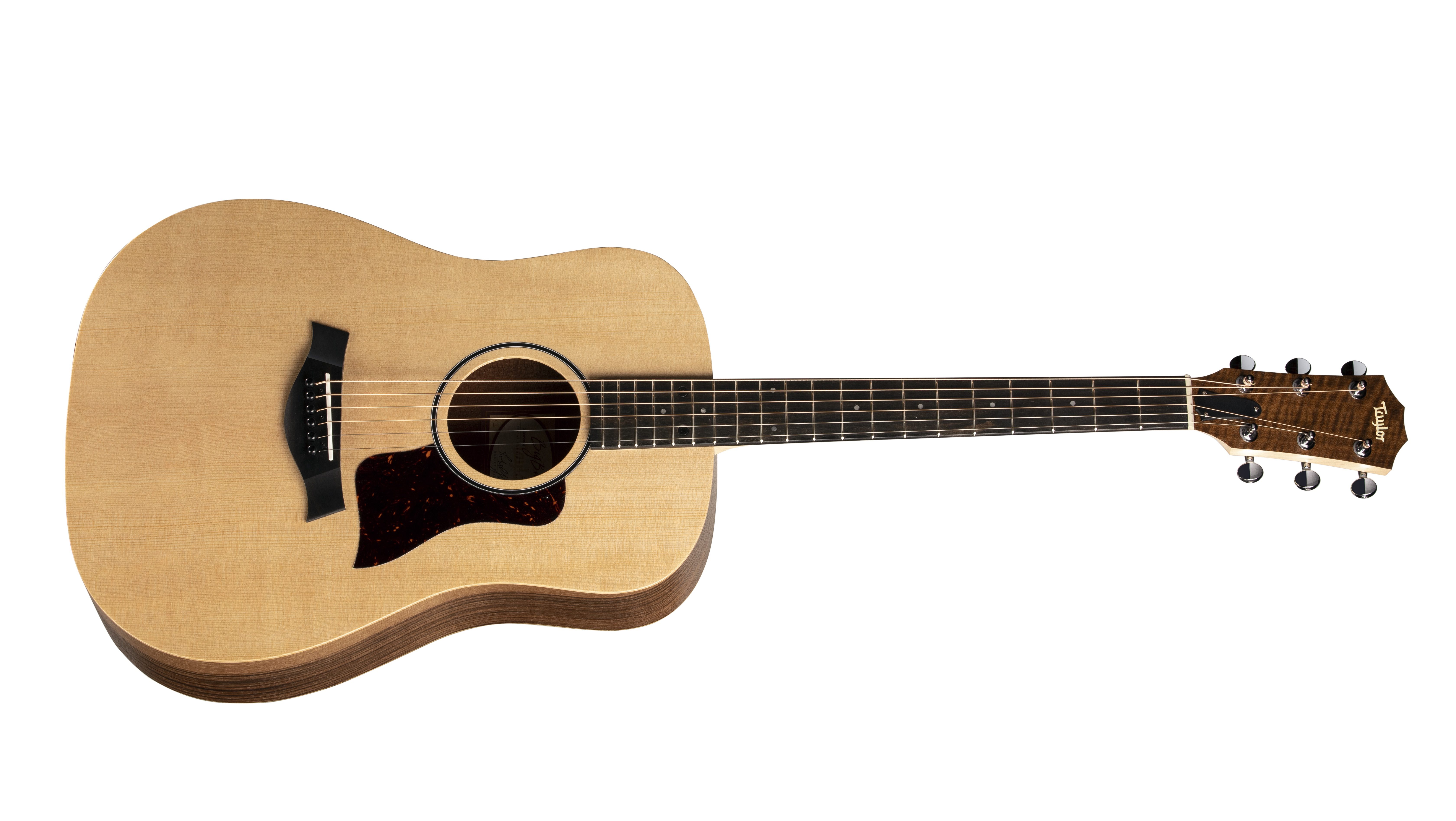 For more information about the new models and the entire Taylor lineup, please visit taylorguitars.com and follow us on Facebook, Instagram, YouTube and Twitter.
ABOUT TAYLOR GUITARS
Founded in 1974, Taylor Guitars is one of the world's leading manufacturers of premium acoustic guitars. Renowned for blending an innovative use of modern technology with a master craftsman's attention to detail, Taylor guitars are widely considered among the best sounding and easiest to play in the world. Many of today's leading musicians make Taylor their guitar of choice, including Jason Mraz, Zac Brown, Shawn Mendes and Taylor Swift, among many others.