Scottsdale, Ariz. (July 18, 2019) -- Jackson® is proud to present new signature offerings for Iron Maiden's Adrian Smith, Periphery's Misha Mansoor and Megadeth's David Ellefson.
Iron Maiden is one of the most successful and influential metal bands ever, and Adrian Smith's molten yet melodic guitar work has long been a driving force behind their distinctive and dynamic sound. With timeless songwriting and thrilling live performances, Maiden continues to record, tour internationally and rock stadiums everywhere with electrifying prowess and unwavering heavy metal passion.
Jackson celebrates Smith's heavy-hitting tone with an all-new Transparent Green Burst finish for the USA Signature Adrian Smith San Dimas® SDQM, as well as a new Snow White with white pickguard option for the X Series Adrian Smith San Dimas SDXM.

Smith's USA Signature SDQM model features a resonant, lightweight alder body with a gorgeous quilt maple top. The bolt-on quartersawn maple neck has a hand-rubbed urethane back finish for smooth playability and a pair of graphite reinforcement rods that refuse to budge, no matter the environmental stress it's exposed to.
Featuring 22 jumbo frets and black dot inlays, the 12"-16" compound radius maple fingerboard is the ideal platform for heavy chording and fast, ripping solos, while a heel-mount truss rod adjustment wheel allows for quick and easy neck relief tweaks.
A Seymour Duncan® JB™ TB-4 humbucker in the bridge adds plenty of upper midrange attack, with a tight, articulate low end and harmonically rich highs. Samarium Cobalt Noiseless Single-Coil Strat® middle and neck pickups deliver authentic, noise-free Stratocaster snap with incredible dynamic and magnetic response. A five-way blade selector switch along with single volume and tone controls open up endless tonal possibilities, while the Floyd Rose® Original double-locking tremolo system keeps the guitar in tune through the roughest playing, set after set.
A white pickguard, black hardware and licensed Fender® Strat® matching Trans Green Burst headstock complete the look.

Smith's affordable X Series Signature SDXM model features a basswood San Dimas® body and a bolt-on maple neck with rock-solid graphite-reinforcement rods. Its 12"-16" compound radius maple fingerboard with 22 jumbo frets and black dot inlays is the perfect launching pad for rapid-fire riffing or complex chords.
The SDXM packs a Jackson high-output humbucker in the bridge position and Jackson single-coil pickups in the neck and middle positions. The humbucking pickup was painstakingly voiced for full, rich tone while providing maximum overdrive and sustain, whereas the single-coil middle and neck pickups deliver that unmistakable Strat® snap.
Other features include a five-way blade selector switch, single volume and tone controls, Floyd Rose® Special double-locking tremolo system, black hardware and licensed Fender® Strat® headstock.
…
Djent forefather and speed demon Misha Mansoor has gained widespread acclaim as the mastermind behind the axe-centric progressive metal band Periphery. He's known to impress the most discerning of metal fans with his steadfast, fleet-fingered technique, and his personally designed collection of Jackson signature Juggernaut instruments is sure to set any shredder's tone ablaze.
The Pro Series Signature Misha Mansoor Juggernaut HT7P offers a 26.5" scale length and resonant basswood body with a remarkable poplar burl top. The bolt-on caramelized maple neck with graphite reinforcement provides rock-solid stability, while the wrap-around heel with oiled neck back finish has been engineered for greater playing comfort.
Blazing fast leads are for the taking on the HT7P with a 20" flat radius caramelized maple fingerboard, which features rolled edges, 24 jumbo frets and offset dot inlays. Luminous side dots will guide the way along the fretboard even on the darkest of stages, while the heel-mount truss rod adjustment wheel allows for convenient neck relief tweaks.
Mansoor spent considerable time working with Jackson to develop MM1 pickups. The uncovered and direct mount MM1 bridge and neck pickups are well-balanced and seethe with highly dynamic tone that responds well to heavier picking styles.

The 7-string leviathan HT7P is available in an all-new sophisticated Black Burst Burl finish with a matching Jackson 4x3 AT-1 headstock and black hardware.
…
Jackson and Megadeth's David Ellefson joined forces to bring a fresh new spin on his signature lineup with the 4-string X Series Signature David Ellefson Concert™ Bass CBXM IV and 5-string X Series Signature David Ellefson Concert™ Bass CBXM V. These hard-hitting models are ravishing in look and sound, exquisite in feel and loaded with personal design touches straight from the man himself.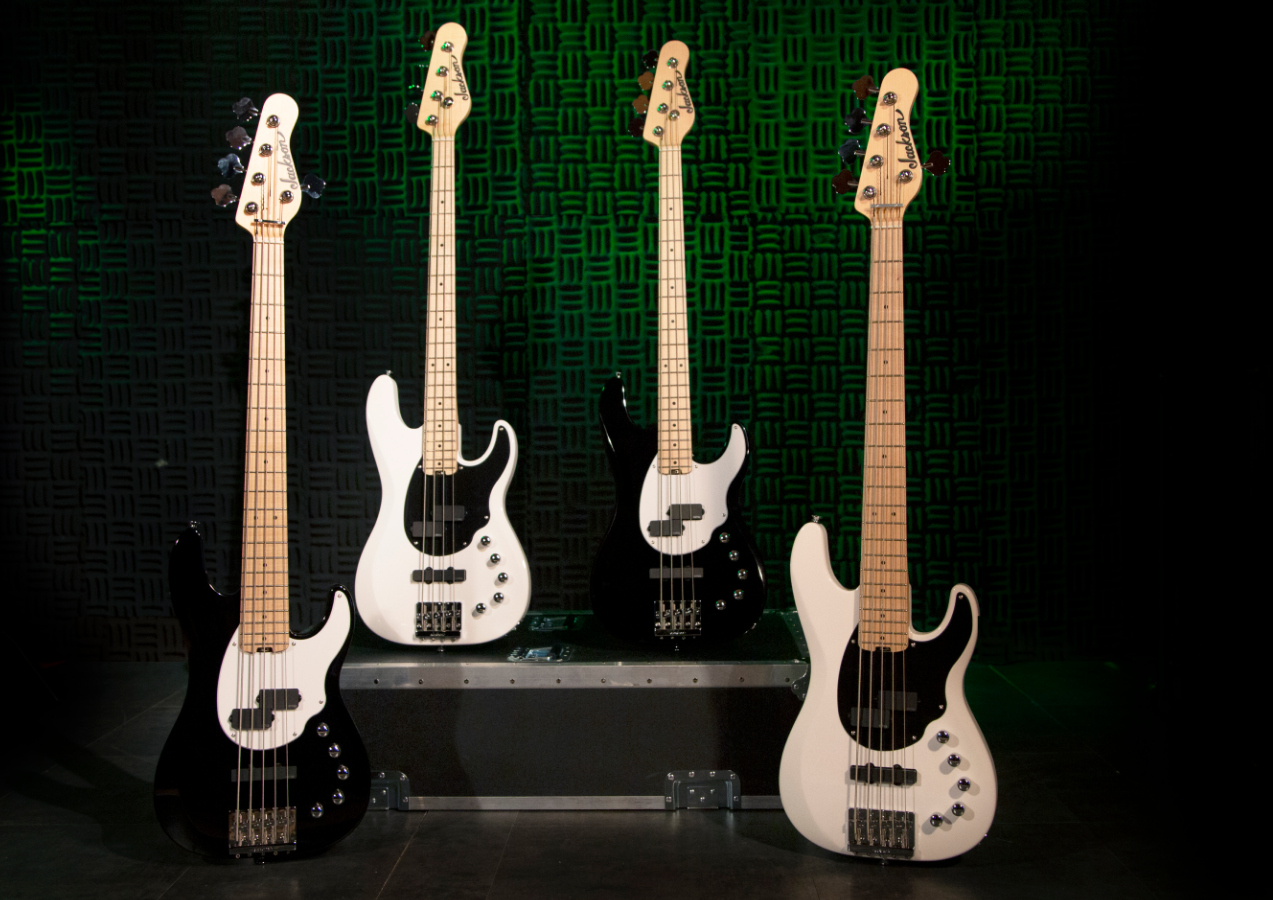 Both models feature a poplar body constructed with an upper contour that provides a comfortably stable anchor for pick or fingerstyle playing alike, and a lower contour for perfect balance when propped on a knee. A graphite-reinforced bolt-on quartersawn maple neck provides the utmost stability for highly-technical lightspeed playing, while the 12"-16" compound radius maple fingerboard has been designed for increased playing comfort and speedy articulation. A heel-mount truss rod thumbwheel also allows for quick and convenient neck adjustments.
Active EMG® J bridge and EMG P neck pickups provide plenty of punchy mid-range and increased output as an active 3-band EQ bolsters their native power, shaping and refining it for maximum impact and versatility. The blend knob mixes the pickups to taste — add more of the neck pickup for a punch of warmth or bring up the bridge pickup for more cut. A Jackson HiMass™ bridge sharpens notes' attack for extra clarity, granting enhanced sustain without significantly altering the instrument's fundamental tone.
The 34"-scale CBXM IV and 35"-scale CBXM V are offered in Gloss Black with white pickguard or Snow White with black pickguard. These leviathan basses are finished off with chrome hardware and an all-new Jackson paddle headstock (CBXM IV has 4 tuners on top; CBXM V has 4 tuners on top and 1 on bottom) that features the familiar "Radiation" logo and Ellefson's signature embossed on the truss rod cover.
Watch Ellefson introduce his new bass guitars here:
To see more new offerings from Jackson, please visit jacksonguitars.com.