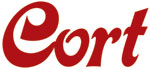 SEOUL, SOUTH KOREA (Jan. 8, 2020) — There's only one way Cort Guitars wants to kick off another exciting year of innovation, and that's with artist performances at The 2020 NAMM Show in Anaheim, Calif. This year, Cort welcomes four internationally renowned guitarists to booth #5215 in Hall D of the Anaheim Convention Center. Frank Gambale, Hedras Ramos, Jeff Berlin, and Víctor de Andrés hail from different countries, but they've all chosen Cort guitars to represent their unique styles and sounds. The NAMM Show presents an unparalleled opportunity to learn more about these artists and their Cort instruments of choice.
Booth performances will take place Thursday, Jan. 16, through Saturday, Jan. 18, at designated times from 11:00 a.m. to 3:30 p.m. The schedule is as follows:
Frank Gambale will perform all three days, Thursday, Jan. 16, at 11:00 a.m. and 2:00 p.m.; Friday, Jan. 17, at 11:00 a.m.; and Saturday, Jan. 18, at 3:30 p.m. Gambale, a native of Australia, is a GRAMMY® Award-winning guitar virtuoso and inspired songwriter. His music touches on many styles, from rock, funk and jazz to R&B and Latin and Brazilian influences. Gambale has released 20 studio albums, plus three live albums and numerous collaborative projects, along with several instructional books and DVDs. Although he is known primarily for his work on electric guitar, Gambale collaborated with Cort on his signature LUXE acoustic-electric, which is ideal for high-speed soloing. Most recently, he released his second Soulmine album entitled Salve and revamped his incredible online guitar school.
Hedras Ramos will perform on Thursday, Jan. 16, at 1:00 p.m. and Friday, Jan. 17, at 12:30 p.m. and 3:30 p.m. This young guitar prodigy is taking the world by storm with his furious and future-jazz stylings, bringing the instrument to an entirely new level. The 27-year-old Guatemalan has won multiple international competitions, earning nearly 20 endorsements from companies on three continents. He has completed three albums and provided all the guitar work for Sir Christopher Lee's heavy metal album Charlemagne: The Omens of Death. In 2018, Ramos started leading guitar clinics at the prestigious Musicians Institute and performed at the Big Mama-Jama Jamathon with guitar legend Steve Vai. In 2019, he helped to introduce the Cort X700 Duality electric guitar, and praised it for playability, versatility and tone beyond any guitar he's ever played before.
Jeff Berlin will perform Friday, Jan. 17, at 2:00 p.m. and Saturday, Jan. 18, at 11:00 a.m. and 2:00 p.m. The American jazz/fusion bass guitarist has earned a reputation as one of the world's most influential players and finest clinicians. In recent history, he released Joe Frazier – Round 3, a 30th anniversary EP featuring a newly remastered version of the original song from the critically acclaimed 1987 album Pump It! and a completely reimagined version composed and performed by Berlin, Steve Vai, Keith Carlock, David Sancious, and Tom Hemby. Berlin continues to record and tour throughout the world, and inspired and helped to design Cort's Rithimic Series of bass guitars.
Víctor de Andrés will perform on Thursday, Jan. 16, at 3:30 p.m., and Saturday, Jan. 18, at 12:30 p.m. He is one of the most prolific and active rock guitar players in the Spanish and South American music scene and an active member of the power metal band Zenobia. de Andrés has played and collaborated with many big artists in Spain and has also toured around Spain, South America and the U.S. with Zenobia and his solo projects. On his vastly popular YouTube channel, he loves to share his musical creations, collaborations with other musicians, gear reviews and daily stories. The newest addition to his repertoire, Cort's KX500MS electric, can go from over-the-top brutal to a sweet purr, covering a wide range of musical styles and genres.
For More Information: Learn more about these musical artists and their Cort instruments at www.cortguitars.com. For more information on the 2020 NAMM Show and to locate Cort's booth #5215, visit www.namm.org.
About Cort Guitars
Cort designs, manufactures and delivers some of the finest guitars and basses to musicians and music enthusiasts all around the world. Over the past 50 years, the company has worked with some of the largest and most well-recognized guitar companies in the industry, as well as artists of international recognition. Cort remains focused on providing instruments that will last generations with the best workmanship possible, the best materials and components, and the best service long after the instruments have been purchased. For more information, visit www.cortguitars.com.