On Saturday, September 12, between 8-9:30 P.M., Joe Deninzon & Stratospheerius will be premiering their new music video, "Storm Surge" as the finale for the group's virtual live-stream set at ProgStock Presents Virtual Series. The music video features Saga's Michael Sadler on vocals, Rachel Flowers on piano and flute, Fernando Perdomo on guitar, and Ruti Celli on cello *Sound of Contact/ Dave Kersner/In Continuum).  The song "Storm Surge" will appear on streaming media the follow weekend September 18 (Thursday midnight/Friday morning).
Joe and the band met Michael and Rachel when they all performed at ProgStock 2018, where he also met and performed with Dave and Fernando. Joe connected with Ruti playing with In Continuum at Cruise to the Edge 2019.
Performances on September 12, 2020's ProgStock Virtual Festival on StageIt start at 4 PM ET/1 PM PT/9 PM UK time with Dave Bainbridge (Iona, Lifesigns, Celestial Fire, Strawbs…), followed by Frogbelly and Symphony, Dark Beauty, and then at 8 PM—Joe Deninzon & Stratospheeerius.  Links for their performances below.  Visit https://www.stageit.com/ProgStock for the full schedule and all tickets. The individual performances on StageIt are separate shows. Audience members will purchase a ticket to each performance individually, not the whole night as a block.
Led by electric violinist/vocalist Joe Deninzon, who has been called The Jimi Hendrix of the electric violin, Stratospheerius has showcased their "frenzied melange of progressive rock, jazz fusion and funkabilly" throughout the world. The New York-based group has opened for Martin Barre, Alex Skolnick, John 5 & The Creatures, Gary Hoey, Mike Stern, Tim Reynolds, Mickey Hart, and John Scofield, among many others. The group's influences include Yes, Spock's Beard, Muse, Frank Zappa, Mahavishnu Orchestra, and King Crimson. Stratospheerius was a winner of the John Lennon International Songwriting Competition the Musicians Atlas Independent Music Awards. They have been featured in Progression, Relix, Downbeat, and Jazziz, among other publications. Their latest CD on Melodic Revolution Records, Guilty of Innocence, has been widely acclaimed by critics and fans.
You can find their new video, IMPOSTER, here:
Joe & his NYC Philharmonic violin playing wife, Yulia Ziskel will be interviewed by the University of Illinois' Jewish Culture & Society Dept. on Monday evening, August 31, at 7:30 pm.  For more info, please visit: https://calendars.illinois.edu/detail/6639?eventId=33382184.
Joe and Yulia will also be teaching and performing at this year's Grand Canyon Virtual Music Festival later this week.  Please visit:  https://grandcanyonmusicfest.org/.
ProgStock is the American Northeast's only prog rock festival. Helmed by Thomas Palmieri and Ann Rinaldi, ProgStock has been cancelled this year due to the global pandemic. To keep the musicians and fans engaged, this team has been curating a number of online progressive rock events. Early on in the pandemic, they curated the virtual stage for Union County Performing Arts Center in Rahway, NJ, for the UnCancelled Music Festival. They started the ProgStock Presents Virtual Series on August 1, 2020, and they plan to continue as long as musicians are out of work and fans have no live shows to attend.
This September, they're also facilitating Virtual ProgDay on Labor Day Weekend, when the event usually takes place in Chapel Hill, NC, featuring great prog bands from all over the world.
In a continuation of the partnership between ProgStock and the Bob Moog Foundation, artists performing as part of the ProgStock Presents Virtual Series may choose to donate some or all of the proceeds from their show to the Bob Moog Foundation to help the organization provide hands-on opportunities for children and adults to explore the science of sound and the preservation of Bob Moog's archives and musical inventions. https://moogfoundation.org/projects/bob-moog-foundation-archives/
ProgStock has a new partnership with RISE Nitro Brewing! This allows fans to get a 20% discount and free shipping when they order delicious nitro cold brew coffee. Discount code: ProgStock20.  https://risebrewingco.com/
The Facebook event for the September shows is: https://www.facebook.com/events/308632280343795/
Performers on September 12's ProgStock Virtual Festival.  Links for their performances below.
4PM: Dave Bainbridge (90 minutes, $8.00, 80 notes)
https://www.stageit.com/progstock_presents/dave_bainbridge/87296
6 PM: Frogbelly and Symphony (45 minutes, 25 Notes, $2.50)
https://www.stageit.com/progstock_presents/frogbelly_and_symphony/85758
7PM: Dark Beauty (45 minutes, 40 Notes, $4.00):
https://www.stageit.com/progstock_presents/dark_beauty/87297
8PM: Joe Deninzon and Stratospheerius (90 minutes, $8.00, 80 notes)
https://www.stageit.com/progstock_presents/joe_deninzon_and_stratospheerius/87299
Official ProgStock merchandise: https://progstock-store.square.site/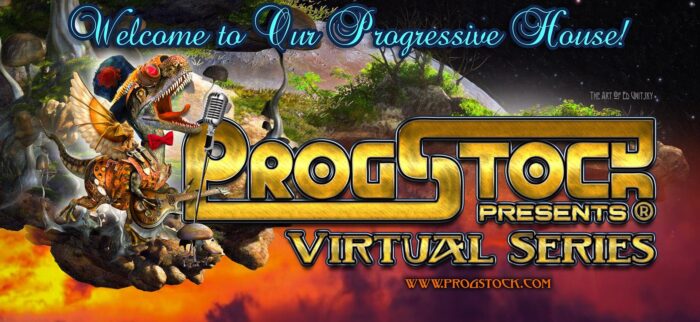 Joe Deninzon & Stratospheerius
https://www.instagram.com/Stratospheerius
https://www.facebook.com/Stratospheerius
https://www.youtube.com/channel/UC7RSICpqKgZ2IRsreeYtWZQ
https://open.spotify.com/artist/0lZ0G7PIgJsdjpq4394FLK
http://www.twitter.com/JoeDeninzon
http://www.Stratospheerius.com