--Largest Music Industry Trade Show In Asia--
October 28-31--Shanghai International Expo Centre
NASHVILLE, TN (October 28, 2020) Gibson, the iconic American instrument brand, will return to showcase an array of new guitars, products and livestream events at Music China 2020--Asia's largest trade show of musical instruments--at the Shanghai New International Expo Centre, now through Oct. 31. For the past 18 years, Music China has generated tremendous growth for the music industry in China and Asia Pacific.
For audiences who are unable to visit the show in-person due to COVID-19, a virtual Music China exhibition displays a range of new guitars and products from Gibson Brands, as well as VR tours of the booths online at: https://musicchina.hk.messefrankfurt.com/shanghai/en.html. Registrants will be able to "reserve" a time to chat with the Gibson Brands team in private, view product displays, and fulfill purchase orders, all from their home base. Audiences will also enjoy exclusive livestream broadcasts from artists in the Gibson Brands booths.
By leveraging its iconic past and leaning into the future, Gibson continues to set the stage for the next era of shaping sound for present and future generations. In 2019, Gibson, Epiphone and Baldwin returned to Music China welcoming thousands of visitors. The four day event saw 177, 845 attendees--playing the new guitar and piano lines, taking photos with the Gibson Guitar Throne, live streaming videos in Baldwin piano rooms, and enjoying the many performances throughout the show from Gibson artists in various genres of music.
For Music China 2020, Gibson's CEO and President, James "JC" Curleigh is connecting virtually with key dealers, distributors, artists, and partners. In 2019, JC came to Music China--marking the first time in a decade a top executive at Gibson had traveled to China--to forge new relationships and opportunities for growth in retail, branding, management, as well as secure support for authorized dealers and local artists throughout the region.
The Gibson experience at Music China 2020 features exciting, and award-winning new products from the brand including the following listed below.
Original and Modern Collections
Kramer the original Made to Rock Hard guitar brand is back, shredding all rules and boundaries with new energy, guitar collections and artist collaborations. The Kramer Original and Modern Collections span entry-level and intermediate guitars to professional offerings across our entire line, including the USA assembled Custom Graphic Collection, which is hand-painted by legendary Kramer graphic artists.
Kramer's Original Collection includes the Icon, Baretta, Pacer, Focus, The 84, and SM-1 whereas, the Modern Collection will feature the Assault, Striker, Nite-V, Bass and more. Early artist collaborations for Kramer include the Tracii Guns "Gunstar Voyager" the Charlie Parra "Vanguard" and the Dave Sabo "Snake-Baretta" with more to come in 2021 and beyond.
---
Originals and Inspired by Gibson Collections 
The new 2020 guitar portfolio includes the Epiphone Originals and Epiphone Inspired by Gibson collections. Giving players what they crave, Epiphone Originals have been at the forefront of folk, blues, and rock n' roll revolutions. The first wave of the Epiphone Original Collection features new and classic acoustic and electric instruments that Epiphone fans worldwide depend on. No matter what stage in the journey the player finds themselves, Epiphone has a model and price point to meet their needs.
For the first time in decades Epiphone has launched Epiphone Made in USA with The Texan, which is handcrafted in the Gibson Acoustic factory in Bozeman, Montana by Gibson's finest acoustic luthiers. Since 1958, the Epiphone Texan has been the inspiration for generations of world-class songwriters including Paul McCartney of the Beatles and Peter Frampton. Featuring all solid woods, X-bracing, and a 25.5" scale length for a powerful tone, Epiphone Made in USA The Texan is available now in Antique Natural and Vintage Sunburst. Comprising the most iconic acoustic guitars from the 1960s, Epiphone Masterbilt Acoustics look and play beautifully and offer an accessible price point for players. Built overseas with old-world techniques, the Epiphone Masterbilt Original Collection the Texan, Frontier, and Excellente guitars.
Epiphone's Inspired by Gibson Collection offers fans classic Gibson electric models like the Les Paul, the SG, and the ES-335 at an accessible price. Designed from the original Gibson blueprints, Epiphone's Inspired by Gibson Collection includes a Kalamazoo headstock, upgraded electronics and finishes across the Les Paul Junior, Les Paul Special, SG Special, Les Paul Standard 50's, Les Paul Standard 60's, SG Standard, 61 SG Standard w/Maestro, Designer Collection Flying V, Explorer, Firebird, as well as, a new Les Paul Studio and Les Paul Modern.

Other electric debuts include the Epiphone UpTown KatTM ES Collection, the next generation of Epiphone's critically acclaimed ES-style archtop. The Muse Collection is available in a Les Paul and the SG, address beginner and advanced players in new finishes with modern features that appeal to women and men.
---
Gibson Custom Shop Collection
Gibson Custom Shop-Electric: HERE
Gibson Custom Shop Acoustic-Historic: HERE
Gibson Custom Shop Acoustic-Modern: HERE
As the pinnacle of craftsmanship, quality and sound excellence, Gibson Custom Shop celebrates Gibson's legacy through historical accuracy, authenticity, and attention to detail.
2020 brings the new 60th Anniversary, 1960 Les Paul Standards in three versions. V1 share the same specs as their 1959 peers, V2 offer thinner neck profiles, different knobs, and brighter colors, and V3 feature even thinner neck profiles. Each version inspires generations of players with this classic guitar in different ways, making music history all the while.
Gibson Custom Shop based in Nashville, TN, has launched a Historic Reissue ES Collection--with true Historic parts, authentic dimensions and contours scanned from priceless vintage originals. The new Gibson Custom Shop ES Collection includes a 1959 ES-335, 1961 ES-335 and a 1964 ES 335. The Custom Shop will also showcase a new and limited run of historic reissues in a rainbow of custom colors. These include iconic models such as 1963 and 1964 Firebird V, 1964 SG Standard, 1965 Non-Reverse Firebird V, 1967 Mahogany Flying V, all with w/ Maestro Vibrola, 1963 SG Special with Lightning Bar and the modern Les Paul Special Double Cut. The custom colors include Pelham Blue, Candy Blue, Frost Blue, Olive Drab, Classic and Polaris White, Inverness Green, Heather Poly, Silver and Gold Mist Poly, Kerry Green, Cardinal Red, Ember Red, Sparkling Burgundy, Purple Metallic, Black, Pink and others.
The Gibson Custom Shop offers multiple, limited-edition, new signature artist collaborations, including the iconic Tony Iommi "Monkey" 1964 SG Special and a Trini Lopez Standard as a Historic Reissue model. Currently, the shop has partnered with the legendary and multi-talented Tool guitarist, artist, sculptor, special effects designer, videographer, and producer Adam Jones on recreating his original 1979 Les Paul Custom Silverburst, (here).
 The newly created Gibson Acoustic Custom Shop based in Bozeman, Montana brings back all the acoustic icons in their true historic form with the Historic Collection and leans into the future with our ornamented Modern Collection. The Historic Collection includes a 1942 Banner J-45, 1942 Banner Southern Jumbo, 1934 Jumbo, 1936 Advanced Jumbo, 1939 J-55, 1952 J-185, 1957 SJ 200, 1960 Hummingbird, a pre-war SJ 200 Rosewood and more. The Modern Collection explores the push and pull between classic designs and modern materials with bodies designed for comfort and modern voice, easy-playing slim-taper necks and a flatter fingerboard radius for enhanced feel. It includes a J-45 Deluxe Rosewood, Songwriter Chroma with Quilted Maple, a Hummingbird with Custom Koa and many more.
Artists collaborations at Gibson Acoustics have elevated in 2020 to a new level. The Slash Collection J-45 Standard is available now in November Burst and Vermillion Burst, (see full info below). The Sheryl Crow Country Western Supreme was created with Sheryl Crow and based off her own Country Western, delivering the sweet voice of a classic Country Western guitar with the added punch created from our 1930's Advanced bracing pattern. A Thermally Aged Sitka spruce top and hide glue provide additional projection and increased expression with a wider dynamic range. Gibson also worked closely with Frank Hannon guitarist, songwriter, and co-founder of the multi-platinum band Tesla, to bring fans a new "Love" Dove in celebration of the 30th Anniversary of "Love Song." Additionally, a new signature Kazuyoshi Saito J-45 guitar is available now in Japan.
---
Slash Collection: HERE
Slash Collection Video: HERE
 New for 2020, is the first-ever Gibson USA Slash Collection. Slash and Gibson's Luthiers worked in close collaboration with attention to the fine details at Gibson's headquarters in Nashville, TN and the Gibson Slash Collection features four Les Paul Standard electric guitars and two J-45 Standard acoustic guitars. Inspiring multiple generations of players around the world, the Slash Collection is comprised of the most influential Gibson guitars Slash has used throughout his career.
Each Slash Collection Les Paul Standard features a AAA maple top, a solid Mahogany body and Slash's personal touches including a C-shape neck profile, Gibson Custom BurstBucker™ Alnico 2 pickups,  color coordinated hardware appointments, hand-wired electronics with orange drop capacitors and a vintage style brown hardshell case. Exclusive to the Slash Collection are Slash's "Scully" signature drawing on the back of the headstock, Slash's signature on the truss rod cover, a blank truss rod cover in the case, Slash's new Ernie Ball strings , and four Slash Jim Dunlop Tortex® picks. The Slash Collection Les Paul Standard is available in November Burst, Appetite Burst, Vermillion Burst and Anaconda Burst.
Each Slash Collection Gibson J-45 Standard features a blend of traditional appointments and modern features including a custom Slash rounded C-neck profile, a fatter and more modern 16'' fingerboard radius and a versatile LR Baggs TM VTC pickup for natural acoustic sound. Slash's "Scully" signature drawing is on the back of the headstock, and his signature is on the truss rod cover with a blank truss rod cover in the case and four Slash Jim Dunlop Tortex® picks. The Slash Collection J-45 Standard is available in November Burst and Vermillion Burst.

"Developing my Collection with the new team at Gibson has been really exciting," says Slash. "The quality and attention to detail is next level, and these guitars truly reflect what I play live and in the studio. I think guitarists will be inspired by what we've put together."
---
Across all of Gibson's brands and collections, the story continues to be told with iconic and emerging artists that inspire the now and nurture the next generation of Gibson, Epiphone, Kramer, and Steinberger fans.
Below are photos from the Gibson Experience at Music China in 2019: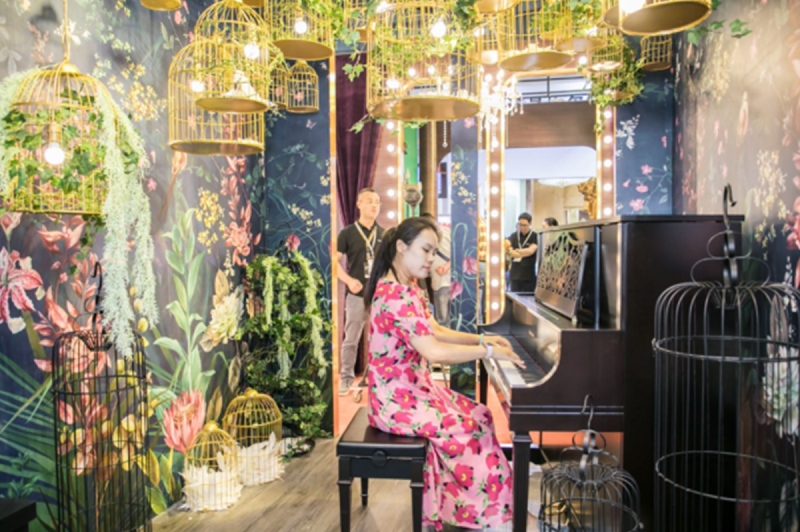 Gibson:
GIBSON.COM | TWITTER | INSTAGRAM | FACEBOOK | GIBSON TV
Epiphone:
EPIPHONE.COM | TWITTER | INSTAGRAM | FACEBOOK | YOUTUBE
Kramer:
KRAMERGUITARS.COM | TWITTER | INSTAGRAM | FACEBOOK | YOUTUBE
Steinberger:
STEINBERGER.COM | TWITTER | INSTAGRAM | FACEBOOK | YOUTUBE
KRK Music:
KRKMUSIC.COM | TWITTER | INSTAGRAM | FACEBOOK | YOUTUBE
About Gibson:
Gibson, the world's most iconic guitar brand, has shaped the sounds of generations of musicians and music lovers across genres for more than 100 years. Founded in 1894 and headquartered in Nashville, TN, with a premiere acoustic facility in Bozeman, MT, Gibson Brands has a legacy of world-class craftsmanship, legendary music partnerships, and progressive product evolution that is unrivaled among musical instrument companies. The Gibson Brands portfolio includes Gibson, the number one guitar brand, as well as many of the most beloved and recognizable music brands, including Epiphone, Kramer, Steinberger, and the Gibson Pro Audio Division, KRK Music. Gibson Brands is dedicated to quality, innovation, and sound excellence so that music lovers for generations to come will continue to experience music shaped by Gibson Brands. Learn more at Gibson.com and follow us on Twitter, Facebook, Gibson TV, and Instagram.