Akai
Akai introduced the MPC One. The MPC One music production center has a 7-inch multi-touch interface, 2GB of drum samples and loop collections, network connectivity, splice integration, and CV/Gate connectors. You also get 16 velocity-sensitive RGB pads, USB flash, and SD card storage, and comes with a full version of MPC2 Desktop software for PC and Mac. Akai states this has the most powerful processor found in any standalone production device. We had a chance to see it in action, and we think this is going to end up in quite a few studios!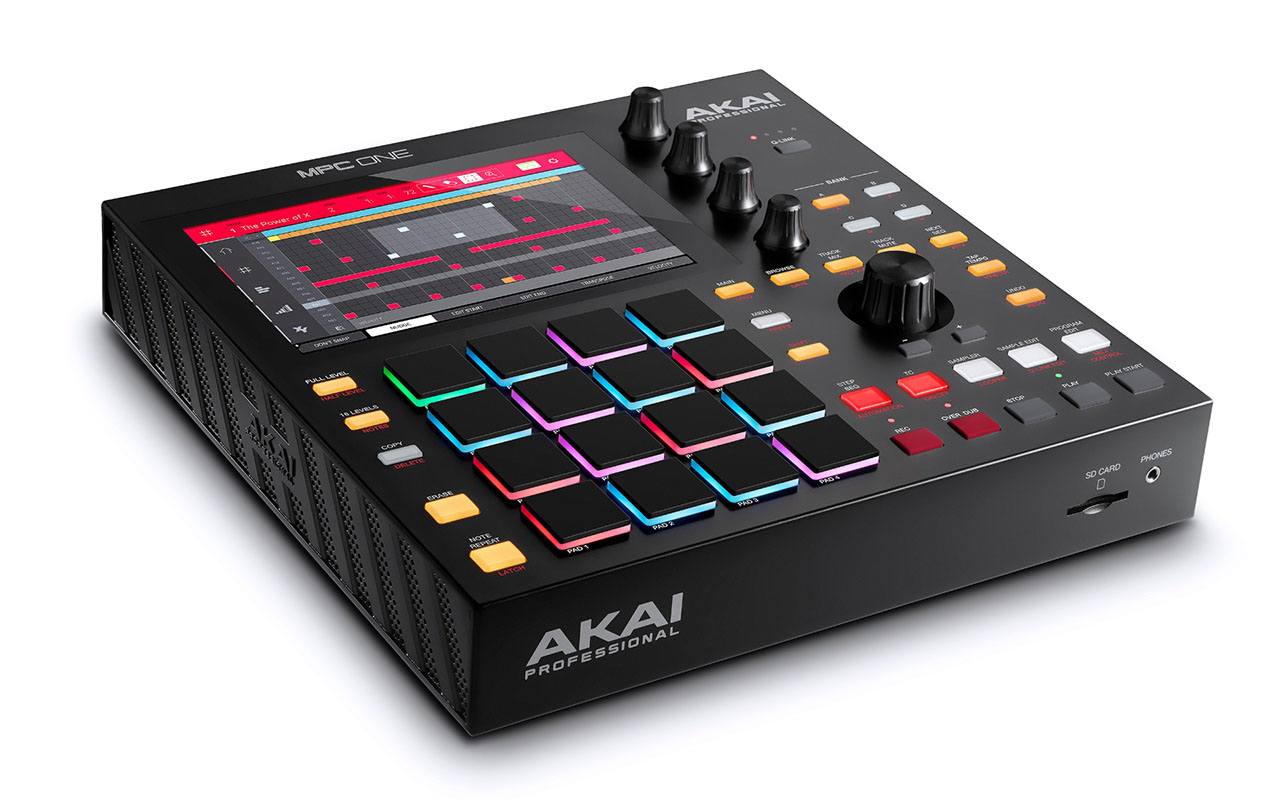 ---
Arturia
We were surprised that Arturia was introducing yet another member of the Keylab family, but the Keylab Essential 88 did catch our attention. While we love their software, Arturia's Keylab MIDI controllers started out as a mixed bag when introduced a number of years ago. The Essential 88 might just be the right formula, as it features an 88 note, velocity-sensitive keyboard with a hybrid synth-piano feel, 16 back-lit, customizable performance pads, 9 faders & rotary encoders, Mackie / HUI compliant DAW Command Center, Clickable jog-wheel, Velocity & modulation wheels, and full Analog Lab integration. What REALLY impressed us was the weight- only 18.7 pounds! For those of us with production desks that have a shelf for a keyboard that can "only" hold 20 pounds, this looks like a great way to get 88 keys on to the shelf. And having played it, the synth-piano hybrid action was quite nice!

The Keystep Pro was also a cool thing we saw. The KeyStep Pro is a 37-key MIDI controller and multi-channel polyphonic sequencer all in one. There are  4 independent polyphonic sequencer tracks, and Track 1 can also function as a 16-part integrated drum sequencer. There are up to 16 patterns per track, and each sequencer pattern can be up to 64 steps long, and contain 16 notes per step. The Keystep Pro also has a 3-octave keyboard with velocity sensitivity and aftertouch. The inclusion of 4 CV, Gate and Mod outputs, 8 dedicated drum Gate outputs, MIDI in, 2 MIDI outs, a solo metronome output, sustain input,and USB for easy power and DAW/softsynth control should ensure you can connect and control just about anything in your studio.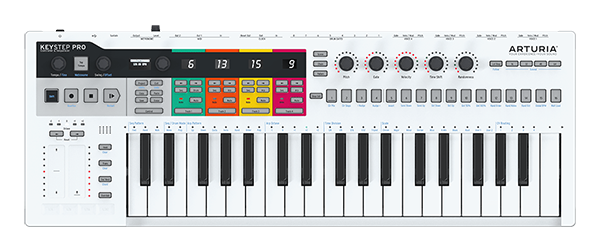 ---
John Bowen Synth Design
While John Bowen's name isn't as widely known as Dave Smith or Tom Oberheim outside of geek circles, it should be, as he's been a co-developer of some of the most legendary synths ever including the Prophet-5 and other classic Sequential products up through the Prophet VS. After that, his work continued for Korg as he (and Dave) helped to develop the Korg Wavestation and later the OASYS (and yes, he consulted on the new Wavestate, too!). His Solaris synthesizer (reviewed here) remains one of the most advanced polysynths ever built, and we were floored to see a Solaris Tabletop and rack mount prototypes on display at NAMM. In light of what's going on with the global pandemic, who knows when/if these variants will see the light of day, but we're rooting for these options.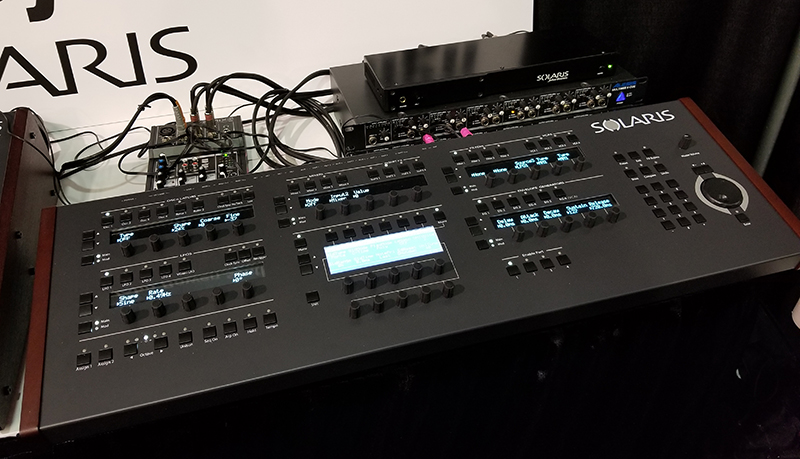 ---
Korg
Stage pianos are immensely popular these days, and we were excited to get our hands on the new Korg SV-2 Stage Piano, which takes the former SV-1 (reviewed here) to new heights. The SV-2 contains over ten times the sample data available in previous SV models and features many all-new piano and keyboard sounds. The SV-2 now provides 64 memory locations to store edited Favorites for instant access during performances. With splits and layers, a favorite patch can now contain up to three different timbres. Polyphony is increased to 128 voices, and the split point is directly accessible on the SV2 itself (though splits have to be created first via a software editor on your Mac/PC). Available in 73 and 88 key versions, there are also "S" versions which include a pair of 15w 2.5 inch stereo speakers and a three-inch passive radiator built-in. 


An even bigger surprise was Korg's new Wavestate. While having roots hewn from the legendary Wavestation, this 37-key synth is not a nostalgic reissue. It features a ton of new technology, which Korg refers to as Wave Sequencing 2.0.  To quote Korg:  "With the Wavestation, each step of a Wave Sequence had a duration, a sample, and a pitch. This created ear-catching patterns–but the patterns repeated the same way, over and over. What if they could evolve in organic, unexpected ways, instead of just repeating?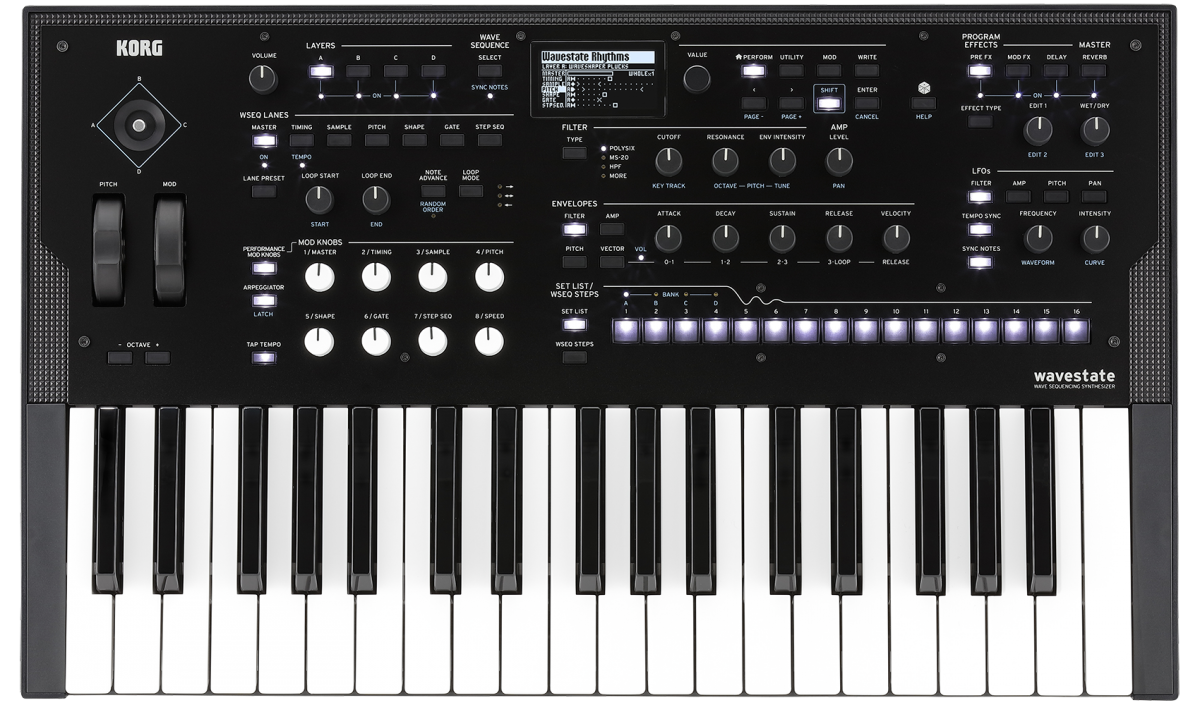 Wave Sequencing 2.0 splits apart the timing, the sequence of samples, and the melody so that each can be manipulated independently. Also added are new characteristics including shapes, gate times, and step sequencer values. Each of these is a 'Lane,' and each Lane can have a different number of steps and its own start, end, and loop points."
Featuring gigabytes of samples, modeled filters (including the MS-20 and Polysix), 64 stereo voices, 14 possible simultaneous effects, and more, the specs on paper are quite impressive. However, the specs don't do justice to the sound. We had the pleasure of getting our hands on one and it was easily one of our favorite synths we played at NAMM. While we typically express our disdain for such small keyboards, this synth is so inspirational that the diminutive size won't keep it out of our hands, and rigs.
And speaking of things that are small... Korg's DI-box-sized Nu:Tekt NTS-1 digital KIT is an easy DIY synthesizer that you can assemble yourself (tool included), without any soldering.  We actually got to build one of these at NAMM and it was a fun process.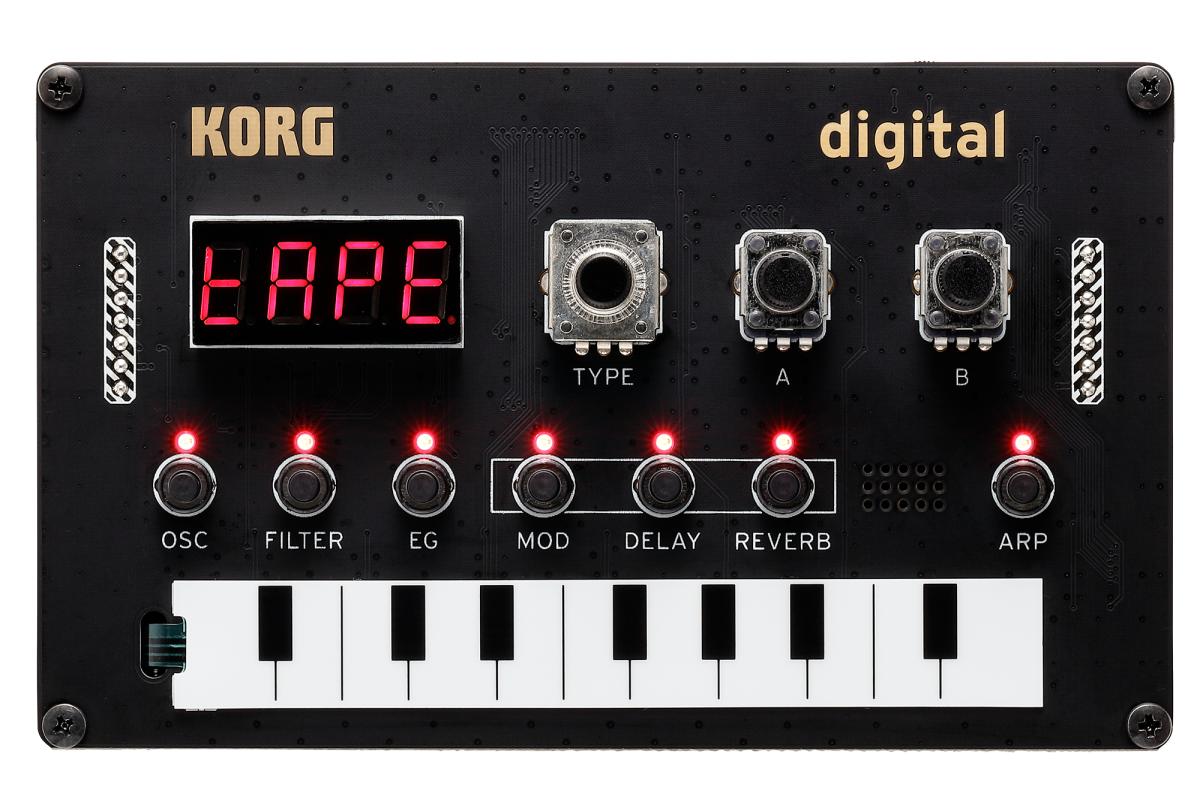 The NTS-1 sports a single monophonic digital oscillator, one multimode filter, one EG,three LFOs, three stereo effect processors, and a full arpeggiator.  The "keyboard" is a ribbon controller. The synth is inspired by the Prologue and Minilogue XD, and like the KORG Prologue and Minilogue XD, the Nu:tekt NTS-1 offers you the possibility to load a variety of custom content as it is compatible with the Logue SDK Custom Content Sound Librarian. Even out of the box, once built, it was fun to play with and we were just scratching the surface. No doubt tweakers will have some fun with this!
---
Nord
What's bright red and makes killer sounds? Obviously a Nord keyboard of one shape or another. This year, the Nord 2 Synthesizer is another great entry into the line of synths from this Swedish builder. It's a four-part performance synth that has virtual analog, sample playback, FM, and wavetable synthesis all wrapped up behind a familiar and easy-to-use interface. By four-part, that's referring to each of the four different sound engines, and you can layer sounds of each type to create a range of sounds not previously experienced from a single Nord synth. There's a cool polyphonic arpeggiator on board as well as a range of effects, too!

---
Roland
Roland is on fire! They have so many hot new products that it's burning a hole right through our wallets, but one of the big hits from Winter NAMM 2020 has got to be the new Roland Jupiter-X Synthesizer. While many players failed to grasp the design concepts behind the wonderful Jupiter-80 and -50 from a few years back, there's no mistaking the intention behind the Jupiter-X, as this is a monster synthesizer from the very first glance at its control panel. Besides classic Jupiter sounds, the synth is stocked full of a wide range of Roland's other classic and modern sounds. Imagine a synth that combines sounds from the likes of Jupiter-8, Juno-106, SH-101, JX-8P, and then also throw in the mighty XV-5080, which adds D-50 sounds and a range of orchestral and sampled instrument sounds. Now, imagine designing a sound on your Jupiter-X and then sending that sound to your friend's studio where she loads it into her new Fantom workstation!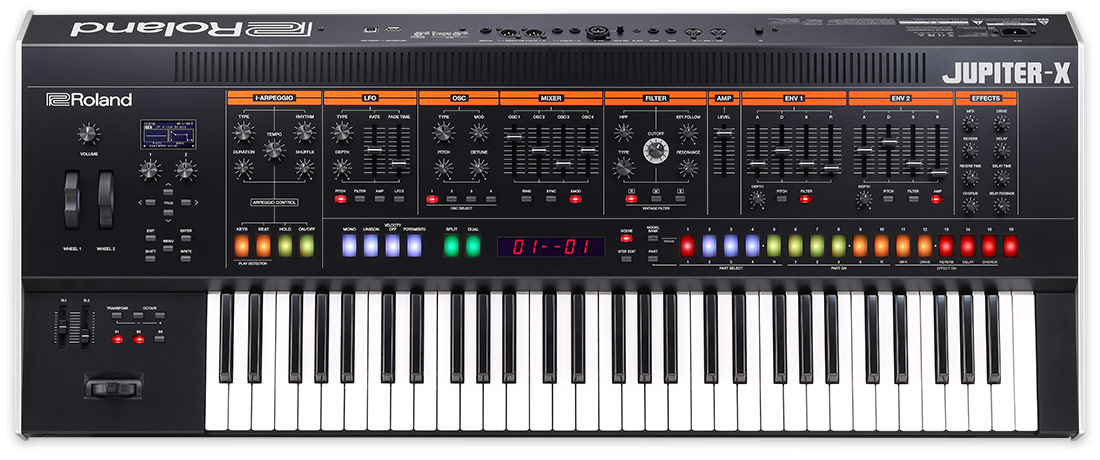 Roland has a new sound architecture rolling out across its range of professional keyboards (ZEN-Core) that promises easy sharing of sounds across instruments. Pick the one with the right interface for you (maybe the workstation format of the Fantom is more important to you than the programming interface-heavy Jupiter, for example) and Roland will make sure your sounds can be used on other compatible models. It's pretty clever, and now that so much sound is generated via modeling technology, it's easier than ever before to share sound engines across multiple instruments.
We're not done geeking out over this synth yet, though, as I-Arpeggio is the coolest evolution of the arpeggiator we've heard in years. No, it's not giving us any strange sense of karma, but this arpeggiator evolves in real-time based on your performance! Performances evolve and include complimentary instrument parts if desired, too. It's extremely inspirational for songwriters and held us captivated. There's plenty more to talk about, and we'll have an in-depth review as soon as these ship. 


The new Roland FANTOM Workstation takes that design concept to new heights, with fabulous refinements over previous products across the 6/7/8 models (semi-weighted keys on the 6/7 and fully weighted on the 8). The interface updates are quite sophisticated, and we love the deep computer integration that Roland provided as well, especially the direct control provided from within Apple MainStage. There are numerous sound engines that can share sounds with the new synth products as well, and fantastic acoustic piano and orchestral sounds for your bread-and-butter songwriting fare. RGB pads, TR-style pattern sequencer, and a touchscreen are all nice little parts of the puzzle that contribute to the greatly improved workflow.
---
Sequential
Dave Smith has his Sequential name back and continues to wow us with great synths. This year he delivers the Sequential Pro 3. The Pro 3 has three oscillators, three vintage filters, three LFOs, four loopable envelopes, a 32-slot mod matrix, and a 16 x 16 x 4 sequencer. You also get dual digital effects and four control voltage (CV) ins and outs. To quote Sequential, "The Pro 3 is a hybrid of solid, old-school analog synthesis paired with versatile digital technology. It's two voltage-controlled oscillators provide warmth and presence while its third wavetable oscillator provides digital edge and grit." Jargon aside, we got to play with the Pro 3- and it sounded fantastic. It may have just a 37-key keyboard, but the sound is anything but small. We wanted to take this home with us!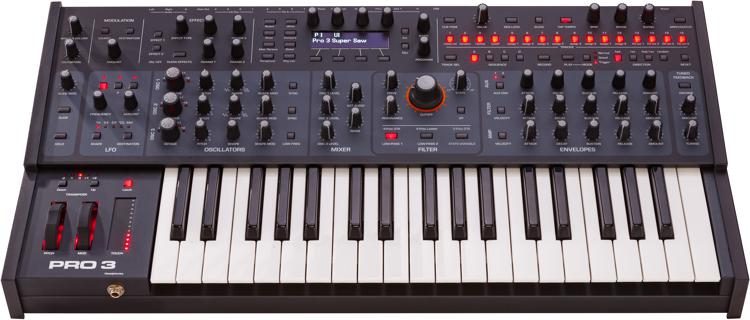 ---
Yamaha
Yamaha showed off its new YC61 Stage Keyboard. Featuring 61 keys that are semi-weighted with a waterfall keyboard, this seems like Yamaha's version of a Nord keyboard—which is meant as a compliment. It's not just a simple tweak of the CP-88 stage piano, either, as this keyboard begins with a focus on the organ instead of piano but then has equally strong non-organ sounds. Tone generation comes from separate engines, including VCM (Virtual Circuit Modeling) Organ, AWM2, and FM, with 32 effect types. Packing vintage organs into a gig-friendly (15 pounds!) keyboard, the YC61 also generates DX-style sounds from its FM synth engine. There's even a "dual keys" section enabling you to layer sounds. We heard a bit of this at NAMM, and at a pre-NAMM media event, and it sounded great! We'll have a review unit shortly.