Los Angeles, California, January 18, 2021 — Today, Roland, BOSS, and V-MODA announce multiple releases that they plan to showcase during this year's virtual NAMM® Believe in Music Week for 2021.
BOSS Announces Innovative New Pedalboard Solutions
BCB-1000, BCB-90X, and BCB-30X Pedalboards and BPC Patch and BMIDI-PB MIDI Cables with Space-Saving Plugs
BOSS, a world-leading innovator in effect pedals, amps, and other guitar-related products and a brand trusted by top musicians for decades, announces new top-quality pedalboard solutions for BOSS pedals and other effects. The BCB-1000, BCB-90X, and BCB-30X pedalboards are easy to configure and offer heavy-duty molded cases with detachable lids. BPC patch and BMIDI-PB MIDI cables feature custom space-saving plugs, making them ideal for connections on BCB pedalboards or any pedal setup.
The BCB-1000's innovative suitcase-style design is rugged and easy to transport, making it a great choice for traveling pro players. Its size meets most carry-on luggage requirements, and wheels and a retractable handle enable smooth mobility. An aluminum mounting surface supports two rows of pedals and includes slots for cable management, with space underneath for a third-party power supply. The pedal chain is connected internally to an integrated junction box, which provides an instrument input and mono or stereo outputs on the back of the pedalboard.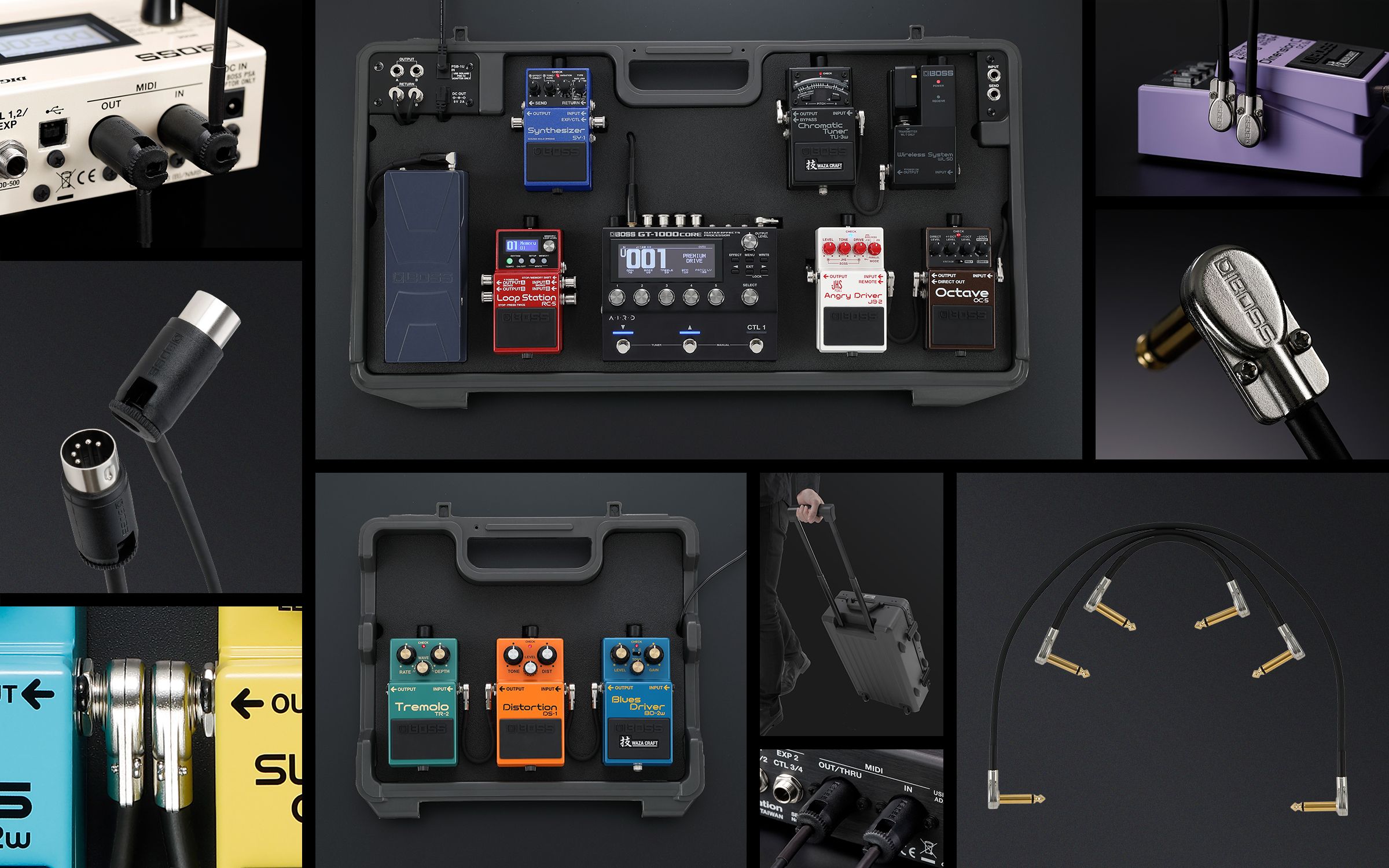 Continuing the long-running BOSS BCB series, the BCB-90X and BCB-30X offer more flexibility for modern pedal layouts. A rigid foam insert provides pre-cuts for standard BOSS compact pedals, but users can easily cut the foam to their own specs for different pedal sizes. The BCB-90X features integrated junction boxes for cables and power and comes with a PSB-1U power supply. Both models include a daisy-chain cable for DC power distribution.
The custom right-angle slim plugs on BPC cables allow for tight side-by-side connections when patching pedals. BMIDI-PB cables offer versatile three-way positioning, optimizing space when connecting 5-pin MIDI devices. Both cable series are available in a variety of lengths.
Availability & Pricing
In January 2021, the BOSS BCB-30X pedalboard will be available for $59.99, the BOSS BCB-90X for $199.99, and the BOSS BCB-1000 for $399.99. The BOSS BPC and BMIDI cable range is available now for $9.99-$24.99.
To learn more about the BOSS Pedalboard Solutions, visit www.boss.info.
---
BOSS Announces Premium Instrument Cables
BIC-P Cable Series Delivers the Ultimate Sonic Performance for Guitar and Bass 
BOSS announces the BIC-P premium instrument cable series, the latest addition to the company's ever-expanding lineup of high-quality accessories for musicians. Crafted with the finest materials and carefully engineered for superior tone, BIC-P premium instrument cables offer the ultimate in sound reproduction for guitar and bass.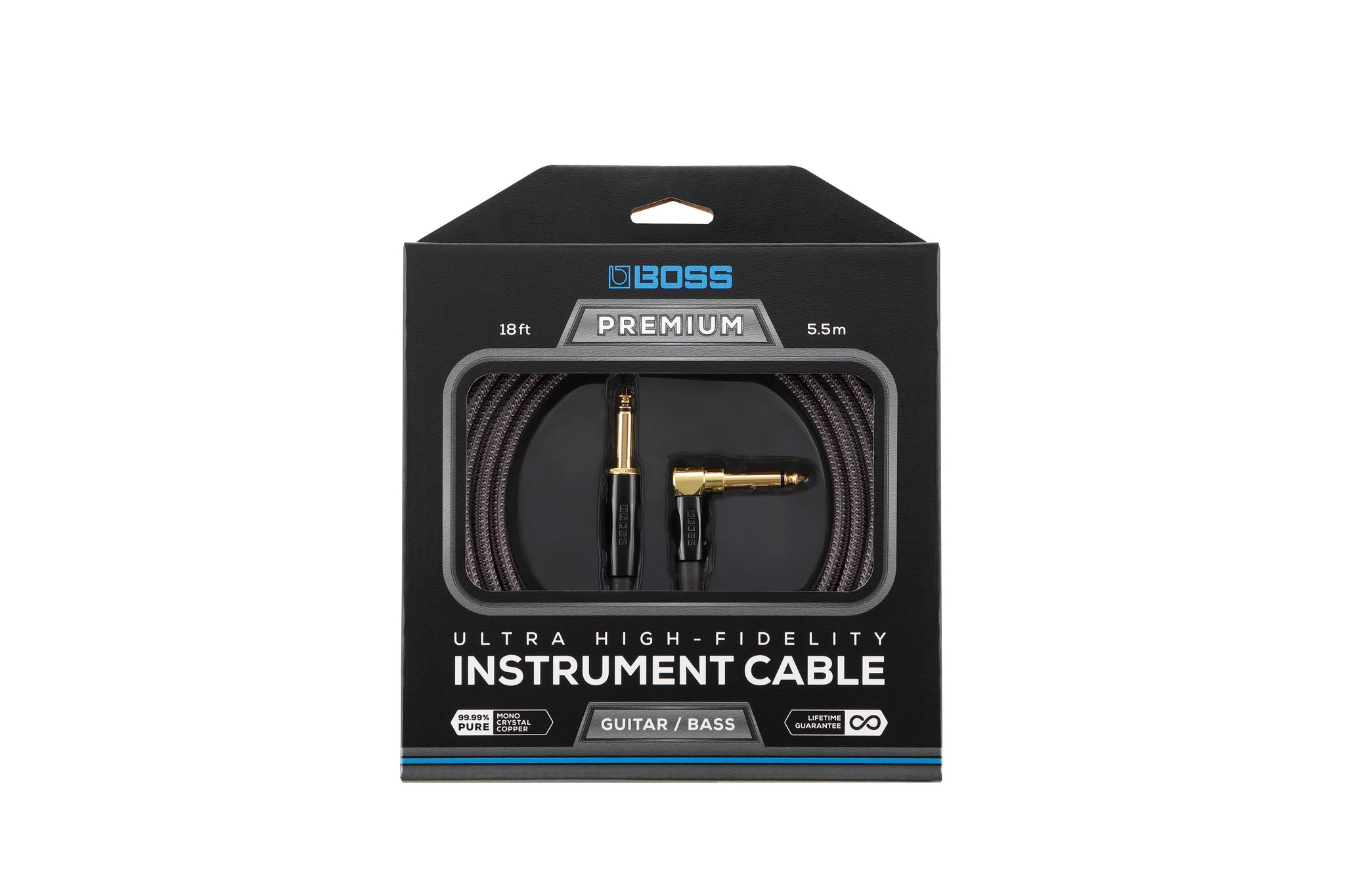 As the first point of transmission between a guitar or bass and the next device in the signal chain, the instrument cable has a significant impact on the overall sound and response. In developing the BIC-P line, BOSS evaluated the many elements that go into a cable—wire gauge and type, shielding, connectors, and more—and how they all work together to affect the sound. Through deep experimentation, a proprietary combination of materials was created that accurately translates the richness and character of an instrument's pickups and natural resonances, providing players the most musical and sonically pure cable available.
Each BIC-P cable features an 18 AWG multi-strand center conductor made with 99.99% pure oxygen-free mono-crystal copper, delivering full, balanced tone with warmth, punch, and clarity. Braided mono-crystal copper shielding and 24K gold-plated connectors further enhance performance, while a stylish woven outer jacket coils smoothly and provides lasting durability.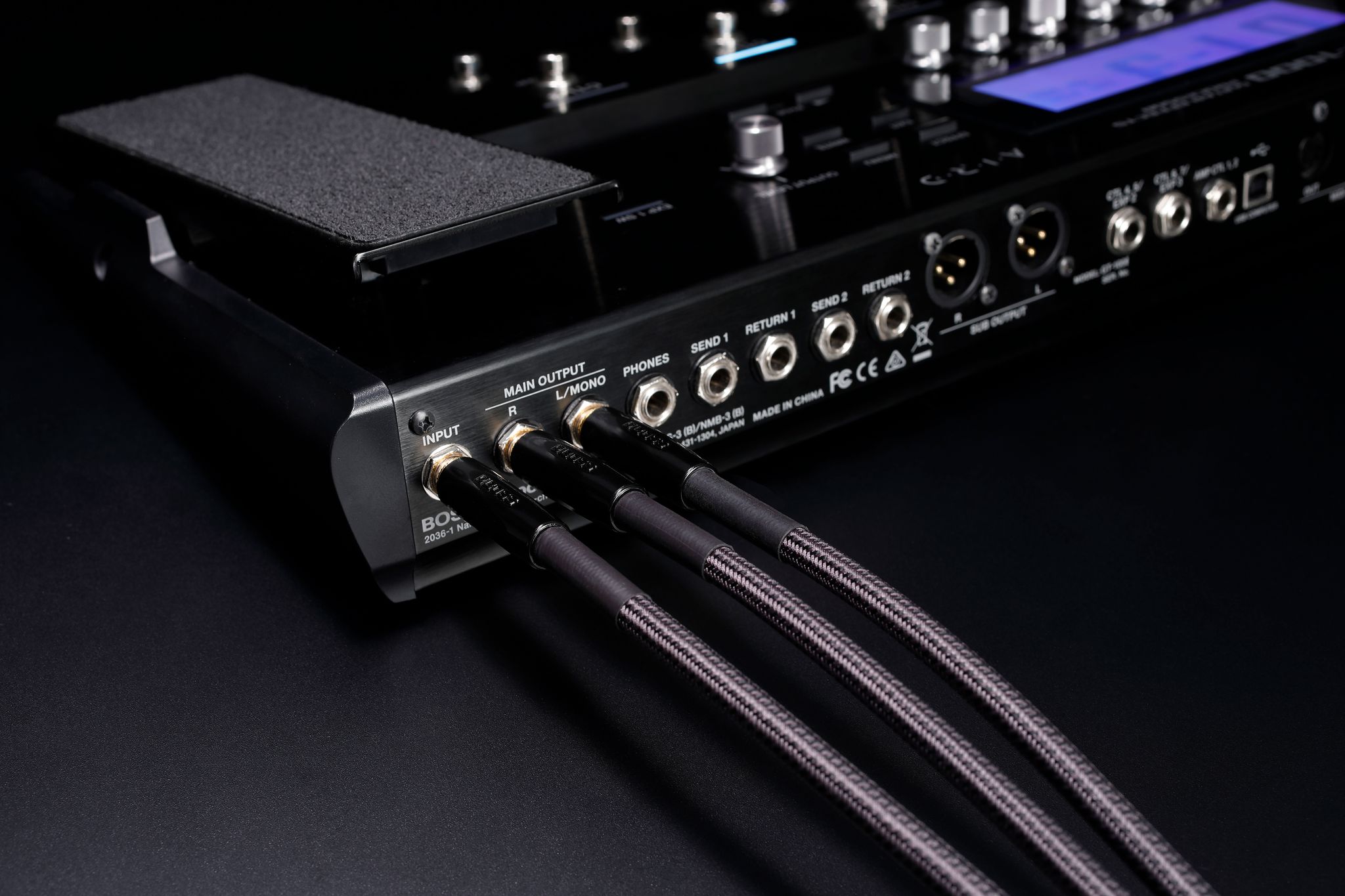 BIC-P premium instrument cables are available in 10 ft./3 m and 18 ft./5.5 m lengths with straight-to-straight 1/4-inch connectors (BIC-P10, BIC-P18) and straight-to-right angle 1/4-inch connectors (BIC-P10A, BIC-P18A).
Availability & Pricing
The BOSS BIC-P premium instrument cable series will be available in February 2021 for the following prices:
BIC-P10: $99.99
BIC-P10A: $99.99
BIC-P18: $129.99
BIC-P18A: $129.99
Learn more about BIC-P premium instrument cables and the growing lineup of BOSS accessories at www.boss.info.
---
BOSS Announces TU-02 Clip-On Tuner
 Trusted BOSS Tuning Performance for Guitar, Bass, Ukulele, and Other Stringed Instruments
BOSS announces the TU-02 Clip-On Tuner, the latest addition to the company's industry-leading lineup of instrument tuners. BOSS's famous tuner range includes numerous solutions for all types of musicians and educators, from handheld and clip-on designs to the pedal-based TU-3 used by top touring professionals around the world. Designed for guitar, bass, ukulele, and other stringed instruments, the TU-02 delivers best-in-class performance and the latest BOSS tuning features.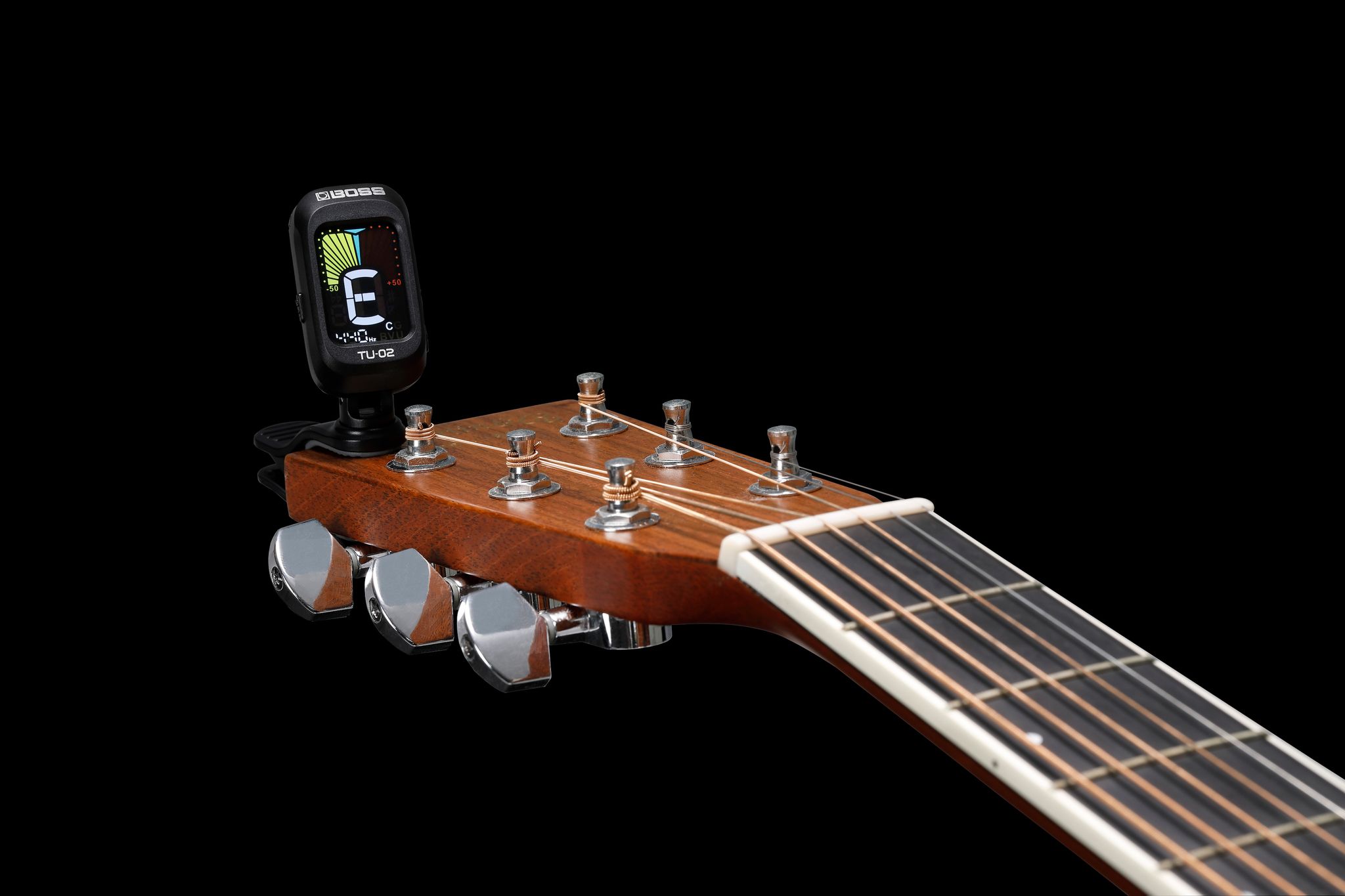 With its bright, high-contrast color display, the TU-02 offers easy visibility for quick tuning in any environment. The rugged clip provides secure mounting on an instrument's headstock, and the display can be swiveled for optimum viewing.
Users can choose from standard tuning modes for guitar, 4- and 5-string bass, and ukulele, or chromatic mode for alternate tunings and other stringed instruments. Flat tuning over a range of two semitones down is supported, perfect for players who like to tune low for a heavier sound. A single CR2032 lithium battery provides continuous runtime up to 24 hours, and the tuner automatically powers off when idle to conserve battery life.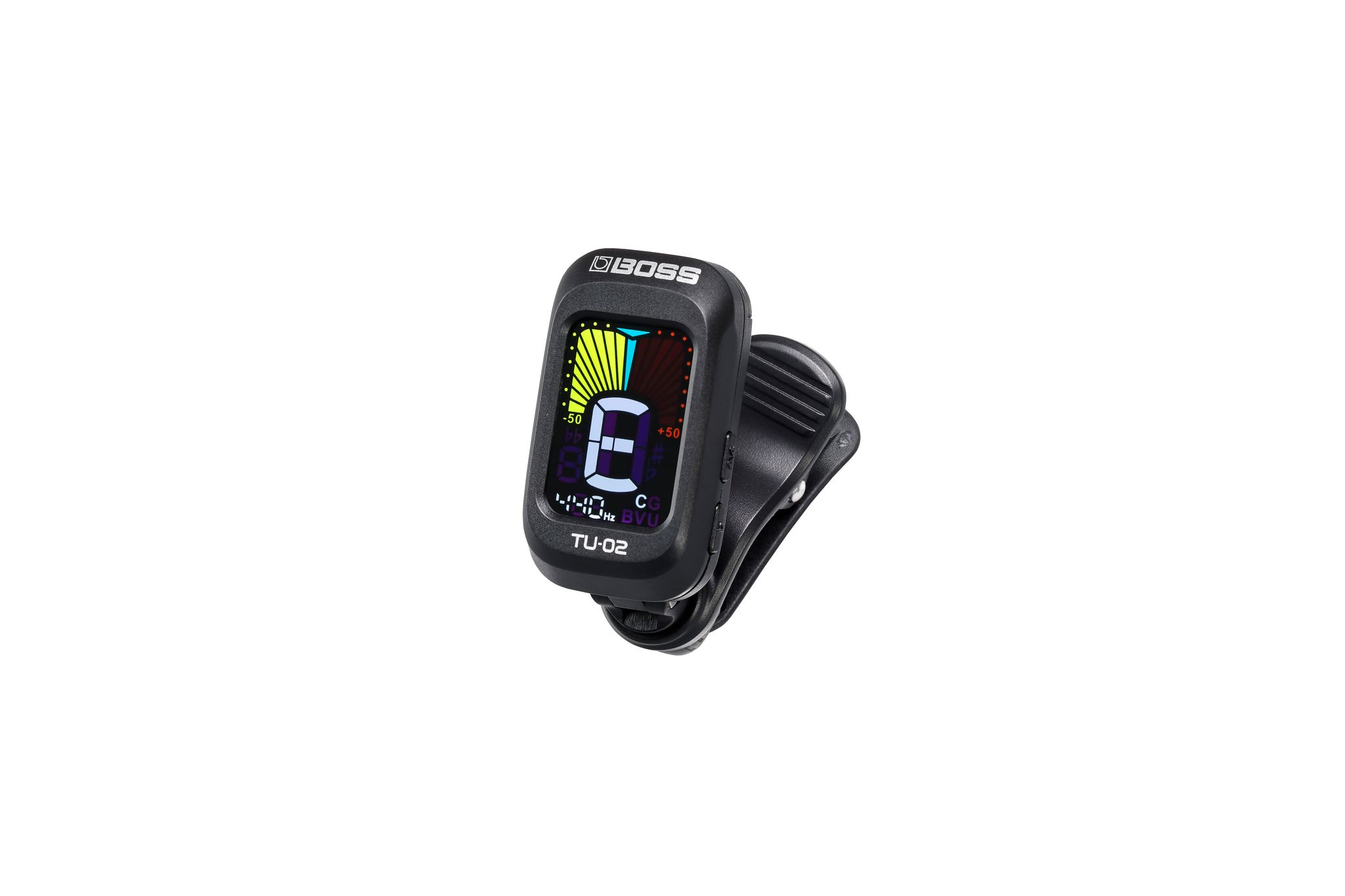 Availability & Pricing
In February 2021, the TU-02 Clip-On Tuner will be available for $12.99. To learn more about the TU-02 Tuner, visit www.boss.info.
---
BOSS Announces WL-30XLR Wireless System
Plug-and-Play Wireless Mic System with Hassle-Free Set Up, Rock-Solid Connectivity, and Long Runtime via Convenient AA Battery Power
BOSS is now providing wireless freedom for microphone users with the new WL-30XLR Wireless System. An affordable, high-quality wireless system for XLR dynamic microphones, the WL-30XLR offers hassle-free set up, robust performance, and long runtime with common AA batteries. From singers, speakers, and beatboxers to DJs, MCs, video producers, and beyond, the WL-30XLR makes it easy for everyone to embrace premium wireless microphone sound.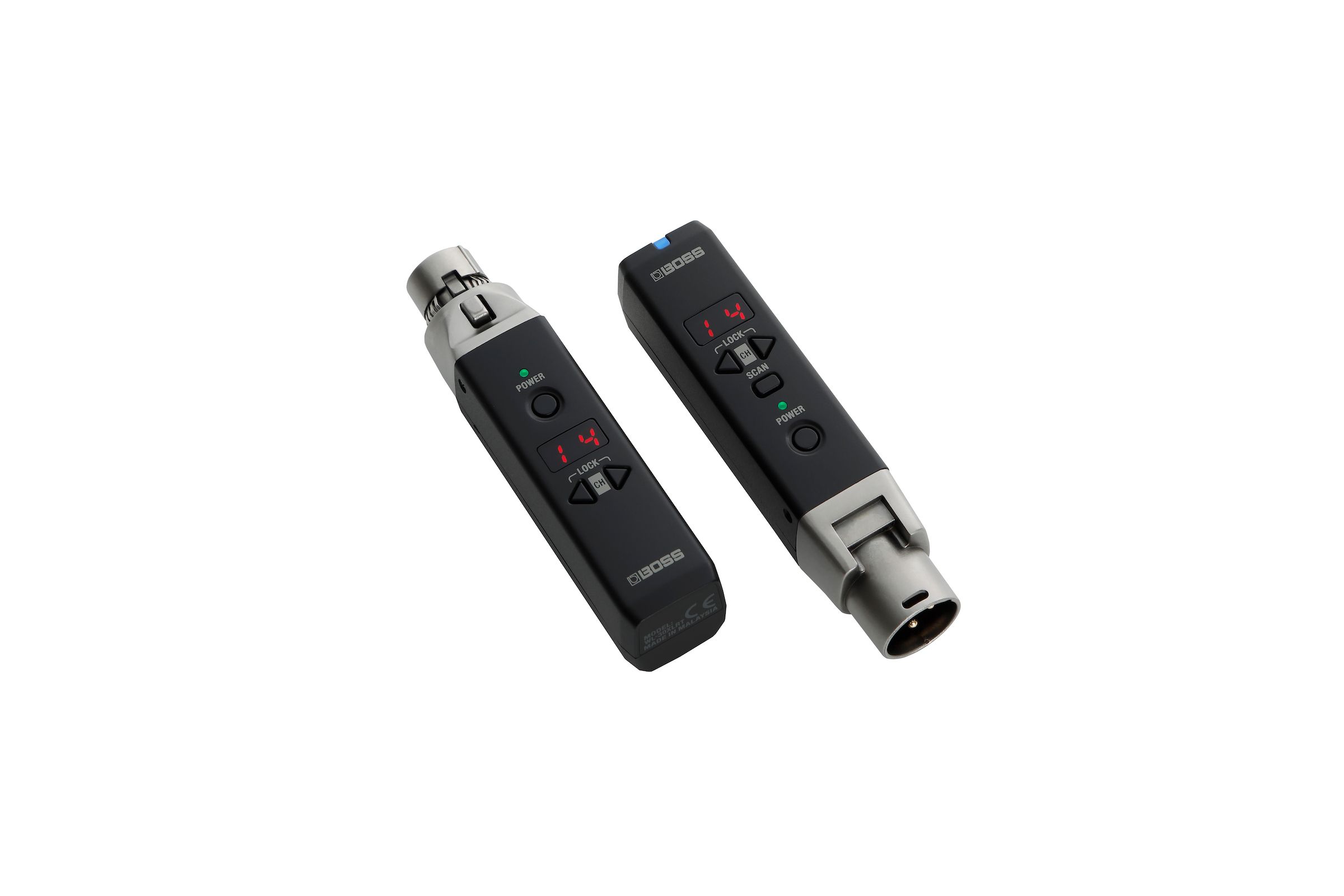 The WL-30XLR system consists of a streamlined transmitter that connects to nearly any standard XLR dynamic mic, and a compact receiver that plugs into an XLR mic input on a mixer, stage amp, or other audio destination. Lightning-fast processing provides exceptional sound with ultra-low latency, plus strong line-of-sight transmission up to 230 feet/70 meters.
The WL-30XLR's receiver and transmitter each use a single AA alkaline battery, which provides up to 11 hours runtime to cover multiple gigs and rehearsals.
Wireless set up with the WL-30XLR is simple. First, the user presses a button on the receiver to automatically scan 14 channels and find the best one for their environment. Next, they confirm the setting on the transmitter, and they're ready to go.
The BOSS WL-30XLR Wireless System is available now for $299.99. To learn more about the WL-30XLR Wireless System, visit www.boss.info.
---
BOSS Showcases Nextone Special Guitar Amp During NAMM Believe in Music Week January 2021
Boutique-Class Stage Amp with Authentic Tube Sound and Feel, Customizable Power Amp Voicing, and Waza B12W Speaker with Classic "Blue Bell" Tone
BOSS showcases the Nextone Special, the new premier model in the Nextone guitar amplifier lineup. Fueled by BOSS's acclaimed Tube Logic approach, the 1x12  Nextone Special combo delivers premium sound, feel, and tonal versatility for stage players who demand the best. Fusing forward-thinking innovation with boutique design features and detail, the Nextone Special offers a refined playing experience that stands alongside the finest tube amplifiers, enhanced with key modern advantages like variable power control, consistent sound, and maintenance-free operation.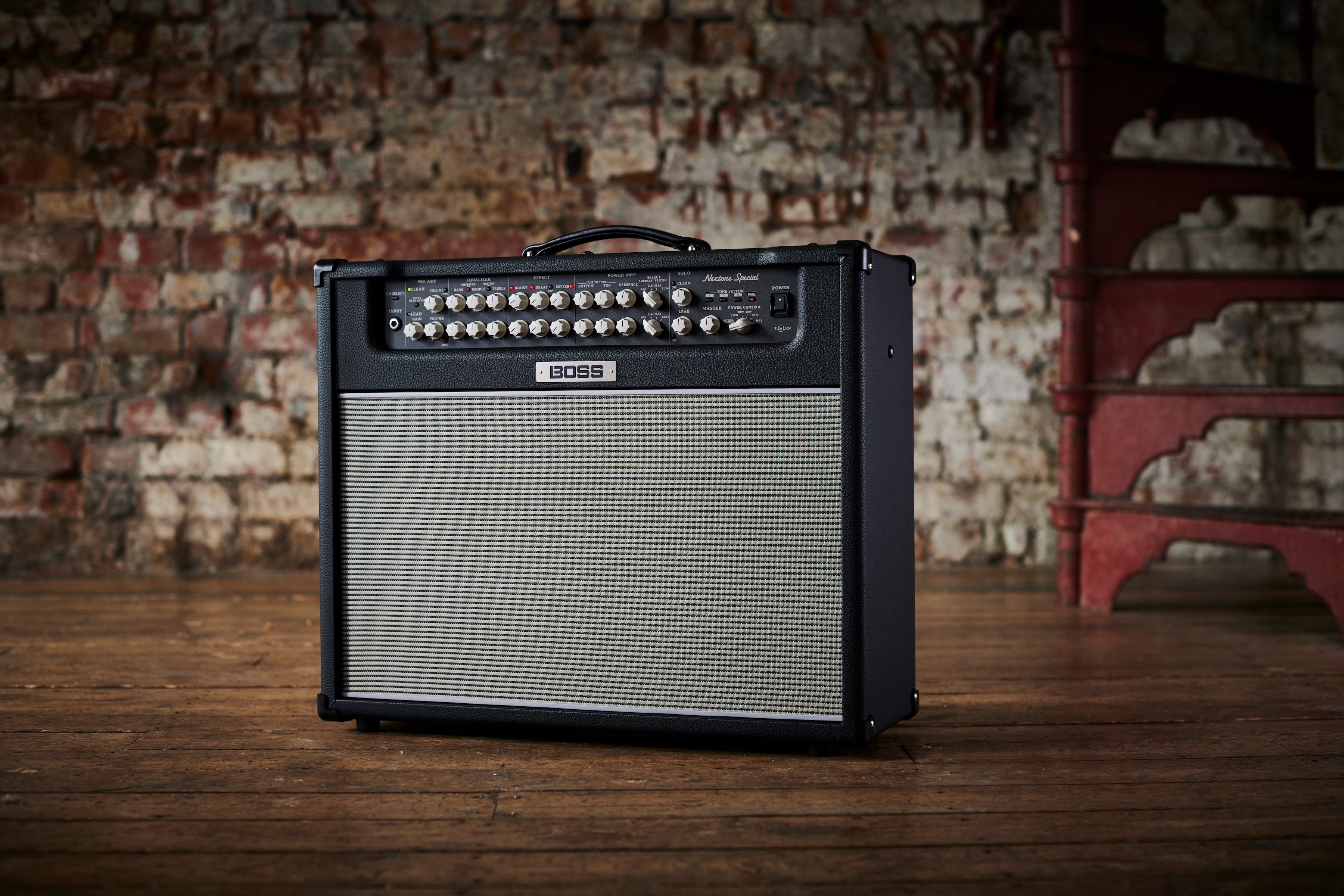 The Nextone Special provides boutique-grade amplification realized through years of expertise, careful component selection, and detailed craftsmanship. Tube Logic reproduces the complex interactive behaviors of classic tube designs in every way, providing authentic sound and feel with punchy attack, natural compression, dynamic speaker response, and big onstage presence. The amp also features the debut of BOSS's custom Waza B12W 12-inch speaker, which combines the sought-after tone of "blue bell" speakers from the 1960s with modern power handling capacity.
A key feature of the Nextone series is an innovative analog power amp design with EL84, EL34, 6V6, and 6L6 class AB circuits, which are instantly selectable from the panel. With the Nextone Special, BOSS has further enhanced this design for a new level of user control and expression. Enhanced reactive drive circuitry refines the all-important power section/speaker interaction for even more inspiring feel. Onboard voicing controls let players fine-tune the response for their personal style, and even deeper tweaks are available via the Nextone Editor software for Mac and Windows. And with the five-way power control, they can dial in "sweet spot" tube tone at a volume to match any playing situation.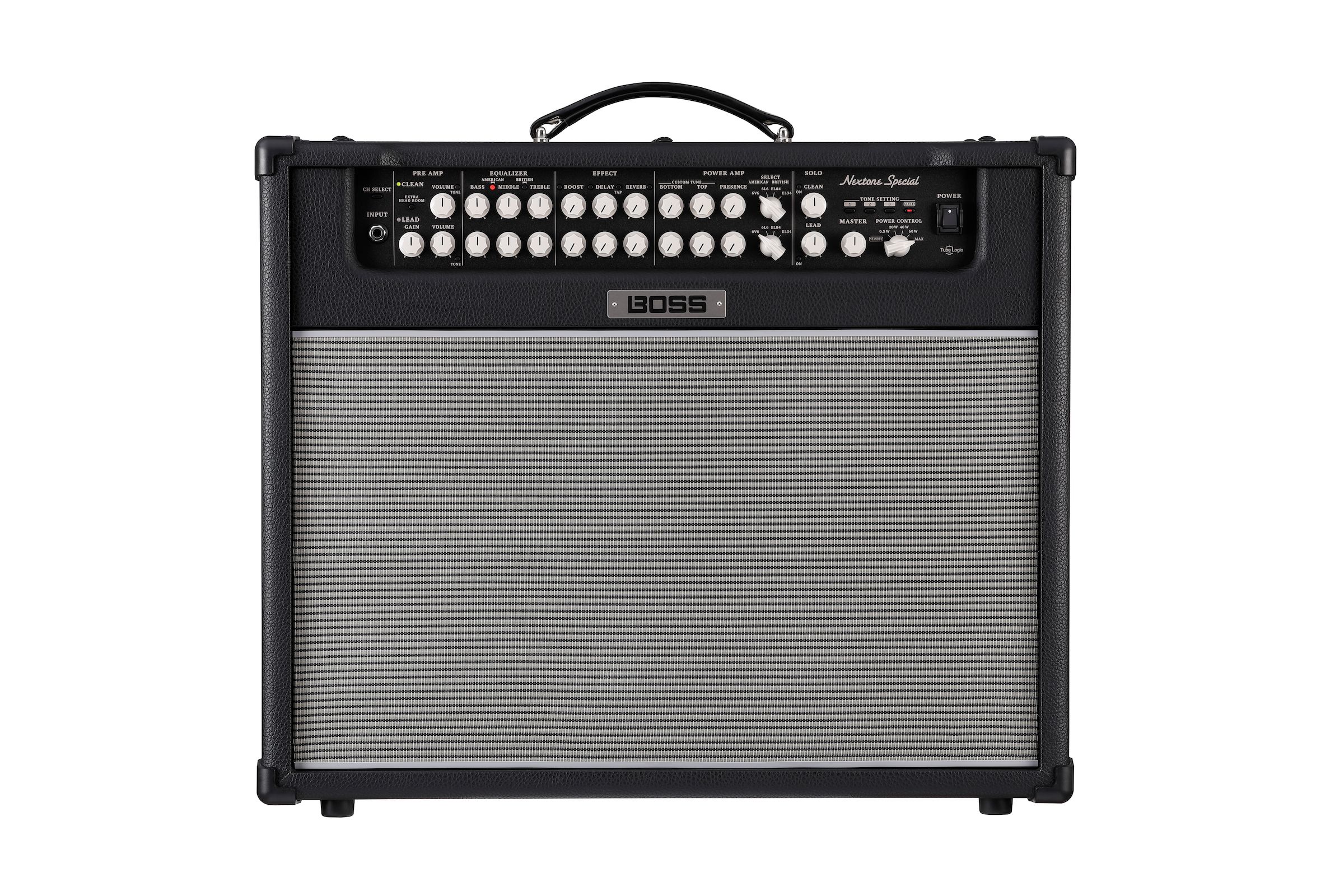 With two independent, fully featured channels, the Nextone Special provides an uncommon range of sound shaping control. Players can choose between clean and lead voicings, select British or American tone stacks, and shape the power section with dedicated knobs. There's an Extra Headroom switch on the clean channel for maximum punch, plus the ability to set switchable solo levels for clean and lead sounds. And with onboard boost, delay, tremolo, and reverb effects, it's possible to tackle most gigs without any external pedals. Three Tone Setting memories are also available to save favorite channel setups for instant recall.
While everyone loves the sound and vibe of classic tube guitar amps, they're heavy, fragile, and require regular maintenance to keep them running at peak performance. Thanks to Tube Logic, the  Nextone Special provides all the benefits of tube tone without the downsides. The weight is reduced over a typical tube combo, making transport, and set up easier. And with no tubes to worry about, players can enjoy consistent sound and ultra-reliable performance night after night.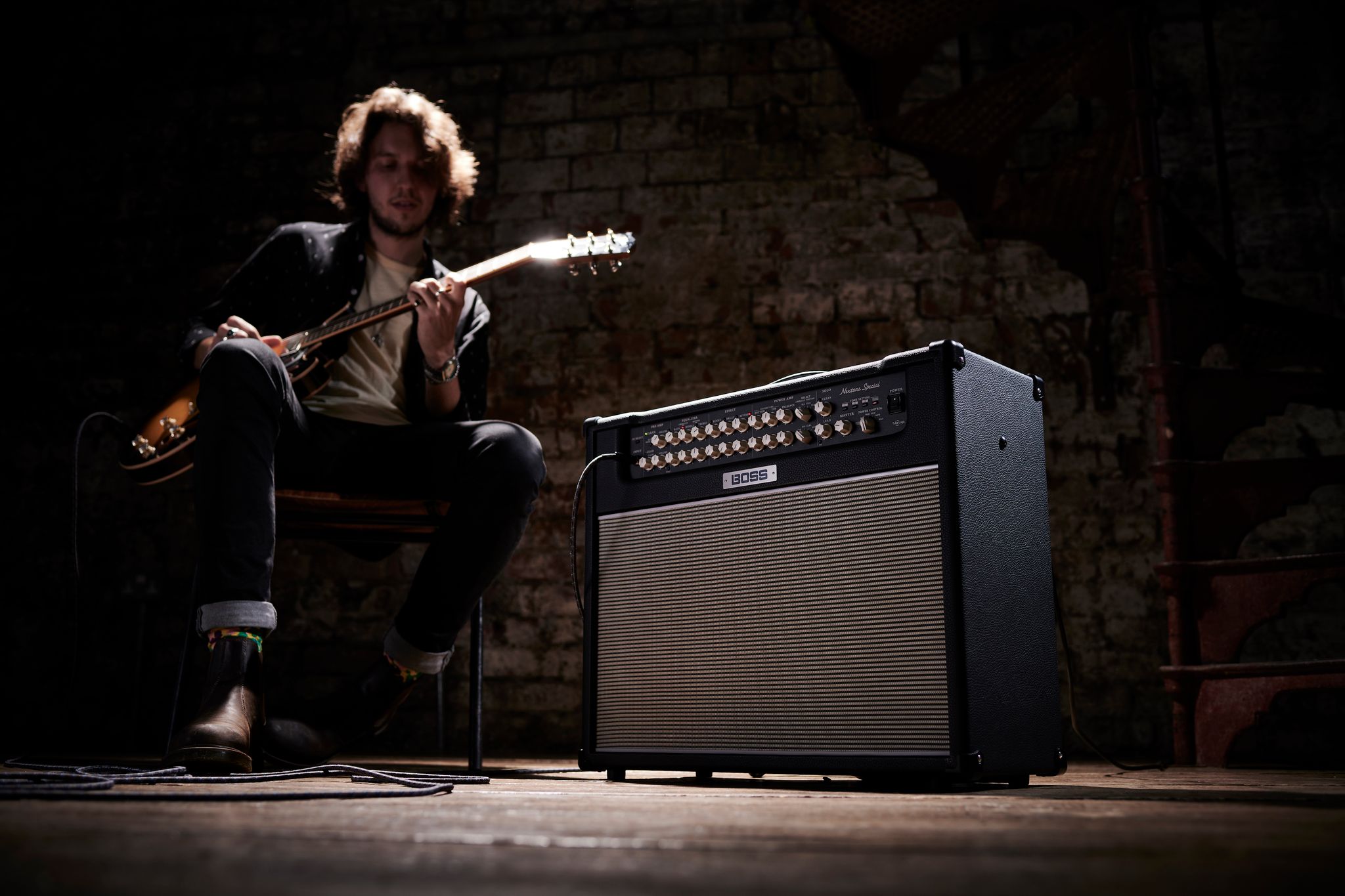 The Nextone Special's rear panel is filled with connectivity for modern performance and music production. External control is supported via the GA-FC foot controller, standard BOSS footswitches, and MIDI. There's also an effects loop, plus XLR and 1/4-inch line outputs for sending a direct feed to a PA, complete with three selectable mic'd cab IR voicings with Air Feel. A phones/recording output is available for silent practice and tracking sessions, along with USB for direct recording and communication with the Nextone Editor software.
Availability & Pricing
The Nextone Special is available now for $899.99. To learn more about the Nextone Special, visit www.boss.info.
---
Award-Winning Audio Brand V-MODA Introduces New Brand Identity, Marrying Its Illustrious Past with Its Promising Future
The New Visual Identity Reflects V-MODA's Growth by Drawing on Its Classic Heritage Hexagon and Its Fellow Brand Family Members' Logos
V-MODA, the award-winning manufacturer of the world's finest high-fidelity audio devices, announces its new brand identity alongside the debut of a new product. The rebrand includes a redesigned logo, a refreshed website and a brand-new tagline to better align with V-MODA's goal of delivering new and innovative audio products while empowering its customers to fully express themselves creatively.
Entering its third year as a fully-fledged member of the Roland family of brands, V-MODA's new visual identity reflects both its illustrious past and its promising future, incorporating familiar forms with sleek modern lines to demonstrate the brand's growth and new developmental direction. The new brand logo takes inspiration from the classic heritage hexagon, a recurring form in V-MODA's industrial design, while the clean, minimalist lines draw on the logos of its fellow brand family members, BOSS and Roland.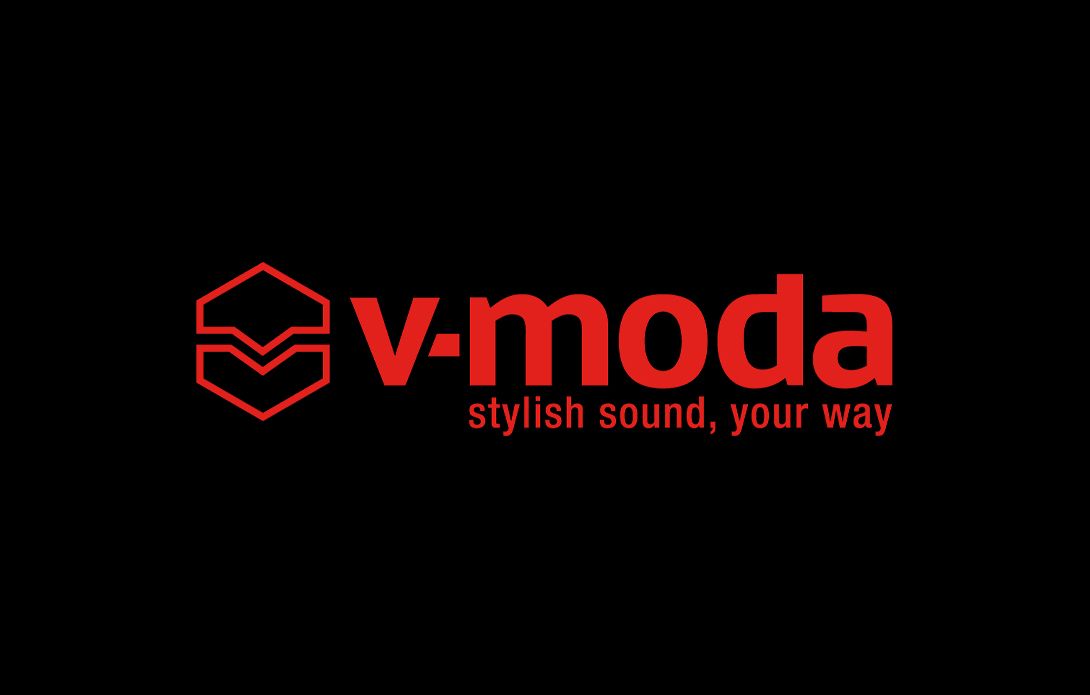 "Roland's mission of bringing 'waku waku' or "thrill and excitement" to creative experiences inspired us to update our brand identity to better reflect V-MODA's new direction, which includes entering a brand new market segment - active noise cancelling," said Yoshitaka Shibata, V-MODA General Manager. "Our new logo and tagline embody both our commitment to our growing customer base while staying true to our mission to deliver the best headphones in the most stylish design."
Red, V-MODA's new brand accent color, symbolizes passion, courage, and dynamism, reflecting the brand's dedication to innovation and boldly redefining their category.
In addition to debuting a new logo, the brand has also introduced a new tagline: "Stylish Sound, Your Way." It is an ode to the ever-expanding customization possibilities V-MODA offers its customers and a reinforcement of its brand pillars of dedication to sound, design, and fashion.
---
V-MODA Unveils M-200 ANC, Its First Bluetooth Active Noise Cancelling Headphone
The New M-200 ANC Combines Active Noise Cancellation with In-App Sound Control, Featuring 6 EQ Presets, 10 ANC Levels, and Custom Shields, for a Truly Customizable Experience
V-MODA announces the availability of the M-200 ANC, its first Bluetooth active noise cancelling headphones, featuring award-winning V-MODA sound coupled with hybrid active noise cancellation. The M-200 ANC takes V-MODA customization one step further by working in tandem with the new V-MODA app, allowing listeners to adjust their noise cancellation level and personalize their sound with EQ presets to fit their lifestyle.

"With this new release, we are propelling ourselves into a new generation of headphones that are unlike anything we've ever done before and into the V-MODA of the future," says Luca Bolognesi, VP of Marketing Technology of V-MODA. "We're thrilled to be introducing our customers to a brand-new kind of ANC headphone where they can fully customize their listening experience, as well as the physical build and design of the headphones they're wearing."
The M-200 ANC continues V-MODA's mission of creating a completely tailored listening experience by working seamlessly together with the V-MODA app, allowing listeners to control their sound as much as if they were right in the studio, personalizing their bass, mids, trebles and highs. With the in-app EQ tool, users can switch between six EQ presets optimized for various listening purposes, manipulate them to create a custom sound signature, or disregard them completely to create their own sound profile from scratch. The 10 different noise cancellation levels are also controllable in-app, neutralizing any outside disturbances to completely envelope the wearer in a sound of their own design.
Listeners can make the design of the M-200 ANC headphones completely their own with V-MODA's customization options by easily switching out the decorative shields. Starting with six striking color choices, they can even be laser engraved or color printed with the listener's own logo or design as an extension of their own personal style.
The M-200 ANC is the perfect companion for busy lives, with 20 hours of ANC-activated playback on a single charge and an intuitive UI. The headphones also boast smart features such as "Voice In," which momentarily lowers the volume and pauses ANC when the left earcup is covered, escalating the convenience factor and allowing the user to focus on moments that matter.
V-MODA is wholly dedicated to creating comprehensive products, placing an equally high value on sound, creative features, and high-quality build and design. While soft to the touch with a 100% premium PU leather exterior, the M-200 ANC is also extremely durable thanks to a metal-build core and flexible headband. Providing extra protection, the M-200 ANC folds easily into its protective Exoskeleton Carry Case for safe travel and storage whenever needed so that your sound can move with you.
V-MODA M-200 ANC Features
Driver Size: 40mm - perfect driver-to-housing ratio for an optimal sound reflection and high-quality sound that packs a punch
Driver Build: Neodymium magnets with CCAW (copper-clad aluminum wire) coils. Higher sensitivity and substantial sound output from lighter, more powerful magnets. CCAW coils enhance the movement of diaphragm to improve sound quality
Hybrid Active Noise Cancelling: Adjustable in the V-MODA app to tailor the level of noise cancellation needed to cut out outside noise
Bluetooth Version: Bluetooth 5.0 for optimal connectivity and no cut outs
Bluetooth Audio Codecs: Qualcomm aptX HD, AAC, SBC - premium codecs for both Android and iOS devices
Mobile App: For customizing sound through different EQ profiles and to adjust noise cancelling level
Battery Life: Enjoy 20 hours of wireless playback on one charge with ANC activated, with 10 minutes getting you 1.5 extra hours for those times when you're in a hurry
Voice Assistants: Get help on the go from Google Assistant or Siri
Charging: USB-C
Frequency Response: 10 - 40,000Hz (Hi-Res Audio certified in wired mode) - able to reproduce the deepest bass to the same standard as the sharpest highs
Headband: Adjustable headband with a steel core coated in 100% PU leather, making it more breathable: soft, flexible, but practically indestructible
Earpads: PU leather for unparalleled comfort and fatigue-free listening, while 3D Memory foam molds to you for a luxurious fit and superior noise isolation. Earpads are also magnetic and replaceable for easy cleaning and replacement.
Detachable Cables: Audio Only Cable added when zero latency is required
Weight: 320g - solid enough to feel like premium audio equipment, light enough to feel like it's not even there
Warranty: 1-Year + Immortal Life Replacement Program
Carry Case: Exoskeleton Carry Case you can pack up and protect your headphones with ease. Also makes the headphones easily portable via accompanying carabiner clip
Shield Customization: Choose from a variety of aluminum shield colors to make M-200 ANC yours, with your logo, initials or design laser engraved or color printed to finish them off with a personal touch
Pricing & Availability - The V-MODA M-200 ANC is available now at v-moda.com, Amazon, and select retailers for $499.99.
---
Roland Announces FP-X Series Digital Pianos
Best-Selling Portable Piano Series Updated with the Latest Sound Technologies and Features
Roland announces the FP-X series, the latest generation of Roland's long-running FP series of portable digital pianos. The FP-90X, FP-60X, and FP-30X each deliver best-in-class performance, with Roland's acclaimed piano engines and hammer-action keyboards coupled with Bluetooth audio/MIDI and USB connectivity, recording and metronome functions, and more. Offering no-compromise sound and playability in stylish, portable designs, the FP-X series is the ideal choice for home pianists, modern families, educators, and anyone looking for a premium piano experience in a compact instrument.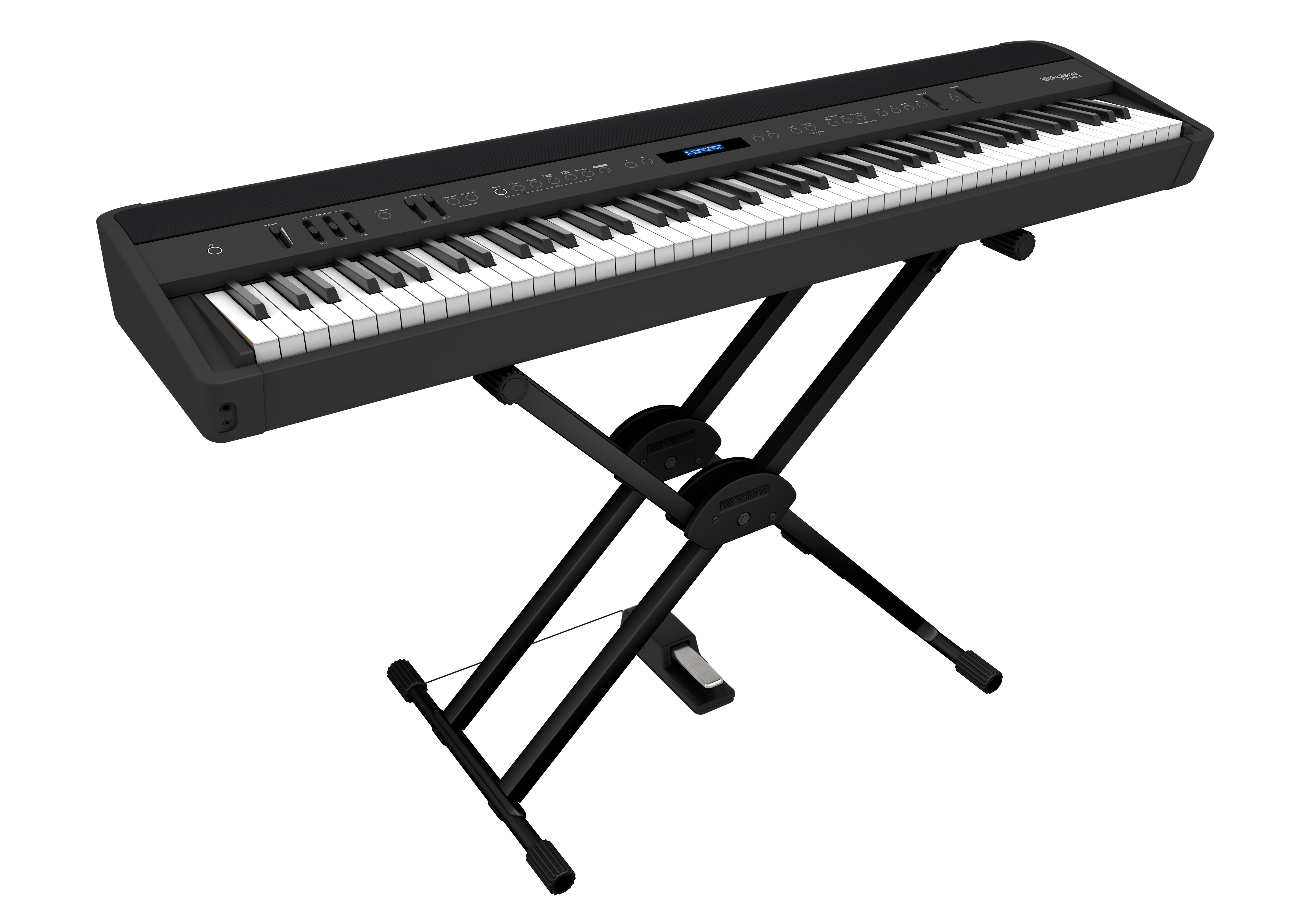 The top-of-the-line FP-90X features Roland's PureAcoustic Piano Modeling technology for ultimate piano realism. The 88-note PHA-50 Progressive Hammer Action Keyboard with Escapement offers the latest sensing technology and a combination of wood and ivory-feel materials for natural playability and lasting durability.
The mid-level FP-60X and entry-level FP-30X feature the expressive SuperNATURAL Piano engine found in many Roland professional stage and home pianos. Each model is also equipped with the 88-note PHA-4 Standard keyboard with progressive hammer action, escapement, ivory-feel keys, and high-resolution sensing.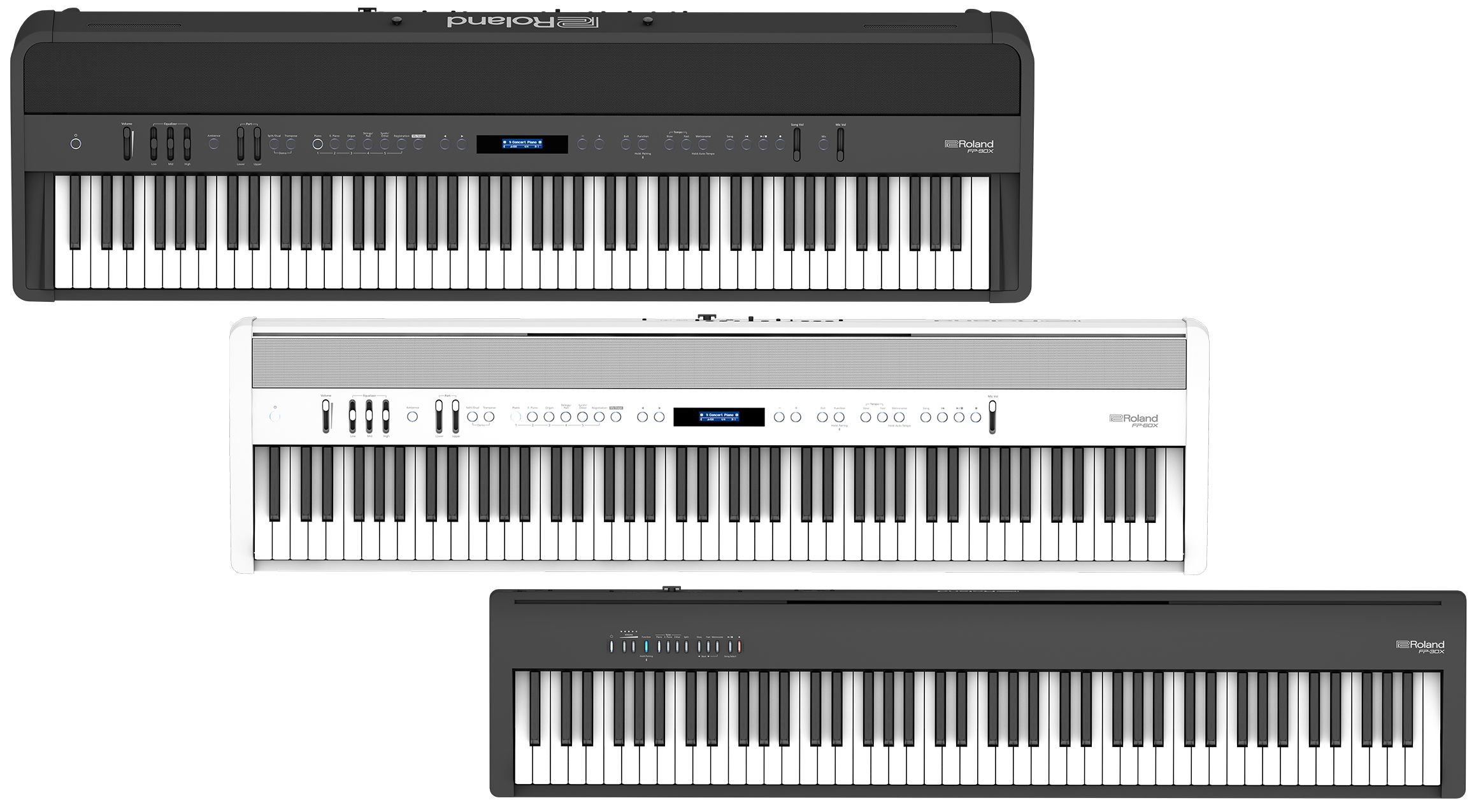 All FP-X models offer many piano and non-piano sounds for musical exploration, high-quality audio with built-in stereo speakers, and the ability to plug in two sets of headphones for quiet practice and teacher/student interaction. Onboard Bluetooth allows users to play along with songs from mobile devices and connect with music apps such as Roland's Piano Every Day and Piano Designer.
FP-X finishes include black or white, and there's an optional stand and pedals available for each model to create a compact upright piano configuration.
The FP-90X, FP-60X and FP-30X will be available in February 2021 for $2,099.99, $999.99 and $699.99.
Learn more about the FP-90X, FP-60X, and FP-30X at Roland.com
---
Roland Introduces RP701 and F701 Digital Pianos
Space-Saving Home Upright Pianos with Premium Sound, Authentic Playability, and Onboard Learning Features
Roland introduces the RP701 and F701 digital pianos, two compact and affordable instruments for the home. Roland's famous piano technologies deliver an inspiring piano experience, while onboard education features and Bluetooth audio/MIDI connectivity with music apps encourage learning and enjoyment. The RP701 offers a traditional upright design in a space-saving footprint, making it an ideal first piano for growing families. With its sleek, contemporary upright appearance, the F701 is a great choice for adult piano enthusiasts living in smaller modern spaces.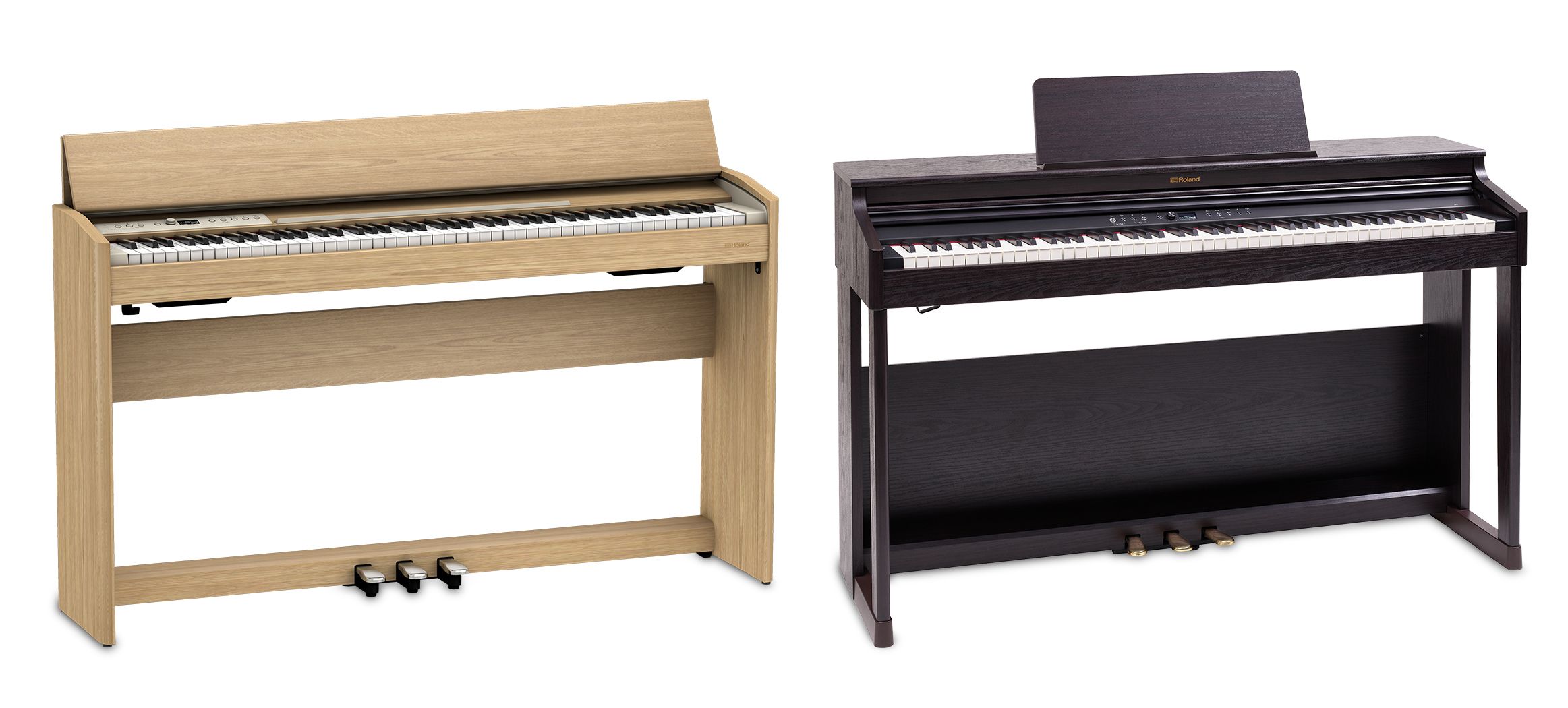 The RP701 and F701 feature Roland's SuperNATURAL Piano technology for organic, ultra-expressive sound that provides both a solid foundation for learning and the detailed articulation and response to satisfy experienced players. The 88-note PHA-4 Standard keyboard offers the natural touch and feel of an acoustic grand with progressive hammer action, escapement, and ivory-feel keys.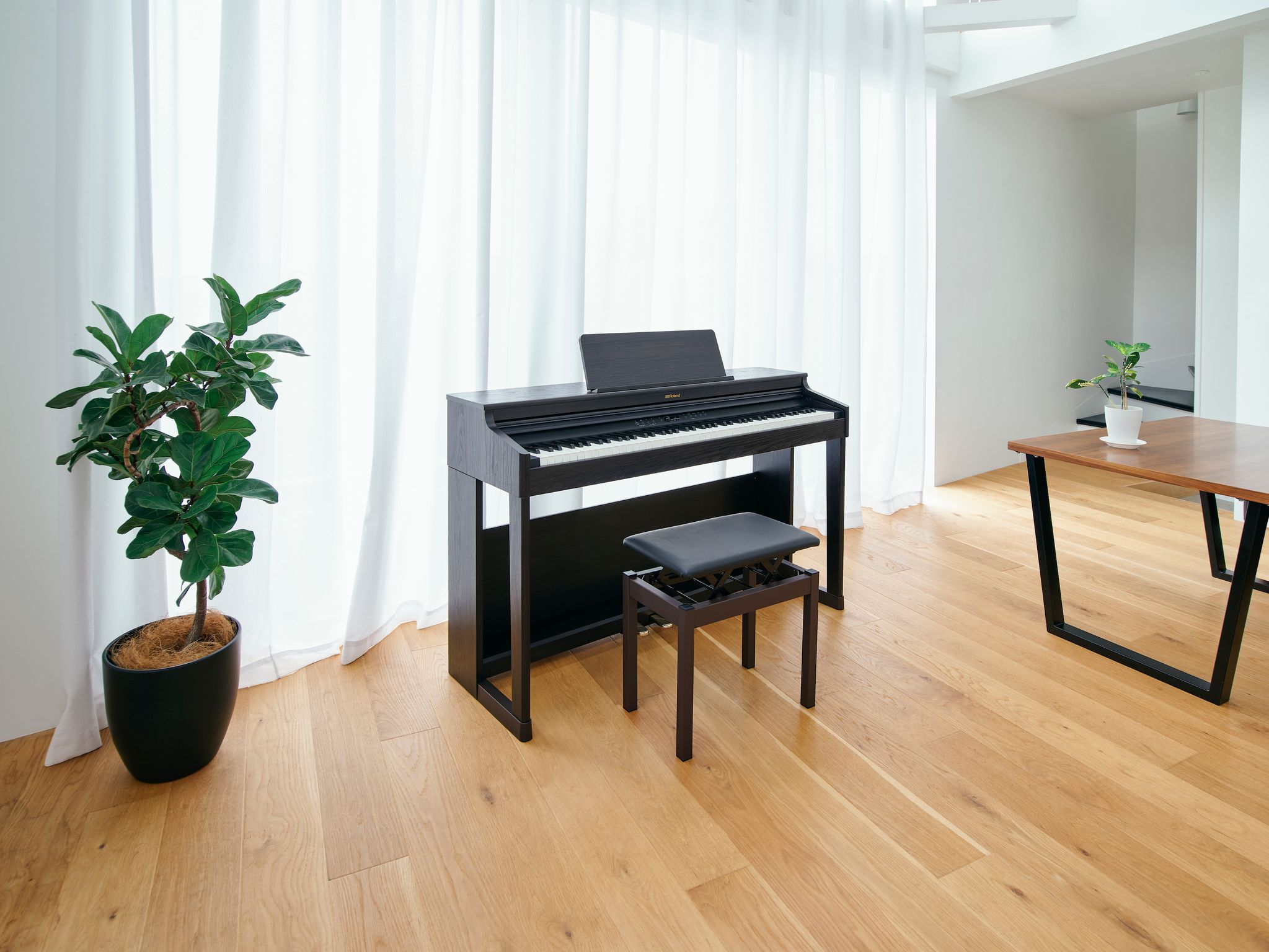 Each model comes equipped with a high-quality stereo speaker system and support for two sets of headphones for quiet practice and teacher/student interaction. Bluetooth connectivity allows users to play along with songs from mobile devices and enhance their experience with music apps such as Roland's Piano Every Day and a wide range of third-party options. Each instrument also includes a versatile metronome and onboard recording for self-evaluation, plus an extensive onboard song library that includes lessons and a variety of classical, pop, and jazz pieces.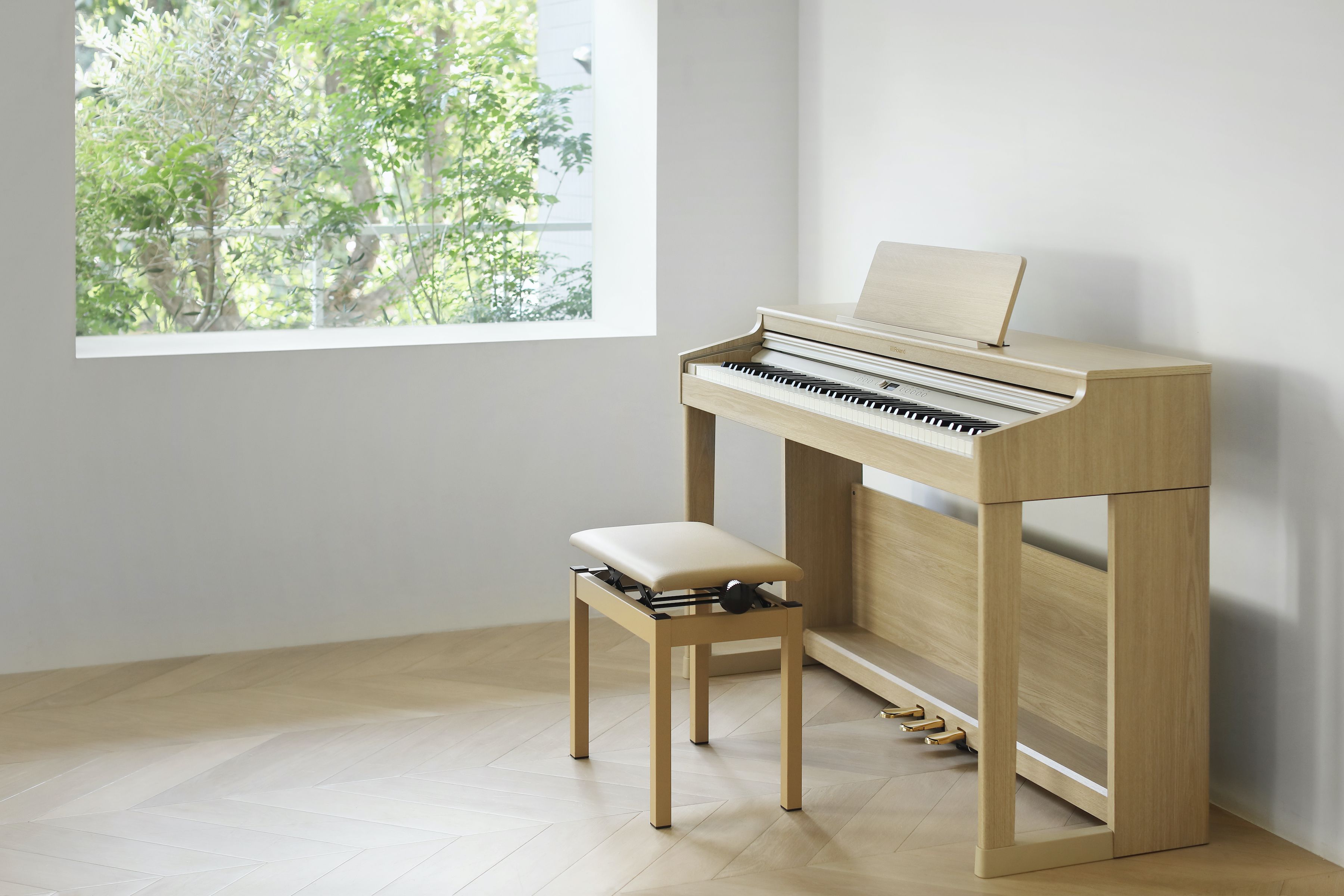 The RP701 and F701 are available in contemporary black, white, and light oak finishes, and include a matching adjustable bench. The RP701 is also available in dark rosewood.
Availability & Pricing  
The RP701 and F701 will be available in February 2021 for $1,499.99 and $1,399.99.
Learn more about the RP701 and F701 digital pianos at Roland.com
---
Roland Unveils VERSELAB MV-1 Song Production Studio
All-in-One Composition Tool with Inspiring Workflow, Vocal Recording, Sequencing, ZEN-Core Sounds, and More
Roland introduces VERSELAB MV-1 Song Production Studio, an innovative new composition tool for modern music creators. Offering an all-in-one design for go-everywhere production, VERSELAB allows composers to create professional multi-track songs with vocal recording, 16 velocity-sensitive pads, and Roland's famous 16-step TR-REC rhythm sequencer. VERSELAB's onboard ZEN-Core sound engine provides a vast library of premium instrument and rhythm sounds to choose from, while future integration with Roland's Zenbeats music creation app will allow users to enhance their workflow with a computer or mobile device.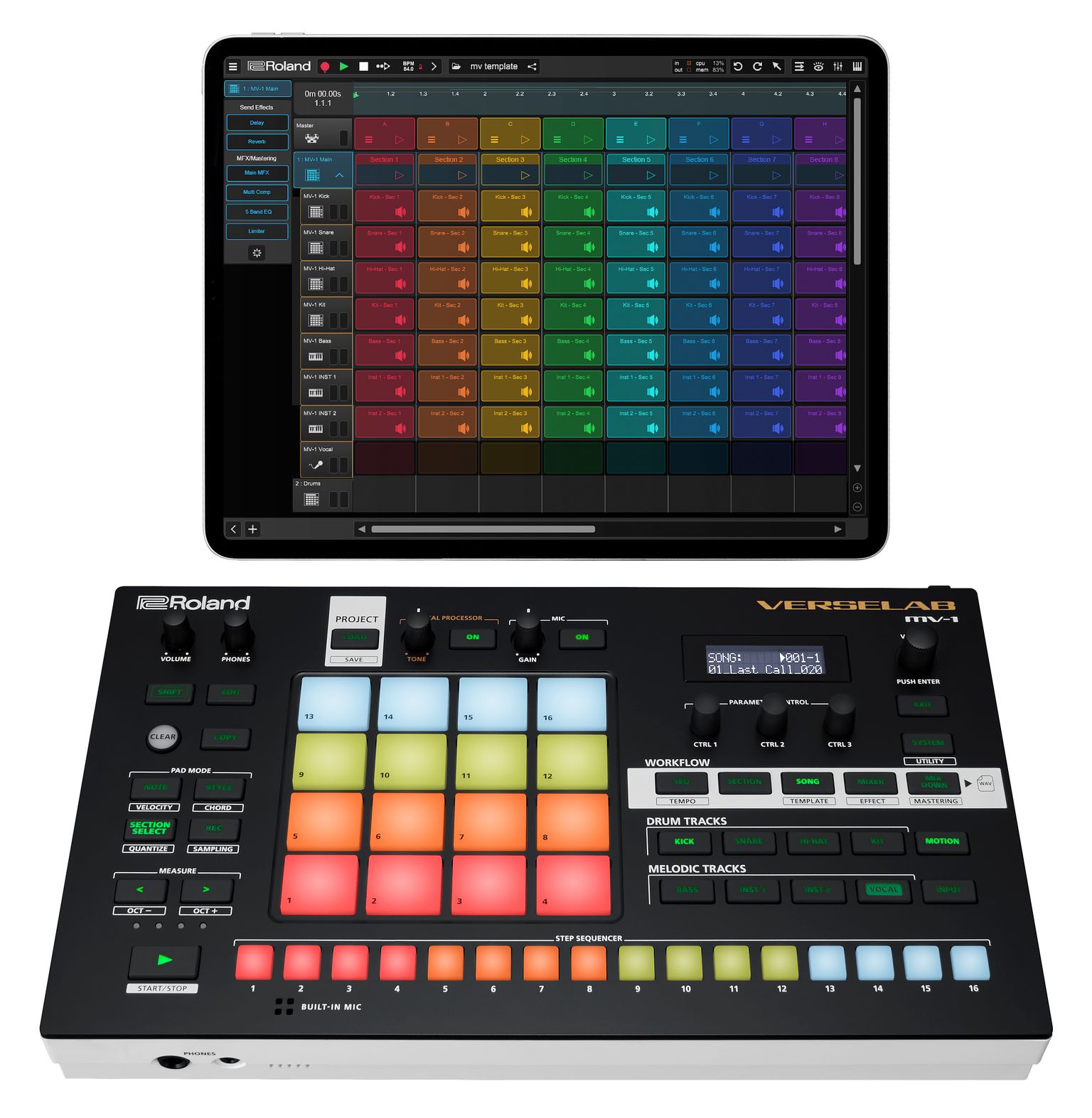 VERSELAB gives vocalists and beatmakers everything they need to develop songs anywhere. With templates, pattern generators, and a guided workflow that smoothly moves through the process of making tracks, VERSELAB eliminates option paralysis and lets creators focus on what matters most—finishing their music.
Users can easily record vocals via the built-in mic or an external XLR mic and add an array of contemporary effects, from auto-pitch to harmonizers. The powerful ZEN-Core engine delivers a history of classic Roland instruments and a wide range of curated sounds for quick-fire inspiration. The TR-REC sequencer and 4x4 pads provide a direct, hands-on interface that's perfect for building drum tracks, bass lines, and melodic parts as fast as the ideas come.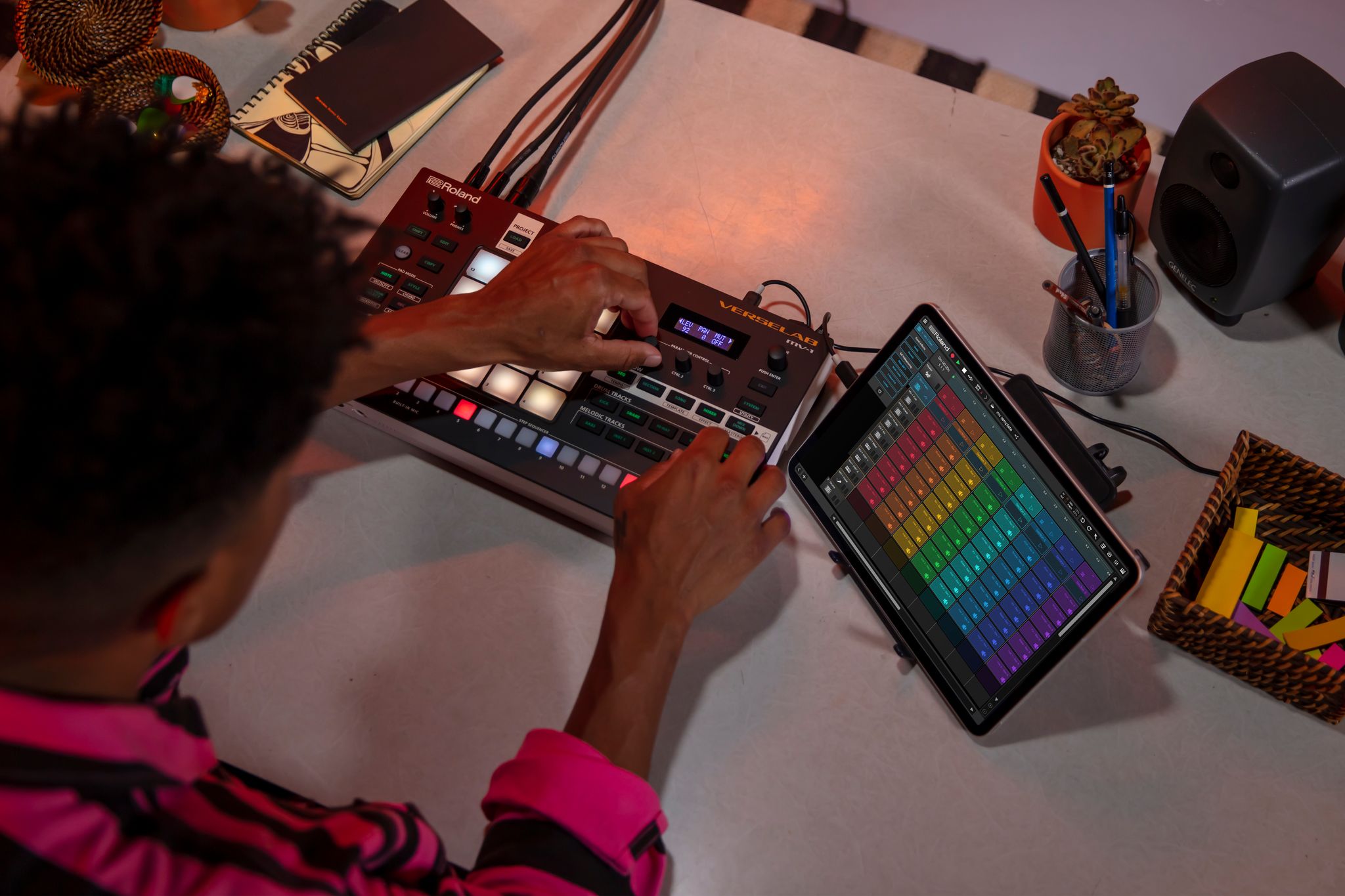 VERSELAB also includes an arsenal of pro mixing and mastering effects to create polished tracks ready for distribution. Plug-and-play integration with Roland's popular Zenbeats app will be coming soon, providing even more production options by interfacing with a computer, tablet, or smartphone.
Availability & Pricing
The VERSELAB MV-1 Song Production Studio will be available in January 2021 for $699.99.
Learn more about the VERSELAB MV-1 Song Production Studio at Roland.com.
---
And Finally, Roland Showcases Aerophone Pro During NAMM Believe in Music Week January 2021
Flagship Digital Wind Instrument with a Refined Design, Premium Components, Enhanced Playability, and Roland's Most Advanced Sound Engines
Roland showcases Aerophone Pro, the new flagship model in the company's acclaimed Aerophone series of digital wind instruments. Combining numerous design refinements and premium components with enhanced playability and a vast sonic palette from Roland's SuperNATURAL and ZEN-Core sound engines, Aerophone Pro enables wind players to take their music where it's never gone before.
Introduced in 2016, the Aerophone series has opened a universe of creative possibilities for wind musicians. While developing Aerophone Pro, Roland reached out to expert players around the globe for suggestions on taking the Aerophone experience to the next level. Their feedback led to many thoughtful improvements that substantially enhance the instrument's look, feel, sound, and playability. The result is a revolutionary wind instrument that gives musicians a bold and highly expressive new voice.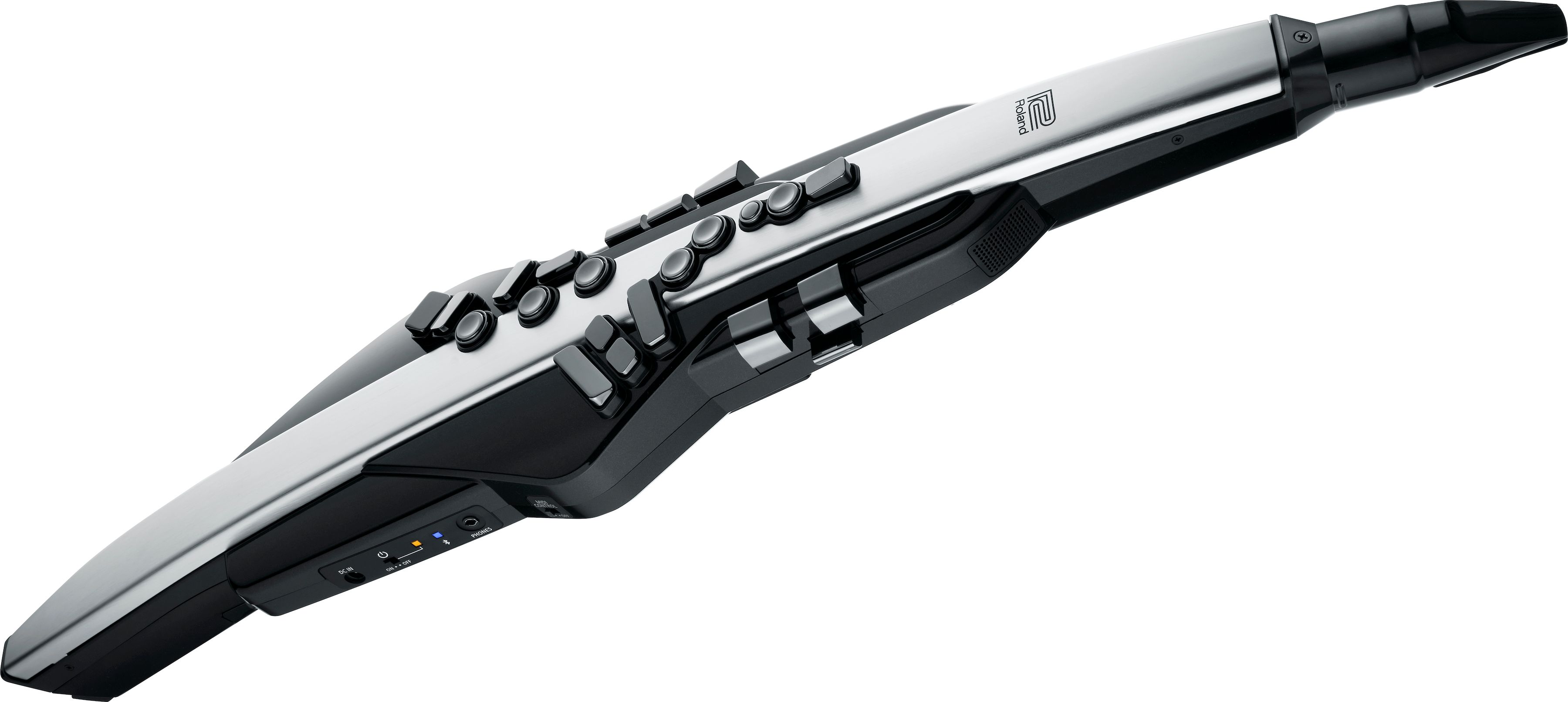 Aerophone Pro's thin, ergonomic design looks great on stage and is easier to hold for a more confident playing experience. Controls are easy to reach, and the streamlined body and aluminum accents exude an understated-yet-classy presence. The discrete OLED screen provides quick visual access to various parameters and can be viewed at any angle and in any kind of lighting.
The stock fingering on Aerophone Pro is the same as an acoustic sax and includes a high-F# key. Multiple user-customizable fingerings are supported as well, and configurable controls for both hands and a MIDI input for footswitches greatly expand performance options. Through extensive research and development, the breath and bite sensors are more responsive and expressive than ever, and the user can save personalized settings for their own style.
Aerophone Pro packs entire brass and woodwind sections into a single instrument. Developed with professional players, there are newly enhanced soprano, alto, and tenor saxes, vibrant new trumpet sounds, and authentic world instruments like the stunning new duduk. Roland's SuperNATURAL technology translates every playing nuance with lifelike dynamics, articulations, and overtones, while new controller options enable idiomatic performance techniques on a range of instruments, from mainstream to exotic.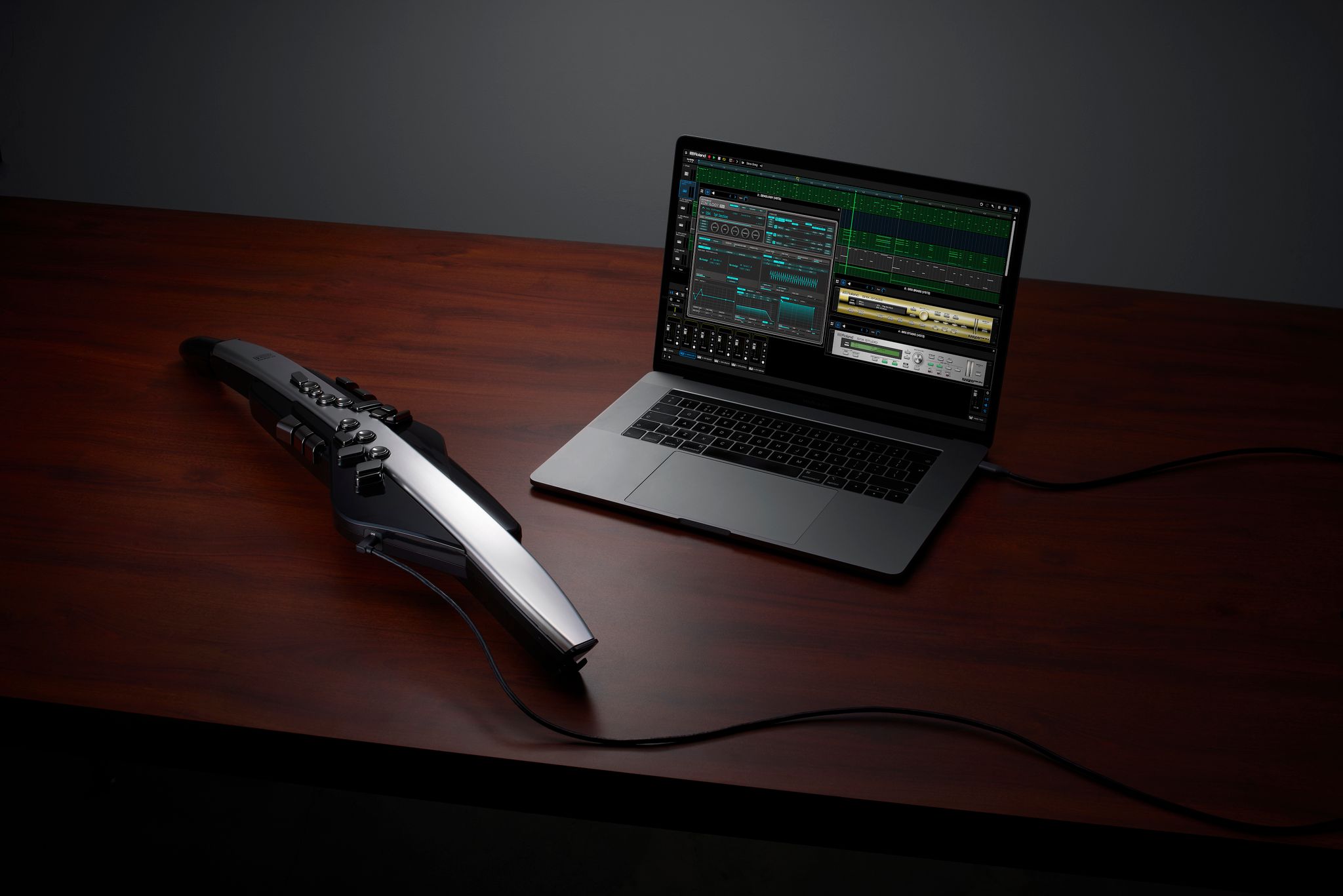 Aerophone Pro also features Roland's ZEN-Core Synthesis System, the sound engine that powers flagship synthesizers like FANTOM and JUPITER-X. Presets crafted by the world's foremost wind synth sound designers provide everything from vintage analog synth tones to modern hybrid sounds, with the refined expression and articulation only a wind instrument can provide.
Aerophone Pro enables powerful and expressive performances in any situation. Its robust design and flexible audio and MIDI connections make it perfect for any live gig, or as the center of a wind controller-based production studio. And with a headphones jack, Bluetooth MIDI, built-in speaker, and battery-powered operation, users can pick up and play whenever and wherever inspiration strikes.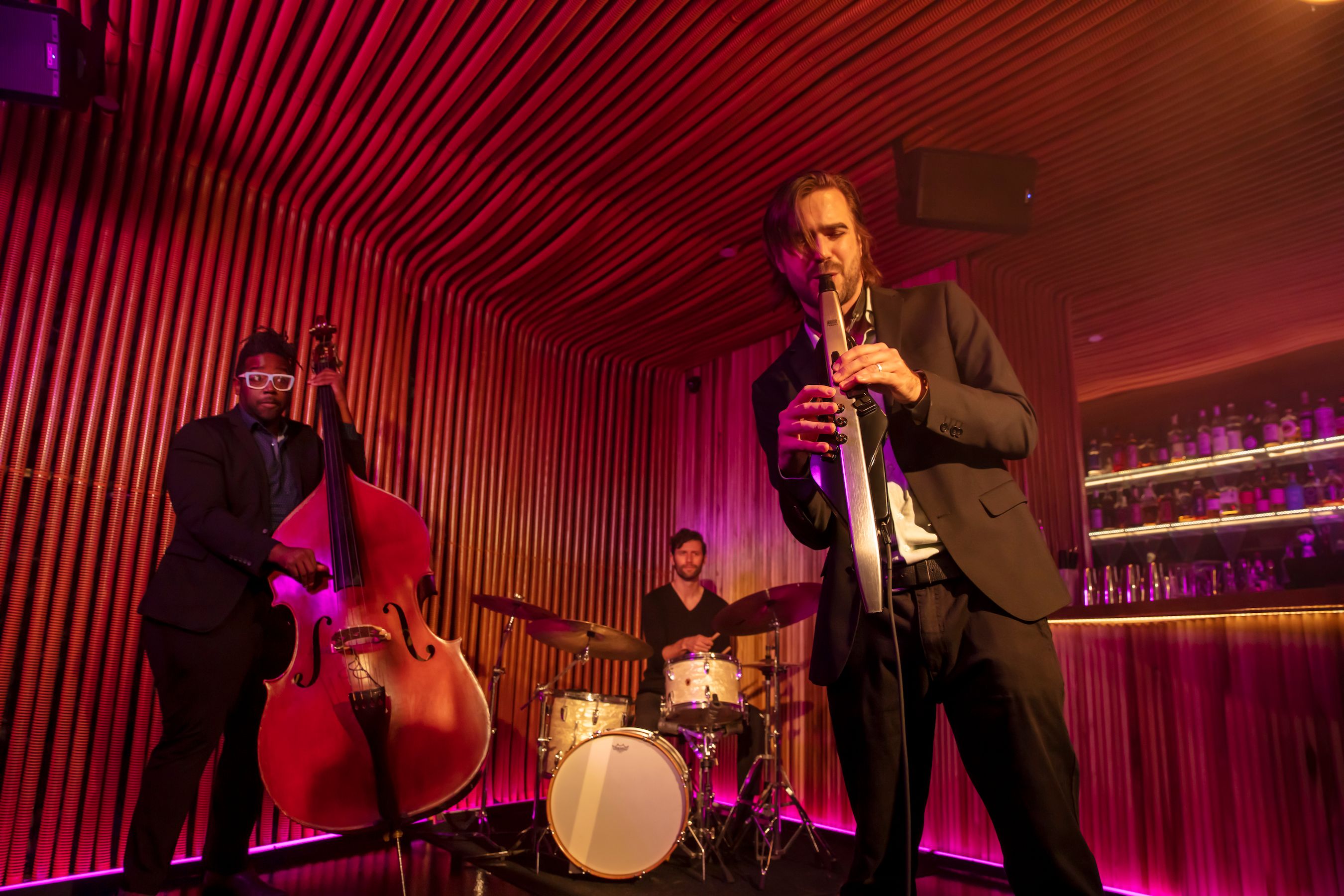 Aerophone Pro offers powerful onboard editing tools for personalizing sounds on the spot. Even deeper customization and sound organization are available through an editor app for iOS and Android mobile devices. And with easily selectable scene memories and favorites, users can quickly navigate the large array of tones and mark them for instant recall while performing.
Availability & Pricing 
The Aerophone Pro will be available in January 2021 for $1,499.99.
To learn more about Aerophone Pro, visit Roland.com.