Los Angeles, CA, July 15, 2021—Today, BOSS has announced a number of new guitar products. First, the EURUS GS-1 Electronic Guitar, an inspiring new instrument for modern guitarists. The EURUS concept presents a bold creative path for adventurous sonic explorers, expanding the traditional guitar experience with powerful and expressive BOSS technologies. Born from this breakthrough approach, the EURUS GS-1infuses a premium instrument with advanced guitar synthesis techniques refined over more than four decades. The guitar also features onboard Bluetooth®, allowing players to customize synth sounds and control multiple performance parameters with the convenience of wireless connectivity.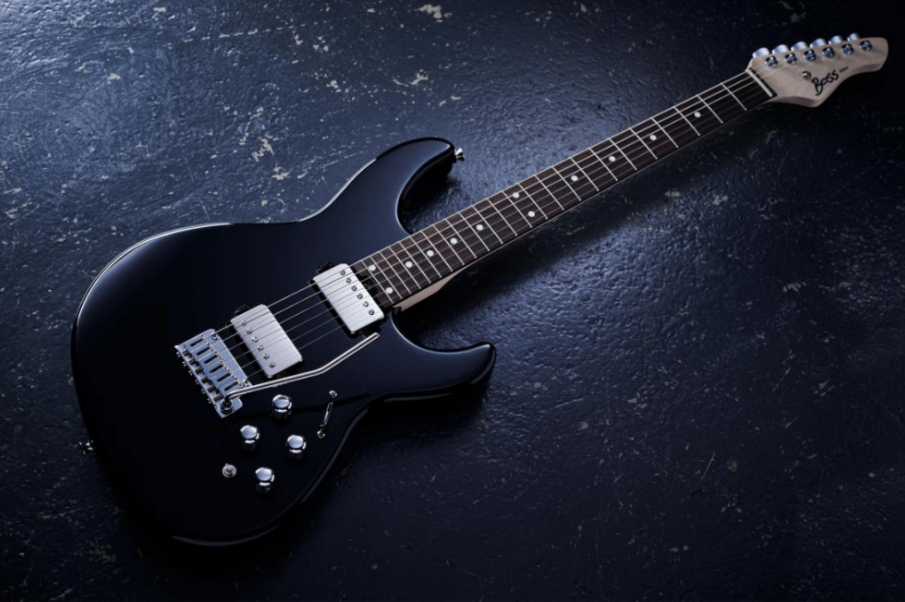 The EURUS GS-1 fully leverages BOSS's vast expertise in guitar technology to bring endless musical possibilities to forward-thinking players. Crafted in Japan with pro-quality details and components, the instrument provides smooth playability and top-quality sound for any guitar style. And with the flip of a switch, players can engage a polyphonic BOSS synth engine to access a stunning range of analog-flavored sounds to launch their music into a new dimension.
The synth engine in the EURUS GS-1 delivers exceptional sonic quality and natural touch response realized through 40-plus years of BOSS guitar synthesizer development. The six onboard memories come filled with ready-to-play sounds, and there's a synth control knob for hands-on dynamic expression. Every synth sound seamlessly responds to normal guitar techniques, with no latency or triggering issues to disturb the musical flow.

Using the free GS-1 Editor app for iOS and Android mobile devices, players can fully customize synth sounds over Bluetooth. Many different synth types and variations are available for crafting sounds, along with tone, resonance, and other adjustable parameters. In addition, a range of target parameters can be assigned to theguitar's synth control knob, and favorite sound combinations can be saved for quick loading before performances.
The EURUS GS-1 features a stylish offset body design and a slim-profile, 24-fret neck with a compound radius fretboard for playing comfort. High-performance Gotoh hardware delivers smooth tremolo action and solid tuning stability with a two-point fulcrum bridge and staggered-height locking machine heads. Custom designed for the EURUS GS-1, the two humbucking pickups provide wide-range tone plus split-coil voicing at two stops of the five-way switch.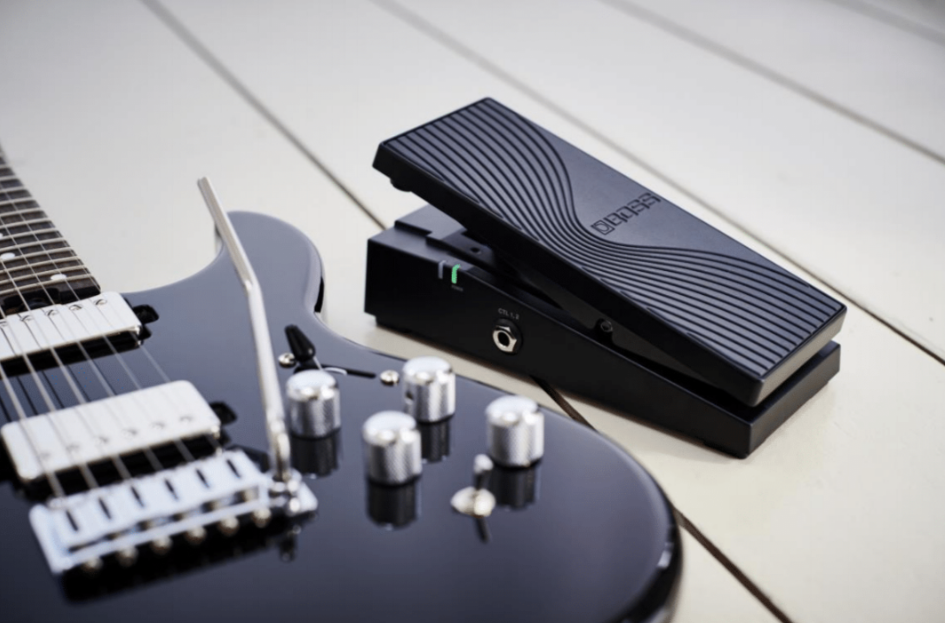 The newly released EV-1-WL Wireless MIDI Expression Pedal (discussed below) is a powerful creative partner for the EURUS GS-1, bringing cable-free external control to the synth engine via Bluetooth. With the GS-1 Editor, parameters such as pitch bend, hold, filter depth, and more can be assigned to the EV-1-WL's pedal, toe switch, and up to two external footswitches. Each sound can contain its own set of assignments, allowing players to perform octave bends on a synth lead, slow filter sweeps on a pad sound, and nearly anything else they can dream up.
Availability & Pricing:
The EURUS GS-1 Electronic Guitar will be available in the U.S. in October 2021 for $2,199.99*. To learn more, visit www.boss.info.
*Price at the time of publishing
---
Los Angeles, CA, July 15, 2021—BOSS also announces the EV-1-WL, the world's first MIDI expression pedal with Bluetooth® wireless connectivity. The EV-1-WL provides wireless MIDI foot control for BOSS products like the EURUS GS-1, Waza-Air, and Katana-Air, music apps on mobile devices, and anything that can receive MIDI Control Change (CC) messages via Bluetooth MIDI. USB and MIDI TRS jacks are also available for wired control of computer music software and standard MIDI devices. And with the free EV-1-WL Editor app for iOS and Android mobile devices, users can fully customize the pedal for their needs over Bluetooth.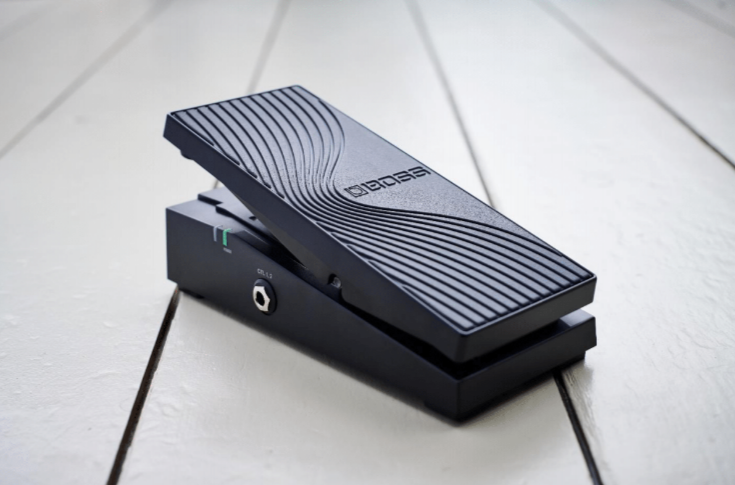 The EV-1-WL is the ideal creative partner for the growing range of BOSS products and other music performance hardware with Bluetooth wireless support. It provides cable-free foot control for the synthesizer engine in the new EURUS GS-1 Electronic Guitar, allowing players to operate pitch bend, filter, and other functions. And with external footswitches connected, the EV-1-WL becomes a mini Bluetooth pedalboard for the Waza-Air Wireless Personal Guitar Amplification System and Katana-Air Guitar Amplifier, providing patch selection, wah/volume control, and more. In addition, the EV-1-WL can communicate wirelessly with a standard 5-pin MIDI device that has the Roland WM-1 Wireless MIDI Adaptor installed.
The EV-1-WL can also pair via Bluetooth with Mac computers, smartphones, and tablets to interface with music apps that support remote operation with MIDI CC messages. The wireless connection brings easy real-time control to all types of applications, from guitar amp simulators and effects to virtual instruments and music production software.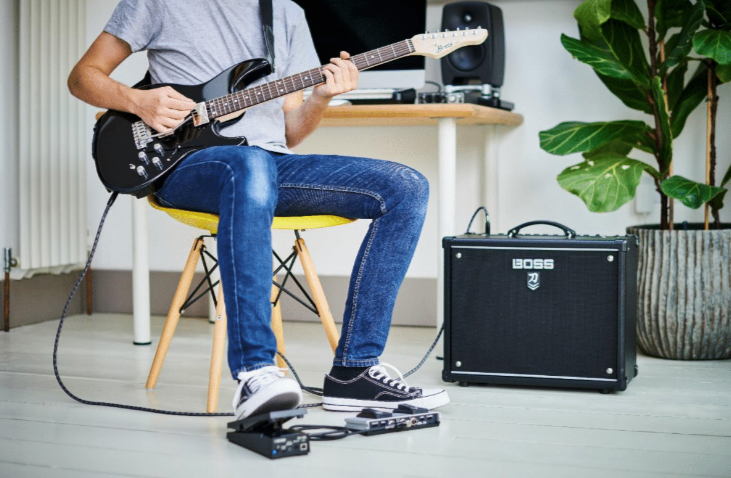 Over USB, the EV-1-WL functions as a plug-and-play MIDI controller for music software on Mac and Windows computers. The class-compliant interface means there are no drivers to install—just connect to the computer with a USB cable and configure the software as needed for external MIDI input.
With its space-saving TRS MIDI output, the EV-1-WL is a powerful accessory for all types of MIDI music hardware, from effect pedals and multi-effects processors to keyboards, drum machines, and beyond. It's perfect for use with BOSS pedals equipped with TRS MIDI, including 200 series effects and the RC-5 and RC-500 Loop Stations. And with the BOSS BMIDI-5-35 adaptor cable, the EV-1-WL can connect to any device that has a standard 5-pin MIDI input jack.
Using the EV-1-WL Editor app, custom MIDI CC numbers and value ranges can be assigned to the EV-1-WL's pedal, toe switch, and optional external footswitches. The Bluetooth, USB, and TRS MIDI outputs support simultaneous operation, and users can create independent control settings for each. It's also possible to set the switches for momentary or latching operation, adjust the pedal's response curve, and more.
The EV-1-WL Wireless MIDI Expression Pedal will be available in the U.S.in October 2021 for $149.99*. To learn more about EV-1-WL Wireless MIDI Expression Pedal, visit www.boss.info.
*Price at the time of publishing.
---
Los Angeles, CA, July 15, 2021— Finally, BOSS also announces the CB-EG20 and CB-EG10 guitar gigbags, the latest additions to the growing BOSS family of premium accessories for musicians. Crafted with top-quality materials and designed to fit a wide range of guitars, the CB-EG20 and CB-EG10 are ideal solutions for performing players on the go.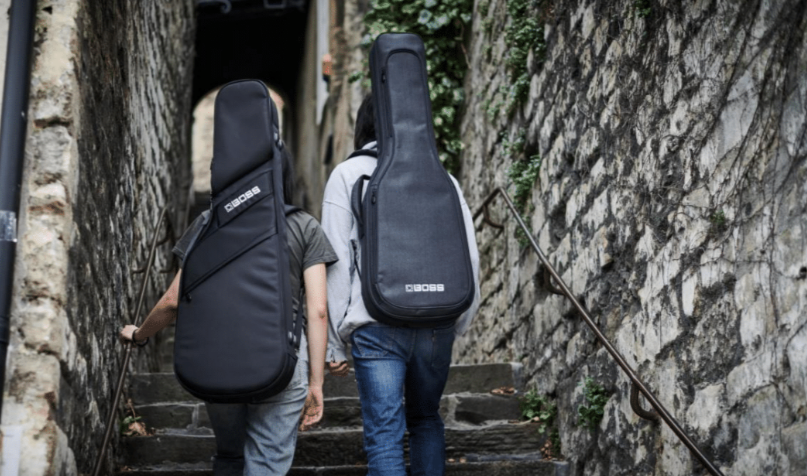 Stylish and durable, the semi-rigid CB-EG20 is perfect for guitarists who need the convenience of a gig bag while maintaining maximum instrument protection. The tough nylon exterior and heavy-duty zippers are water-resistant, and impact panels are integrated into the front and back to provide firm shielding against everyday bumps and bruises. There's a flexible handle and two hideaway backpack straps for traveling comfort, and two external accessory pockets are on hand for strings, a tuner, and other gigging essentials.
The CB-EG20's plush interior provides a protective cocoon for the user's guitar while traveling. Thick padding and soft velvet fabric surround the instrument, while the bottom cushion supports the strap button area when standing the bag on end. If needed, the cushion can be removed to create more space for a larger guitar. The padded neck support elevates the headstock to help keep it protected, and there's also an integrated strap to secure the neck during transport.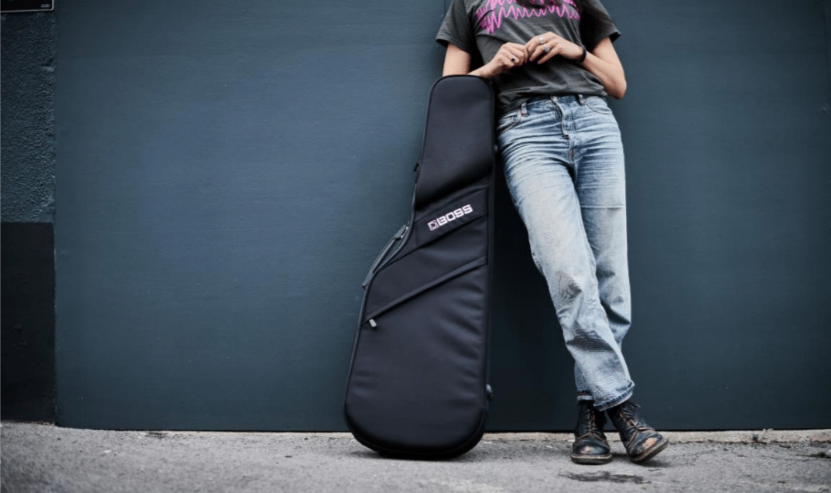 Streamlined and rugged, the CB-EG10 delivers best-in-class instrument protection for guitarists who like to travel light. The 600D black polyester exterior is both durable and weather resistant, and thick internal padding provides excellent cushioning for everyday use. The comfortable handle and padded straps make travel easy, and two zippered accessory pockets are available for strings, cables, and other items.
The CB-EG10's cushioned soft velvet interior and dual padded neck supports provide a safe and stable environment for the user's guitar. The supports elevate the headstock to help keep it protected, and they can be detached and repositioned if needed. And with the integrated straps,the neck is securely held in place during transport.
The CB-EG10 and CB-EG20 will be available in the U.S. in September 2021 for $79.99 and $149.99, respectively. To learn more about CB-EG20 and CB-EG10 guitar gig bags, visit www.boss.info.
*Price at the time of publishing