John Lodge — legendary bass player, songwriter and vocalist of The Moody Blues, and inductee in the Rock and Roll Hall of Fame — today releases a dynamic and vibrant new live album: 'The Royal Affair and After': a release that's sure to delight existing fans of The Moody Blues and make new ones. 
 
This 10-track album includes brand-new, live recordings of all John's Moody Blues hits, along with special tributes to all his bandmates: Graeme Edge, Justin Hayward, Mike Pinder and Ray Thomas.
 
The album was recorded live in Las Vegas on 'The Royal Affair Tour', in the Summer of 2019. with additional tracks recorded during John's subsequent USA dates. For John, it provided an opportunity to bring his electrifying show to both long-established fans of The Moody Blues and to younger music lovers new to them.  
 
The carefully curated set and album track list includes hits such as 'I'm Just a Singer (in a Rock and Roll Band)', 'Ride My See-saw', 'Isn't Life Strange', 'Steppin' in a Slide Zone', and 'Gemini Dream'. You'll also find 'Saved by the Music' from the Blue Jays' album (released by John and Justin Hayward in 1975, during The Moody Blues' 5-year hiatus).
 
John has woven these tracks together with special tributes to his bandmates from The Moody Blues - as John describes it, the 'soundtrack of his life'.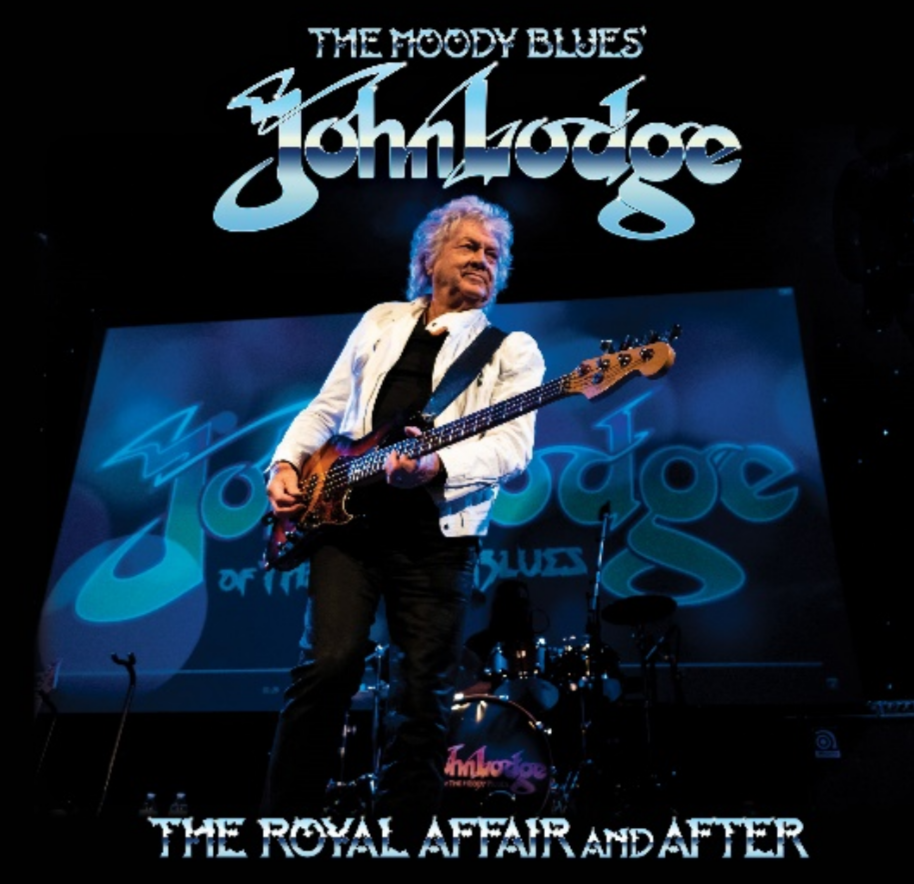 'The Royal Affair and After'' includes a poignant, very special recording of the poem 'Late Lament' by the Moody Blues' drummer Graeme Edge (co-founder and drummer of The Moody Blues, who sadly passed away in November 2021).  The poem originally appeared on the iconic album 'Days of Future Passed', written by Edge, but voiced by Mike Pinder.  John was delighted when Graeme Edge agreed to record his poem for him, in his own voice.
 
John's tribute to Ray Thomas is his version of "Legend of a Mind", John and Ray were friends from the age of 15 when they met on a bus in Birmingham and decided to form a band together. His tribute to Mike Pinder is his rendition of 'Sunset': a new version that captures the mystical tone of Pinder's work, and Jon Davison of YES provides guest vocals on 'Nights in White Satin'.  For 54 years John has played this song at every Moody Blues concert, and loves playing the bass line that he wrote all those years ago, and with the Moody Blues no longer touring, this was a wonderful opportunity to play tribute to Hayward.
 
On tour and in the live recordings that comprise the album, John and his 10,000 Light Years Band capture the essence, energy, and messages of these Moody Blues songs, performing them with the energy, verve and musicianship the band were famed for, whilst bringing a truly modern feel to these classic songs.
 
John's mission statement is, after all, "I want to keep all the Moody Blues music alive!"
 
"The last two years have been strange and crazy times," John reflects, "and we have all faced challenges we never imagined.  For me, it was very therapeutic to spend time working on this new live album.  As the COVID waves have come and gone, and we've been isolated and often separated from loved ones, I've spent a lot of time thinking about these songs: songs that really are the 'soundtrack of my life': 'Ride my See-Saw', 'Isn't Life Strange', 'Steppin' in a Slide Zone' — all seem so relevant today. 
 
"It also makes me so very happy that Graeme did his special performance of 'Late Lament' for the album: he will be deeply missed, but will always stay with us in our hearts and on this album.  
 
"I'm also thankful to Jon Davison from YES, who is a great friend, but also performs the vocals on 'Nights' so beautifully, honouring this iconic song.  
 
"I wish for us all as we start 2022 that this is the last COVID wave, and we can be back together again on the road, enjoying life, and this music.  At the end of the day, I am just a singer in a rock and roll band."

Joining John are his '10,000 Light Years Band'; Alan Hewitt (Music Director and Keyboards), Billy Ashbaugh (Drums), Duffy King (Guitars) and Jason Charboneau (Cello). 
 
'The Royal Affair and After' is released today on CD and digital download and all streaming services.  A limited-edition blue vinyl will also be released on 28th with a black vinyl release on 11th February 2022. See John's website for details.

Download/Stream here:
https://orcd.co/JohnLodgeTheRoyalAffairAndAfter
https://www.johnlodge.com/the-royal-affair-and-after
 
JOHN LODGE 2022 TOUR DATES 
8 March             Infinity Hall, Norfolk CT
9 March             Levoy Theatre, Millville NJ
11 March           Suffolk Theater, Riverhead NY
12 March           Warehouse at FTC, Fairfield CT
13 March           Infinity Hall, Hartford CT
15 March           Sellersville Theater, Sellersville PA
16 March           Rams Head on Stage, Annapolis MD
17 March           The Tin Pan, Richmond VA
19 March           City Winery, Nashville TN
20 March           City Winery, Atlanta GA (two shows in 1 night)
23 March           The Villages, FL (two shows in 1 night)
25 March           Ponte Vedra Hall, Jacksonville FL
26 March           Stage 954 at the Casino at Dania Beach, Dania Beach FL
 
Track Listing (CD and Digital)
1.         Steppin' in a Slide Zone
2.         Saved by the Music 
3.         Legend of a Mind
4.         Sunset 
5.         Late Lament (with Graeme Edge)
6.         Nights in White Satin (with Jon Davison)
7.         Gemini Dream
8.         Isn't Life Strange 
9.         I'm Just a Singer (In a Rock and Roll Band)
10.       Ride My See-Saw (with Jon Davison)

For further information

https://www.johnlodge.com/
https://www.facebook.com/johnlodgemusic/
https://twitter.com/johnlodgemusic
https://www.instagram.com/johnlodgemusic/
https://www.youtube.com/c/johnlodgemusic