Does the name Fantom sound familiar? It should! The original Roland Fantom workstation was the FA76, released nearly 20 years ago, which went on to go through multiple revisions (Fantom S, Fantom X), eventually culminating in the then-top-of-the-line Fantom G nearly 10 years later (a scaled down version, the FA08, was released a few years after that). After quite a few years of silence, Roland has resurrected the line with the Fantom 6/7/8 (based on 61/76/88 keys respectively), and the product line has taken yet another evolutionary leap.
Category

Value

Rating

Features

20%

Usability

25%

Sound

25%

Documentation & Support

10%

Price

20%

OVERALL RATING = 3.5 Stars (out of 4)

3.6 stars or better: Outstanding, WIHO Award
3 stars or better: Worth considering
2 stars or better: Suited to specific needs
1 star or less: Not recommended
Although workstations were all the rage at one point (we fondly remember Tritons, Fantoms, and Motifs battling it out for world dominance), there has been less focus on them in more recent years (virtual analog and analog synths are all the rage), yet they still play an essential role at the heart of so many keyboard rigs. Our pal, Scott Berry, at Roland gave us a demo of the new Fantom back at the 2020 Winter NAMM Show and we were quite impressed with its sonic capabilities, which take it far beyond the classic workstation paradigm.
As can be expected today, you get pads, a sequencer, sound editing capabilities, and a sampler. But you're not limited to the sounds on hand or sampled sounds, thanks to Roland's new ZEN-Core technology, which enables you to load and share sounds with other keyboards like the mighty Jupiter-X synthesizer. Let's dive in and see what this beauty can do for you.
Features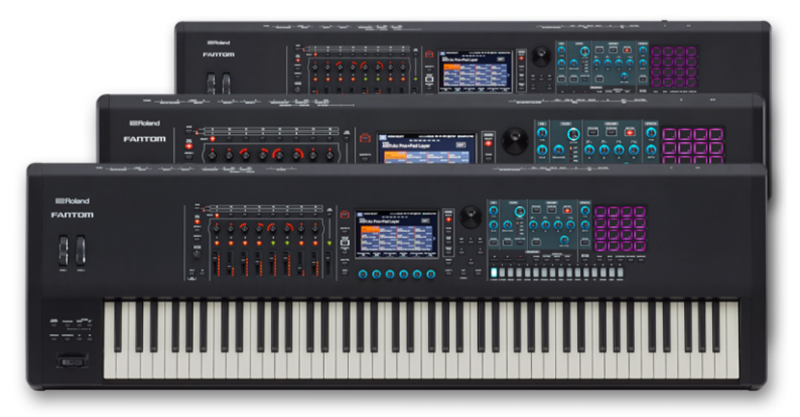 There's a lot to like. Our review unit was the middle-sized Fantom 7, featuring 76 semi-weighted keys with channel aftertouch. This keybed is the same as found in the 61-key Fantom 6, while the Fantom 8 features fully weighted piano keys. The Fantom 7 keyboard struck us as a better version of our beloved XP-80 keyboard, which we think struck a nice balance between synth and piano action.
Many modern keyboards have "gone deep," dimensions-wise, and the Fantom is no exception at 16 inches front to back. And at nearly 34 pounds, it's a solid piece of equipment.
In the center is a seven-inch color touch screen (800 x 480 resolution), which is surrounded by buttons on the sides and six rotary knobs below. These knobs, like all the knobs on the Fantom (we counted 26), are surrounded by a ring of colored light. You can change the brightness, but you can't change the color.
To the left of the screen is the "controller" section. It consists of nine sliders with LED lighting to show where the value is (in a very Nord-like way), eight knobs above eight of the nine sliders (one slider is a USB audio controller), as well as additional buttons. A welcome inclusion in this section is a dedicated Split button.
To the left of the lowest note on the keyboard is Roland's signature pitch bend/modulation lever, with two additional pitch/mod/programable wheel controllers above it.
Just right of the display are arrow keys and a jog-dial to navigate the screen, to supplement your screen touching.  Further right of this is the synthesizer section, where there are dedicated controls for oscillator type, filter type, pitch, filter, and amp envelopes, in the form of buttons and knobs. Tweaking something brings the corresponding parameter into focus onto the screen (V-synth, anyone?), and graphical displays of envelopes displaying changes in real time is also a welcome feature.
Just past this section is what Roland labels the "Sampler" section. It consists of sixteen pads and several buttons below them. With OS version 2.0 came the ability to multi-sample sounds across the keyboard in addition to mapping samples to pads.  There is 2GB of memory available, but unfortunately, this memory is shared with the virtual "expansion slots" used to hold additional sound banks available from Roland, specifically the EXZ and EXSN series tomes from the Roland Cloud.
Below this is what Roland labels the "Sequencer" section, which consists of transport buttons and dedicated pattern buttons.
Finally, below this is something that has been found on many Roland keyboards: sixteen shortcut buttons dedicated to sound categories (i.e., piano, organ, brass, etc.). Unlike older synths, these are lighted and shaped similar to the rectangular buttons found on  Jupiter-series synths.

Click image to enlarge...
One thing we haven't mentioned yet is the sound engine itself. There are three engines: ZEN-Core, V-Piano (yes, the modelled piano is back!), and SuperNATURAL Acoustic. Essentially, the Fantom delivers piano modelling, virtual analog modelling, and PCM synthesis all in one instrument. On top of that, throw in multisampling, and there are virtual expansion slots to add sound content from the Roland Cloud. This covers a lot of sonic ground!
ZEN-Core technology requires a lengthier conversation as it is fundamental to the Fantom, other new Roland synths (like the Jupiter X/Xm), and is also an instrument option in Roland Cloud. There's a lot of confusion about it, so let's try to clear things up. Roland's previous analog synth modeling technology (as found in the System-8 synth), and the tech behind most DAW plug-ins in Roland Cloud, use a method of emulation called Analog Circuit Behavior (ACB). The idea behind ACB was to model a synth (i.e., Juno-106, Jupiter-8, etc.) down to the individual circuits that were used and emulate the behavior of those components as they interact with each other.
ZEN-Core is the next evolution of Roland's sound-generating technology, building upon the idea of modeling component behavior but also adding PCM waveforms and effects to the sound engine, and then further decoupling the technology from dedicated hardware and software platforms so that sounds could more easily move from one keyboard to another (like from a Fantom to a Jupiter-X).
ZEN-Core synth models were added recently to Roland Cloud, and the very recent OS update 2.1 of the Fantom (released while we were still reviewing) now enables these Zenology-based synth models to be loaded into the Fantom similar to the way plug-outs were able to be added to the System-8.
It is important to recognize that ZEN-Core is actually an entire ecosystem, and the technology, though similar, is different than ACB. While ACB modeled components and their interaction, the ZEN-Core system uses Analog Behavior Modeling (ABM), which is designed to model how the instrument sounds while playing it, and how the notes interact with each other. To quote Roland, "it's a different way of getting there, but the end result is nearly the same." The advantage of this new approach is obtaining more polyphony while using less CPU horsepower.
While ZEN-Core models (Juno106, Jupiter 8, SH-101, JD-800, for example) are models that do run as plug-ins on your computer via Roland Cloud, the interesting part is these models can then be loaded into any ZEN-Core hardware that supports Model Expansions (like the Fantom and Jupiter-X/Xm, for example). Even better, any patch created on any supported platform can be passed to the other hardware or software platforms that support model expansions it. So, for example, a patch created on your DAW while producing with Roland Cloud ZEN-Core can then be loaded directly into your Fantom to go play live (once you install the appropriate ZEN-Core model expansion). Pretty cool!
Turning our attention back to the hardware, there's quite a lot going on around the back of the Fantom:

Click image to enlarge...
There are a pair of main quarter-inch outs plus a pair of balanced XLR outs, making FOH engineers very happy!  There are also two pairs of sub mains out, two analog filter outs, and two pairs of CV and Gate jacks to connect to modular gear. Next to these are FIVE USB ports. One is for uploading sounds and OS updates, one is to connect to a computer, and the other three are to connect directly to external devices. One interesting feature is the ability to directly interface with Apple's MainStage and Logic Pro audio applications without any custom MIDI CC mapping.
But wait, there's more! On the other end of the synth are two combo input jacks, four pedal jacks, and three MIDI jacks (In/Out/Thru). A nice touch is that the Thru jack can also be made a second Out jack. At the far right is a small power button and an IEC power connector (just say "Yes!" to internal PSUs).
Overall, the Fantom feels well built and designed to handle the rigors of the road. The one thing we did notice, however, is that full "readiness" of the synth to be played was nearly forty-eight seconds after turning it on. Not a deal breaker by any means, and some competing workstations take even longer to boot up, but something to be aware of if you need to re-power in the middle of a live set!
Usability
We noticed after a little initial noodling that our Fantom was not updated to the latest OS revision. The update process is pretty straightforward: download the files from Roland, copy them to the root directory of a USB thumb drive, and turn the keyboard On while the stick is attached, for an auto-update process.
As a number of modern synths have done, the Fantom runs in "all modes on" all the time, meaning you have access to basically anything at any given time.  Let's review the sound architecture of the Fantom to understand how this all works.
A "tone" is the smallest unit of sound on the Fantom. A tone (which uses up to four oscillators) consists of the combination of the sound engine and effects. There are preset tones, and there are spaces for user tones. One of the sixteen buttons of categories (previously described) of presets is the user tones. There are over 3,500 tones, so there's no shortage of sounds!
Building from this, a "zone" is a container for playing a tone. To play a tone, you assign it to a zone. Here you can define the range, volume, MIDI, and panning. There are 16 zones, and by combining zones you create sounds that have multiple tones (like the old Korg "combi" nomenclature). Additionally, a zone can be assigned to control an external sound module (labelled EXT ZONE) instead of the internal sound engines, or even a soft-synth hosted on a connected computer.
A "scene" contains a favorite performing state, including settings for each zone (tone, effects) as well as global effects common to all zones as well as sequence data. You can store an idea for a song or phrase as a scene, and recall scenes in the scene select screen. You may also use the scene chain function to recall scenes in the order of use—which is great for a live set.
Now that we have gotten all that out of the way, how do you actually use this thing?
As mentioned earlier, there are no program or combination modes to speak of. There are enough buttons to get to whatever you need, and the sequencer was powerful and easy to use. A nice touch is that you can start and stop patterns just by touching them on the screen.  You can arrange clips that contain musical ideas, and trigger individually or in groups. Those familiar with Ableton Live may like this style of clip-based sequencing.
We also watched a video featuring Ed Diaz and Scott Berry, longtime Roland product specialists, showing off how to sample with the new 2.0 operating system.  The video is part of a whole series that demonstrates many of the Fantom's features. We were able to hook up a microphone to the Fantom and sample without issues. The touch screen was helpful in editing and fine tuning our sampled waveforms.
After some initial guidance from the Roland team, it proved very easy to load some of the ZEN-Core models into our Fantom. You must update the Fantom OS to 2.1 if you have an older revision of the firmware running, then you can download the models from the Roland Cloud onto a USB stick, and then transfer them into the Fantom.
Once we did this, our Fantom now included models of the classic Juno-106, Jupiter-8, SH-101, and JX-8P synths. We then tried transferring patches made on the Fantom into the ZEN-Core plug-in (which required another trip to the video vault, but then proved to be straightforward). In short, you must first write your tone into the user tones area in the Fantom. Then, you use the export utility to choose which tones from the user area you want to export, and that's it!
What if you want to import into the Fantom? Similar concept: go to the import utility and select what you want to import from the thumb drive, select what patch number you'd like to write into, and that's it.
Similarly, the ZEN-Core plug-in has a method of importing and exporting. To export, for example, click the Export button at the bottom left of the screen. You can choose to export to hardware (to go to your Fantom) or plug-in (i.e., to make a backup of your patch). This saves to your USB drive. Now, you can import the sound into your Fantom (or any other supported ZEN-Core platform equipment). Once we did this a few times, it was reasonably straightforward.
Overall, we found that most operations were straightforward. For more advanced operations, we found Roland's tutorial videos and documentation more than adequate.
Sound
The Fantom, frankly, sounds great. For a digital synth, it sounds remarkably analog (depending on your sound choice). Modeled analog synthesis has evolved to the point these days where you'd be hard pressed to identify analog from digital outside of a direct A/B comparison in a studio setting.
The pianos sounded full and rich, and despite us doing this review on the 76-key semi-weighted version, we felt that you still could easily play nuanced, expressive piano passages. We also thought the electric pianos were another strong suit, and we enjoyed putting the Fantom through its paces with our classic Doors repertoire.

Roland has a rich history of synths, and not surprisingly, the Fantom delivers a great vintage collection here as well. There's plenty of D-50/Juno/Jupiter-type sounds that sound great, and although we would love a dedicated Jupiter/Juno category button (to go along with the others on the right side of the synth), this would probably make it too much like Roland's new Jupiter-X/XM synths. Nevertheless, it was nice to see familiar presets from our classic XP-80 like the classic "Raggatronic."
Strings have long been a strong point for Roland (further exemplified by their SRX string/orchestra plugin offerings, based on the original hardware), and while these were also good, we also thought there were some welcome additions on the orchestra/acoustic side from previous offerings (i.e., pizzicato sections). Those players looking for orchestra sounds should be pretty happy with the supplied content, though we do admit that the strings are probably the best sounding instruments in the vast orchestral group that also includes plenty of brass, woodwind, and percussion.
Of course, there's basses, drums, and lead synths to round things out, and not much in the way of repetitive "filler" sounds. Across the board, the sounds are of a consistently high quality, and there's enough variety that you should be able to find anything you need.
Perhaps the big question on many players' minds is how do the ZEN-Core (ABM) sounds compare to the ACB plug-ins? Well, they both sound pretty darn good! When you install a ZEN-Core synth, a bank of factory presets are also included to get you started, and we were able to directly compare a few familiar patches between multiple versions of the "virtual" Juno-106 and the real hardware (we have an actual Juno-106 in our studio). To our ears, using the Juno-106 as an example, the ACB plug-in has a slight edge over ABM in sounding more authentically like the real hardware. Having said that, the ZEN-Core models still sound great, and it is only those who use the original hardware that would be able to tell the slight differences (and even then, only in a direct A/B comparison like we did in our studio). In the context of a song or mix, we'd never notice the difference.
Documentation and Product Support
The Fantom includes a printed manual, which is also available for electronic download. The manual is admittedly a little on the utilitarian side, as many tech manuals tend to be, but at least there are a lot of screen snapshots in the manual that are helpful.
The biggest challenge was not really knowing where to find help in the first place, but our best advice is to use Roland's video library as your guide, since that's where you'll find the most helpful information. Thank you, Ed Diaz and Scott Berry!
Price
The Fantom 7 sells for $3,699. This is a little pricier than other professional workstations at a similar tier in their respective manufacturers' product lineups. But what you are paying for is a great set of high quality Roland sounds coupled with sampling and sequencing in a full workstation package, integration with Mainstage, and tons of connectivity including CV connectivity to modular gear. Additionally, you the growing library of ZEN-Core models are free additions to make this powerful workstation even more versatile. If you are looking for a great sounding and flexible/expandable workstation, you should absolutely check the Fantom out.
Contact Information
Roland Corp.
www.rolandus.com