– Five-voice go-anywhere synthesiser powered by an Extended Virtual Analogue synthesis engine, a proprietary morphable 4-Pole Ladder Filter, MPE support and much more –

Bristol, UK - 1st March 2022. Modal Electronics, a leading global synthesiser manufacturer, has just announced a new addition to the critically acclaimed COBALT Series, the COBALT5S. Fusing Modal Electronics' next-generation COBALT synth architecture and housed in an ultra-portable go-anywhere footprint, the USB-powered COBALT5S is made-to-move and ready to spark user's creativity wherever, and whenever inspiration strikes.
Supercharge any performance with COBALT5S' built-in MPE support, 16 quick-access smooth rotary switch encoders, a premium 37-note compact-key keybed with aftertouch and an ultra-responsive X/Y/Z Touchpad for pitch bend, mod wheel and/or modulation assignments. Rounding out the control arsenal is a comprehensive realtime/step sequencer with four animation lanes alongside a built-in programmable arpeggiator. Like all Modal synthesisers, COBALT5S is fully compatible with the free MODALapp, the gateway to effortless editing and preset management available on Mac,Windows PC or mobile devices including iOS/Android smartphones and tablets.
The Create Anywhere Philosophy
Taking the legendary build quality synonymous with Modal Electronics' synthesiser roster, and outfitting this with a 37-note compact-key keybed with aftertouch, COBALT5S is primed for user's creative exploits wherever and wherever creativity strikes. Plus, with a USB powered specification, powering the COBALT5S from a Mac/PC or portable power brick couldn't be simpler.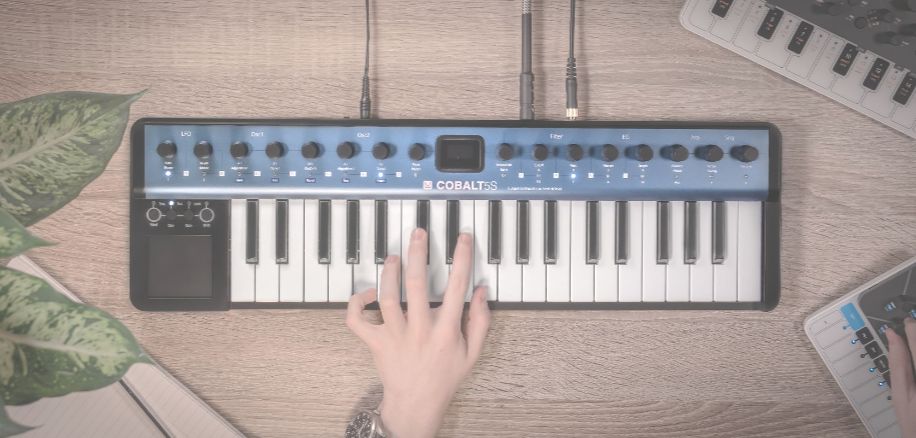 The Engine
Featuring five true polyphonic voices, two independent algorithm groups and up to 8 oscillators per voice, musicians, sound designers and producers are armed with a nefarious palette of sound that's primed for any application. Fuse this with 40 complex algorithms, including Sync, Ring Modulation, Waveform Morphng, plus many more, and it's easy to see why COBALT5S empowers creators with liberated sound sculpting capability without limitation.
Next-Generation Filter
Featuring the same self-oscillating 4-Pole Morphable Ladder Filter from the COBALT8, COBALT5S guarantees to texture the user's sound with all the bite and warmth their performance demands. Four separate filter modes fuse with mainstay controls for Cutoff and Resonance, alongside a Morph parameter to musically manipulate the frequency response of the filter for a truly immersive experience.
With COBALT5S, everything the modern creator demands to craft the perfect sound in meticulous detail is thoughtfully included. Three envelopes complete with selectable types take command of the filter, amp or modulation destinations, furnishing users with unrestricted options when it comes to fine-tuning their sound. One Polyphonic LFO and one Global LFO provide extended power to control a plethora of modulation sources, selected via a sophisticated 8-slot modulation matrix.
Supercharged Performances
Fuse a 512-note realtime/step-sequencer, complete with 4 animation lanes, with a built-in programmable 32-step advanced arpeggiator and you start to scratch the surface of the performance capability COBALT5S heralds for the modern creator. Add to this MPE support for next generation creative expressions via a compatible MPE controller and COBALT5S is primed for any performance, production or sound design scenario imaginable.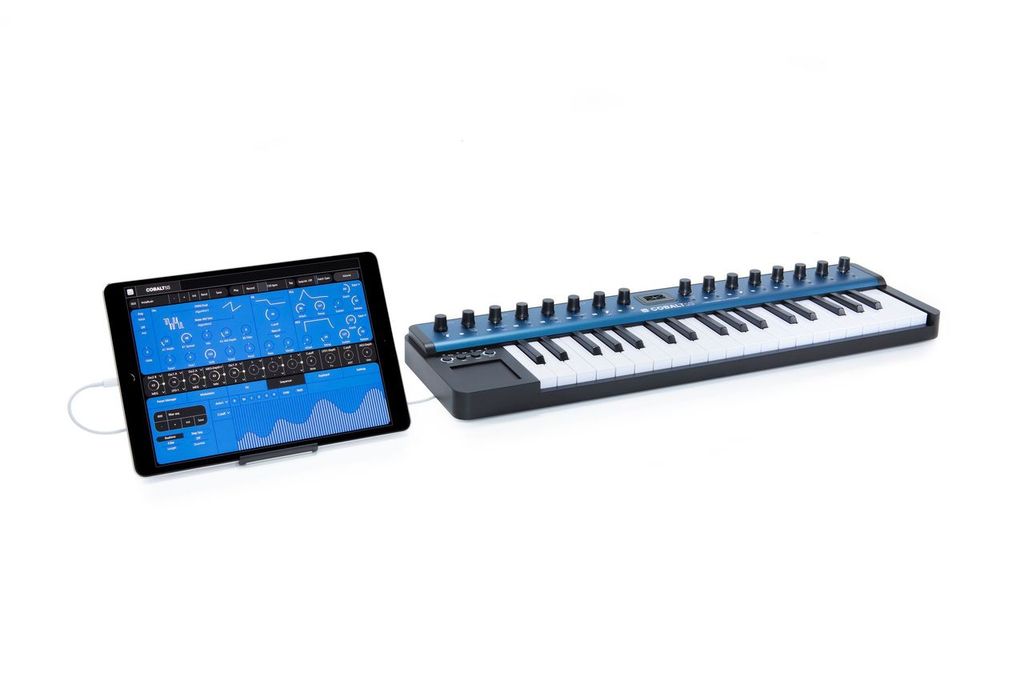 MODALapp
The free MODALapp brings the comfort of screen-based editing on your computer or mobile device. Available as a standalone app for macOS, Windows, iOS, iPadOS or Android systems and in VST3 and AU plug-in formats, it is the perfect companion for synth enthusiasts looking to deep dive to all sound editing and performance parameters. Crafting the perfect sound, library backups and managing your patches & sequences couldn't be simpler.
Pricing and Availability:
COBALT5S can pre-ordered via our wide network of authorised Modal retailers globally with an MSRP of $449 /€449/£379, with estimated shipping within the next 2 weeks.
For more information on COBALT5S, visit: