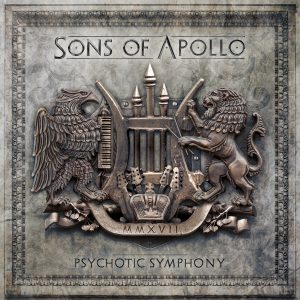 The band members that collectively make up Sons Of Apollo need no introduction to progressive metal fans as they are amongst some of the most well-known names in the industry: Jeff Scott Soto (Trans Siberian Orchestra, Joel Hoekstra's 13, JSS band) on vocals, Derek Sherinian (Ex Dream Theater, Black Country Communion) on keyboards, Ron "Bumblefoot" Thal (Ex Guns N' Roses) on guitars, Mike Portnoy ( Ex Dream Theater & Adrenaline Mob, The Winery Dogs) on drums, and Billy Sheehan (Mr. Big, The Winery Dogs, David Lee Roth) on bass. Their new band effort, Psychotic Symphony, will leave all of these superstars' respective fans salivating from the moment they push play.
Psychotic Symphony is chock full of the kind of prog metal showmanship that would make any metal listener proud, and is easily one of the genre's best records of the year.
Sons of Apollo, Psychotic Symphony
Genre:
Prog Metal
Musicianship:
4.0
Songwriting:
3.5
Production & Engineering:
3.5
Vibe:
3.0
Overall Rating:
3.5
From the opening notes of Sherinian's enormous and explosive keyboard riffs in the opening track, "God of the Sun," the album builds track by track in momentum as if to deliver a song-by-song showcase for each band member's respective talents. Guitar fans will find Ron Thal's flawless and precise playing (and tone) a complete home run, and Dream Theater fans will find this release sits well in their listening wheelhouse.  Of special note, the cohesiveness of the album's fifth track, "Alive," really brings together Jeff Scott Soto's strong vocals set against the steady groove of Portnoy, Thal, and Sheehan's solid groove, while both Sherinian and Thal pull out all the stops on respective solos that are too worthy not to mention.
Fans of Portnoy and Sherinian's former band, Dream Theater, will find their technical musical appetite satisfied immensely after listening to the tracks, "Lost In Oblivion" and the mind blowing closing track, "Opus Maximus," though some fans may find the songwriting on display leaning a bit sharper towards technical mastery and a bit less towards melodic hard rock.
From a production point of view, Psychotic Symphony was captured clearly, showcasing each band members strengths, and while there's nothing specifically noteworthy to highlight, the mix delivers the clarity and impact a record of this caliber deserves. Without question, Psychotic Symphony is chock full of sonic greatness on every level from start to finish, and is easily worthy of a spot in anyone's music collection who appreciates rock music delivered with technical, musical mastery. For this reviewer, Psychotic Symphony is a gem not to be passed up.
—DB