All-new Carrier-class software ecosystem for hybrid- and plugin-based rigs featuring the world's most advanced virtual cabinet emulation technology and a suite of world-class Studio FX
Saint Gély-du-Fesc - France - June 3rd, 2022 - Two notes Audio Engineering, the world leading innovator and manufacturer of load boxes, attenuators and digital cabinet emulators, has just announced an all-new flagship software ecosystem, GENOME. Fusing the world's most advanced virtual cabinet emulation, complete with a suite of world-class Studio FX, GENOME promises the ultimate ecosystem for hybrid- and plugin-based rigs, engineered to elevate any amplifier's tone to never before ventured heights.
At its core: next-generation DynIR cabinet emulation for on-demand access to 500+ virtual guitar & bass cabinets, studio-grade microphones and pristine recording environments. For total command of the post-amp signal chain, GENOME's surgically-tuned Studio FX and player centric workflow empower you with the pinnacle in next-generation pro-grade tools. Available in plugin- and standalone-formats, and offering cross-platform compatibility courtesy of a handy IR Export feature, GENOME is primed and ready to deliver consistent, reliable tone from the studio to the stage.
Go Direct
This isn't just another run-of-the-mill cabinet simulator. GENOME is a purpose-built adaptable channel strip developed to exceed the exacting standards of the modern player. Better yet, it's versatile and effortless to set up. Using an outright in-the-box setup? Simple, set GENOME as your post-virtual-amp plugin. Got a collection of physical amps? Grab a Captor or Captor X, line the DI signal into your DAW and dive into a world of surgical tone-shaping. What about Modelling Processors and Pedal-Boards? Disable your cab sim, hook up to your DAW and let GENOME do the hard work. Whatever your rig - and regardless of whether it's live or in the studio - GENOME's ecosystem at the tail end of any amplifier is a true force to be reckoned with.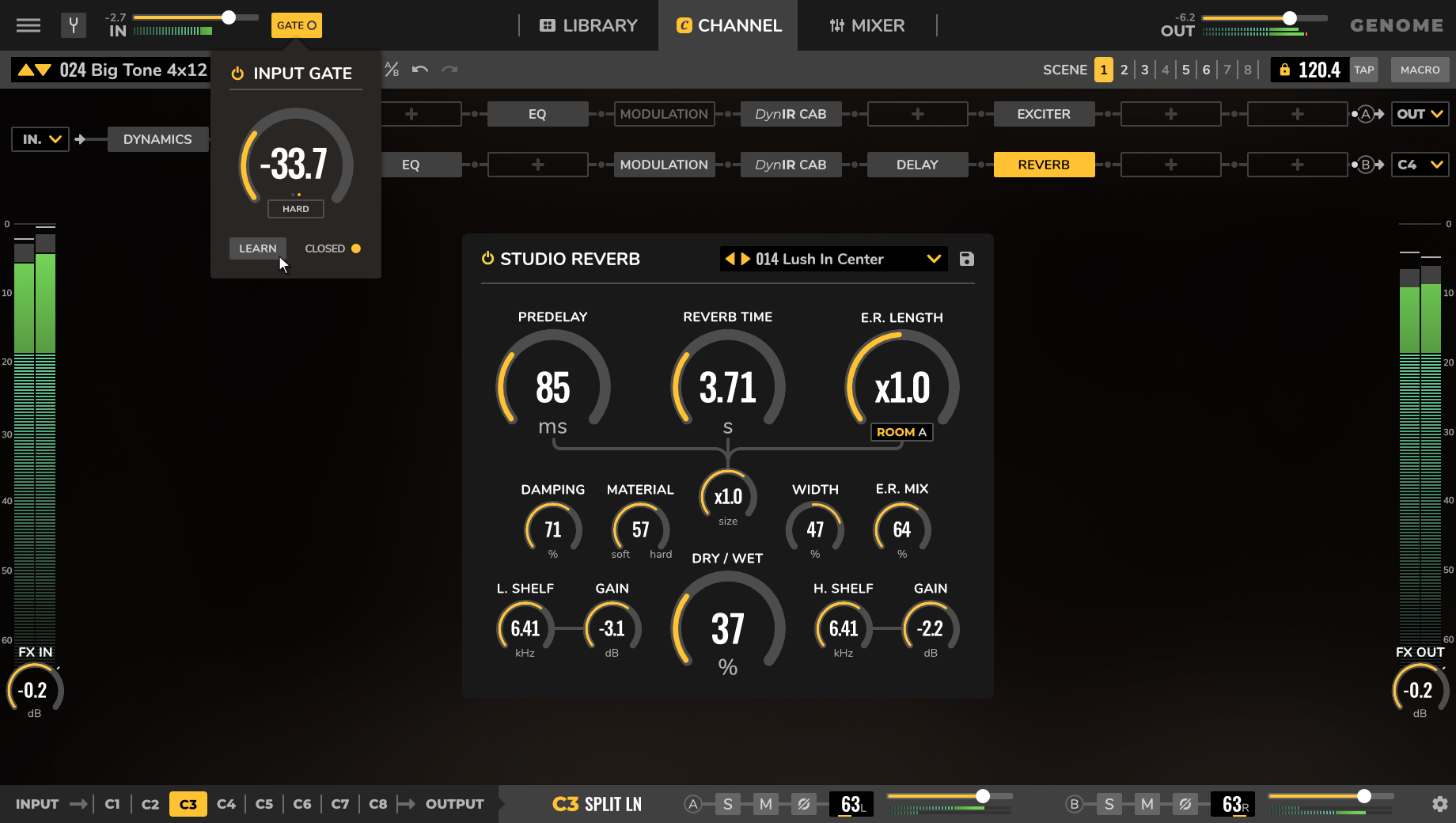 Discover DynIR
Conquering the dividing line between sublime authenticity and uncompromising digital emulation, DynIR represents the pinnacle in virtual guitar- and bass-cabinet technology. Harnessing power equivalent to 160,000 studio-grade IR files, each Two notes DynIR can be shaped to the needs of even the most discerning tone chaser. With 8 mics per cabinet, dual mic-ing and 10K mic positions (front & back), unleashing your tone and finding your signature sound has never been simpler.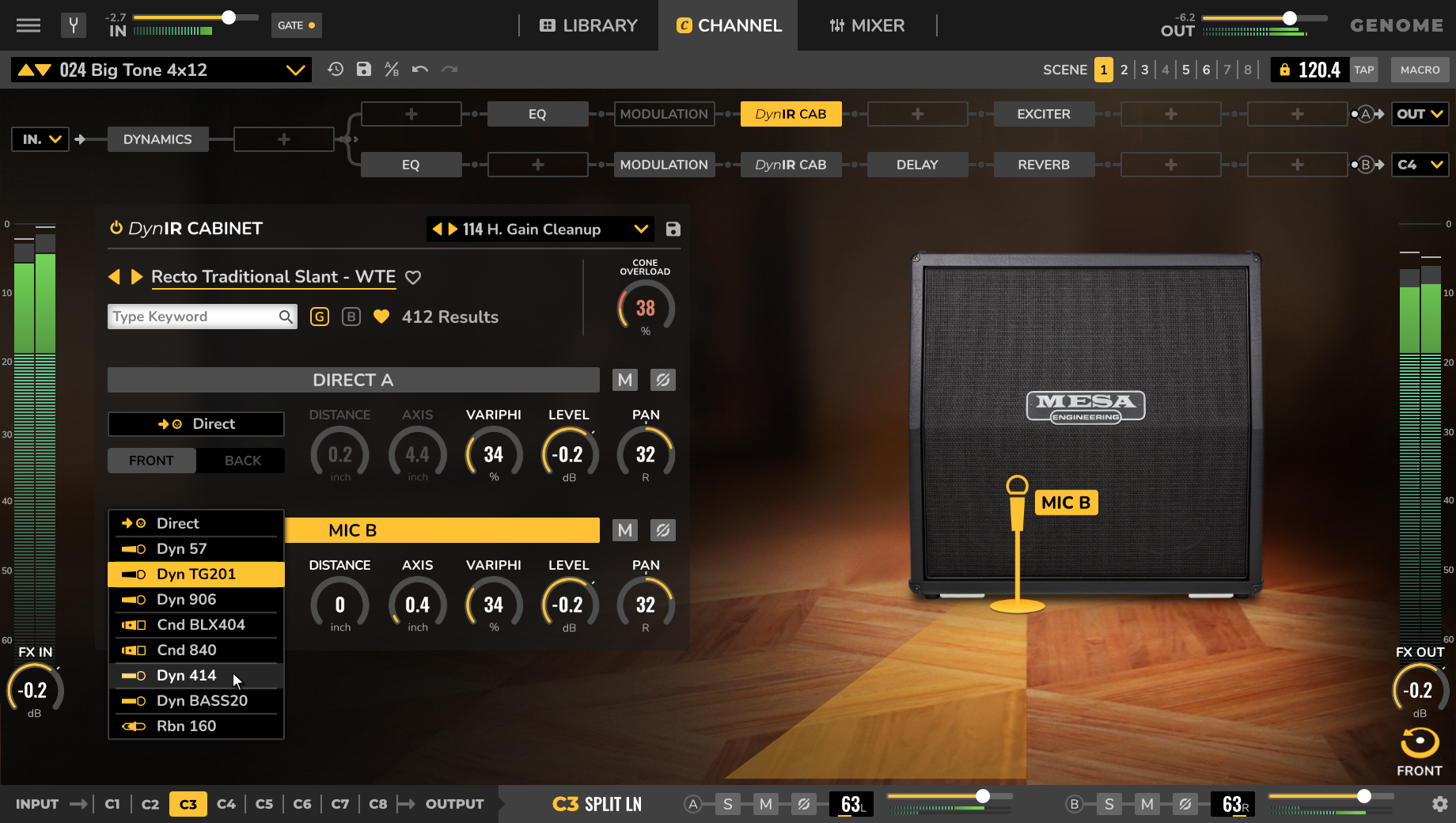 Studio FX
Total Control - Sublime Definition - Crystalline Clarity. Your tone demands nothing short of perfection. The recipe for a tonal A-Game is simple: GENOME's suite of studio-grade effects and processors, developed specifically for the forward-thinking player. Whether it's must have dynamic control, modulation, spatial effects or corrective processing, GENOME's Studio FX Suite of 25+ modules, DynIR / IR loaders, and unique workspaces for Torpedo-embedded hardware deliver on any need.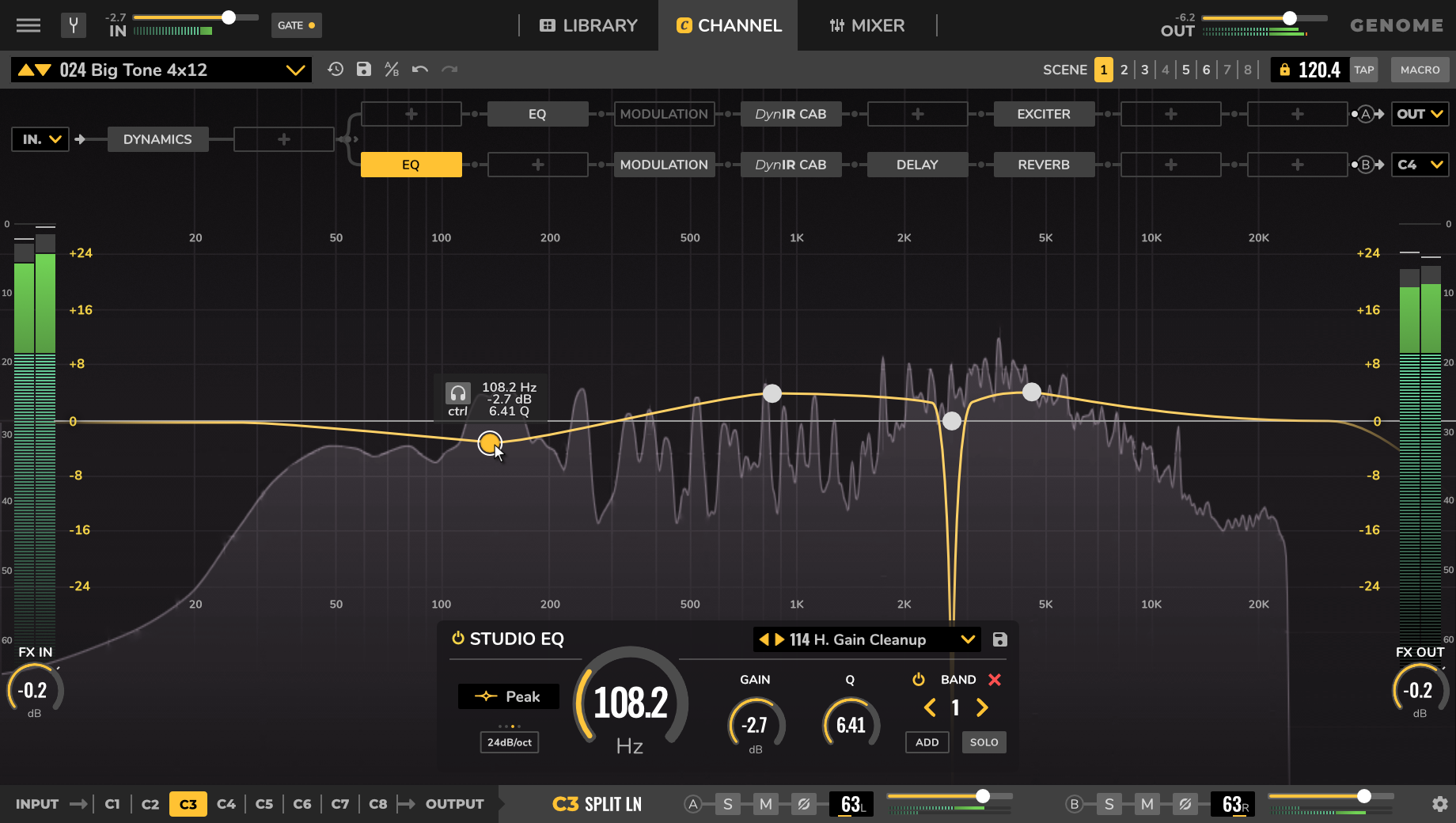 Cross Platform Compatibility
It's a fact: Our DynIR technology is unparalleled when it comes to shaping standout tone. With GENOME's IR Export feature, taking your favourite DynIR cabinet emulation to your modeller or standard IR loader couldn't be simpler!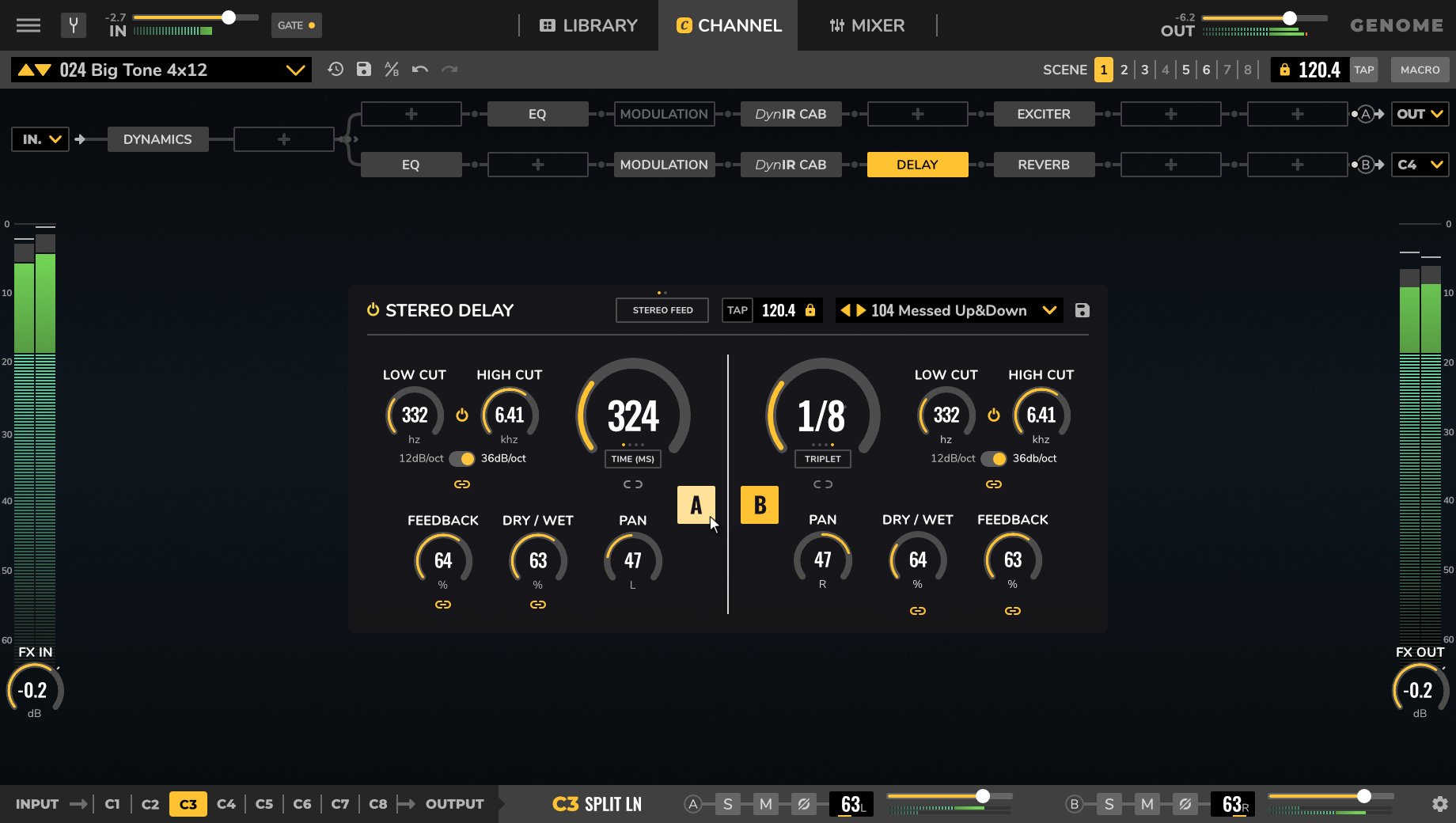 GENOME Highlights:
• Elevate your amplifier or preamplifier tone with the world's most advanced virtual cabinet emulation plugin complete with a suite of world-class Studio FX
• Hyper intuitive, guitar-centric interface roots your focus on dialling in the perfect tone
• Harness the power of Two notes Proprietary DynIR technology with complete control of over 500+ virtual guitar and bass cabinets, studio-grade microphones and recording environments
• Virtually unlimited creative potential with up-to 8 independent channels, plus a master input channel, master output channel, optional dual-Lanes per channel for parallel processing, and all mainstay mix-centric controls
• Expand your library with an ever growing catalogue of DynIRs from house-hold cabinet manufacturers and iconic artists
• Export your DynIRs as static Impulse Responses for use in floorboard modelling processors, plugin applications and more
• Experience liberated performance capability with full MIDI Mapping and Snapshots
• Available for MacOS X & Windows (64- and 32-bit) operating systems in standalone, VST3, AU, AAX & VST formats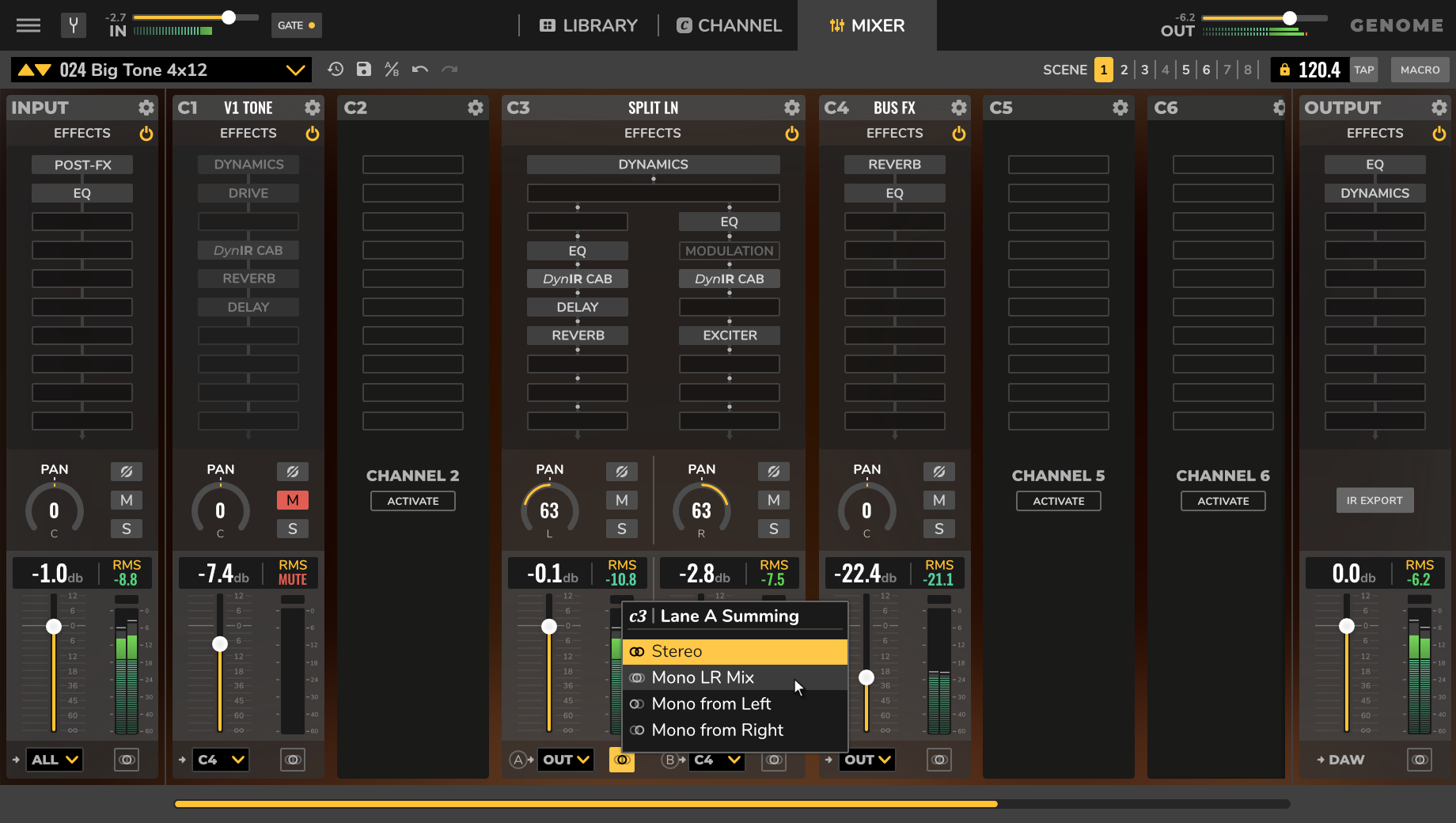 "GENOME represents the next logical step in Two notes evolution. Our mission: provide an adaptive channel strip, surgically tuned for the forward-thinking player with uncompromising versatility for effortless integration whatever the scenario. Regardless of whether it's an in-the-box rig or a hybrid software / hardware setup, our proprietary DynIR technology fused with a suite of Studio FX - not to mention eight mixer channels each with dual lanes - is set to elevate players' tone to never before ventured heights. The next step, register for the Beta and be the first to experience the next generation in tone-shaping." - Guillaume Pille, Two notes CEO
GENOME will be on show at NAMM 2022 (Hall D, Booth #5439) and is set to launch in Beta in September 2022. Upon release, GENOME will be available in several configurations with pricing starting at 29.99€/$ (USD)
Register Today!
Want to get your hands on GENOME first? Register today for the GENOME Beta Testing program following this link: genome.two-notes.com
For more information visit: www.two-notes.com