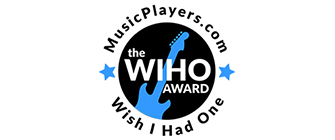 Monitors… They come in all sorts of sizes, shapes, and configurations… and most important, price points. The best place to start when figuring out what monitors are best for your studio is to figure out your budget first, then find the right product that meets your needs within that budget. Sound quality is important, obviously, but not everyone can afford to spend $1,000 or more on their speakers when they are also investing in recording interfaces, new computers, and other gear.
PreSonus provides a number of options for studio monitoring at various price points from entry level to the professional project studio. And as we've learned from our review of the Sceptre S8's, technology and ability to optimize your monitors to your studio space and configuration are key. PreSonus has done a great job integrating key technologies from model to model (such as their Acoustic Space control) and providing consistent sound quality and value.
The PreSonus R80 Active AMT studio monitors feature an Air Motion Transformer tweeter for high-end clarity, while also providing the same Acoustic Space features as their flagship Sceptre S8s. Specs and features only count for so much, however. In the end, it all comes down to your ears. And while these speakers may please the holes in your head, they won't leave a hole in your wallet.
Features
The PreSonus R80 Active AMT studio monitors provide some of the latest technology available in studio monitor speakers. And, being the little brother to the PreSonus Sceptre S8s, some of the R80's features were very familiar. You can access the Sceptre S8 review here for comparison, but keep in mind that those are more-costly speakers.
The PreSonus R80s are great looking monitors right out of the box, but they actually have the ability to change their appearance with optional included faceplates! Depending on your preference and studio décor, you have the option of using a black or blue faceplate. From a real estate perspective, these monitors are nice and compact, great if you're working with limited space and smaller studio configurations.
Getting below the skin, the PreSonus R80 Active AMT studio monitors provide 150W of Class D power pushing two-way monitoring through an eight-inch, Kevlar woofer and a custom 6.8" AMT tweeter (air motion transformer). Technically, that's 6.8 square inches, but in practical terms, the tweeter compares more to a traditional three-inch ribbon. Frequency response is 40Hz to 22kHz, with the crossover frequency set to 2.6kHz.
At a glance, you would probably just assume the tweeter is a ribbon design, but while AMT shares some characteristics with ribbons, like fast transient response and great clarity in high-frequency sound reproduction, you can't "truly" call an AMT tweeter a ribbon. AMTs feature a pleated diaphragm shaped more like a bellows and fabricated from a plastic, while a ribbon tweeter is made from a thin metal film that is suspended in a magnetic field. Ribbons are more fragile, and without going into a lengthy electrical engineering conversation about the technical differences, we'll just leave it that while they are not exactly the same thing, they sound quite similar to one another and bear something of a visual resemblance to one another, each lacking a spherical, half-moon shaped cone and instead presenting a flat, folded membrane design.
The rear of the monitor contains the usual On/Off switch, power connection via detachable IEC power cable, as well as input controls including Level control, XLR and balanced TRS inputs. Additional frequency response adjustments are supplied via three Acoustical Tuning controls: High Frequency driver tuning options for signals over 2 kHz (linear, +1dB, -1,5 dB, -4 dB); High-pass filter switch options (linear, 60 Hz, 80 Hz, 100 Hz) with -24 dB/octave slope; and an Acoustic Space switch option (linear, -1.5 dB, -3 dB, -6 dB) to compensate for bass boost near a wall.
The PreSonus R80s also contain internal protection mechanisms controlling RF interference, output-current limiting, over temperature, On/Off transients, subsonic filter, energy conservation mode, and internal mains fuse.
Usability
We found the PreSonus R80 Active AMT studio monitors exceptionally easy to use, and they also provided a number of optional control settings to match the frequency of the monitors to our studio environment in order to obtain optimal performance and sound. Having these customizable control options enables the monitor to fit a variety of different studio configurations and perhaps compensate for placement limitations, which can have a direct impact on sound quality.
Installation of the monitors was very basic from a plug-and-play perspective, but considering the variety of frequency settings and placement of the monitors within your room (on your desk or stands), we needed to spend extra time focused on obtaining an optimal setup. Taking into account that we were placing these monitors on our desk, we used a set of isoAcoustic stands to achieve proper positioning and decoupling.
Using the Acoustical Space controls, each setting was easily modified via push-button selector switches, and the illuminated LEDs on the rear made it easy to identify our settings. Though we found physically accessing the controls on the back of the unit a bit of a chore when placed close to a wall, once the desired setting was obtained, we really didn't need to mess with the switches again: set it and forget it.
The PreSonus R80 monitors power on using a basic rocker switch located on the back of the unit. We see this arrangement on most monitor configurations, but often wish for easier access on the front of the unit. The illuminated PreSonus emblem on the face of the monitor provided excellent visual indication of power on/off status. The illuminated PreSonus emblem on the front of the monitor also provided an indication for clipping created by overdriving the input level. Blue illumination represented normal operation and a clean signal while Red illumination represented a distorted overdriven signal. That's a nice detail! We found the color and brightness of illumination just right, whether our studio lighting was dialed in for ambience or grunt work.
Sound
Sound is very complex. So much can impact how you hear something. It's all subject to the dimensions of your room, the size, the material, and let us not forget the hardware or actual listening device. The PreSonus R80 Active AMT monitors provide excellent tools for manipulating the output of sound frequencies to combat or enhance your room configuration/challenges, ultimately optimizing your studio monitors' sound in accordance with the specific mix environment.
Our experience with the custom-designed 6.8" AMT tweeter in the PreSonus R80 was similar to other speakers featuring ribbon tweeter designs. The R80 provided a very clear and articulate high frequency response. The air, reverb trails, and cymbal crashes were very transparent and provided a nice, three-dimensional sound in harmony with the eight-inch Kevlar woofer. Although the punch and response of the LF drivers were impressive at providing a smooth mid to low-end response, we did find ourselves craving some additional low end. The PreSonus Temblor T8 and T10 subwoofers would make good partners to these speakers for an even better, full-range sound.
By way of direct comparison, the PreSonus Sceptre S8 and the R80 each offer a slightly different sound based on technology. Obviously there is a price difference between the two models, but overall sound quality remains pretty consistent in that they both sound different, but both sound very good. In our A-B listening comparison (we liked the S8s so much that we bought them for one of our studios after the product review), we found the R80s to have a slightly smaller sound, not only in volume, but also not as big or three-dimensional as the Sceptre speakers. The box size and tweeter configurations are sure to play a major part in sound difference, especially the spatial aspect of the sound.
If you compare the R80 monitor speakers to others in its price segment, though, this is easily a value leader, delivering sound quality well above its placement in the market.
Documentation and Product Support
The documentation provided for the PreSonus R80 Active AMT studio monitors provided all the information needed for proper set-up, connection, operation and configuration. The Owner's Manual also provided excellent visual aids, as well as sample settings to match your setup within your specific studio environment. Additional information can be found at the PreSonus website.
Price
The PreSonus R80 AMT Studio Monitors (MSRP $699 ea.) sell for approximately $375 apiece. Wow! Considering the technology, quality of sound, features and details, we feel the PreSonus R80 monitor speakers are a fantastic value if you really need a lot of bang for the buck. Entry- and mid-level project studios never had it so good.
Contact Information
PreSonus Audio Electronics, Inc.
www.presonus.com
Category
Value
Rating

Features

20%

Usability

25%

Sound

25%

Documentation & Support

10%

Price

20%

---

Overall: 3.6 Stars, which earns it a WIHO Award!
3.6 stars or better: Outstanding, WIHO Award
3 stars or better: Worth considering
2 stars or better: Suited to specific needs
1 star or less: Not recommended
Evaluation Short-List
Fluid Audio FPX7
PreSonus Sceptre S8
Adam Audio F7
JBL LSR308
Focal Alpha 65