Way back in 2006 we reviewed Audio-Technica's Wireless 3000 series, which relied on analog UHF frequencies. While a good product back then, the wireless landscape has changed dramatically with the popularity of digital wireless systems, which offer superior audio specs to the older analog systems. Today, Audio-Technica's System 10 benefits from both great sound as well as taking advantage of the latest changes in wireless frequency regulations. We were very impressed by the System 10 wireless instrument system (see review here), and thus were eager to check out the wireless microphone version of the product.
Category

Value

Rating

Features

20%

Usability

25%

Sound

25%

Documentation & Support

10%

Price

20%

Overall: 3.4 Stars 
3.6 stars or better: Outstanding, WIHO Award
3 stars or better: Worth considering
2 stars or better: Suited to specific needs
1 star or less: Not recommended
In the technical department, the handheld System 10 wireless system delivers. Using an all-digital, 24-bit/48kHz audio path in the 2.4 GHz band, System 10 sounds fantastic. The system is designed to automatically search out clear frequencies, and setup takes only a few seconds—take it out of the box and turn it on!
While the system lacks certain features required of a professional touring rig, System 10 certainly delivers on ease of use, good sound, and a very attractive price.
Features
The System 10 receiver, the ATW-R1100, transmits and receives all-digital, 24-bit/48 kHz audio in the 2.4 GHz frequency band. The backports include AC power in, a volume knob (recommended by Audio-Technica to set to maximum in typical use), and both balanced and unbalanced outs to go to your rig/gear.
The front panel has an LED display to show the System ID. The System ID is used to match a transmitter to a receiver, and is not related to the actual frequency. The clearest transmission frequency is automatically chosen by the receiver. The panel also includes a "Successful Pairing" LED, a peak indicator LED, and two cellophane buttons labeled System ID and Pair. Pressing the System ID button lets you choose numbers one through eight on the receiver (seen in the front LED). Pressing the Pair button will then enable you to pair the receiver to a transmitter.
There are eight IDs available. You could pair multiple transmitters (i.e., several handheld microphones, guitar body packs, lavaliere mics) to one receiver, but each change of transmitter would require a new pairing of the receiver. The process is reminiscent of pairing a wireless Bluetooth mouse to a computer but much faster. The front panel also sports two adjustable antennas.
Sadly missing, however, is an On/Off switch and, even more disappointing to us, the ability to rack-mount the unit, which would be the more likely scenario in which you don't need a power switch. Of course, you could always get creative MacGyver-style and stick the ATW-R1100 on a rack shelf with some double-sided tape.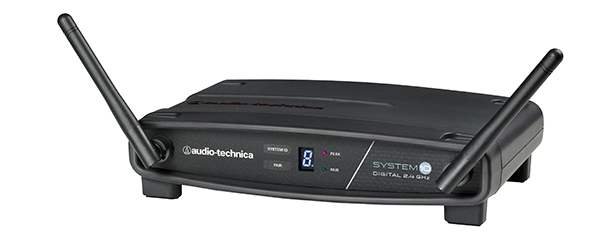 Our review system included the ATW-T1002 handheld microphone, which also has a numerical LED display to show the ID number, and a multi-purpose LED indicator light that glows to indicate that status of the mic: green when powered on and all is well, red when the mic is muted, and is red or green blinking when the battery is getting weak. The power mute switch on the bottom of the microphone is also multi-purposeful—holding it down turns the mic on and off, and a quick tap mutes the mic. The microphone shaft is typical in length for a wireless vocal mic, and it houses two AA batteries. Interestingly, inside the battery chamber is a small screw-sized volume level knob, which can be adjusted by the included plastic screwdriver inside the battery compartment. We never had any reason to change from default settings, but it's nice to know it's there.
Usability
Ease of use is probably the System 10's biggest strength. We put batteries in the microphone, connected the receiver to a power source, connected a cable from the receiver to our PA mixer, paired the mic and receiver (simply by pressing the pair button on the receiver), and went to town. Audio-Technica must know that most of us don't read manuals, so the very easy pairing scheme is actually printed on the bottom of the receiver (literally three steps). Nice touch! And truth be told, the system comes pre-paired. We just went through the exercise for testing purposes.
The System 10 worked well in our testing. We purposely set it up in a location with multiple computers, instruments, wireless Internet, cell phones, and Bluetooth devices nearby, and the system worked flawlessly.
The microphone, well… it's a mic! It has an On/Off button, so press it and away you go. Battery life is rated at greater than seven hours, and we never experienced any issues with running out of battery power (always use rechargeables, please).
Jokes aside, we just don't care for the form factor of the receiver: it's the one disappointment in an otherwise great product. On the plus side, it's incredibly light, and the AC power supply is a smartly designed wall-wart that won't hog your outlet space. But, given the inability to properly rack-mount it, you are relegated to tabletop use. The units are stackable, so the only pro situation where we can see its use would be a permanent installation in a club or house of worship, where the stack could sit on a countertop or on top of an equipment rack. For a gigging musician, though, this solution is fraught with peril. Audio-Technica recommends when using the receiver to keep it at least twenty centimeters (7.9 inches) away from people, at least three feet off the floor, and at least three feet from a wall or metal surface. In a live setting, not being able to rack-mount the device opens up a wide range of risks and inconveniences.
Sound
Overall, the cardioid microphone felt good in our hands, and it had a similar sonic character as our faithful Shure SM-58, although with less presence in the top end (resolved with a tweak of the EQ on our mixing board).vRange is rated as one hundred feet, which we easily verified by running outside of our studio with the microphone and singing from at least that far away, without a dropped signal. We even received a handclap or two from the neighbors!
While the handheld microphone came with a special rubberized mic mount to minimize handling noise when stationary, we were a little disappointed by the handling noise level when mobile. Don't get us wrong, System 10 itself is a remarkably quiet system, but passing the mic from one hand to the other resulted in observed handling noise that we wished was quieter. Outside of this, however, the sound was clear, without any distortion or interference, no dropouts, and none of the noise that plagued older analog systems.
Documentation and Product Support
Audio-Technica did a good job of explaining the features and how they work. This was a well-designed, to-the-point manual that will enable anyone to get up and running with the system. The pairing instructions right on the actual receiver were great as well.
Price
The Audio-Technica ATW-1102 wireless system (MSRP $524.95) sells for approximately $300. Sound quality is generally excellent, although excessive handling does present some noise. Setup is hassle-free, and overall, the system is solid and easy to use. All in all, as a first wireless system or one that can be permanently installed in a facility, this may be the perfect system for the job, especially at this price point.
Contact Information
Audio-Technica
www.audio-technica.com
Evaluation Short-List