After spending the past few years focused heavily on developing hardware products, we're happy to see that IK Multimedia has put a renewed development effort into their fantastic array of software products. We were recently impressed by SampleTank 3 and Miroslav Philharmonik 2, and while those were upgrades of established products, keyboard players didn't have anything particularly new to dig their fingers into… until now. IK Multimedia's newest virtual instrument, Syntronik, is a massive product that is sure to grab the attention of keyboard players across all genres of music.
Category

Value

Syntronik for Mac/PC
Rating

Syntronik for iPad
Rating

Features

20%

Usability

25%

Sound

25%

Documentation & Support

10%

Price

20%


Syntronik for Mac/PC OVERALL RATING =
3.4 StarsSyntronik for iPad OVERALL RATING =
3.6 Stars, which earns it a WIHO Award!
3.6 stars or better: Outstanding, WIHO Award
3 stars or better: Worth considering
2 stars or better: Suited to specific needs
1 star or less: Not recommended
So what the heck is it? Syntronik utilizes a hybrid sample and modeling synthesis engine to create 17 different synths (and 22 different synths for Syntronik Deluxe) in one large package. The original 17 soft synths are derived from 38 vintage synths (i.e., Syntronik's J8 is derived from the classic Roland Jupiter 8, Jupiter 6, and Jupiter 4). The newest five, included in the Deluxe version only, are also derived from classic synths, including the EMS VCS3, Moog Memorymoog, Korg Polysix, Roland SH-5, and an analog drum synth called Modulum.Coupled with the ability to create four-part layers, splits, and arpeggiators (yes, we do mean four arpeggiators at the same time), quality effects, and new algorithms to mimic analog circuit behavior, we were certainly eager to see what Syntronik is all about.
iPad
Just after we published this Syntronik review, IK Multimedia released Syntronik for iPad. We were intrigued, so we took it for a spin too and have added our findings to this review as well. In short… it's basically the same exact product running on mobile devices!
Features
Syntronik uses both modeling technology and multi-samples—about 50GB worth of (painfully) downloaded software if you don't purchase the product on an optional USB memory stick. The list of the thirty-eight synthesizers that samples are derived from are as follows:
Alesis Andromeda A6
ARP 2600
ARP String Ensemble (Solina)
Elka Rhapsody 490
Hohner String Performer
Micromoog
Minimoog Model D
Modular Moog
Moog Opus 3
Moog Prodigy
Moog Rogue
Moog Taurus I
Moog Taurus II

Moog Taurus 3
Moog Voyager
Multimoog
Oberheim OB-X
Oberheim OB-Xa
Oberheim SEM
(Synthesizer Expander Module)
Polymoog
PPG Wave 2.3
Realistic Concertmate MG-1
Roland Juno-60
Roland Jupiter-4
Roland Jupiter-6
Roland Jupiter-8

Roland JX-10
Roland JX-3P
Roland JX-8P
Roland RS-09 Organ/Strings
Roland RS-505 Paraphonic
Roland TB-303 Bassline
Sequential Circuits
Prophet-10
Sequential Circuits Prophet-5
Yamaha CS-01II
Yamaha CS-80
Yamaha GX-1
Yamaha SY99
The Deluxe version also adds:
EMS VCS3

Moog Memorymoog

Korg Polysix

Korg Mono/Poly

Roland SH-2

Roland SH-5

A cross-patched Moog, VCS3, and Alesis Andromeda to create the drum module, 

Modulum
This is quite a list, and many of these classic synths can easily fetch several thousands of dollars on the used market if found in good condition. As mentioned before, these 38 synths are then distilled down into 17 soft synths, with some names being obvious (like J8) or not so obvious (Noir). One thing that we thought was very cool is that each synth has its own control panel, so an Oberheim looks like an Oberheim, a Jupiter looks like a Jupiter, and so on. Even so, each template is similarly organized into sections for the oscillators, filters, etc., so you're really getting similar information with a slightly different presentation. In total, there are nearly 2,000 presets (2,600 in the Deluxe version) to get you started.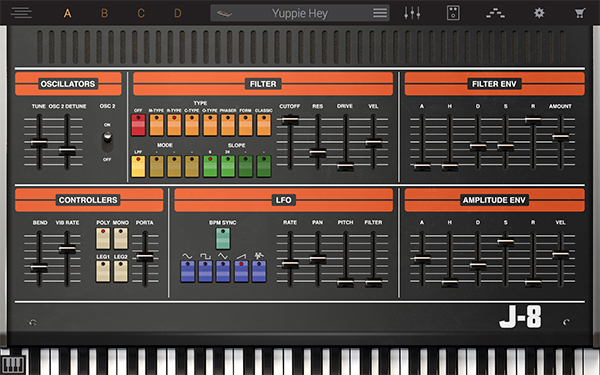 Speaking of filters, IK Multimedia used modeling to emulate four specific, classic filters, which many would argue contribute most to a synth's character. These filters include the Moog transistor ladder (found in the Minimoog and Modular Moog), Roland's IR3109 chip (found in the Jupiter-8 and Juno-60), the Curtis CEM3320 chip (found in the Prophet-5 and Oberheim OB-Xa), and the Oberheim SEM state variable filter. Sound designers will love that Syntronik actually lets you choose the filter you want regardless of synth! Putting an Oberheim filter in a Jupiter-8 sounds like fun! This is not the first time we've seen that kind of flexibility, but in a package comprised of classic synths, it's a welcome capability.
IK Multimedia has also introduced a technology they call DRIFT to emulate the classic analog synth experience. The idea behind it is to mimic the instabilities of analog gear, which many feel makes analog sound "better" or "warmer" than digital technology. DRIFT, as per IK Multimedia, varies the phase and pitch of the oscillators to mimic the way real oscillators function, thus eliminating the problem of sample-based synths always having the same sample attack, for example.
The effects section is quite strong, and is presented in a five-space Eurorack style. You have 38 effects to choose from, any many are derived from IK Multimedia's excellent T-Racks and AmpliTube programs. Modulation, filters, Dynamics/EQ, Distortion, Amps, and Reverbs/Delay are all there. While the presets give you an initial selection of effects as part of the preset, you can certainly change all of these via a pull-down menu.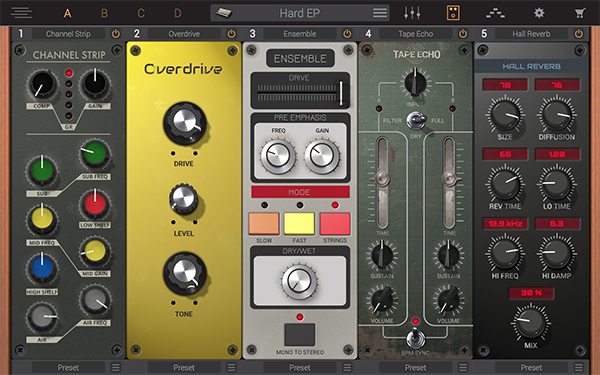 The various screens are accessed via a series of icons along the top of the Syntronik window, which provides easy access to the presets, arranged by style, synth type, character, etc. These icons also pull up the corresponding screens for creating splits, layers, creating four independent arpeggiators, the effects section, and settings. Of course they also provide access to now-ubiquitous in-app purchase for additional synths. Interestingly, while we were in the process of conducting this review, IK Multimedia released another 300 presets that were just a free download away.
Syntronik supports AAX, VST 2/3, and AU plug-in formats.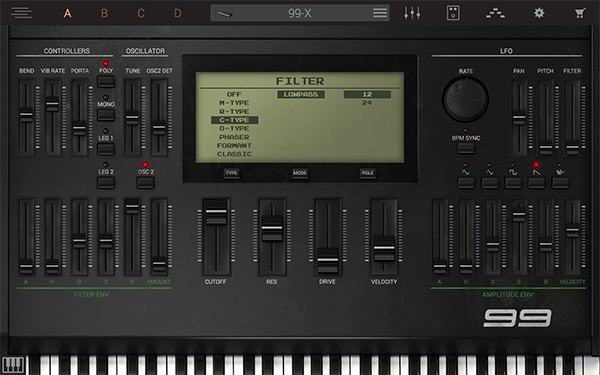 iPad
Remarkably, the iPad version looks exactly the same as the computer version, and functions in the same way. Barely scaled down, there are 1,200 presets (slightly less than the computer version), and 200 multis (vs. 300). However, all 17 instruments (in the "regular" version) derived from the same 38 instruments are present. Effects are nearly identical, too (37 effects as opposed to 38), and IK Multimedia's filter modeling and DRIFT algorhythm are implemented here, too. Version 1.2 brings the new five synths to the iOS platform. Quite impressive!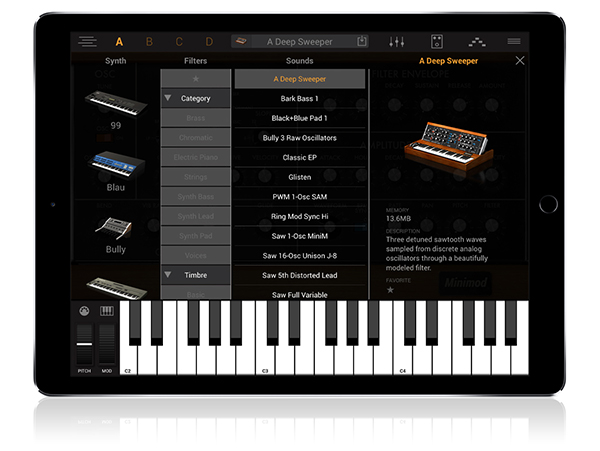 Usability
We have to start with the painful stuff first. Downloading and installing Syntronik was absolutely horrible, and the process should be avoided (you can purchase the software on a USB memory stick). Twenty-three, multi-gigabyte files have to be downloaded individually, and then installed individually—and that's not even for the Deluxe version. IK Multimedia's competitors (i.e., XLN Labs, Arturia) have managed to automate this process. You click once, each file is downloaded in sequence, and when downloading is complete, the files are installed automatically in order. Sadly, IK Multimedia didn't learn from this one critique of their other large package, Miroslav Orchestra. Fortunately, this is the worst thing about Syntronik, as the product itself is easy to use.
Now for the praise: we applaud IK Multimedia for Syntronik's ease of use. The 17/22 synths are listed on the left, and clicking on one of them highlights the available presets (shown in the center) for only that synth. Clicking multiple synths expands the presets to reflect all synths selected while selecting no synths shows all the presets. (See the first image in this review...)
You can also choose the sound you are looking for by type. The right side of the screen shows a graphic of the synth and a blurb about the sound itself—sometimes in an amusing, self-promotional way ("This preset is to show the power of the Curtis filter!"). We do wish there was a choice to find the new Multi-sounds from this main screen, but instead, you have to go the layer/split screen by choosing the leftmost icon at the top of the screen, and from here choose the preset multis.
The effects feature five slots with pull-down menus to load whatever effect you want. You can drag-and-drop to re-arrange the sequence of effects, a feature update that wasn't present in the first release, but was incorporated in a subsequent update (so if you're still running version 1.0, here's another reason to install the updates).
Speaking of slots, there are four instrument slots, labeled A-D at the top of the screen. You can load an instrument into one of these slots, and have four in total. The layer/split page was easy to use, showing four keyboards that we could select regions within to show the range of each synth in a multi-sound. We loved that four synths could each have up to five effects apiece!
Perhaps the most fun was being able to run four independent arpeggiators attached to four different synths. This is where, we think, Syntronik separates itself from the pack, as you can do some very cool, interesting things here. We layered an OB-xa, Arp 2600, and a Prophet-5 as a multi-sound, with independent arpeggiators. A little cacophony goes a long way!
For something a little more controlled, we layered four different sounds on the Modulum synth. This was an interesting way to build a beat: a kick sound on "A," a high hat on "B," a snare on "C," and so on.  Using the arpeggiator allows you to create patterns and beats—a pleasant surprise in a "classic synth" plug-in.
All of the controls were easily assigned to our MIDI controller keyboard via a typical "MIDI learn" function.
iPad
With an identical user interface, things basically function the same way. Even cooler, Syntronik for iPad is Inter-App Audio and Audiobus compatible, meaning it can work with other mobile audio apps that support these protocols. You'll need the horsepower of a 64-bit device to make use of Syntronik for iPad: iPad Pro (12.9-inch, 10.5-inch or 9.7-inch); iPad Mini 2, 3 or 4; iPad Air or Air 2. iOS 9.0 or later is required.
Sound
We admit when we heard about Syntronik, we were curious but skeptical. Nothing against IK Multimedia, but with so many soft synth emulations of vintage gear available, what does Syntronik bring to the table? Well, it brings some solid sounds. Lots of them, actually.
We were initially lukewarm to the presets. They're not bad by any means. But they also don't blow you away like the sound of some modern, analog hardware synths. However, the more time we spent with Syntronik, the more it grew on us. We found most of the emulations to be quite good. There's a liveliness to the sound (presumably from the DRIFT technology) that really enhanced the overall vibe of many emulative sounds. We also think moving from version 1.0 to 1.2 added additional sounds, so the palette got better too, even from the pre-deluxe version synths.
We particularly liked the Oberheim emulation, and there's even a "1984 Polysynth" patch that nails the classic "Jump" sound. The inclusion of the highly coveted Alesis Andromeda A6 is a welcome addition that is missing from most other synth collections. Given that they sell for over $5,000 on the used markets, this may be the closest any of us get to actually playing one, and this synth is great for making analog sounds with a metallic clank to them, and for playing complex arpeggiated patterns.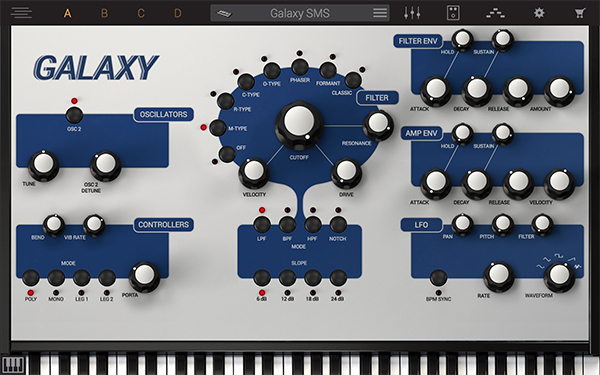 We have a Yamaha TX802 module in our studio (rack-mount version of the DX7mkII), and we compared it with Syntronik's 99, which is based on Yamaha's SY99 and features the same DX7mkII sound engine. You definitely could tell the sound of the 99 was built around FM synthesis, and those classic, glassy EP pianos heard on countless '80s hits are certainly here. We thought the Syntronik 99 did FM synthesis well, though it sounded a little smoother and more polished than our classic TX802. Indeed, it is likely the original SY99 sounds smoother than our TX802 given that it was released four years later. Really it's just a matter of personal taste of which you prefer, but either way, it's classic FM.
The Syntronik J8 is based on the venerable Roland Jupiter-8, Jupiter-6, and Jupiter-4. While we don't have a Jupiter-8 (sadly), we have played them in the past, and we do have Arturia's Jupiter-8V soft-synth, as well as Roland's new Jupiter-8 plug-in. Considering that Syntroniks' J8 is modeled after a collection of sonically different Jupiters, we can't say it sounds just like a Jupiter-8. And the J6 and J4, while certainly having their own sound and character, by definition are lesser versions of the Jupiter-8. So, while the Syntronik J8 gets you in the ballpark of Jupiter-family sounds, we find more realism in the Arturia and Roland offerings. Regardless of an apples-to-apples comparison, though, with some tweaking of the presets we were able to get sounds that were very satisfying—and still very much within what our ears considered Jupiter-8 territory.
Similarly, the new M-Poly is based on Korg's Polysix and Mono/Poly synths. Does it sound good? Does it get you in the ballpark sonically? Definitely, although you might be wondering about subtle differences as two synths have been rolled into one hybrid. As it turns out, the Korg Mono/Poly and Polysix shared the same oscillator and filter design, so you can create classic sounds that belonged to either synth here. Korg has its own soft-synths that are more direct representations of their own hardware, but like the J8 synth above, IK Multimedia provides a fresh take on other classic synths that retain the character and vibe of the originals, but delivers them in a new, hybrid manner.
Syntroniks' Minimod is modeled after the Modular Moog, MiniMoog Model D, And Moog Voyager. Given the age of the classic models, no two units sound exactly alike, but most of us have had enough years behind us to either play Moog synths or be substantially familiar with their sound. As with the the J8, this instrument is somewhat odd in that the Minimod is emulating three synths from a family. Does Minimod sound good? Yes! We particularly liked the lead presets labeled "Prog Master Lead," which planted us firmly in classic ELP territory. Having said that, we find the collection of presets somewhat less musically useful than those in Arturia's Minmoog recreation. But again with the recurring theme we experienced: Syntroniks' strength is not the out-of-the-box presets, but rather the cool things you can do with the virtual instruments. Given that the competition has been out there for years, it's only a matter of time before these soft synths end up with larger and better-defined presets collections.
We were disappointed by the J-60 (Juno-60 emulation). We have a real Roland Juno-106 in our studio, which is a very similar instrument to the older Juno-60, though not quite as warm overall, thanks to its cleaner sounding effects and a few upgraded chips. The J-60 just didn't sound as good as our real hardware. It sounded a bit thin out of the box (surprising given which synth they modeled), but putting effects on our sounds (like Ensemble) definitely fattened it up and brought it closer to an authentic tone. But as it stands today, there are better sounding Roland emulations from the competition.
On a more positive note, we dug the VCF3. The VCF3 is based on the EMS VCS3, a three-oscillator, patchable, analog, electronic instrument whose both traditional and odd synth sounds made their mark on both classic rock and pop music ranging from Pink Floyd's Dark Side of the Moon to numerous Brian Eno productions. We particularly like some of the haunting lead sounds, which have a unique sound that isn't just the same old thing. Different is good!
The real strength of Syntronik doesn't come from its collection of individual synths, but rather from the way you can combine multiple synths into monster programs with splits and layers and multiple arpeggiators. And in that regard, the collection as a whole sounds better than the sum of its parts.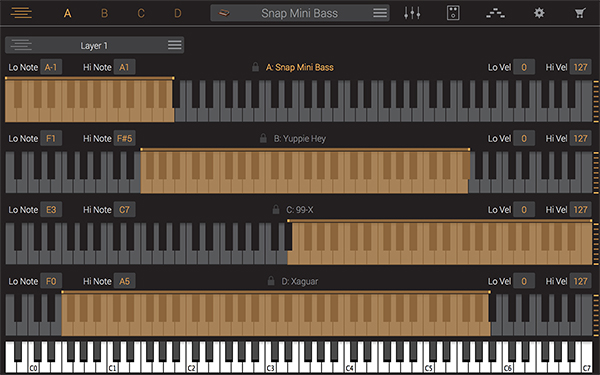 iPad
There are just barely fewer presets on the iPad than the computer version, but the included presets are taken from the original collection. When we compared the same presets between iPad and computer, there was little difference to be heard. We hooked up our excellent Shure SRH940 headphones to both our computer interface and our iPad in order to make objective comparisons.
You'll have a hard time telling the difference, and only when doing a direct studio comparison as we did. Interestingly, the iPad's presets occasionally sounded ever-so-slightly grittier on the iPad—in a good, analog way. But this was only occasionally, and a subtle different to be sure. We felt confident that if used in the context of our live keyboard rig, the iPad version would sound comparably strong with the computer version, and we'd have no problems using it for gigs or recordings. And yes, the Oberheim patches we loved still sound great on the iPad!
Documentation and Product Support
There's a PDF manual you can download from the IK Multimedia site, along with a variety of useful videos, several created by the extraordinary musician and sound designer, Jordan Rudess.
iPad
Within the app is an easily accessible user manual, which was easy to follow and find what we needed.
Price
Syntronik costs $299.00 USD to download, or $329 for a USB drive/boxed version. Syntronik Deluxe costs $399, and you can upgrade to Deluxe from the original for $99 USD. If you own another IK Multimedia product, the Deluxe download or USB option is $189, while the cross-grade to Syntronik is $139. There's also a "free" option, which has close to 50 presets instead of 2,000. We love that IK Multimedia sells the product without any ridiculous monthly licensing scheme, as has become somewhat in vogue lately. There is also an option to purchase instruments individually ($49 apiece) for use with Syntronik Free, Syntronik, or the SampleTank 3 series.
Considering the collection you're getting, Syntronik presents a very good deal. But, you'll have to spend some time tweaking sounds to enjoy it to its fullest sonic potential. Sound designers looking to expand their virtual synth collection will definitely enjoy these instruments. It's a fantastic first-generation release—and a Herculean effort at that. Syntronik will definitely find a place in our studio, and we'll look forward to hearing what sonic improvements come with subsequent upgrades. You should definitely check it out.
iPad
In some ways, this is even more impressive than the computer version! You get nearly identical features for just $40 USD! If you want the full app, you'll need plenty of storage space, but for making electronic music on an iPad, this software is a great choice.
Contact Information
IK Multimedia
www.ikmultimedia.com
Evaluation Short-List
UVI Vintage Vault 2 or Synth Analogy 2
Native Instruments Komplete 11