We have been waiting for quite some time at MusicPlayers.com to get our hands on a Yamaha synth to review, and that time finally arrived when the MOXF8 showed up at our studio this past spring. For over a decade the Motif series has been a major player in pro studios and on the stage, going through various incremental updates over the years.
The MOXF series (-6 with 61 synth-action keys, -8 with 88 weighted keys) offers most of the sonic might of the flagship Motif XF series in a much more affordable—and significantly lighter weight—package. This workstation offers familiar workstation capabilities: synthesis, sample playback, sequencing, and so on. You can install flash memory to load more samples, and the keyboard can integrate directly with your DAW via included software, even serving as a USB audio interface. This package definitely works well, and we think Yamaha has a real winner in this one!
Features
We reviewed the Yamaha MOXF8, which has an 88-key, weighted, piano-action keyboard that is easily one of the best we have played. Despite the weighted keyboard, the MOXF8 comes in at just under 33 pounds, making it extremely portable for a full-sized workstation. Though the case forgoes metal for lighter-weight plastic, it should travel just fine if you have a high quality synth bag or case.
We liked the red sides, which added a splash of color.


As far as sounds, you get over one thousand presets and 741MB of sampled waveforms. All of the Motif XF sounds are included, with additional sounds as well. There is 128-voice polyphony with the ability to layer up to eight different parts (sounds), each with independent effects (dubbed "Virtual Circuit Modeling" by Yamaha). The MOXF8 comes with nearly 8,000 "ready-to-go" phrases (arpeggios), and we had to delay writing this review because we got so caught up in the fun of playing with these frequently inspiring phrase generators.
Although you can't sample directly on the MOXF8, you can install flash memory to load audio samples. The maximum memory is 1GB of flash memory. We didn't have the flash board to test, but reportedly you can load your own samples as well.

A sixteen-track sequencer allows for recording up to 226,000 notes, which can be further sub-organized into patterns, songs, and phrases. You get up to 480 ppq resolution, and you can save your work as several different types of MIDI files. While many of us have become computer/DAW-based these days, Yamaha's MOXF gives you the ability to put together quite a bit of music production while working away from your studio, or in the complete absence of one.

Speaking of DAWs, the MOXF can route its sounds directly into your computer via USB audio, and the synth has audio-in jacks to allow audio recording (though oddly, not sampling for sound design).

The workstation sports a dedicated fader and LED meter for adjusting the sound level going through the USB port. The MOXF knobs and buttons can act as a DAW control surface for several DAWs, including Cubase, Digital Performer, Logic, and Sonar. However, since Yamaha owns Steinberg, integration is tightest with Cubase (i.e., use of transport controls). The MOXF can run inside any VST3-compatible DAW, and the audio interface (four in/two out) uses the Yamaha/Steinberg USB ASIO driver, which means you can use any major DAW that is able to support an ASIO driver for audio-input functions.

Category

Value

Rating

Features

20%

Usability

25%

Sound

25%

Documentation & Support

10%

Price

20%

OVERALL RATING = 3.6 Stars, which earns it a WIHO Award!


3.6 stars or better: Outstanding, WIHO Award




3 stars or better: Worth considering




2 stars or better: Suited to specific needs




1 star or less: Not recommended
The four channels are configured as two discreet stereo buses: USB 1/2, and USB 3/4. You can assign, for example, a vocal mic to one set of outputs, and your playing to the other, allowing discreet recording of each. Currently, DAW templates are available for Cubase, Logic Pro, Sonar, and Digital Performer. Sadly, Pro Tools support is lacking. Perhaps a VST3 to AAX wrapper might work, but we didn't have time to investigate that workaround.
Included with the MOXF are a number of software titles. This includes Cubase AI (DAW); MOXF Editor for the editing of voice and mixing parameters; MOXF Remote Editor, a tool that lets you edit and create control templates for your favorite VST instruments (for DAWs that utilize VST3); and Remote Tools, which integrates directly with Cubase specifically. Also included are two plugins: Steinberg Prologue and Yamaha Organ Emulator, which are a virtual synth and organ (VST) instruments, respectively.
One other nice feature: the input jacks allow the connection of a microphone for use with the workstation as a vocoder.
Usability
The MOXF user interface is similar to other previous Yamaha synths, so players familiar with previous Yamaha workstations should have no problem. If, however, you are new to Yamaha synths, players coming from the Korg and Roland camps may find the interface takes a little bit of getting used to. For example, arpeggios are grouped into 17 categories, with 25 subcategories. While this isn't a big deal in and of itself, if you don't spend a little time with the manual and/or have previous Yamaha synth experience, you probably wouldn't discover this arrangement by simply clicking around the interface. There are many buttons on the MOXF, and while everything is labeled, it took us a few minutes to get up to speed with figuring out where everything was.
The MOXF uses "Voices" as the main building blocks of sound. To use Yamaha terms, a Voice has eight elements (the synthesis chain of LFO, Filter, etc.), and each Element utilizes a Waveform, which is Yamaha's term for a multisample. On the middle-right side of the upper panel is a "voice" button underneath the "Mode" heading. Pressing the "voice" button and turning the data wheel (also called the AI Knob) allows you to scroll through sounds incrementally. There are sixteen voice banks, each with sixteen voices. These include drum and user banks as well.
A "Performance" is considered a combination of up to four voices layered, split. arpeggiated, etc. While the voices individually sound great, the MOXF really shines when combining sounds for some very interesting results. Happily, there are dedicated layer and split buttons for this very purpose, connected by a printed line on the panel to the "performance" mode button. It's actually an easy process once we did it a few times.
The LCD screen was smaller than we'd ideally like, and color or touch-sensitivity would have been welcome, but it was clear and well organized. Don't be daunted by all the buttons on the panel—operation is actually pretty easy.
A nice feature—and given the number of sounds, essential—is the favorites function. You can place your most commonly used sounds in the favorites section, which is obviously much easier than scrolling through 1,000+ sounds during a gig.
We hooked up a mic to one of the input jacks and tried out the vocoder. Once again, this was pretty straightforward once we learned what to do, and the manual proved helpful in that regard. While it was fun to use, those into maximizing vocoder use may need to spend a little time editing the sounds to their liking, which is certainly easier using the computer-based editor vs. extensive editing on the comparably small synth screen.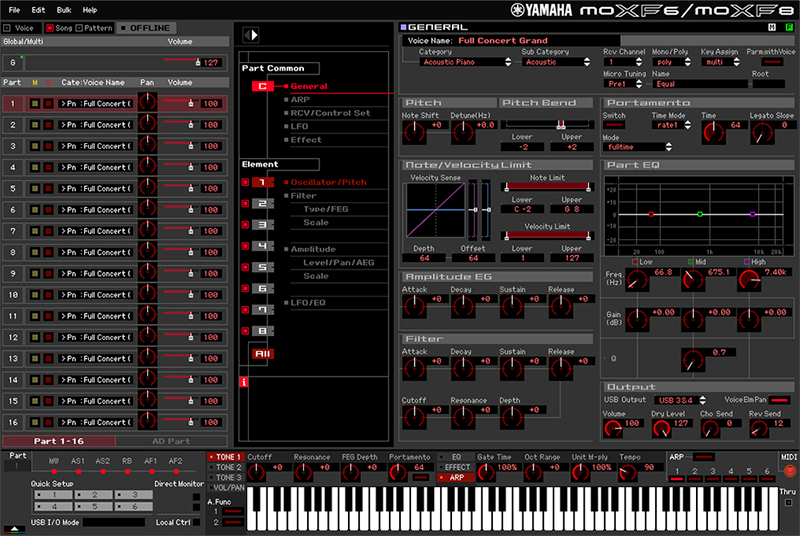 The editor, while definitely useful—and it operated just as it we hoped for, had something of a 1990's Windows feel to it (ironic as we tested it on a Macintosh computer). The software could use a definite interface update, adding more graphical controls like on-screen faders, for example, rather than just text-entry boxes. Indeed, given there's only VST/AU software and not AAX (for Pro Tools), there may be a little bias for whom Yamaha is designing software for. Nevertheless, it recognized our hardware immediately via a USB connection and worked fine.
Sound
The Yamaha MOXF8 sounds awesome! No, really! It's been some time since we've had the opportunity to really dissect a Yamaha synth to this degree, and the MOXF8 sounds fantastic. Classical piano? Check. Convincing guitar riffs? Check. Synth? Mechanical pianos? Strings? Evolving pads? There's really something for everyone here.
Not surprisingly, pianos are in the first sound bank, with the "full concert grand" being the first preset. This is a very nice sounding piano, and coupled with the nice keyboard feel, we think most players looking for an alternative to a real grand piano would be very happy with this. (Given Yamaha's history of building great acoustic pianos, it should not come as a surprise the acoustic piano sound sounds excellent.) There are quite a number of piano presets ranging from layered piano sounds to rock and blues pianos. While you don't have control over, say, pedal noise or opening the lid (like more sophisticated virtual pianos or higher-end pro keyboards), you'd be hard pressed to say the piano didn't sound great and realistic nonetheless.
Speaking of acoustic sounds, the string presets are fantastic. Violins, cellos, small ensembles… they were all very realistic, right down to hearing the bow scratching away on the instrument. Our only small dig is that most of the sounds have vibrato, and while it sounds great, it would be nice if there were a few more straight string sounds without vibrato.
On the subject of strings, we loved the guitar sounds. In particular, when used with the arpeggiator, you'd be hard pressed to know there wasn't a real person strumming! We found this particularly useful for songwriting and capturing creative ideas, all without pulling out our guitars.
There's a nice selection of Wurlitzers and Rhodes, some smooth, some with the requisite bite. Surprisingly, there was only one present labeled as CP-70, which, while sounding good, was not as good as one would expect given the lineage. However, the other presets that were not labeled as specifically "CP-70" sounded like they were likely CP-70s, so it's just a matter of taste. Happily, there were quite a few classic DX and TX sounds, and these were quite good.
And then there were synths. The classic leads you'd expect are there (i.e., there's a preset called "Lucky," as in ELP's classic song, "Lucky Man"), as well as plenty of nice pads. But for the real fun, the performance section is where it's at. Similar conceptually to Korg's Combinations (or Combis), these are grouped sounds and patterns that are really, really good! We found them very inspiring for songwriting, and clearly Yamaha had some fun with this, too.
There's a performance named "Big Watches," which is clearly Coldplay's "Clocks" (try it—play an E flat/B flat minor/F minor progression). There's another performance called "Rule the Earth" which is clearly emulative of the sounds from the Tears for Fears hit, "Everybody Want to Rule The World." These performances, however, are not just classic song voices. Many are modern, edgy groupings of tones that proved musically inspirational.
However, perhaps even better than the sounds themselves is the way they are used. There are nearly eight thousand (!) preset arpeggio types, and four arpeggio parts can be played at a time. Those of you impressed by Korg's Triton and Karma keyboards will marvel at where the technology of complex arpeggiation has gone.
Interestingly, the MOXF's arpeggios and intricate sounds are actually not using KARMA technology (which is actually technology licensed for use from Karma Lab). But for $199, you can purchase (from karma-lab.com) the actual KARMA software that is compatible with the MOXF, and then via your computer come up with some amazing things above and beyond what Yamaha provides. At the 2014 Winter NAMM Show in January, we got a personal demonstration of KARMA from the inventor himself, Stephen Kay. It's really great stuff with very musical changes in real time. We have not had a chance to try out KARMA software loaded into a Yamaha keyboard yet, but nevertheless, even without KARMA the MOXF sounds great and is a very interactive keyboard that truly inspires you to write. A KARMA option is pure icing on top of an already delicious cake. What more can you can ask for in a workstation?
Documentation and Product Support
The MOXF does come with a paper manual as well as a PDF manual on CD. While we've grown accustomed to the complexity of Japanese manufacturer's manuals, Yamaha's MOXF documentation is generally clear, though a little long-winded at times. However, there were many examples containing step-by-step instructions detailing which buttons to press and which menus to scroll through to get to the item being described. For those players new to Yamaha's synth architecture, though, the long-windedness will prove useful. We certainly thought so!
Price
The MOXF8 (MSRP $1,999) sells for $1,699 street, and the MOXF6 (MSRP $1,499) sells for $1,199. In these boards you're getting most of the MOTIF horsepower for quite a bit less—the MOTIF XF8 is nearly $3,600. For $1,600 less, the MOXF8 gives you great sounds, great keyboard action, an incredibly light synth you can take anywhere, expandability via flash memory for extra sounds, and decent DAW/software.
There is a little bit of a learning curve for players coming from the Roland or Korg workstation camps, but nothing insurmountable. Despite the time we spent with the MOXF, there's still a depth we haven't even gotten to yet, and that has us very excited! We think Yamaha has hit a great balance of cost and features, and if you are looking for a professional workstation for your live rig or studio that won't break your budget or your back, the Yamaha MOXF belongs on your short list.
Contact Information
Yamaha
www.Yamaha.com