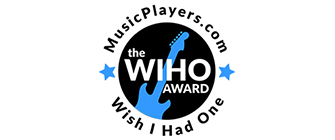 Shure KSM 8 Dualdyne Microphone"I'm buying the shit out of this mic." That was the reaction we got from a male, hard-rock vocalist we recently tracked in the studio while evaluating Shure's innovative new KSM8 microphone. And he's not the only one around here planning to, um… buy the proverbial poop out of this one.
No joking, it is very rare to come across a truly innovative or revolutionary product, especially in regard to hand-held microphones. Yet, the Shure KSM8 defies probability and is everything advertised, and then some! Although it is impressive to see Shure build upon the original design they also own the patent to, it's another thing to create something that delivers more than expected and solves a lot of problems for singers, musicians and sound engineers simultaneously.
Nevertheless, the KSM8 Dualdyne microphone has all that and then some. It is greater than the hype, sounds better than expected, and once you wrap your head around what this microphone does, you will ask yourself, "Why didn't they do this sooner?"
Yup, it's that awesome and a literal "Here's my money. Now hand it over" kind of product. Prepare for the wow factor—this is something new.
Features
The Shure KSM8 is a dynamic microphone with a cardioid polar pattern and is designed primarily for live performance use. It has a sleek modern look, hewn from die-cast aluminum and available in a black or brushed nickel finish with a matching wind screen.
The mic's frequency response goes from 40Hz—16kHz, and the impedance is 300 ohms. If the specs seem to reflect a standard hand-held feature set, you are correct… but that is where "standard "comes to screeching halt.
Almost everything else about the KSM8 is anything but standard. For starters, the KSM8 has a revolutionary Dualdyne design that is a first for a handheld microphone: The new design has two diaphragms, and a side inlet that allows air in the capsule.
This design results in a reduction in low frequency as you get close to the microphone. In other words, the second diaphragm is a traffic cop that re-directs nasty proximity effects into a controlled area, resulting in the regulation of muddy frequencies and a larger sweet spot than you've ever experienced in a hand-held microphone.
Additionally, this design yields a remarkably flat frequency response without the need for any mid boost.
Another feature of the KSM8 is the pneumatic shock design and Diaphragm Stabilization System. What that means in plain language is that between these two features, the cartridge is isolated. It works like a piston and suspends movement, which reduces plosives and handling noise. And because this is a dynamic mic, there's no need for any 48v phantom power.
The KSM8 also comes with a soft flex stand adapter and zippered carrying case. All of these stellar features are the warm up act for what this mic delivers in usability and sound.
Usability
The KSM8 is a prodigious, pro microphone, weighing in at around twelve ounces. As a hand-held mic, the KSM8 did a great job of minimizing handling noise, not only in live performances at the Whisky a Go Go in Los Angeles, but also here in our MusicPlayers.com studios. Which brings us to the shining jewel of achievement for this microphone. Although the KSM8 is seen and marketed primarily as a live-use microphone, it serves admirably in the studio as well. Not only in the way it sounds (which we will cover more later) but in solving practical problems.
Namely, providing a top-shelf studio sound for a singer that doesn't feel comfortable singing into a suspended, high-end, large diaphragm condenser microphone. As recording professionals, you have, no doubt, experienced problems arising from a rock or pop singer who just can't relax and deliver his/her peak performance when placed in front of a traditional studio mics.
Case and point for us was the aforementioned vocalist from the start of this review who needs to hold his microphone and pummel it with his energy and raw emotion. Our artists delivered all the energy and power needed (hunched over at ridiculous decibel levels) while the KSM8 delivered a nearly noiseless performance. After tracking with the KSM8—and achieving fantastic results, our singer immediately ran out and purchased the mic for himself. And we're right behind him on the purchase train.
The KSM8 performed admirably, and as advertised, with a nice sweet spot of nearly one to two feet when handled on stage. In the studio, it performed similarly, which is kind of shocking considering an inch or two from side to side can often result in big sonic differences. The KSM8 sounds best with a consistent mouth-to-mic distance (like any other mic). However, if your singer is a little bit wild and unpolished, and you'd like to avoid post-tracking, surgical EQing, the KSM8 might just become one of your new go-to mics.
Also of note, the lack of noticeable plosives or jostling noises while hand-held made the KSM8 a shining star. It solved a practical problem that it wasn't specifically designed for, the by-product of outstanding design.
Sound
The KSM8 has a very balanced and controlled sound. Quite flat almost, even through both solid-state and tube preamps. Amazingly, this microphone delivered clarity and warmth with vocals and acoustic instruments, as well as snare drums and rack toms (we tested this thing everywhere).
It could be said that the KSM8 has the versatility of the SM57, the attitude of the SM7B, and the durability of the SM58. However, in terms of the sound it most closely resembled the SM7B, which is no slouch considering it was good enough for Bruce Swedien to use on Thriller.
The main difference between the KSM8 and the SM7B is that occasionally a roll off at around 175Hz is needed with the KSM8 to provide clarity (the SM7B has EQ notch filters built in). That's not to say this microphone needs a lot of help to shine, just a little nudge – no different than any other microphone regardless of the price tag. And while the reduced proximity effect is more a function of usability, it translates into better overall sound as the mic delivers more consistent results than just about anything else a singer would hold in front of their face on stage.
Of course nothing speaks better than actually hearing what a mic can do in a sound test. Here are a few clips from rock singer Zach Grimes of Syde Project. The song is called "Blind" and will be featured on the band's upcoming EP.
This was Zach singing a "one-taker" on the KSM8 in our studio. The first clips are the KSM8 handling low Db content without any processing:
After some EQ'ing and compression:
Here are clips with Zach at very high Db, hunched over in the booth, dry:
After some EQ'ing and compression:
What you are hearing in these clips is a roll off of some of the low end, compression through an 1176 Blue face, and some air on the top.
We had great success as plosives are almost non-existent, and Zach killed it in one take (which never happened before for him). This is where the lines between sound and practical application blur. As a professional in the recording industry, positively transforming the process for a vocalist is really priceless.
Moreover, he has had a great time using the KSM8 live—he won't use anything else now! The bottom line is that this microphone sounds great and it can truly be a life saver, live and in the studio!
Documentation and Product Support
Shure provides all of the expected resources such as specifications as well as use guidelines and an online manual. Their website is full of tons of useful documentation and video content related to the use of their products. With the KSM8, they also have a very in-depth video that explains the origin of the Dualdyne system and the engineers behind it. It's a cool story to check out.
Price
The Shure KSM8 (MSRP $624) sells for approximately $500. Although some may balk at the price—particularly when considering alternate, live, dynamic microphones, we think the price premium is justified by the revolutionary design, significantly reduced proximity issues, and dual capabilities for live and studio applications.
Contact Information
Shure
www.shure.com
Category
Value
Rating

Features

20%

Usability

25%

Sound

25%

Documentation & Support

10%

Price

20%

---

Overall: 3.7 Stars, which earns it a WIHO Award!
3.6 stars or better: Outstanding, WIHO Award
3 stars or better: Worth considering
2 stars or better: Suited to specific needs
1 star or less: Not recommended
Evaluation Short-List
Izotope Ozone
Izotope Insight