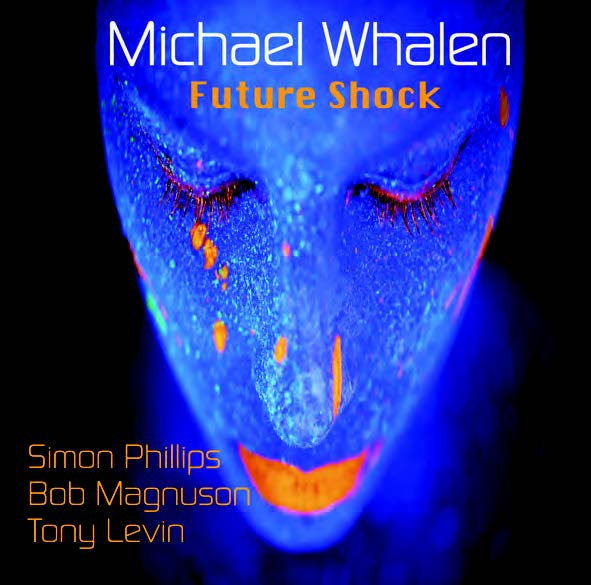 It was just a year ago that we reviewed keyboardist/composer Michael Whalen's breathtaking, new age album, Sacred Spaces. A lush tapestry of sound (all custom developed by this synth whiz) washed over the relaxed compositions, and it would have been easy enough to just think of Whalen as a composer of music for day spas and romantic entanglements (never mind all of his A-list advertising and film/television work). With the release of his new jazz fusion record, Future Shock, though, Whalen is here to put the world on notice: he's a keyboard tour-de-force to be reckoned with.
Michael Whalen, Future Shock

Genre:
Jazz Fusion, Prog
Musicianship:
Songwriting:
Production & Engineering:
Vibe:
Overall Rating:


3.75
Future Shock is a fantastic collection of songs that feature Whalen backed by some insane talent: legendary drummer Simon Phillips, bassist/stick-man Tony Levin, and reeds master, Bob Magnuson. From the opening title track, Future Shock will force you to stand up and take notice. It's a powerful song with an electronica-meets-prog-rock edge that should instantly place Whalen on every keyboard player's radar. The sounds are futuristic and simply fresh, and Whalen deftly combines multiple genres into an instrumental song full of catchy melodies and ripping lead solos.
The balance of the record delves into other styles that veer away from the title track's pop-meets-rock-like nature and embrace more traditional contemporary/light jazz at times. Tracks like the song "Memories of You" are cloaked in disguise. To start, you might easily assume this is just another easy listening, familiar, light jazz tune, but then Whalen reveals some of his favorite rock inspirations as the song takes a left turn into a Doobie Brothers tribute jam midway through.
Other tracks like "Poly Jam" are full of big keyboards and vintage analog synth goodness (ELP anyone?), big drums, and big grooves, while others like "Wanderlust" fuse jazz with elements of progressive rock. Whalen lets his fan flag fly again on "Miracle Mile" with a nod to Donald Fagen.
There's not a weak song in the bunch, and Whalen even manages to sneak a small guitar part in here and there. Our only complaint if we had to make one is that the title track is such a unique sounding and exceptional piece of instrumental music that crosses multiple genre boundaries that we'd love to hear further exploration of that sound. The irony is not lost on us that it opens with some ethnic instrumentation that harkens back to classic Peter Gabriel music. I wonder if Tony got that feeling, too, the first time he heard the track?
Overall, Future Shock is going to be one of the most talked about instrumental keyboard records of the year, and it should appeal to a very broad range of listeners. Add this to Whalen's collection of diverse works over the years and you'll discover an amazing talent who has flown under the radar for far too long.
Order Michael Whalen's new release, Future Shock, here.
To watch an interview with Michael Whalen discussing the making of the record and more, click here.