One World Government, Signs + Symbols
Genre:
Prog Metal
Musicianship:
Songwriting:
Production & Engineering:
Vibe:
Overall Rating:
3.5
There is an abundance of progressive rock music being released lately, most titles quite distinct from each other. At the prog metal end of things is the fantastic new Dream Theater record, while the classic prog category would be hard pressed to top the latest Neal Morse Band record. Now turning to the mid-tempo, melodic prog genre, we find ourselves thoroughly enjoying Signs + Symbols, a Pink Floyd-inspired offering from conspiracy theorists, One World Government. OWG is really the brainchild of singer/songwriter/bassist Paul Barrett, and he's delivered a melodic, mid-tempo collection of songs that explore heartwarming topics related to conspiracies, paranormal activity, and alien invasion.
The songs are a cohesive bunch, and we like the layers of acoustic guitar over synth textures and sound effects, then capped with soaring lead guitar melodies, that are interspersed with the more rocking songs. Barrett's voice is perfectly suited to the material, and he shares an obvious vocal style with Dave Gilmour, in addition to an obvious love for the musical style of Gimour's late-era Pink Floyd. Think songs like "Comfortably Numb" and "High Hopes" and you'll be right at home with OWG songs like "Darkness Comes" and "Jupiter's Return." Barrett makes a point to not delve into lengthy prog rock excursions, keeping the songs more concise and to the point (assuming you consider five minutes per song concise) with more traditional rock song arrangements. Ironically, the longest song on the record is a great remake of the Rush classic, "Far Cry" fused to the instrumental track off the same album, "Hope."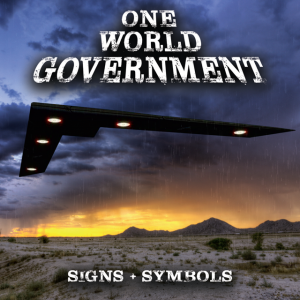 We really like when the band picks up the energy level like on songs such as "Coexist" and "Slave," and listening to these tracks, you'd be forgiven for mistaking Barrett's vocals for that of Dave Grohl. It would be very interesting to hear this guy cover a Foo Fighters tune!
Performances from bandmates James Linton (guitar), Jason Buchwald (keyboards), and Russell Gargula (drums) are solid and always in support of the song. In fact, our only real critique of this record is that it feels like the band is alwaysplaying in support of the song, somewhat constrained by the framework that Barrett establishes. There's certainly room for more elaborate musical performances throughout the record, but the band tends to play it safe, despite the obvious caliber of their skills.
Despite not breaking any new ground, Signs + Symbolshas a nice, moody vibe and dreamy melodic character that is sure to delight fans of melodic progressive rock. We look forward to hearing more from One World Government.