Tramaine, Heavy Balance
Genre:
Instrumental Guitar, Shred, Prog
Musicianship:
Songwriting:
Production & Engineering:
Vibe:
Overall Rating:
3.75
Englishman Tramaine Watkins releases his freshman album, Heavy Balance, and we had the delight of checking it out. From a guitar standpoint, this has been a shredtastic treat! Formally trained, his advanced knowledge of composition, technique, and music theory shine through early on in the recording. At times, the music is neoclassically tinged just enough to pay homage to the genre, and we are led through what appears at first glance to be a listening experience much like an amusement park ride.
From the first track, we find a musically balanced and well produced tome of sounds. Although no live drummer or bassist existed for this record, the performances are convincing enough that the casual listener would never know a live rhythm section wasn't backing Tramaine. And even the guitar amp used throughout was virtual! This recording should be used by Kemper in order to showcase just how insanely good their profiling is, as well as Ibanez. Ibanez guitars were used in abundance throughout. We question how this man is not yet an official Ibanez artist!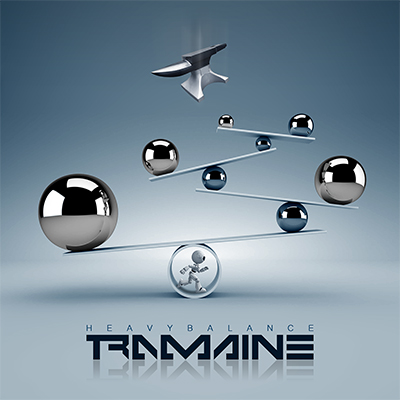 As much of a one-man band as Tramaine Watkins is, no man is an island unto himself. Enlisting production help by none other than musical virtuoso, Alex Argento, we are spoiled with a perfectly balanced production, crafty keyboard parts appropriately represented in the mix, and what seems to be insanely perfect melodies, rhythms and lead guitar lines serving as a benchmark of "Get THIS good someday" excellence. And if Argento's presence isn't exciting enough, his Icefish bandmate and renowned shredder, Marco Sfogli, makes a guest appearance as well!
All types of high energy instrumental guitar records have been made for decades. Some good, some great, while others missed the mark for us. We place Heavy Balance in the favorites category, in part due to its approach, welcoming song structures, unforgettable hummable melodies, and most importantly, ferocious guitar playing delivered in support of the song.
The overall vibe of this recording is as one would expect. Part horror or action movie soundtrack, part soundscape, part good old-fashioned rock and roll, this high-quality production welcomes the listener, as opposed to beating the listener over the head with Watkins' more than ample skillset. Song per song, just as you're drawn in, they get you! This adds to the vibe, which is so hard to translate in this genre of music. No one will ever be found on a dancefloor grooving to instrumental guitar shred—unless perhaps the dance floor is in a sanitarium. However, the vibe of this recording is there, and its succulent. The scariest take-away here is that this is his FIRST album. Watch out for Tramaine. We have a feeling you'll be hearing a lot more from him soon.