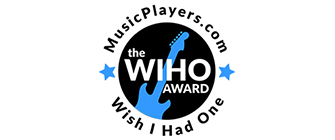 Shortly after finishing a review of some new headphones from Shure, we were lucky enough to receive a pair of Yamaha's brand new HPH-MT8 headphones. Given our daily experience with Shure headphones and a few sets of ten-years-old Yamaha cans in the drawer, we weren't, well, sure what to expect. What we did find, however, was a treat!
Our old Yamaha RH-5Ma headphones have stood the test of time nicely, and they will continue functioning for a long time… mostly because they'll be sitting idle in the back of the headphone drawer as we press the new HPH-MT8 headphones into active rotation. The HPH-MT8 are excellent headphones for basic listening, mixing, and tracking tasks, delivering just the right balance of sound quality, comfort, and price.
Features
The HPH-MT-8s are closed-back, circumaural headphones with a 15Hz-28kHz frequency response and a sensitivity of 102dB/mW. The driver is a 45mm voice coil, and weighs 350 grams (0.8 pounds). When we opened the box, we found a carrying bag, the headphones, and two cords: a 3.9-foot coiled cable and a 9.8-foot straight cable. These connect to the headphones via a single lockable and detachable connector, and also included is an 1/8-inch-to-¼-inch threaded adapter.
The headband is covered with leather and padding, and the ear cups themselves are covered in similar, but thicker, fashion. Of note, each ear cup swivels 180 degrees and the headphones fold up for compact storage. The design facilitates easy use with one earcup off the ear when necessary.
Usability
The HPH-MT-8's ear cups were very comfortable. While perhaps not as "showy" as other competitors (most headphones assume an unassuming black-all-over color scheme), Yamaha gets it right where it matters most: comfort and sound (more on that later). We thought they felt a bit on the heavier side than some other recently reviewed headphones, but not so heavy as to detract from their comfort (if you've tried some headphones with onboard preamps you'll know what we mean).
As we have said in other headphone reviews, snapping in the cables was, well, a snap, and putting them on our head wasn't too challenging to figure out, either! We appreciated the inclusion of two sets of cords with differing construction/lengths, and we also liked the ability to fold the headphones up for storage in the included bag.
Sound
There is always a bit of subjectivity to what sounds good in a set of headphones, but we thought the HPH-MT-8's sound was very good. For most applications, including critical listening, most pros would be quite happy with the sound quality, including the remarkably open soundstage that these closed-back headphones provide.
The first thing we noticed was the richness of the bass in the HPH-MT-8s, which we were a little surprised by from reading the specs. Low frequency response was full and tight, and not boomy sounding.
The other thing we noticed was that there was a bit of airiness to the sound. Not so much overemphasized highs, but just a pleasant sense of presence and clarity through the upper mids. The three-dimensional spacing was impressive, and the overall evenness of sound made it possible to use these for long periods of time without any ear fatigue.
While our time tracking was limited, the amount of bleed for vocalists was mostly acceptable, though arguably a little worse than on some pricier headphones. In fairness, Yamaha targets these for mixing, not tracking… but as we discovered, you could get away with it if your instrumentalist doesn't require excessive listening volume.
Documentation and Product Support
If you're not sure how to operate a traditional set of headphones, we don't have a tutorial on that subject, but fear not. The headphones include an owner's manual that instructs you in the basics of their use, audio specs, and their care.
Price
The HPH-MT-8s (MRSP $329) can be found at retail for $199.99. These are very good headphones for the price, and we think you'd be hard pressed to find a noticeable difference in sound quality without encountering a significant jump in price. If you're in the market for a solid pair of headphones that won't break the bank, you should put these on your short list.
Contact Information
Yamaha
www.yamaha.com
Overall Rating
Category

Value

Rating

Features

20%

Usability

25%

Sound

25%

Documentation & Support

10%

Price

20%

---

OVERALL RATING = 3.6 Stars,
which earns it a WIHO Award!3.6 stars or better: Outstanding, WIHO Award
3 stars or better: Worth considering
2 stars or better: Suited to specific needs
1 star or less: Not recommended
Evaluation Short-List
Yamaha HPH-MT7
Shure SRH840
Ssnnheiser HD280 Pro