A unique addition to the PRS SE range of guitars,

 the Limited-Edition SE Schizoid is a take on the SE Standard 24 with a face that only a mother could love…or a King Crimson fan, of course!In celebration of 50 years of that famous band, PRS worked with current lead singer and guitarist, Jakko Jakszyk, to create a guitar that would be roadworthy and feature the same iconic artwork as the PRS Custom 24 Piezo he had been playing since joining King Crimson.

Category

Value

Rating

Features

20%

Usability

25%

Sound

25%

Documentation & Support

10%

Price

20%

OVERALL RATING = 3.8 Stars, which earns it a
WIHO Award!


3.6 stars or better: Outstanding, WIHO Award




3 stars or better: Worth considering




2 stars or better: Suited to specific needs




1 star or less: Not recommended
The guitar features the Schizoid Man from King Crimson's first album, In The Court of the Crimson King. There will only be 1,000 guitars produced, so if you're a King Crimson fan or just interested in a unique twist on the PRS SE Standard 24, grab one today before they are gone.
Features
The Limited-Edition SE Schizoid is mostly an SE Standard 24 with a few changes. Most noticeable is the obvious artwork on the front of the black coated, double cutaway, mahogany body. Sorry lefties, this one is only available in a right handed edition.
The six-string guitar features a PRS Pattern Regular (wide thin) neck with 24 medium-jumbo frets. A 25-inch scale length neck with a ten-inch radius rosewood fretboard is topped off with classic PRS white pearloid bird inlays and white pearloid dot inlays on the top side of the neck. The neck wood is mahogany rather than maple, as is typically found on the SE Standard 24.
The guitar includes the same 85/15 "S" humbucking pickups that are found on a number of S2- and SE-series PRS guitars. The "S" version designates the import version of the PRS 85/15 pickups, and they are made to the same specs as the American version. The guitar has one volume control and one push/pull tone control that splits the humbuckers for single-coil tones. There is also a three-way pickup switch.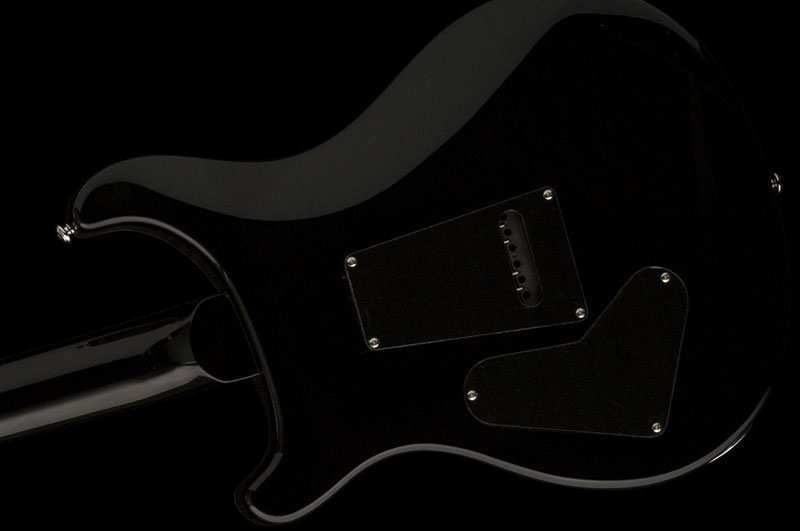 Hardware includes PRS-designed and engraved tuners on a 3x3 headstock, PRS patented tremolo bridge with a pop-in arm, and nickel hardware. The nut (1.68 inch) is a proprietary PRS synthetic/bronze blend. The guitar also features a dual-action truss rod with headstock access.
Included with the guitar are a plush gig bag, tremolo arm, truss rod adjustment tool, Allen wrench for bridge saddle adjustments and tremolo arm tension adjustments, a spare bridge spring (there were four installed for the set-up), and an eight-foot guitar cable.
Usability
The PRS Schizo guitar (as with the rest of the SE range) is made in Indonesia by Cor-Tek Musical Instruments Co., under exclusive license to PRS Guitars. We found it rather surprising that this level of disclosure was present on the back of the headstock, where it's common to merely see the country of manufacture. It turns out that Paul Reed Smith himself insisted that their manufacturing partner put their name on the guitars in order to hold them accountable should their quality control not live up to PRS's demanding standards. Whatever the case, the quality here is just what you'd expect of any PRS instrument regardless of where it was built, and we were not disappointed (most of our guitar editorial team owns one or more USA-made PRS instruments for reference).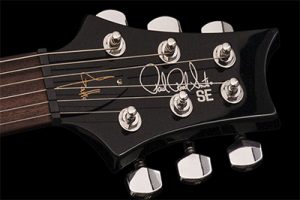 Having played PRS wide thin necks before, the Schizoid neck felt familiar and very playable. The guitar was set-up with very low action from the factory and the intonation was spot-on. Weighing at about eight pounds, the guitar was very comfortable with a perfect balance over the shoulder. And as expected with guitars from PRS, the fretwork was pristine with no sharp edges. Another plus was the rolled fretboard edges, not always found on guitars in this price range.
Although some shredders and rockers alike might prefer a twelve inch or higher radius fretboard, the wide neck makes the fretboard seem flatter and will appeal to players who prefer a flatter feel. Also, the wider neck will also appeal to players with bigger hands who do not typically like a thinner neck.
The contours on the body and neck made full access to the 24th fret unobstructed. Despite not having locking tuners, the guitars stayed in tune very well when using the tremolo arm. We even tested a couple of dive bombs and the bridge constantly returned in tune. The pop-in style tremolo arm (with an easily accessible tension screw) also made getting the right height and feel of the arm very quick. The smoothness of the tuners stood out in a significant way as tuners can be a little iffy, especially on import instruments. Not these. They were smooth as butter, which in part was also likely due to the smoothness of the grooves in the PRS nut.
The electronics were well positioned with the three-way switch out of the way so we wouldn't knock it while playing. The volume control sat below the back of the bridge pickup and was easily accessible while playing. It had a nice resistance to it that avoided accidental volume bumps. The tone control, with built-in push/pull switch, sat out of harms way in terms of accidentally changing your split coil/humbucker preference. However, the tradeoff is that this made it harder to adjust our tone while playing.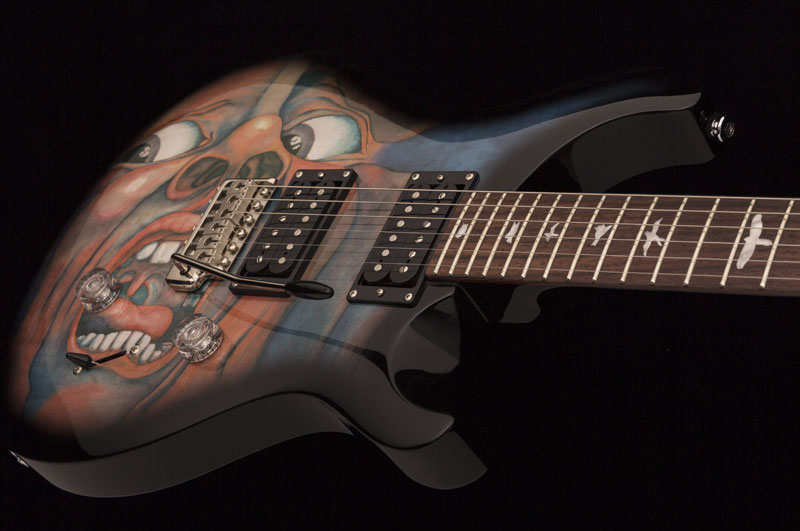 Sound
With two humbuckers that can each be coil tapped, this guitar features a versatile sonic palate to work with. We were, overall, very impressed by the sound of the 85/15 "S" pickups. As PRS states on the website, these lack a bit of midrange and therefore are a "modern" twist on a classic sound. When rolling off the volume, there was no loss in tone, even at very low volume. Also, the change in volume was nicely tapered, rather then the sudden change that some guitars have going from 10 to 9 on volume control. The tone control was usable throughout its sweep with a nice gradual change in tone as well as when rolled off. Rolling the tone control down in any pickup setting gave a very vocal, nasally, mid-cocked wah, type of tone while still maintaining some of the treble frequencies.
We tested the guitar through a few different Supro and Blackstar amps as well as Line 6 Helix Native in the studio, with tones ranging from clean to crunchy to all out high-gain madness. The clean tones from the Schizoid were pristine, with great definition and clarity, and no muddiness whether we were in humbucker mode or coil-tap mode on any of the three pickup settings. We very impressed with the sustain of the guitar and the clarity of the tones. There was a certain chimey-ness with some compression that gave a boutique quality to the sound as we would find on higher priced guitars. Individual notes within chords rung out and hung onto their voice with a range of frequencies yielding rich harmonics.
Pulling up on the tone knob to switch to single coils, the guitar really had a different character with rich overtones and chimey-ness. It's not exactly a single coil tone as you would find on true single-coil guitars, but it was sweet and clearly different than the humbucker tones. There is also less midrange when in single coil settings on the guitar across all positions. With some guitars that feature coil-tap/coil-spitting features, there is a significant drop in volume when switching to single coils. On this guitar, however, the drop in volume was less pronounced, which we find preferable for live performance use.
Switching to the middle position on the three-way switch and changing to single coils, we were able to get a great, clean, funky sound. In the neck position the tones were punchier and thicker but maintained a similar tonal spectrum to the bridge pickup.
Revving up the sound to high gain, the bottom end remained tight while the top end shined without being harsh. Through a Line 6 Helix, the guitar sounded particularly good on the Placater Dirty (modelled after a Friedman amp) and the Solo Lead OD (modelled after a Soldano 100 amp) settings. These pick-ups definitely have their own voice and are not generic sounding in any way. Whether modeled or playing though our Blackstar rig, the pickups were a bit heavier on the low end than many of our other guitars, requiring a slight adjustment to our various amps' bass control.
Documentation and Product Support
As with most things nowadays, documentation and product support is mainly online. The PRS website support section includes information on set-up and adjustments, cleaning and care, and warranty.
Price
The PRS Limited Edition SE Schizoid sells for $779 USD and undergoes final inspection and setup by PRS before it makes its way to USA dealers. This is a very good price for a special, limited edition, PRS guitar. Grab one while they are still available and you, too, can truly be a 21st Century Schizoid Man.
Contact Information
PRS Guitars
https://www.prsguitars.com/