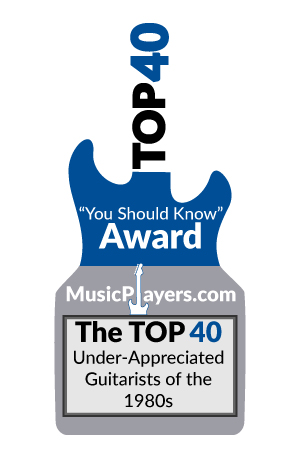 Why You Should Know Them
Frank Hannon and Tommy Skeoch are the sinister six-stringed pioneers that propelled the Northern Californian hard rock band, Tesla, to rock n' roll glorification in the late '80s. With their arsenal of melodic riffs and well-developed song writing capabilities, the band accumulated a legion of dedicated fans that has helped them sell over 14 million records to date.
Although the band was often mistakenly associated with glam rock—mostly due to their early touring mates (David Lee Roth, Def Leppard, Poison), what really set them apart from the other groups of the era was their incorporation of blues-style licks with a hard rock twist that was first evident on songs like "Modern Day Cowboy" and "No Way Out." This genuine and down-to-earth vibe became even better known when the band found mainstream radio success with their monster ballad hit from the 1989 album, The Great Radio Controversy, "Love Song." The song reached 67 on Billboard's Hot 100, and the album version opened with an impressive classical acoustic guitar instrumental that further showcased this duo's chops. Hannon and Skeoch's acoustic playing would resurface and receive well-deserved recognition on the Five Man Acoustic Jam Session, which produced the hit remake, "Signs," and launched the unplugged guitar craze of the '90s.
The versatility of Tesla's shredders to transition seamlessly between elegant acoustic playing and intricate, face-melting solos can be called nothing short of epic. And as we all know, in the music industry, epic lives on forever.
The Gear
The equipment that shaped Hannon and Skeotch's killer tones over the years was a combination of versatile guitars, powerful amps, and slew of carefully placed effects.
The guitars included: Gibson Flying V '67 Reissue with Gibson 500t pickups, Gibson SG Standard ('68 SG Standard reissue), Gibson ES-1275 double-neck guitars (cherry and white), Gibson '57 reissue gold top Les Paul, Gibson sunburst '60 Les Paul Classic, Gibson Explorer (white), and various Gibson acoustic guitars. The strings of choice were Dean Markley Nickelsteel 2503 (.10 gauge) and a variety of Dunlop Tortex picks.
Tesla was a big fan of Marshall amps and still uses them today. The particular amps include Marshall JCM900 4100 Head, Marshall 100 watt JVM410H (today), Marshall 1960AX Angled and 1960BX straight 4x12 cabs with Celestion 25-watt Greenbacks.
The effects that were a large part of Tesla's guitar sound then and now include Ibanez TS9 Tube Screamer, Electro-Harmonix Big Muff, Homebrew electronics Ultimate Fuzz Octave, Boss DD-3, MXR Phase 90, MXR Carbon Copy, Line 6 MM4 Modulation, Dunlop 535Q Wah pedal, and Heil Sound Talk Box.
Where Are They Now?
2012 marked the 25th anniversary for Tesla, who are still active and touring, although Skeotch is no longer part of the group. His initial departure came from a struggle with substance abuse in 1994. He returned in '95 only to leave again a few months later with the same issue. Skeotch did rejoin the band again for a longer stint in 2000, which lasted until 2006 when it was said that he left to spend more time with his family. Guitarist Dave Rude was added to the lineup after Skeoch's last departure and he has provided a new energy to the legendary band.
Skeoch recently opened up about his departure from Tesla stating, "They did everything they could. They wanted to keep me around of course. But I just wasn't there yet and wasn't having it. But yeah! During the whole life of Tesla, oh! We were [laughs] crazy, man!"
Hannon is still the dominant guitarist and has not slowed down one bit. He also has a solo project that highlights his abilities to write slower tunes. The vibe is a tasteful blend of blues and folk. Visit frankhannon.com to learn more about his solo work.
Tesla is still touring. Dates and band updates can be found on Tesla's website: www.teslatheband.com.
Back to the Top 40 Under-Appreciated Guitarists of the 1980s.