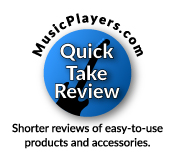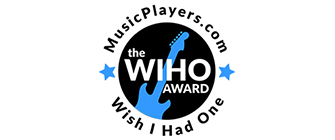 Arturia has been a long-time leader when it comes to re-creating classic keyboards virtually, yet each release of their V-Collection is always attention-grabbing as they continually add new classics to the collection. If you're unfamiliar with this fantastic sounding virtual keyboard collection, read our in-depth combined review of V-Collection 5 and 6 here.
In V7, Arturia has upped the ante by introducing three new synths: the Mellotron V, the CZ V, and the Synthi V. Additionally, Analog Lab 4 includes these new instruments, and the B3 V has been updated to version 2, to include an improved sound engine.
Category

Value

Rating

Features

20%

Usability

25%

Sound

25%

Documentation & Support

10%

Price

20%

OVERALL RATING = 3.8 Stars, which earns it a
WIHO Award!


3.6 stars or better: Outstanding, WIHO Award




3 stars or better: Worth considering




2 stars or better: Suited to specific needs




1 star or less: Not recommended
This collection includes a total of 24 virtual instruments (23 individual instruments plus Analog Lab 4, which provides a simplified interface to a library of presets culled from throughout the entire instruments collection). Of technical note, V7 upgrades all instruments to 64-bit status.
The Mellotron, circa 1963, used analog tape to replay samples polyphonically- and was made famous in many recordings (Beatles, Genesis, Radiohead) for its voice, flute, and string samples. Those are all here, and this "enhanced" version allows you to import your own samples and play through the tape "engine." There are controls to adjust pitch, tone, volume, as well as ADSR envelope knobs. Since the "engine" was essentially a tape player, there are controls to adjust the virtual tape as well: flutter, saturation, mechanics, and noise. There's also an edit mode that enables you to choose a sample and adjust the loop point and attack. Additionally, there are effects readily on hand, including chorus, flanger, delay, compressor, phaser, distortion, reverb, an equalizer, amp simulation (Fender Twin or Leslie) and stereo panning. You can apply up to four at a time. There are 65 original tape tracks from the original Mellotrons—and the ability to blend up to three tracks at a time, so it's pretty easy to create the string ensemble and choir sounds that put the Mellotron on the map in the first place.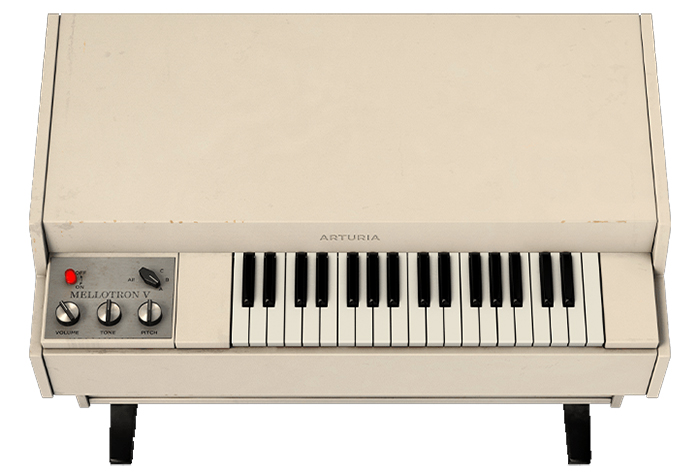 We enjoyed the presets, and we liked the obvious recreations from famous Mellotron songs, as noted by the "Kashmir," "Blue Monday Male Choir," and "White Wedding Mixed Choir."  All the expected Mellotron sounds are here, but in typical Arturia fashion, the layering, splits, and sample imports are welcome modern upgrades that take nothing away from the classic sound, but give you fantastic new ways to exploit the virtual instrument.
Moving on to the CZ V, this is Arturia's recreation of Casio's CZ-101 (and similar CZ-1000) synths. Utilizing phase distortion (PD) synthesis, this FM-like technology competed with the wildly popular (but difficult to program) Yamaha DX-7 in 1984. Artists such as Salt-N-Pepa, Was (Not Was), and Vince Clarke all utilized the CZ on quite a few '80s hits.


No longer limited by '80s digital technology, the CZ-V has 32 voices of polyphony—far greater than the original 8-voice limitation. You also get four effects slots (the original had none!), and now you also gain an arpeggiator, something that helps makes this iteration of CZ totally modern and contemporary. The CZ-V includes all eight original waveforms, as well as a custom waveform editor for those who like to tinker. The icing on the cake is that you can actually import original CZ Sysex, so your original patches can actually be reborn in a soft synth (and there are even a few companies still making quality patches). However, there's no immediate need as the CZ V already includes over 400 presets.  A lot of ground is covered here, as PD synthesis is remarkably flexible and can sound DX-7/FM-like, but is capable of more aggressive and analog sounds as well. If you want a fat lead, you can even stack eight voices together, and there's a dedicated unison detune knob for this purpose.
One of the greatest things about the CZ-V is something that is very simple: you have a computer screen to see everything. Waveforms, parameters, and even a modulation matrix (complete with an additional four macro controllers in the form of sliders) are all clear and easy to use, which is a gigantic leap from little buttons and a tiny screen on the original. In another massive improvement area, Arturia added macros that simplify sound design. We didn't feel like we needed to re-learn PD synthesis in order to creative new sounds and make tweaks to presets.
All in all, Arturia has done a great job in not only recreating the original but going further than that and creating a relevant, modern instrument. The arpeggiator alone transforms what you can do with many of the classic sounds and breathes remarkable new life into this instrument.
Perhaps the lesser-known oddball synth (at least in the US) is the EMS family of synths, and notably the British Synthi series. These synths brought the modular synthesizer to a more portable form in the '70s.  Typically associated with experimental and psychedelic music, these synths found their way onto Pink Floyd's The Dark Side Of The Moon LP. Not a bad place to be!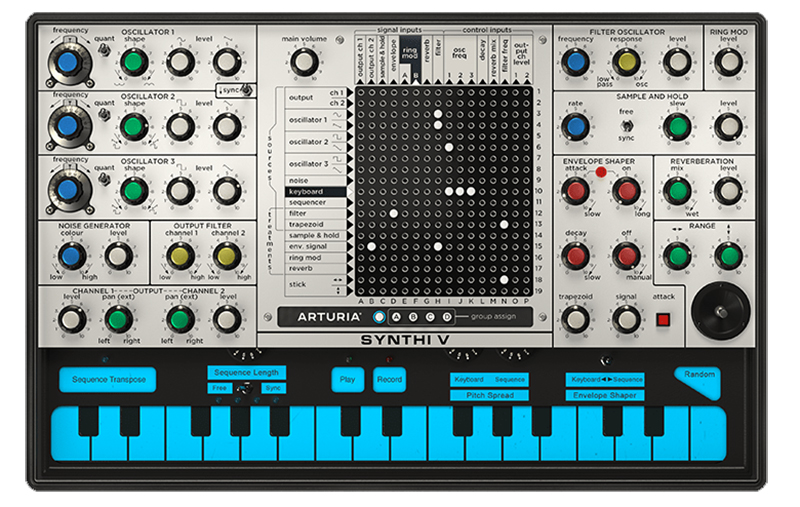 With three oscillators, polyphony is now up to four voices (the original was monophonic), and as with the other synths in the collection, there is an effects section. The heart of the Synthi is the modulation matrix, located in the center of the GUI. You get 250 presets, which cover a surprising amount of ground stylistically, and they sound much fatter than four-voice polyphony would suggest. We found the majority of these patches very cool and inspiring, which is something to be said for a synth that is over 40 years old! While the origins may be in progressive and psychedelic music (some of the patches made us thing of Rush), dance and electronic music composers should definitely enjoy this synth. We certainly did, despite being unfamiliar with it prior to this review!
To round it out, Analog Lab 4 includes the three new soft-synths in V7, now providing quick access to over 6,500 presets from the entire collection. Additionally, the B3-V has been upgraded, with additional presets and to our ears, a more convincing sound engine. We didn't think the original was bad by any means, but it's always nice to hear additional improvements.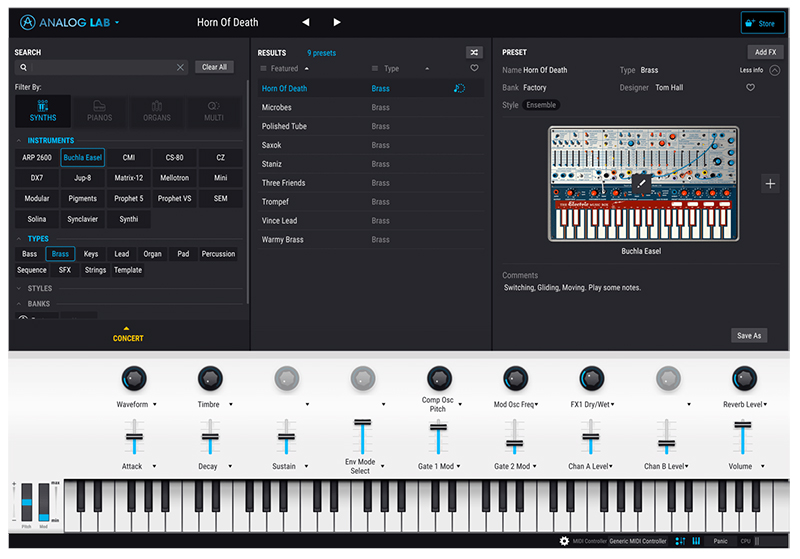 Arturia has documentation and videos online, and has built-in tutorials within the plug-ins themselves, which is quite handy. More manufacturers should do this!
Overall, the V7 is a great collection that belongs in your studio. The V7 Collection (MSRP $499) can be found online for $399. It remains a fabulous value given the quality of the virtual instruments in this collection (as well as the useful variety). Owners of previous versions should look into lower-priced upgrade options from Arturia as well.
Contact Information
Arturia Corporation
www.arturia.com