Roland has a long history of building great hardware synths, and you'd be hard pressed to find a hit song that didn't have at least one of Roland's synths on it somewhere.

Through the years, the soft-synth evolution has become something countless companies have gotten involved with, and for a while Roland seemed content to let other companies model or sample some of their historic keyboards. But then, 2017 happened.
In 2017, Roland introduced Roland Cloud, their online collection of plug-ins that model or sample a wide range of synths and keyboards from the Roland family. The results were worth the wait, as there are no better sounding virtual Roland instruments than the ones Roland now creates. After all, they have direct access to their own hardware and software designs that other companies can only guess at.
Category

Value

Rating

Features

20%

Usability

25%

Sound

25%

Documentation & Support

10%

Price

20%

OVERALL RATING = 3.7 Stars, which earns it a
WIHO Award!


3.6 stars or better: Outstanding, WIHO Award




3 stars or better: Worth considering




2 stars or better: Suited to specific needs




1 star or less: Not recommended
Over the past year, Roland has made some great content available ranging from classic synths like the Jupiter 8 and D-50 to state-of-the-art synths like the System-8. Although it's not really a cloud-based product and relies upon a subscription licensing model, if you're a fan of Roland synths, this belongs in your must-have collection.
Features
Let's start with the basics. You can think of the Roland Cloud as several soft-synth and sample library collections, each of which Roland calls a "Series." To manage these, a program, not surprisingly called Roland Cloud Manager, is installed on your computer. From this application you connect to your Roland Cloud account and can download and install each individual instrument or library.
So, what are these series, and what do they contain? A quick rundown:
Anthology: This series contains sampled instruments that play via Roland's sample player, called Concerto (also a Cloud download). The collections are organized mostly into years, and some years have multiple volumes. Currently available are 1985, 1986, 1987, 1990, and 1993. Roland is a little vague about which synths these are from, but sonically seem to be in the ballpark of the D-50 and JD series. The other two collections in this series are the EP14 and Orchestra, offering samples of electric pianos and orchestra respectively.
Flavr: this series also contains samples that play via Concerto, but the libraries are smaller and are organized into genre/styles, often relying upon names that don't tell you exactly what the sample set is. These include BlipBlop, Electrode, FunkyFever, Resin, Sector-7, Sugar, Trapped, and Grit. These include 8-bit arcade game sounds, electro-house, disco, neo-soul, electronic, tropical house, trap EDM beats, and bass house genres respectively.
Legendary: this series contains recreations of classic Roland synths, and is likely to be the main attraction for the majority of Roland synth fans. This includes models of the D-50, Juno-106, Jupiter-8, JV-1080, Promars, SH-101, SH-2, Sound Canvas VA, SRX Keyboards, SRX Orchestra, System-100, TR-808, TR-909, and most recently, the JX-3P.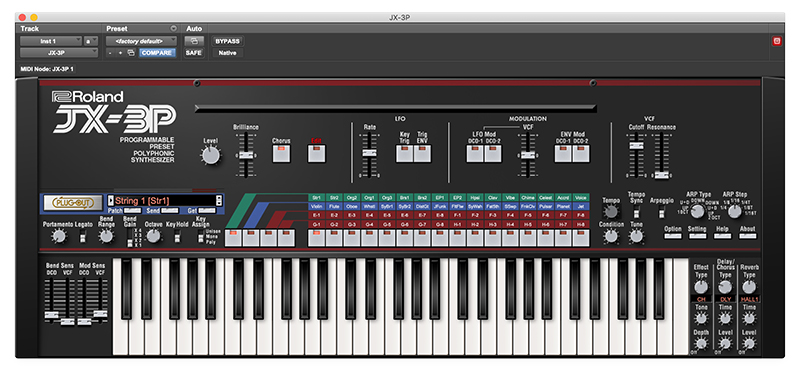 Technically, "SRX" was a type of expansion sound card that went into multiple compatible synths back in the day, but regardless of which host you installed them into, those classic and revered sounds are all here.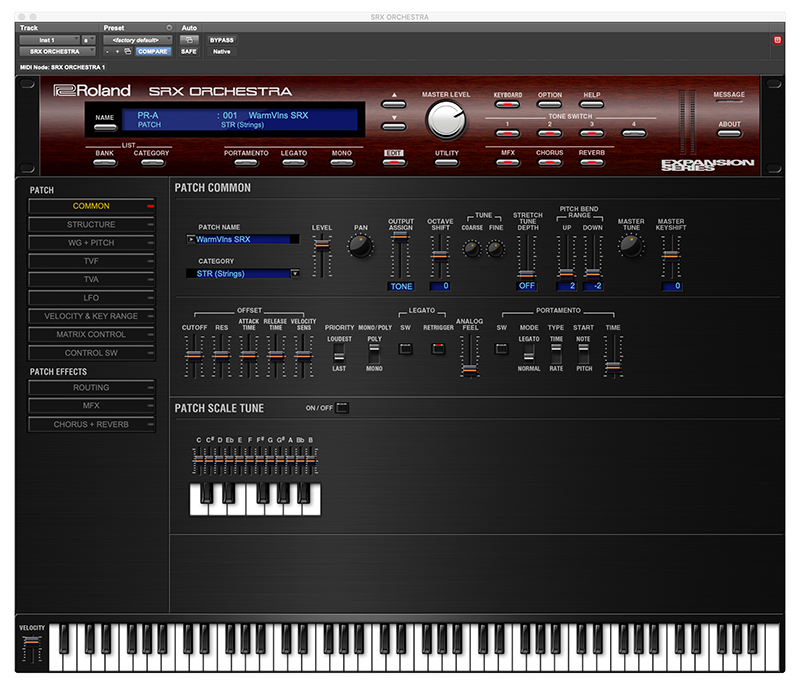 Roland terms the technology used to emulate the classic synths "ACB" (analog circuit behavior) as the modeling is coded down to the circuit-emulation level.
Aria: this series contains the System-1 and the System-8, which are both recreations of more recent synths that Roland has introduced. If you loved the new System-8 Plug-Out Synthesizer (reviewed here) but were disappointed by the 49-key range, the virtual System-8 sounds (and looks) identical and can be used with the keyboard controller of your choice!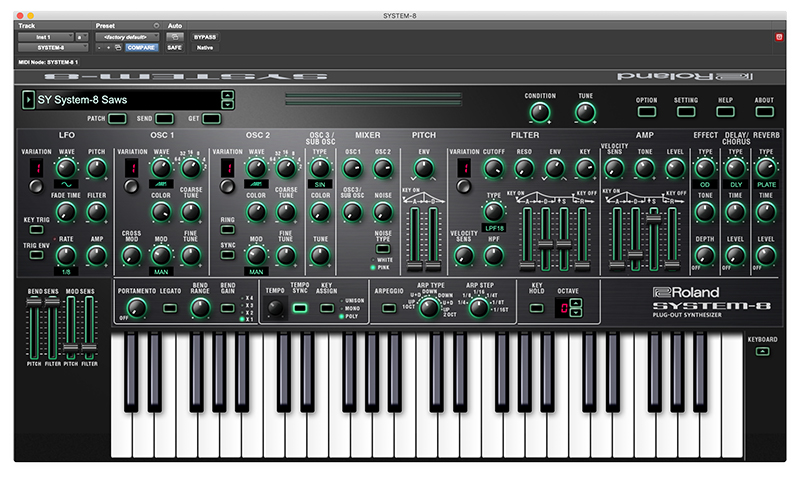 Tera: this series currently contains two libraries that, again, utilize Concerto. These are Vintage Steel (guitar), and Piano. This series is aimed at acoustic instruments.
Within the Roland Cloud Manager (RCM), you can access each of the series for downloads and updates, and one of the newer features is the "News" tab that has various announcements about the software and occasional Artist features.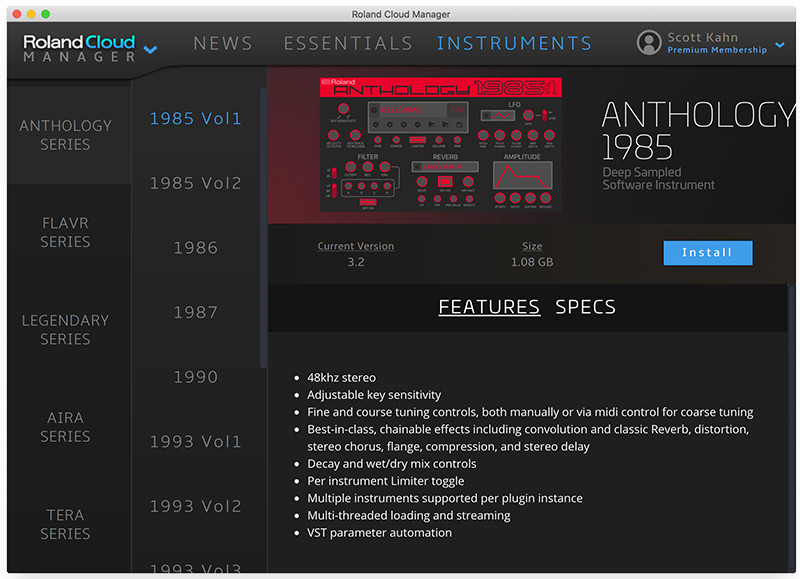 We're happy to report that the Cloud instruments now come in AAX format. At launch, it was AU and VST only (it ran fine within Blue Cat Audio's Patchwork, though) but now runs natively.
While the Aria and Legendary Series are full emulations, the Tera, Anthology, and Flavr Series are sample libraries that load into Concerto, similar to how libraries load into the Kontakt player. Concerto outputs to stereo, 4- and 8-track, contains AHDSR amplitude envelope control, is 16-part multitimbral (meaning one instance of Concerto can house multiple instruments), contains a multimode resonant filter, an LFO for modulation, and effects such as compressor, limiter, and reverb. The idea was to make it simple to use, and new features seem to be slowly added with each new Roland release.
While Concerto is only around a 200 MB download, some of the libraries will need several GB of space, so if you want to load it all, make sure you have plenty of free drive space! Fortunately, Roland Cloud Manager allows you to specify a custom install location for the Concerto sample libraries. The actual plug-ins must install on your boot volume, which shouldn't pose any issues for users. The Legendary series takes up much less space as those instruments do not rely upon sample libraries.
Usability
Getting started required a series of simple steps, beginning with creating a Roland Cloud account online. Roland uses a subscription model for their software exclusively, but a 30-day free trial is offered for you to check it out in its entirety. Registering and then downloading the Roland Cloud Manager and Concerto software was straightforward.
Once RCM was installed and we signed into our account, we could download as many instruments as we desired with single-click simplicity. Unfortunately, none of the instruments run standalone. They all must be run as VST/AU/AAX plug-ins within a host. We have been running the AAX plug-ins within Pro Tools 2018 and the AU plug-ins within Apple MainStage with great success.
The Anthology, Flavr, and Tera Series all run via Concerto, so the controls are nearly the same across all three series. A typical example is below: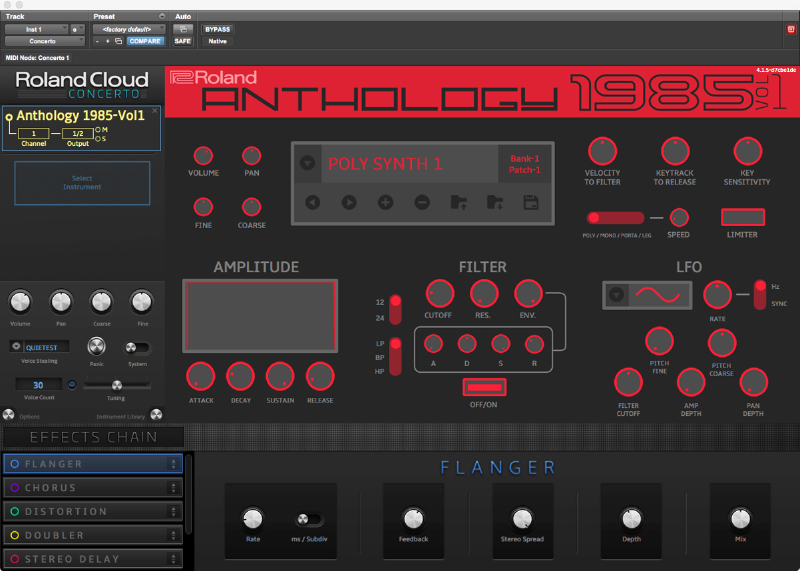 This is essentially the same set of controls you will see when running Concerto: patch name in center, effects on the bottom, and the amplitude, filter, and LFO controls in the middle; library selection is from the box on the left, which will then show your available libraries. Concerto does not provide in-depth editing like you might find in advanced sample hosts such as Falcon or Kontakt, but that's not the point here. Rather, it is for quick access to a family of sounds that's easy to edit with basic controls.
We were skeptical about these collections at first, but given how easy they were to load and navigate, we see, for example, how a producer looking for a particular sound quickly might come to these without having to go through gigabytes of patches.
Using Concerto was very easy and straightforward, as previously described. Sounds here were more genre oriented though, and not synth-specific.
For us—and, we suspect for most users—the main excitement is over the Legendary series as well as the Aria series, and we have to say, Wow! Finally, Roland has emulated their own classic synths, as well as virtualizing some of their powerful new models, and these products easily justify the price of admission. This reviewer's first synth purchase in January 1986 was a Juno-106, and to finally have it done justice virtually is fantastic! But we will get to that in more detail shortly.
Besides the look and sound of the originals, you now have the benefit of a computer, which means instead of 1980's two-line LCD displays and scrolling through pages of menus, you now have multiple (if you wish) screens of sliders and graphics to draw parameters on. One obvious example of this is seen in the new JX-3P plug-in.
Considered a "great but less known" synth in most circles, it was infamous for having just a few membrane buttons and limited controls, in stark contrast to the hands-on Juno-106. To program it, an additional hardware controller needed to be purchased (a common thing for numerous synths at the time). Roland has even re-created the PG-200 programmer to edit sounds! Even more exciting, the legendary D-50 includes a virtual PG-1000 programmer, as seen here: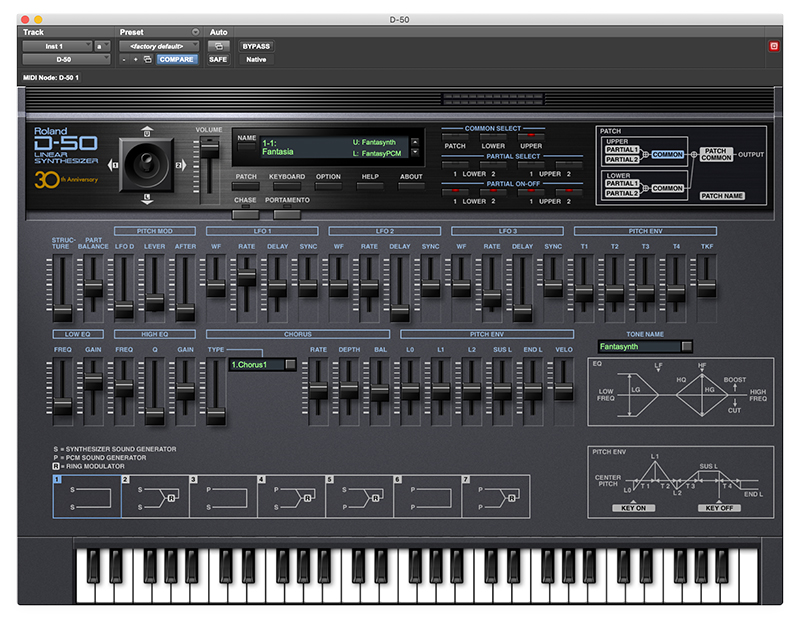 One other nice thing we noticed was that in many cases, Roland chose to give each plug-in features not present in the original. For example, the hardware Juno-106 was just six voices, had no arpeggiator, and only had chorus as an effect (which was a big part of the Juno's sound). In the software version, you get up to eight voices, more effects, and an arpeggiator! And interestingly, the hardware Juno was not velocity sensitive, whereas the software version allows you to choose the sensitivity, which adds a new layer of dynamics to your performance.
Similarly, the hardware JV-1080 had 448 waveforms, and the subsequent JV-2080, XV-3080 and XV-5080 all added more features, effects, and waveforms. The software JV-1080 version actually contains more waveforms than the hardware, and seems to contain many of the waveforms and feature of the later hardware iterations. Not to nitpic, but in this regard, it seems the JV-1080 name is almost inaccurate, and may lead some players to erroneously think "Well, it's not as cool as my XP-5080." Really, it's at least as cool, if not even more so.
Sadly, SYSEX from most of the classic hardware can't be transmitted to the software, but the Roland D-50 plug-in does in fact support the loading/saving of patches in this manner. We also noticed that, in some instances, even though the same sounds were present, they weren't necessarily in the same order as found in their hardware counterparts. Not a big deal, but for those who have used hardware for nearly 30 years, it may initially surprise you. Hopefully, there will be increased SYSEX compatibility for some of the other virtual instruments. Meanwhile, we can hunt down a cassette player to load some of those classic Juno patch collections!
While each virtual recreation looks (and sounds) like the original with rather attractive GUIs, the windows themselves, by default, are a bit on the small size. This results in not only hard-to-read labels at times, but also difficulty to adjust the controls, particularly in GUI layouts that have a lot of sliders and knobs. While not obvious at first glance, the instruments can be resized. Each synth somewhere on the panel has an Option button, and clicking this button, among other things, brings up a setting for how much you want to zoom the GUI, up to 200 percent. However, the ability to scale and the amount of scaling possible varies based on variable such as your DAW host, plug-in format (AU vs. VST, etc.), and display size/type. We never ran into a plug-in that couldn't display at a useful size, though the amount of scaling did vary from one plug-in to another on our various test platforms (desktops and laptops).
Aside from our grumblings about subscription licensing (more on that in the Price section), Roland Clound Manager requires an Internet connection in order to validate your subscription once every seven days. While this is an improvement over the initial release that seemed to prompt us every other day, it may be problematic for players on tour or who otherwise may not have Internet access available to the mobile computer/laptop in their keyboard rig. Worse, if something happens and you miss an automatic payment (like the credit card on file expires and you forgot to update the info), the software stops working. So, just be sure you've got periodic access to the Internet and you keep your billing info current.
Sound
This is the reason you get Roland Cloud! Again, the Concerto-based instruments are nice, and even useful, but really, it's all about the Legendary and Aria series stuff. Our studios contain the following real Roland hardware: Juno-106, D-550 (rack version of the D-50), XV-3080, XV-5080 (as well as other Roland synths not yet modeled). And, we just this past year reviewed the System-8 synth. We can say with confidence that the sound of the virtualized synths are pretty incredible. There's no question that each recreation sounds like the original, and in some instances, better, thanks to modern A/D converters in our audio interfaces compared with the older converters in digital synths like the classic D-50.
Using our hardware Juno-106, we A/B'd it with the Cloud version. We started with a patch on the virtual Juno-106 that was close to a hardware patch we'd been using since 1986. After tweaking to taste, adjusting the velocity, portamento, ADSR envelope, and chorus settings, the patches were nearly identical. The real Juno-106 still had a tiny bit more bass punch on this particular patch, but if you didn't have them side by side in a studio, it would be impossible to really tell which was which.
Moving to the JV-1080 compared to our real XV-3080, we found our favorite patches (yes, even "Raggatronic" is there!), and they sound great on the virtualized version. Of note, a patch here and there sounded slightly faster (including "Raggatronic") than the original, but we think this may be because of the higher sampling rate of our Pro Tools session (i.e. 48khz) instead of 44.1. Still, most of those sounds from the JV/XV series were recreated pretty faithfully.
Then… there's the D-50. Roland did a great job on this one, too. Remember "Fantasia" and "Digital Native Dance?" They're here, sounding as magical as the first time you experienced them. We actually found ourselves using this plug-in quite a bit alongside our real D-550 just to have more instances of D-50 sound within our performance rig.
There's not enough space to go through all the instruments, but rest assured, the Jupiter-8, 808, 909, SH-synths, JX-3P, and Aria Series all sound great, and each provides a few extra features the originals didn't have (but mostly these are "options" for your sound design, as the classic factory presets limit their sounds to the classic settings).
The System-8 is also identical the current keyboard product, and in fact, if you've been considering purchasing that synth, a free trial of RCM will enable you to experience the System-8 without taking a trip to your local music store.
OK, Roland. We're smitten and hooked. Now give us a virtual V-Synth!
Documentation and Product Support
Well…this depends on how you look at things. While things for getting up and running are pretty straightforward, you'll want the manuals for the virtual synths, especially if you're going to get into some programming. All of them are downloadable if you'd like to check them out, and you'll find them automatically installed with the plug-ins you choose to download—just click the Help button within each plug-in to find the documentation.
The manuals themselves are helpful, with illustrations, but it would have been cool if each manual contained historical information on each synth, too, and maybe some tips on programming sounds as well.
Price
The monthly subscription pricing is $19.95 USD monthly or you can obtain a 10% discount by prepaying $215.40 for the year (and it's on sale for $199 for the holidays). For each year of licensing that you pay for, you'll receive a no-cost perpetual subscription for two of your favorite soft-synths.
We don't love subscription models in general, but for all you get here, both in quality and quantity, and with the rent-to-own twist, this is a reasonable price. And, we appreciate that Roland is constantly updating, refining, and expanding the collection.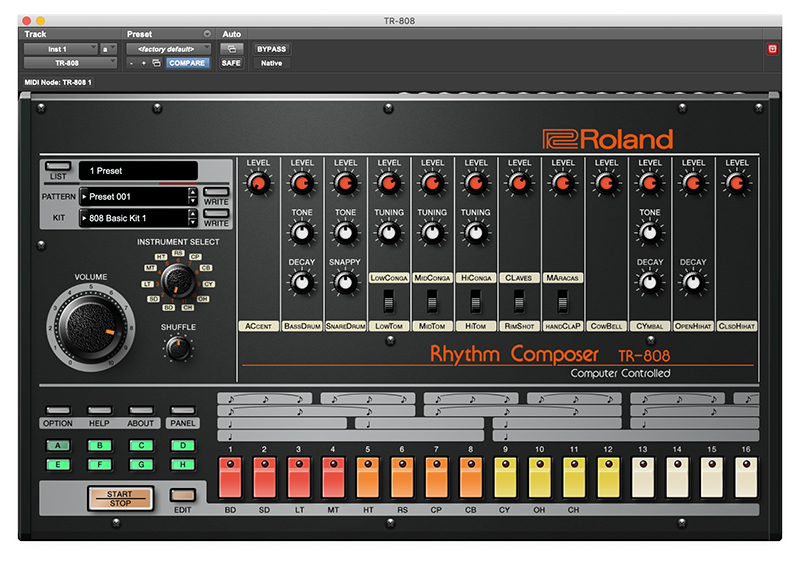 Contact Information
Roland
www.Rolandcloud.com