When it comes to traditional guitar amplification, guitarists have often struggled with practicality vs. ego and form vs. function.

The 100-Watt, 4x12, tube-driven, half stack certainly has its place—that place being just a bit larger than the small bars in which you commonly find players wielding these arena-ready rigs.
The combo amp has been around from the start, and today offers just as many features as larger, fire-breathing heads if desired. Combos are typically more compact and manageable than what many of us would like to think we need, but small stages deserve small amps. Just how small of an amp can we get away with, though, and still experience a worthy guitar tone?
Mezzabarba Custom Amplification was kind enough to send us another scorcher, the Skill 30. This two-channel, 1x12 combo is a perfect answer to the question above. Mezzabarba, hot on the heels of the mighty Mzero Overdrive previously reviewed, set out to deliver the same feature set in a lower wattage combo. How does the diminutive Skill 30 combo "stack up" to the half stack? Far be it for us to leave our readership in suspense, but, well, yes. We'll leave you in suspense for a bit.
Category

Value

Rating

Features

20%

Usability

25%

Sound

25%

Documentation & Support

10%

Price

20%

OVERALL RATING = 3.6 Stars


3.6 stars or better: Outstanding, WIHO Award




3 stars or better: Worth considering




2 stars or better: Suited to specific needs




1 star or less: Not recommended
Features
The Mezzabarba Skill 30 combo is a two-channel, dual master volume, 1x12 guitar amplifier with a shared EQ and tone-shaping section. We were so anxious to get our hands on this amp that we chased down the UPS guy and met him along his daily route. We were floored by the packaging, as our amp came delivered in a wooden crate! Easily the coolest packaging we had seen since those actual Crate amps from when we were kids.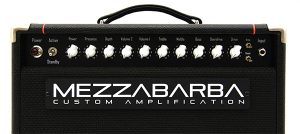 With only a few hours to explore the amp before running out to our first live sound test (yes, we live dangerously by taking unproven, untested gear to play in front of people), we were impressed by the control knob array. Presence and Depth controls help shape the overall tone of the amp, while the traditional Treble, Middle, and Bass knobs provide for typical tone shaping. The Power knob (attenuator) scales the amp back, which allowed us to play with a fully saturated amp at lower volumes. Channel-independent Drive and Volume knobs allowed for volume matching and dialing in just the right amount of gain. There is a Brite (sic) toggle switch that (when engaged) affects the high mids of Channel One. The Boost switch takes away pristine cleans and brings Channel One firmly into high-gain territory. This switch is an excellent feature because the needs of players change with time. We have come to learn, often painfully to the wallet: versatility is never a bad thing.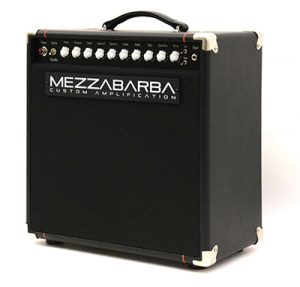 The aesthetic of the amp is genuinely dead sexy, decked out in all black Tolex with two red pinstripes on the top and running front to back. A Celestion 12" Vintage 30 speaker is installed within the enclosure.
The little looks of this combo amp are somewhat deceiving: this amp is heavy, both in tone and weight. At nearly 40 pounds, it's not exactly a backbreaker, but this is about as heavy as we like when dealing with combos. Considering the premium Masotti, custom-made transformers and V30 speaker, the amp isn't going to round out lightly.
Two EL-34 power tubes are rated at 30W, but functionally it produces from 25W to 40W governed by a power limiter (the amp has the current of a 100W amp and the output transformer of a 50W amp, so consider the 30W rating "conservative"). There are five 12AX7 preamp tubes, one of which buffers the amp's serial effects loop.
Moving on, a standard IEC power cable and a two-button footswitch are included, using a removable MIDI cable which interfaces with the amp for channel switching. The amp is not MIDI controllable, but it uses the commonly available MIDI DIN-5 connector to silently switch channels and bring the effects loop in and out of the circuit. We love (included) footswitches with removable, easily replaceable cables! We could fill half of a landfill with footswitches that came with fixed cables that no longer work.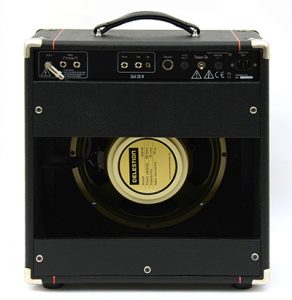 The Skill 30 combo allows for extension cabs to be introduced in typical 1x16 ohm, 2x8 ohm, or 2x4ohm loads. The manufacturer does not recommend ohm mismatches, so we were sure to match loads accordingly. Two fuses round out the rear of the amp, which are easily accessible in the rare event of a problem.
The shell of the amp is made of Baltic birch ply, with ¼" finger joint construction. This is quite a solid, well-made combo that will prove gig worthy for years to come. A rather comfortable, thick leather handle and four metal corners are nice touches as well.
Usability
Right from the unboxing, we were able to get to play a few quick riffs in no time. We volume matched the two channels, dialed in a reasonable (which might had been unreasonable but who's watching?) amount of gain and peppered the EQ knobs to taste. We have been playing EL-34 amps for years, so anyone with even a little experience should have no problem getting the amp to sound as the manufacturer intended. The Mezzabarba Skill 30 is not an amp that easily produces unpleasing tones. Some amps can be made to sound tonally horrible, but this amp was not one of them. Tolerances and choices made in manufacture and design assure the end user can't hurt the sound too much. In other words, it's hard to dial in too much or not enough of something on this amp. Most settings, throughout the sweeps of each knob, were at least usable, and mostly great.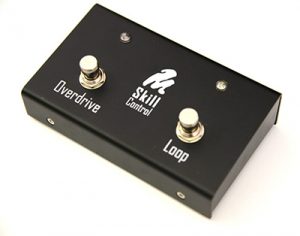 The two-button footswitch functioned silently and as advertised: there were no clicks or pops. In a metal housing and with rubber feet that kept it from sliding across the stage, the footswitch proved gig-worthy.
Our test amp's effects loop is a simple series design. We had various setups with this amp during sound testing, and the loop performed well. Switching the loop in and out of the circuit yields no change in tone. None. Zero. The loop is utterly transparent. We did comically knock our Wampler Ethereal pedal off the top of the amp accidentally, and then wondered why we had no sound after one of the cables became slightly unplugged. We know, first world problems, huh?
We would have loved to see some attenuation for the loop, though, as there are no level controls. Fortunately, this loop was at instrument level, so we had no issues with our current live setup. We do have line-level loops in some amps that are just too hot to use with some of our more finicky effects without purchasing adapters for line-to-instrument level matching.
Sound
Our first sound test was a real trial by fire. After hastily firing up the amp to assure it worked, we tossed it in the back of our SUV en route to Mickey Spillane's pub in Eastchester, New York. We were off to a Knaggs Guitars test drive event hosted by Eastchester Music Center and featuring renowned guitarist Larry Mitchell. We were graciously invited to sit in for a song, so what better chance to test drive the new amp (which we've never played) than in front of a well-respected, Grammy Award-winning guitarist. No pressure, right? We set the amp up when we arrived, flanked by a pair of Mitchell's Fractal AX8 amp modelers. We used our Wampler Ethereal for just a hint of delay and reverb in the loop.
Upon setting the amp up, prospective guitar buyers were allowed to play through it and upon hearing the tone, we were confident that we would sound just fine. The sound was truly inspiring. The clean channel was set for breakup with the boost engaged and had a nice edge to it with a satisfying amount of overtones around the notes.
The Overdrive channel was an end gamer. Much like the Skill 30's big brother, the Mzero Overdrive, the Overdrive channel delivered warm and rounded overdriven saturation that filled a room and just never left. We can't rave enough about this sound test. When it was our turn to perform with Larry towards the end of the night, we felt as if we have been playing this amp for years already and can't believe it was only hours old in our hands.
Much like the Mzero Overdrive, the Skill 30 retains that devastatingly raw and brutal low end. The 1x12 enclosure of the combo does not hold this fact back in the least. We found that the Skill 30 tone cleans up better with the guitar volume knob than the 100w Mzero Overdrive, offering a more extensive range of useful tones. While rolling the guitar back, the sound of the Skill 30 retains the higher frequencies of the guitar better. The Mzero Overdrive does a good job of this too, but the Skill 30 does a great job.
Our next sound test was in a medium sized bar/club. This time, we connected our Friedman 4x12 cab loaded with both Greenbacks and V30s and disconnected the combo's single V30. We did need to tweak a few levels and presets on our TC Electronics G-System, but with a new effects loop/amp, this was to be expected. After a few twists and turns, we were up and ready to rock. We typically like to goose the front end of our amps with a little magic like a compressor or some light overdrive for leads. We did this on the Mzero clean channel (we used a Wampler Tumnus deluxe) and felt the sound was well-complimented by the pedal. For leads, we used absolutely nothing on the Overdrive channel. We loved that sound for leads so much we let it fly, with just some delay or whatever else we wanted in the loop to spice it up a little. The tone was perfect for our leads right out of the box.
Our third and final sound test was at a recording session at Powerhouse NY Studio in the Bronx, New York. We were called to track electric guitars for a pop-contemporary ballad, so we took, of course, the highest gain amp we have in the stable. The engineer asked, "Where's all your stuff?" knowing us to bring everything including the kitchen sink to sessions in the past. This time we traveled light—and we're glad we did. Setting the Mzero clean channel with the Boost switch off, low drive settings and a healthy amount of presence, we found the amp to have an immaculately clean sound—not quite as round and warm as say a Princeton, but glassy and appropriate for the pristine cleans we were after. Our syncopated funk lines stabbed out in the mix, even before any mix existed. The sound sat extraordinarily well in the song.
When it was time for dirty guitars on the song, instead of staying on the first channel and using the Boost feature, we dialed back the Overdrive channel to a gain of about Two on the dial. We heard notes that were almost lifelike in quality, which sustained wonderfully, even on the next-to-zero gain setting. The client who was present for the session proclaimed, "Bless your hands" and "My god, it sounds like the guitar is weeping." We think he liked the amp! So did we, and we certainly like making our paying clients happy, be they bar owners or songwriters. Our Mezzabarba Skill 30 delivered the goods time-and-time again, and we are pleased to add it permanently to our collection of premium amps.
Documentation and Product Support
The Skill 30 Combo comes with a well-written, printed product manual. We found no online manual, although they do have a comprehensive, well laid out website detailing the product line. Headquartered in Italy, they also have a California-based distributor named Overdrive Distribution.
A generous, limited lifetime warranty is issued to all original purchasers. You keep living, and they keep fixing, so long as you or your unauthorized repairman didn't break it. Of course, you are responsible for transformers, tubes, and fuses.
Price
The Mezzabarba Custom Amplification Skill 30 Combo sells for $2,499.00. We have seen many low-wattage combo amps priced in this range over the last few years. Given the hand-wired construction with premium, custom components, Pierangelo Mezzabarba's expertise, and his undying quest for tone coupled with the demonstrated versatility of this amp, we feel it's a fair value and should be close to the top of the short list for any serious guitar player looking for massive sound in a small package.
Contact Information
Mezzabarba Custom Amplification
www.mezzabarba.com
Evaluation Short List:
Bogner Telos 1x12
Orange Rockerverb 50 MKIII
Friedman Runt 50 Combo
Marshall JVM215C