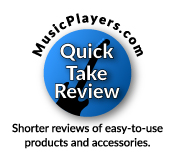 CME is, frankly, doing some great things with wireless Bluetooth MIDI. A year ago, we reviewed CME's Pro aptly named WIDI (see review here) that worked so well it was a game changer in our studio. Now, in 2023, we have received the WIDi Thru6 BT, another product in CME Pro's ever-expanding line of interfaces.

This little box allow you to combine wired and wireless MIDI in a 2-in-6-out MIDI thru/split configuration. It's configured as a 1x 5-pin MIDI Input, 5x 5-pin MIDI through, and a BLE port. Like CME's other interfaces, Bluetooth 5 technology is used, and apparently a 32 bit processor is used to ensure minimal latency and no jitter. CME's specs state performance range is maximized to 65ft/20m without obstacles, and latency is reduced to an only 3ms as measured between two WIDI devices. Not bad for a device that weighs less than 3.5 ounces!
Below is an example of one way (of many!) the WIDI Thru6 BT can be used: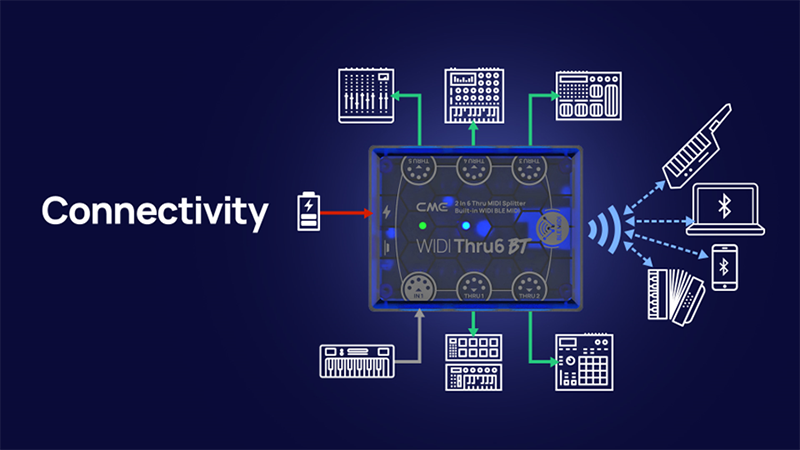 Category

Value

Rating

Features

35%

Usability

35%

Sound

na

na

Documentation & Support

10%

Price

20%

OVERALL RATING = 3.7 Stars, which earns it a
WIHO Award!


3.6 stars or better: Outstanding, WIHO Award




3 stars or better: Worth considering




2 stars or better: Suited to specific needs




1 star or less: Not recommended
Before setting up, a few things to keep in mind.  We only received the WIDI Thru6 BT by itself—which for us was fine because we have Bluetooth on our computers, and other CME Bluetooth WIDI products to use in our studio. Obviously, if you don't have something to pair the WIDI Bluetooth to, you will be limited to wired MIDI.
Additionally, make sure to update the firmware to the latest version. In our previous WIDI review a year ago, we didn't initially do that, and since CME is continually making improvements, we found that performance was much better with the latest firmware. So do this first! We did it easily via the WIDI app on our iPhone, which is a free download. As before, it is compatible with iOS, macOS, standard MIDI controllers, as well as Android and Windows.
Of note, the software enables you to assign MIDI groups, which gives you flexibility of how you can route MIDI. The Bluetooth port is directional. It transmits BLE MIDI Thru (which we used as an Out) and In.  Power (as shown by the battery symbol above) is provided by a USB-C socket, using a standard 5V USB bus. We used Apple's ubiquitous white USB plug (CME provides that USB cable), and it worked just fine. Power is shown via a green LED while Bluetooth connectivity is shown by a blue LED. This LED will flash when updating the firmware.
Once all the above was sorted out, we tried out our connection. We connected a Dave Smith/Sequential Prophet 12 to the MIDI In port of the WIDI Thru6 BT and paired our Macbook Pro's Bluetooth to the WIDI device. Once paired, we launched some keyboard plug-ins, and just as our CME devices a year ago had, it worked great with this wireless connection to the laptop! There was no latency or issues. Even putting the laptop on the other side of the studio from our controller, all was well.
One thing to mention, however: while the CME devices will work with Bluetooth 4, they clearly work better with BLE 5. We did try out a laptop that had BLE 4, and while it worked well, at about 20 feet away we noticed an occasional dropped note. Of course, every environment is different, and may or may not have interference, so your mileage can certainly vary. But for best performance, we do recommend BLE 5 if possible.
At $69.99 (as sold on CME's website), we think this a reasonable price for what you are getting: a very versatile MIDI splitter that incorporates BLE MIDI connectivity in an easy, reliable way. WIDI can handle just about anything you throw at it, essentially all messages in the MIDI standard, including notes, controllers, clock, sysex, timecode, and MPE. We have been very happy with our CME WIDI devices in the studio, and suspect you will be too!
CME Pro
https://www.cme-pro.com