Available now: groundbreaking car sound effects library curated from award-winning sound editors' private collection
Brooklyn, NY (September 25, 2018): Pro Sound Effects®, the next level sound effects library company, today released The Odyssey Collection: Vehicles – the newest exclusive library from their partnership with Academy Award®-winning sound editors, Mark Mangini and Richard L. Anderson. With more than 12,000 audio files recorded while creating the sound for hundreds of Hollywood feature films, Odyssey Vehicles (OV) presents a new approach to sound library curation combining the comprehensive offering of a general library with the pinpoint focus of a specialty library.
OV features over 250 different vehicles from sports cars and luxury SUVs to street bikes and military trucks. To help cover a sound artist's needs for any scene, the collection includes over 180 vehicle workups: a thorough series of recordings from various perspectives of every action the vehicle performs – both interior, exterior, and at different speeds including pass-bys, engine rumble, mechanical sounds, car Foley, and more.
"This library has been an essential tool for me my entire life, and this idea of workups and vehicle recordings is a big part of its philosophy," says Mark Mangini (Blade Runner 2049, Mad Max: Fury Road). "It makes getting the job done that much more elegant, professional, and high fidelity."
OV KEY FEATURES:
12,259 broadcast .wav files (147GB)
More than 250 different vehicles
More than 125 vehicle workups
More than 550 multi-track recordings with a variety of mic placements
27 Categories: Engines, mechanical, doors, and more from modern and classic vehicles
Rich Metadata: Optimized for fast, pinpoint search
Online Access: 24/7 from any computer
Search Software: Drag-and-drop to your DAW
100% Royalty-Free license for use in any project
Delivery Options: Download or 1TB Hard Drive
Flexible Access: On hard drive, online, or on your server
Buyout and Annual Payment Options
PRICING AND AVAILABILITY:
Full Library – 1-User Perpetual License: Starting at $1,195
Basic Version – 1-User Perpetual License: $199
Multi-User Annual License: Starting at $595 per year
Learn more and get a quote at prosoundeffects.com/odyssey-vehicles
View Odyssey Vehicles Full Features, Videos, Audio Demos & Reviews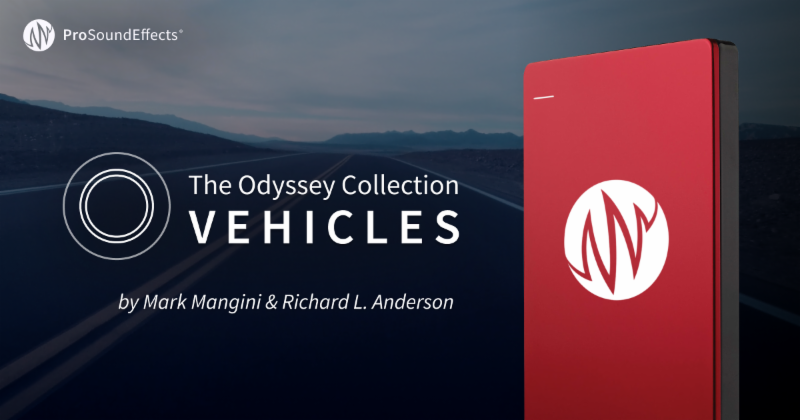 ABOUT PRO SOUND EFFECTS®:
Pro Sound Effects® develops highly curated sound effects libraries for sound artists, editors, designers, audio engineers, media companies, schools and nonprofits. Award-winning creators and companies in film and television, video games, virtual reality, and advertising rely on PSE libraries every day to fuel creativity, finish projects faster, and deliver their best sound always. Based in Brooklyn since 2004, PSE continues to push the industry forward with their comprehensive General Libraries, storied Specialty Libraries, progressive Freelancer Program, flexible multi-user licensing, and client-driven library development.