Ampeg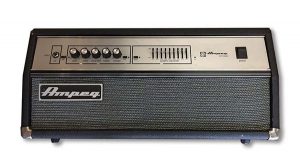 50 years is a LONG time for any musical product to remain in production, much less relevant. Ampeg is celebrating a well deserved 50th anniversary of the SVT line with a special Anniversary Edition SVT Amplifier. Splitting the two channels across their best, historic tones, the first channel faithfully recreates the amp that started it all, the 1969 SVT. The second channel sounds closer to the '70s SVT amp. Coming in at a staggering 300 tube-driven watts, we are convinced Ampeg will be celebrating many more milestones with the SVT line.
Quite comically, outside of the Ampeg room in the Marriot was a gigantic, eleven foot tall SVT bass rig! We are fairly certain this amp had enough SPL to launch a player all the way back to the convention center in the adjacent building. And yes, Harry Shearer (oops, we mean Derek Smalls, of course) was on hand to demonstrate the amp.
—BS
---
EBS
No more excuses for wanting some fantastic EBS tone in your bass rig. EBS just introduced the EBS MicroBass 3 dual-channel bass preamp pedal. It boasts plenty of headroom at +/-15V, and you can run its Clean and Drive channels in series or parallel. There are dual XLR outputs, a stereo effects loop, on-board tuner and compressor, headphone output, and more. It's easily one of the nicest bass preamp pedals we've seen.
—SK
---
Eich Amplification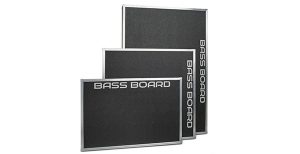 The Eich Amplification Bassboard is a fascinating new product, enabling bassists using in-ear monitoring to really feel their bass while performing. With a speaker out from the bass amp, the bassist physically stands on a subwoofer platform which sends sub bass frequencies to the bassists feet, allowing the player to feel his/her bass, even if you can't hear it well because of IEMs or a horrible stage monitor mix. We tried it for ourselves and it really adds a great dynamic between the instrument and the player. Caution: do not stand on this board with loose fillings!
—BS
---
Ibanez
Ibanez always has a ton of great instruments on display, but what immediately caught our eyes was a spectacular instrument that breaks from classic Ibanez styling. Ibanez reintroduced the Affirma series of instruments, featuring the spectacular Affirma AFR5FMP Bass, which is already in our studio for review!



This series was originally introduced in the early '90s, designed by Swiss luthier, Rolf Spuler. The streamlined and sculped body is luxuriously light in weight, with a maple body (walnut top), Bartolini X55JX pickup, and AeroSilk MR5 bridge with Piezo acoustic elements that are blended with the magnetic output to your liking. And oh yes, do we like this!


For the more dextrous among you, we found ourselves drawn to the Adam Nitti ANB306 six-string bass. Weighing roughly double the Affirma bass, this monster bass features an ash body with neck-thru construction (maple neck with purpleheart fretboard), classic Bartolini xxM56 B and T pickups with a Nitti-customized Bartolini NTMB+F three-band EQ, Hipshot A-style bridge, and Hipshot tuners. We've got this one in the studio for review as well, so stay tuned!
—SK
---
Trace Elliot
Has miniaturization gotten too extreme? If you blinked, you might have missed the bright green Trace Elliot Elf, because this fully functional bass amp fits in the palm of your hand and quite possibly the pocket of your cargo pants. Despite the ultra-compact size, the all metal enclosure felt quite rugged, with good resistance to the simple control interface: gain, bass, mid, treble, and volume.
Full featured it's not, but you do get a post-EQ, balanced, XLR DI output for stage and studio use. And if you want to throw a 1.6 pounds, 200W/4 ohms, 130W/8 ohms amp into your gig bag, you'll never show up at a venue unable to play through their backline cabinet. Alternately, stick this compact unit on your night table, plug in some headphones, and you've got a remarkably compact practice unit. This and a headless bass are all you need for easy travel and touring. Hotel room rehearsals are finally within your grasp!
—SK
---
Phil Jones Bass
The BP-800 is a new, compact bass amp head from the kings of micro-sized bass rigs. Beyond the gorgeous, blue, milled aluminum faceplate, you'll find 800w at 4ohms of power in a slick, rectangular brick that weighs just 5.7 pounds. A toggle adjusts input gain for active or passive basses, there's a balanced line out with pre/post EQ control, effects loop, headphone jack and more. Besides the small form factor, it even carries a small price tag—just $799 street! Look for an in-depth review soon.
—SK
---
Spector
Spector expanded their Euro and Performer bass lines in 2019 to include both 4- and 5-string models with a host of different configurations. For the Euro series, alder and walnut are tonewoods used for the bodies while maple necks with exotic wood fingerboards make up the rest of the instruments. Custom made pickups from Bartolini, Dimarzio, EMG and Aguilar are options throughout the product line.
—BS


---
Tech 21
The new SansAmp YYZ pedal will be closer to most bassists hearts than the WIHO-award winning GED-2112 signature preamp (reviewed here) as this compact unit distills Geddy Lee's optimized SansAmp tone down to a pedal that can serve as the front end to your direct recording or the front end of your live sound right into a PA system or a bass amp. And unlike the studio and touring rig-worthy GED-2112, the pedal won't cost you big money. It is a grand design, indeed.
—SK