Category

Value

Rating

Features

20%

Usability

25%

Sound

25%

Documentation & Support

10%

Price

20%

OVERALL RATING = 3.7 Stars,
which earns it a WIHO Award!


3.6 stars or better: Outstanding, WIHO Award




3 stars or better: Worth considering




2 stars or better: Suited to specific needs




1 star or less: Not recommended
The PRS Hollowbody Piezo is one of PRS' premium guitars, but that top-of-the-range instrument requires a chunk of change to afford. So, when PRS announced an SE version, we suspected that it would become one of the most popular guitars in the lineup, and after playing this guitar, we have no doubt that you'll be seeing a lot of these beauties in the hands of PRS players. We are giant fans of Piezo-equipped electrics, and the PRS SE Hollowbody II Piezo equipped with the 58/15 "S" pickups and L.R. Baggs/PRS designed Piezo does not disappoint!
Features
The PRS Hollowbody II Piezo we reviewed was a black gold burst, double cutaway, double humbucker guitar with added Piezo pickups in the stoptail bridge. It features a classic, familiar PRS body shape. This guitar is a true hollowbody albeit with a slim profile, so it's still comfortable for players more accustomed to solid body guitars. It comes with PRS 58/15 "S" pickups, a PRS adjustable stoptail equipped with a new L.R. Baggs/PRS designed Piezo system, and the neck features a PRS wide fat neck profile.
The body of the Hollowbody II Piezo features a five-ply maple top and back with a glossy flamed maple veneer. The middle wood is mahogany with a dark mocha gloss color. The binding all along the body, the F holes, and the neck are also flamed maple and are quite unique and exquisite.

The mahogany neck features PRS' familiar, wide fat profile, with a dark mocha gloss finish. The 25-inch scale ebony fretboard has a bone nut, 22 frets, and a comfortable 10-inch radius. The inlays really stand out in that they are abalone bird inlays without a border and are some of the nicest PRS inlays we have seen. The truss rod cover on the headstock is black and features the word "Piezo" on it.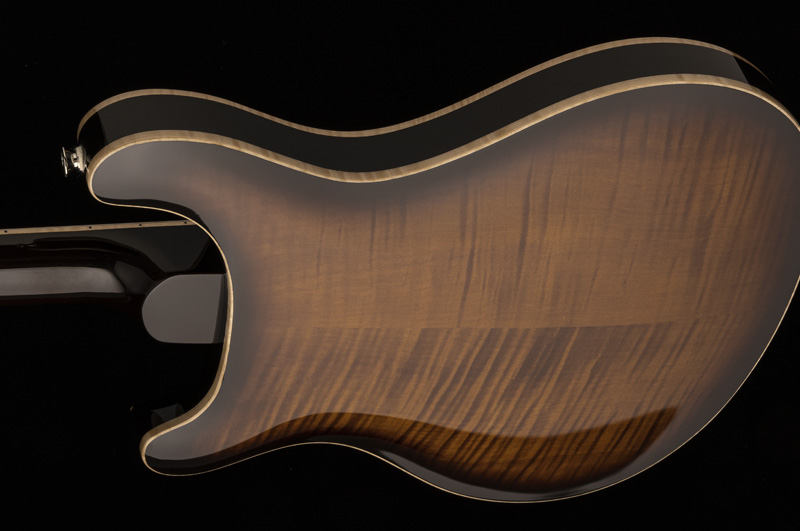 The guitar is equipped with two 58/15 "S" humbucking pickups which have a vintage voicing but modern clarity. 58 is short for 1958, the year the pickup is based on, and 15 represents 2015, the year PRS began producing the pickup. "S" stands for the version of the pick-up. There is one volume control and one tone control for the humbucking pickups and a three-way switch for the three magnetic pickup positions (bridge, bridge/neck, and neck). There is also a volume/blend control for the Piezo pickup. The guitar has two output jacks. One is for the humbucker pickups alone while the other jack provides a blend of magnetic and Piezo output. A blend control knob provides everything from 100% humbucker to 100% piezo and a blend in between. When using the humbucker pickup jack only, the piezo is bypassed completely so sound doesn't cut out even if the Piezo preamp runs out of battery. So, if you aren't going to use the Piezo output (your loss), it is best to be plugged into this jack to not waste battery on the piezo and run the risk of the sound cutting out during a gig.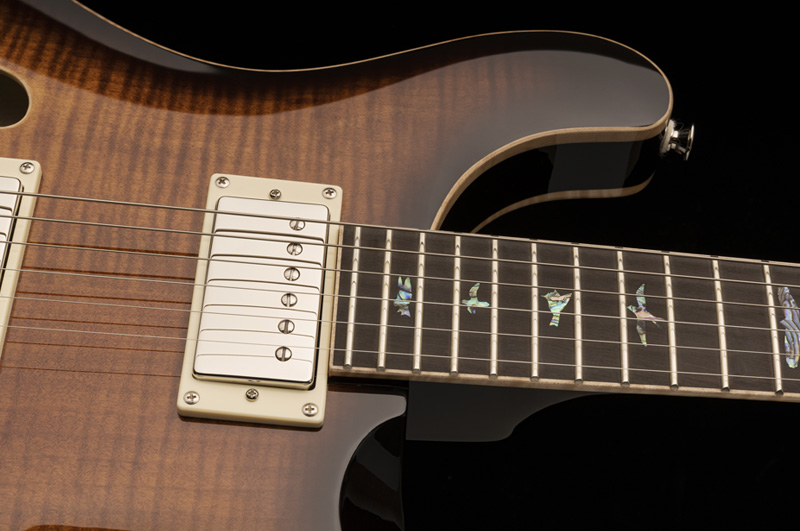 The hardware is nickel and includes the PRS Adjustable, wraparound, Piezo-equipped stoptail, chrome humbucker pickup covers with cream pickup rings, and PRS-designed (non-locking) tuners.
The guitar comes equipped with PRS 10-46 strings and a hard case. It is available in two colors: Black Gold Burst and Peacock Blue Burst. Good luck deciding which finish you prefer as both are knockouts.
Usability
The first thing (besides the resonance of the guitar) we noticed about our SE Hollowbody II Piezo was that it was super light, weighing in at just under six pounds. There is nothing more enjoyable than a lightweight guitar with the tone and sustain that one would typically attribute to a much heavier solid-body guitar. The guitar balanced nicely on our shoulder and was well set up other than some minor intonation adjustments we needed to make. Fret ends were very smooth and well polished. Another plus, the fretboard edges were nicely rolled and felt particularly comfortable. For solid-body players who have shied away from hollow or semi-hollow body guitars because of their heft, this guitar delivers hollow-body tone in a comfortable, familiar feeling body.
As a pure electric, this Chinese-made PRS was on par with the quality of any USA-made PRS guitar (we have many PRS guitars with which to compare). The volume and tone control controls had a nice resistance to each, and the tones were usable throughout the sweep. Often with volume controls you either get a big drop in volume from 10 to 9 or little change until you get down to 2 or 3. Not this one. Volume changes were smooth, gradual, and useful across the entire range. Same with the tone control.
There is no coil splitting/tapping on this guitar but what's cool is that you can blend in some of the Piezo with the humbucker to create a variety of different tones.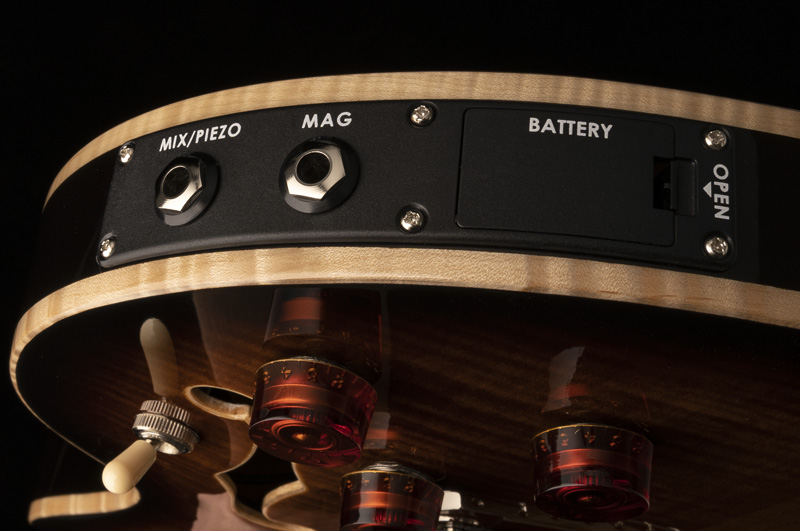 One option is to use only the humbuckers with no access to the Piezo sounds. This is accomplished by plugging a single guitar cable into the Mag (as in, magnetic pickups) jack. Your next option is to plug a single cable into the Mix jack to use the Piezo and humbucker through one amp and blend the tones (or pan to full Piezo or full magnetic).
The third option, however, is where the magic really happens. You run two cables from the guitar, with the Mag output going to your guitar amp and the Mix jack (now acting as Piezo-only) going to an acoustic amp, D.I. box, or PA system. To take full advantage of the acoustic harmonic spectrum delivered by the Piezo pickups, we recommend running into a good acoustic D.I. (like the L.R. Baggs Para Acoustic D.I.) and then into a PA system. It doesn't sound horrible playing the Piezo through a guitar amp, but it doesn't compare to the rich acoustic sound you'll hear through a dedicated amplification solution separate from your guitar amp (much more on this in the Sound section).
Our only gripe with the guitar—a minor one—is that the Piezo pickup is accessed via a blend knob rather than a pickup selector switch, so if you need to go from acoustic to electric guitar sounds on the fly, you'll need to control that via an external pedal switching solution (for example, a pedal that lets you mute the Piezo output going to a PA system).
Sound
A wise man once told us, once you play an electric guitar with built-in Piezo acoustic output, you will never look back. [Editor's Note: Guilty as charged!] Here is a double humbucker-equipped guitar with an added Piezo pickup. What can't you use this guitar for? Not much! First of all, the resonance and tone of the guitar by itself was stellar and we enjoyed playing it acoustically for the first hour. Don't get us wrong, we really love the Piezo, but these humbuckers sound fantastic! They have a very musical, vintage tone to them but with modern pickup clarity (just like Paul Reed Smith said they have).
Now you can't expect a Piezo to sound exactly like a mic'd acoustic guitar, but in most live settings, nobody listening would know the difference. And the ease of having an acoustic tone and humbucker tone all in one guitar with options to split the sound is hard to pass up for live playing. Let's say you're a one-man band and use looper pedals and need both acoustic and electric tones. Imagine the options at your fingertips with just the flick of a switch (or in this case, blend control) in any live situation. Or, you're playing live with your band and have a song that has acoustic and electric parts but there is only one guitarist. Instead of being disappointed with the electric guitar clean tones that you would rather sound more acoustic, you can now easily get those sounds without requiring access to a secondary acoustic guitar affixed to a stand like players were forced to endure in the '70s and '80s.
When it comes to Piezo acoustic sounds, PRS consistently knocks the acoustic tone quality out of the park, though. You really do get excellent acoustic guitar tones from the SE Hollowbody II Piezo when amplified properly.
With just the humbuckers, the electric guitar tones sounded great through every amp in our collection ranging from Fender-esque boutique models to high-gain British fare. Each of the three pickup positions sounded awesome and were equally inspiring musically, though we would have liked the option to split the coils in the middle position. We didn't experience any feedback problems that are sometimes seen with hollowbody or semi hollowbody guitars, and had no trouble playing through our Blackstar amp with the gain set for modern metal. We also played the guitar at a local neighborhood jam and during our socially distanced driveway jam, everyone commented how good this guitar sounded.
With the tone knob rolled all the way off, we got a very useful, wonky vocal quality, and appreciated that the tone control was usable throughout its sweep, delivering a wide range of adjustment to the tone.
You can't beat the demos by PRS' Bryan Ewald as his playing is so tasteful. But we did want to better demonstrate the sound of a Piezo plugged into a PA system rather than a standard guitar amp. The harmonic richness of the Piezo sound will be more pronounced if you plug into a PA system or acoustic guitar amp, and running through separate amps enables you to blend acoustic and high-gain electric guitar tones in a manner similar to double-tracking guitars in the studio, or playing with a second guitar player on stage.
In the demo video below, MusicPlayers.com Editor in Chief, Scott Kahn, demonstrates the usefulness of Piezo acoustic output. Although he is not using a PRS guitar in the demo, you will get a great overview of the real capabilities:
Documentation and Product Support
The guitar comes with a general PRS set-up manual and warranty card as well as adjustment tools.
All PRS Guitars include a limited lifetime warranty (subject to various limitations of course).
Price
The PRS SE Hollowbody II Piezo sells for $1,549 and includes a hardshell case. Regardless of its manufacturing origin, this is a great PRS guitar at a great price.
Contact Information
PRS Guitars
www.prsguitars.com