Yamaha introduced the mighty MONTAGE synthesizer in 2016, and, like us, most of the music community has been very impressed by it. Combining two independent sound engines, AWM2 (waveform and subtractive synthesis, from the highly regarded MOTIF series) and FM-X (a modern take on Frequency Modulation synthesis, from the classic DX-7 synth), Yamaha put a lot of power under the hood.
Category

Value

Rating

Features

20%

Usability

25%

Sound

25%

Documentation & Support

10%

Price

20%

OVERALL RATING = 3.5 Stars


3.6 stars or better: Outstanding, WIHO Award




3 stars or better: Worth considering




2 stars or better: Suited to specific needs




1 star or less: Not recommended
To control it all, Yamaha introduced a cool new performance feature called Motion Control, which provides an interesting way to control modulations and alterations of sounds in real time via the "Super Knob" or a connected expression pedal. All of this is explained in detail in our full review of the MONTAGE, found here: https://musicplayers.com/2016/08/yamaha-montage-6-synthesizer-ver-1-5/.
Despite all the power and sonic goodness of the MONTAGE, there is a price to pay- literally. The MONTAGE 8, for example, has a street price of $4,000, placing it out of reach for the average keyboard player. Enter the MODX series, (pronounced moe-dee-ex, think "More DX").
It seems harsh to call it a MONTAGE Light, because it's really damn close to its big brother! The MODX retains the full sonic engine of the MONTAGE, and the Motion Control, but comes in at a much lighter weight and a much easier price point. Could this be the Yamaha synth you've been waiting for?

Features
The MODX has the same sound engines as the MONTAGE, and many of the same features, barely scaled down in places, and often times not scaled back at all! While the feature set is discussed in detail in our previous MONTAGE review, a quick list of MODX features includes:
FM-X engine: Eight operators, 88 algorithms, 64 voice polyphony (MONTAGE offers 128 voices)
AWM2 engine: 128 voice polyphony
Sixteen-part multi timbral
User wave memory: 1 GB (MONTAGE has 1.75 GB)
Seamless Sound Transition technology: limited to four voices (MONTAGE has eight)
Four MIDI sliders, four rotary encoders (MONTAGE has eight of both, with LED markers)
Presets: 5.67 GB of wave data
18 Filter types
Mod wheel and pitch bend above the keyboard (MONTAGE has them to the left of the keyboard)
Ability to send ten channels and return four audio channels over USB
A/D input that can process external audio
27 simultaneous effects
Performance recorder allows up to 16 tracks, 130,00 notes (but this is not a workstation)
Eight simultaneous arpeggios with 10,239 preset types
To our pleasant surprise, the same seven-inch touch screen from the MONTAGE is present, as is the "Super Knob" to its left. The right side past the screen, however, is different than the MONTAGE. The MONTAGE has dedicated buttons for category and part selections, but these have been removed on the MODX. We had the MODX-8 sent to us, so this blank top panel space left plenty of room for something to be placed there instead: an iPod, or a desktop synth sound module perhaps?

The back panel of the MODX has multiple connectors: USB to device, USB to host, MIDI IN/OUT, two footswitches, two foot controller inputs, stereo audio out, headphones, and audio (stereo) in. Unfortunately, the external power supply is housed in a wall wart, and uses a barrel-shaped power connector. While not a big deal to some, most pro players prefer internal power supplies and standard IEC power cables for a host of reasons.

Our MODX8 had weighted hammer action, while the 76- and 61-key versions of this synth have semi-weighted, synth-action keyboards. None offer aftertouch, though, which admittedly is a limitation when compared to the MONTAGE. Having said that, the weight, or lack thereof, is pretty amazing on these synths. The weights for the 88, 76, and 61-key MODX are 30, 16, and 14 pounds respectively. To put that in perspective, the Yamaha MONTAGE 8 weights a massive 63 pounds. For players who want to gig with their fully weighted keyboards, this is a significant consideration.
Like the MONTAGE, the MODX comes bundled with Cubase AI recording software. You also get MODX connect, which facilitates transfering data between your computer and the MODX. It also enables the MODX to be used as a plug-in in your DAW, assuming you are using VST- or AU-compatible DAW software. Unfortunately there's no AAX version for Pro Tools, but it might be possible to run the plug-in via Blue Cat Audio's excellent Patchwork software.
The MODX is compatible with nearly everything in the Yamaha family! You can use/load files and libraries from many sources, including the MONTAGE, MOTIF XF/XS, and MOXF libraries. Even better, using Yamaha's FM Converter utility software, you can convert actual DX7 sound libraries to MONTAGE library files that can be loaded into the MODX. Not bad!
Another cool feature retained from the MONTAGE is the envelope follower, which converts audio into a control source for most synth parameters. Yamaha's example is a drum loop driving effects parameters, but even better, we like how the MONTAGE's A/D input allows you to not only use effects to process an outside source, but also to control other synth parameters or sync to an external rhythm or click track.
The MODX also has the ability to serve as a controller keyboard in your rig, not just with its USB MIDI interface, but also controlling your other hardware and sound modules directly via DIN-5 MIDI connectors.
Usability
Since the MODX uses the same sound engines as the MONTAGE (minus half the FM polyphony), it's pretty much the same thing operationally. Live sets, Motion Control, Performances are all navigated the same way. The only main difference is that here there are fewer dedicated buttons on the right, and fewer sliders/knobs on the left. However, the sliders/knobs have a button that toggles between 1-4 and 5-8, which we didn't find any issues with. Further, the touch screen is large and quite responsive, so we found that getting around on this synth wasn't appreciably different from its big brother.
Let's talk about the MODX8's keyboard playability. We thought it felt very similar to the MOXF8, which we had reviewed previously. Indeed, both the MOXF8 and the MODX8 utilize Yamaha's Graded Hammer Standard keyboard, commonly referred to by Yamaha as GHS for short.
Having said that, we really like the feel of this keybed, which felt very expressive playing piano/electromechanical piano parts, yet didn't slow us down on faster synth passages. Sure, you can fly across the synth-action MODX7 and MODX6 keyboards in a more shredworthy manner, but as fully weighted keybeds go, this is one of the faster playing ones. And, the fact that Yamaha can put this quality of a weighted keyboard into a synth package that weighs only 30 pounds is pretty amazing (by comparison, our aging Korg Triton Le 88 weighs 55 pounds!)
Perhaps the only small complaint we would say is that the keys are smooth. Our personal preference in weighted keys is that they have a slight, fine texture to them. Even so, this keyboard feels far more expensive than you would expect, which is also to say, it felt very good in our hands.
Many of us have vintage or even modern rack-mounted MIDI modules, and the ability to control them is something that will matter a great deal to some players. You need the ability to adjust MSB/LSB settings, along with sending external Program Change messages if you want to select sounds from specific banks of sounds in other MIDI devices remotely. Initially, we could not find the MODX's way of handling this—it's not intuitive, but Yamaha helped us out with these instructions:
Set Zone Master On (Utility/Settings/Advanced. Zone Master set to ON.)
Press PERFORMANCE (HOME), and touch a Part in the screen (or press the [PART SELECT MUTE/SOLO] button and select a single Part and press [EDIT].
On the left side of the screen is "Part Settings." Touch that and you will see "Zone Settings." Turn on a Zone and select a transmit channel and it's all there, per Part.
Every Part has its own set up so it's actually rather powerful considering. Every Performance can have its own custom master set up.
We tried this ourselves, and indeed, it was possible and did work. It looks like this: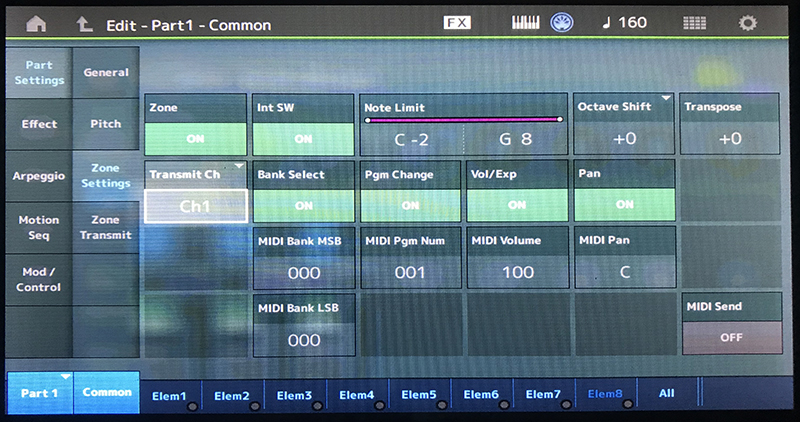 So, while it is great news that this feature is present, it literally took a combination of eleven button presses and screen touches to get to this screen. While we suppose if you do this enough times it might get easier/faster, other companies make it much simpler to build splits and layers containing external sounds that require sending MSB/LSB messages along with the PC messages.
As per Yamaha, a Performance already has the ability to build and layer sounds internally; the reason for Zone Master to exist is for controlling external devices. We now see that, but still wish it was a little more intuitive.
Overall, players used to the MONTAGE or even the MOTIF variants of Yamaha synths should be able to get around reasonably well on the MODX keyboards. However, players used to Korg and/or Roland systems and nomenclature may find Yamaha's OS takes a little bit of time to understand.
Sound
This was clearly is why you bought the MONTAGE, and for a fraction of the price, you get nearly the same great sound in the MODX synths, just minus a little bit of polyphony. The pianos—acoustic, electromechanical—and of course, FM, all sound great. The organs sound great too, though there are now only four "physical" virtual drawbars available at a time instead of eight as found on the MONTAGE (there are only four sliders on the MODX).
Synth sounds are plentiful, and given you have both the AWM2 and FM-X engines to use separately or combined, you really have tremendous sonic possibilities. And, the touchscreen interface and advanced graphics certainly makes it easier to program than the original DX-7!
Orchestral sounds are good, and many of the string instruments—including guitars—are quite convincing as the real deal, especially when placed in a mix.

Documentation and Product Support
The MODX comes with a printed manual, and Yamaha's website adds video content and sound clips. Interestingly, at the recent NYC unveiling of the MODX, an additional booklet called "MODX Essential Knowledge" was released, which we were able to get because we were there! This booklet was very helpful in explaining the MODX and how it works. Yamaha should consider shipping it with every MODX if they aren't already!
Price
The 88-key MODX8 (MSRP $2,399) sells for approximately $1,900; the 76-key MODX7 (MSRP $1,899) sells for approximately $1,500, and the 61-key MODX6 (MSRP $1,649) sells for approximately $1,300.
Considering the power under the hood, these synths are priced extremely well. Given the huge pallet of sonic possibilities, these easily belong on your short list if you're looking to add some modern Yamaha sounds to your rig.
Contact Information
Yamaha
www.Yamaha.com