Burnsville, MN—Electro-Voice is pleased to announce the launch of the RE3: a new UHF wireless microphone system engineered for best-in-class sound quality, wireless flexibility and overall ease of use in alignment with the latest RF regulations. The RE3's user-friendly, state-of-the-art technology and roadworthy construction extend the rock-solid reputation of its predecessor the RE2.
RE3 receivers and transmitters are available in 10 pre-packaged sets, configured to cover a wide range of performance and presentation applications. Sets contain one 1/2-rack-space diversity receiver with antennas, universal power supply, rack mount kit, transmitter, batteries, and an input device.
Additionally, the RE3 portfolio contains a comprehensive assortment of accessories to aid in the creation of large, multi-channel systems. The RE3's UHF design with clear frequency scanning makes multi-system wireless operation fast and simple.
The RE3 handheld combines robust aluminum build quality with a sleek profile. Five handheld system sets are available with a choice of interchangeable mic capsules: ND76, ND86, ND96 (dynamic) and the new RE420 and RE520 (condenser). These capsules can be purchased separately.
The compact RE3 bodypack features cast magnesium construction for maximum durability. Five bodypack system sets are available for instrument and lavalier/headworn microphone applications: OL3, CL3 (lavalier), HW3 (headworn), GC3 (instrument cable) and one bodypack-only system.
All RE3 transmitters offer excellent battery life and run on regular alkaline or rechargeable AA cells.
The RE3 operates on three bandwidths for the North American market, chosen to minimize the complexities of today's challenging RF environments. These include two 36 MHz-wide bands in the low and high 500 MHz spectrum, as well as one strategically chosen to operate within the 600 MHz duplex gap which the FCC has dedicated for wireless microphone use. Additional bands are also available for use in Europe and Asia, in the 600 MHz and 800 MHz ranges.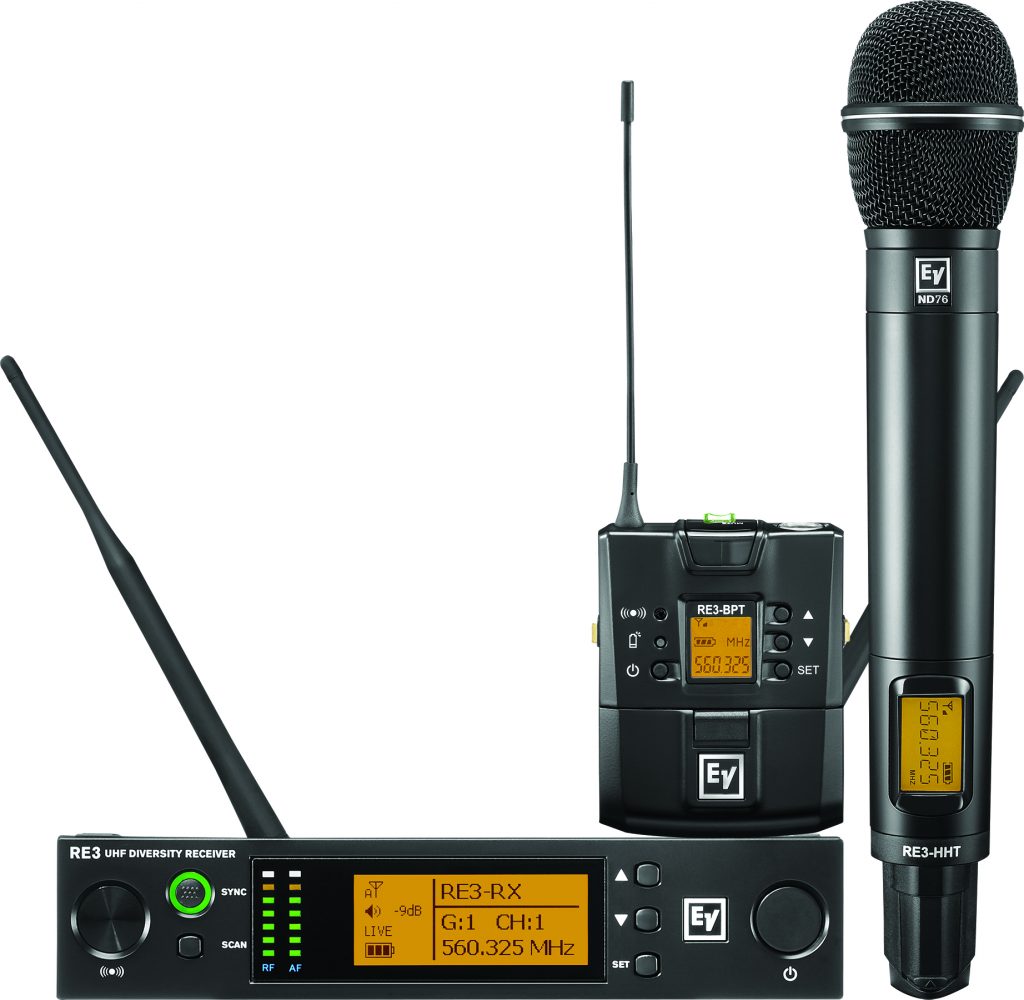 Key features:
36 MHz tuning bandwidths (most bands) / 1440 selectable frequencies
Eight groups with up to 22 frequency-coordinated channels in a group
Electro-Voice ND and RE series capsules on handheld transmitters, for superior sound quality
Selectable low/high transmitter output power -- 10 mW and 50 mW in most bandwidths (10 mW only in EU-specific band)
Rechargeable transmitters and battery charging station (optional accessory)
Available March 2019.