Saint Gely, France, 24th of January: Two notes Audio Engineering has announced the upcoming release of the Torpedo C.A.B. M, its new compact and smart speaker-simulation pedal.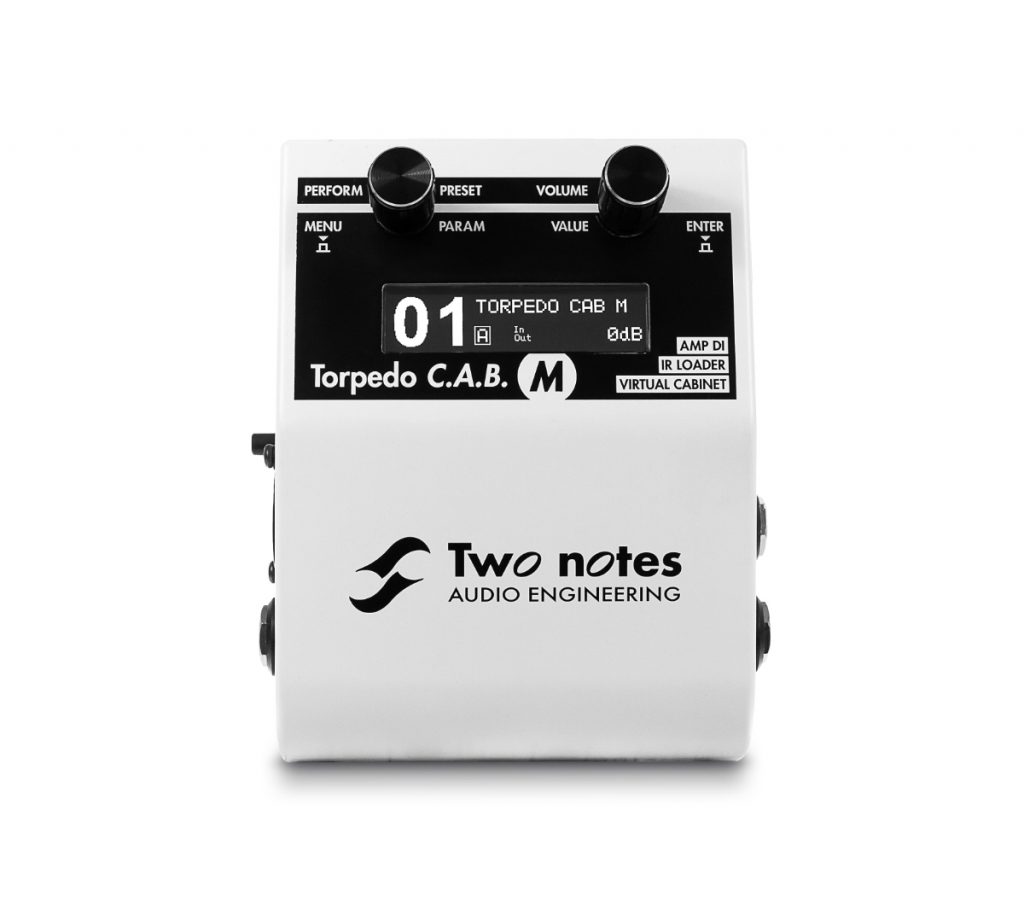 This standalone pedal is the first speaker-simulation stompbox that is wirelessly controllable, offers dual miking for any virtual cabinet, has expandable storage space through the memory card reader and reads high-resolution Impulse Responses. Its input gain structure allows it to be used after pedalboards or the power-amp section of a guitar or bass amp.
"It is the missing link between the guitarist's rig and a PA or an audio interface", says Guillaume Pille, CEO and founder of Two notes Audio Engineering.
"The C.A.B. M can sit at the end of the pedalboard as well as between the amp and the cabinet to capture the player's tone when practicing, gigging or recording. It is the reinvention of our acclaimed C.A.B., which was the first ever dedicated IR loader in a stompbox format."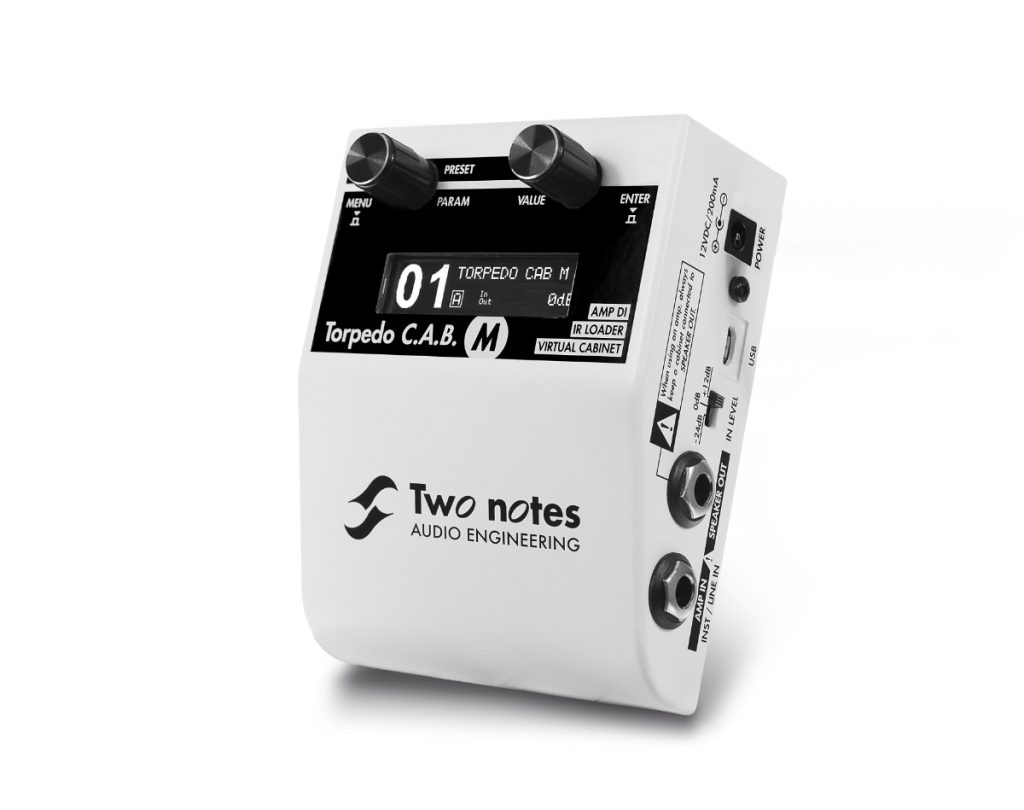 After 10 years of research,Two notes have grown experts in simulating the art of miking a guitar cabinet and with the C.A.B. M, the user has the same possibilities as a high-end studio:
- the use of two microphones for each virtual cabinet, with total control on the position of the microphones at the front or the back of the cabinet.
- a custom 5 band semi-parametric equalizer with an adjustable low cut or 6 fixed bands of equalization for guitar or bass.
- 8 quality rooms to choose from to set the rig in an ambient space ready for mixing.
The pedal is fully controllable through the onboard screen or via the Remote Application that can be used with a mobile device or a desktop computer. The wireless control of the pedal opens new horizons for sound engineers who can control the pedal present on stage while in front of the PA.
The C.A.B. M has the ability to load high-resolution IRs of up to 200 ms, providing extra detail while maintaining low latency.
It boasts a memory card that allows the player to expands the storage capacities of the pedal. With the headphones output, the player can quickly and easily practice silently everywhere while using his pedalboard.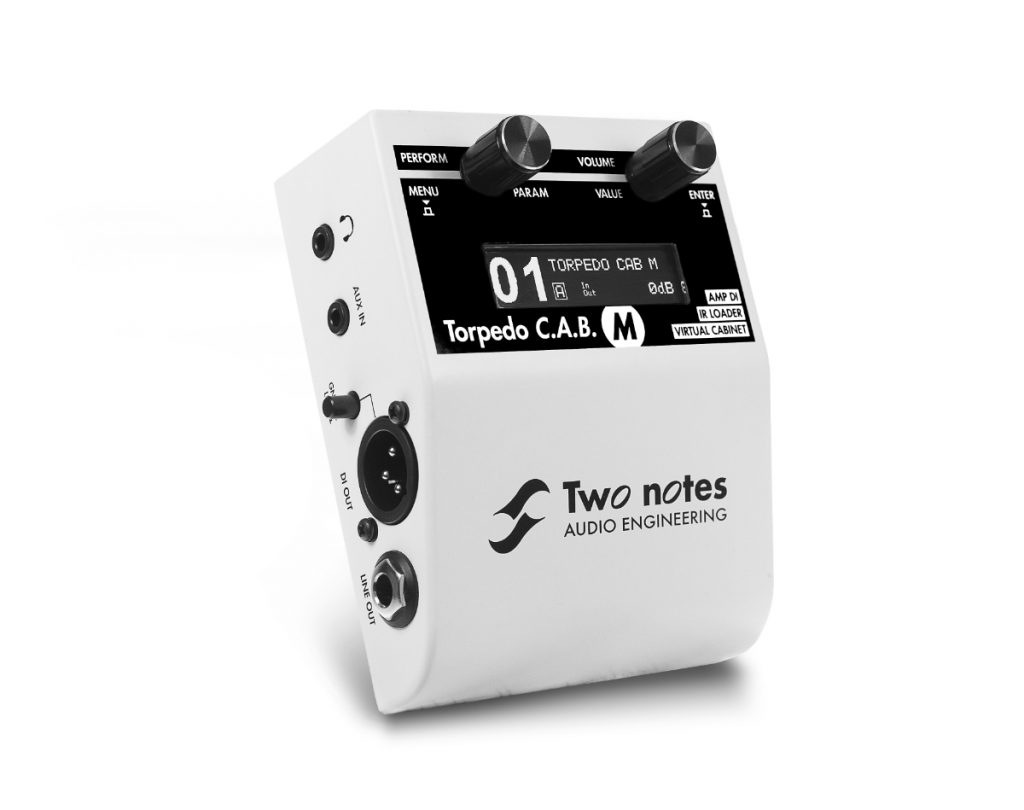 "When it comes to direct sound, the musician cannot compromise on the most important stage of his signal chain" concludes Guillaume Pille.
Torpedo C.A.B. M is expected to ship in February and will retail at 299$ - 299€ inc. VAT - 249€ ex VAT