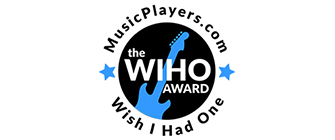 Category

Value

Rating

Features

20%

Usability

25%

Sound

25%

Documentation & Support

10%

Price

20%

OVERALL RATING = 3.8 Stars,
which earns it a WIHO award!
3.6 stars or better: Outstanding, WIHO Award
3 stars or better: Worth considering
2 stars or better: Suited to specific needs
1 star or less: Not recommended
Legendary RUSH bassist, Geddy Lee, has been bringing Tech 21 gear with him on the road for the last 15 years. He finally collaborated with the brilliant engineers at Tech 21 on something custom, and together they developed a signature preamp, the GED-2112. This innovative, dual-mono preamp goes places the classic SansAmp hasn't been, and in the right rig, this thing rocks.
We need to immediately point out that to utilize the two, all-analog, SansAmp preamp circuits in the GED-2112, your bass rig requires two outputs, either courtesy of a stereo power amp or two channels on a mixing board. One output from the GED-2112 is DRIVE (your dirty sound) and the other output is DEEP (clean and low), which can then be mixed together at the output or kept separate in a wet/dry type of configuration. The dual preamps and multiple output variations provide endless combinations to craft your ideal, layered bass tone.
This is a professional piece of equipment designed for use by touring bass players, recording studios, or in an IEM scenario where there are no amplifiers on the stage. The GED-2112 is an outstanding product both in terms of sound and functionality. Is there room for it at the heart of your rig? Let's find out!

Features
The 1U rack mountable GED-2112 is very straightforward looking, built with a tough metal housing. The Drive control adjusts the overall amount of gain in overdrive. There are Bass, Mid, and Treble level controls, and the Mid Shift is a parametric EQ control, with a sweep ranging from 170Hz to 3.0kHz. The Blend control blends the Bass signal with the GED-2112 circuitry. For most of our applications, it was set at a maximum (100% SansAmp). With Blend set to a minimum, the Bass, Mid Shift, Mid and Treble level controls remain active; this is where your clean bass sounds live. The Level 1 control adjusts the output of the drive section.
Located between the Drive and Deep Section is an unlabeled Mute function switch with LED status indicator. A quarter-inch input jack on the face may be used in place of the secondary, rear-panel input jack (Input A and Input B), selectable via an input selector switch on the front panel.
The Deep Section is a second (parallel) pre-amp that is independent, with its own individual Saturation and Level controls. The EQ curve is preset to Geddy Lee's personal settings, which we think is pretty cool. Saturation adjusts the overall amount of overdrive gain, while the Level 2 control adjusts the output level of the Deep section.
The back of this unit is where all the really cool things happen, and fans of sophisticated rigs will find it just as exciting as the front panel. There are two inputs for two basses and an input level selector switch with a -20 dB pad for active basses, making it easier to use multiple basses during a live gig.
There is a clever effects Loop: between the Send and Return is a Mix 50/50 switch that, when engaged, sends 50% of the GED-2112 signal to the effects loop and the other half of the signal directly to a SansAmp output. There are actually two sets of SansAmp outputs: (2) XLR and (2) quarter-inch jacks, with separate outputs for the Drive and Deep preamps. There is a quarter-inch, dry output, too, as well as a dedicated tuner output.
Usability
The GED-2112 may seem a bit intimidating to players used to simple amp heads or combos at first glance of the rear panel, but it's actually a very straightforward preamp to work with provided that you have: a channel for each output, a stereo power amp to accommodate the two individual outputs, or a mixer.
We were up and running in just a few minutes with our first live rig test setup: our bass into the front input, the Drive, unbalanced, quarter-inch output to the right input of a stereo ENGL E850/100 power amp, the Deep, unbalanced, quarter-inch output to the left input. The right (Drive) output of the stereo power amp went into a Mesa/Boogie 4x10 and the left (Deep) output went to a Mesa/Boogie 1x15. It was easy to balance levels across both channels and dial in seriously great bass tones. Our Eventide H9 chorus sounded incredible when placed in the effects loop.
Be aware that in a live or recording setting, if you adjust the levels on the preamp you are also adjusting the levels for the FOH or recording engineer. So once you get your sound dialed in, adjust volume from your power amp or your in-ears monitor mix.
The effects loop worked satisfactorily.
Sound
We played a ton of different basses while testing out the GED-2112 including a Yamaha BBNE2 Nathan East Signature 5-string Bass with active pre-amp, a NS Design Wav5, Music Man Stingray 5-string, Fender Precision and Jazz basses, and a classic Geddy Favorite, the Steinberger XL24. The bass rigs we tested the GED-2112 through included using a stereo ENGL E850/100 power amp with Mesa/Boogie cabinets: 4x10 (drive) and 2x12 (deep), and a 1x15 (both drive and deep, in a different configuration).
We also tested it with a full-range, bi-amped PA system (plus powered subs) that utilized a Behringer X32 digital mixing board, as well as using nothing but our Westone UM PRO50 Monitor Earphones. At a rehearsal studio, we had two Eden DC210XLT 2x10 Metro Bass Combo amps side by side. We used numerous pickup configurations with all the basses, countless EQ settings, both in the studio and on live gigs. We paired the GED-2112 with a bunch of effects pedals, too. Basically, we threw every conceivable scenario at this thing, and came away happy every time.
This is how we obtained Geddy Lee's signature sound with the GED-2112: We used the setting suggested in the documentation provided with the unit, "Geddy Lee, Standard." This was our starting point. We needed a little more treble in our acoustic space, and our levels were different. We used a Fender Jazz Bass with Rotosound RS66LD Wing Bass round-wound strings. We had the volume on the bridge pickup all the way up, and the volume on the neck pickup at around 2. The neck was set up so the action was as low as the bass would allow us.
To reproduce the Geddy Lee sound one should not only learn his bass lines accurately, but dig really deep into the strings. Geddy Lee's right-hand technique is the key to authentically reproducing his bass tone. Geddy's bottom end sound is controlled with a heavy tone that is thick and throaty. The trebley, expressive tone has a little distortion to give it definition, great separation, and an exaggerated top end.
The GED-2112 would be very useful to a studio engineer, studio bass player, or as part of a pro-level touring rig. In the studio, this unit is a no-brainer for an engineer and bass player to get a great bass sound because it utilizes two separate tracks in a session without any kind of fuss. The multiple outputs provide more options in the mix, and because this is an old-school rack unit with knobs, it's easy to control and dial in the bass tone.
We tested the SansAmp in a recording studio, live with in-ear monitors (no amplifier), and in a rehearsal studio with the bass rig described above.
When used as a tool in the studio, the "bi-sonic bass" tone not only had musical detail, but the high-end offered a balanced harmonic detail that resulted in fantastic sounding bass tracks that were crisp and beautiful. Our engineer loved how easy the set-up was for the studio, and the precise mid-shift parametric EQ control let him dial in his desired bass sound from the start.
In the live setting, we used a Sennheiser EK300 In-ear Monitor with no amplifier or speakers on-stage. Fortunately, there were enough channels free in this FOH mixer to use the monitor. The bass sound was equally fantastic, and our sound tech loved the control he had over the band's live bass mix. We loved not having to carry our heavy bass rig.
One of the limitations of a distorted bass sound is the lack of a full, low end, which never happens in the case of the GED-2112 because the deep section is an independent and parallel channel. Some other preamps have addressed this scenario with a blend adjustment to achieve parallel tones, but that approach still can't be as good as independent parallel channels. It's an easier setup for the average player, but if you're after a truly epic bass sound, this is the way to go.
Documentation and Product Support
The GED-2112 Owner's Manual details the features, functions and setups available. It has a brief history intro and provides a quick initial setup guide to get started right away. Each of the functions and features were explained in straightforward text with illustrations.
Price
The Tech 21 GED-2112 Geddy Lee Signature SansAmp (MSRP $ $495) sells for approximately $370 street. At this price point, it is a fantastic value, given that it is easily one of the best sounding and highly functional bass preamps on the market. The GED-2112 has the potential to improve every aspect of gigging and recording for you. And as a studio tool, it's something engineers will love to have available at every session.
Contact Information
Tech 21
www.tech21nyc.com
Sidebar: Evaluation Short-List
SansAmp RBI or VT Bass Rackmount Preamp—If you have two of them.