Multi-award winning music software & hardware developer Arturia have released CZ V, a recreation of the 80s phase distortion instrument that brought affordable synthesis to a whole new generation.
The original instrument was a mini revolution. Created to directly rival the ultra-popular Yamaha DX-7, Casio's low-cost CZ range gave upcoming musicians the chance to use cutting edge digital sounds for the first time. While limited by the technology at the time, and confined by its hardware, the CZ-101 and CZ-1000 sound was loved by even big-name acts like Salt-N-Pepa, Madonna, Vince Clarke, and Van Halen.
Reborn for the modern musician, Arturia's software reimagining perfectly captures the sound of the Casio, by carefully mapping, analyzing, and modelling its sound using their exclusive TAE ® technology, they have recreated every aspect of the synth engine. Not only that, they have updated its abilities to include exciting new features that would have been impossible to achieve on the original.
PHASE DISTORTION CULT CLASSIC
Easier to program: CZ V ditches the fiddly programming of the original synth in favor of clear, intuitive controls and easy to follow visual feedback.
Custom PD editor: Go beyond the 8 original modulation waveforms. CZ V lets you merge and morph your own waveforms with a phase distortion editor.
Advanced envelope control: Choose from the original envelopes, DADSRs or multi-segment MSEG functions, which can be sync'd and assigned as you like.
Advanced modulation matrix: Choose up to 16 custom modulation routings. Connect any component output or MIDI CC controller to target any synth parameter you can think of.
New modulation sources: 2 new LFOs and a sample/hold section can modulate just about anything on CZ V. Sync to your host tempo, trigger at triplets and dotted values, and free cycling.
Intuitive controls: 4 easy-assign, quick access macro controls, integrated arpeggiator, and dedicated controls for all functions make CZ V a dream to use and perform.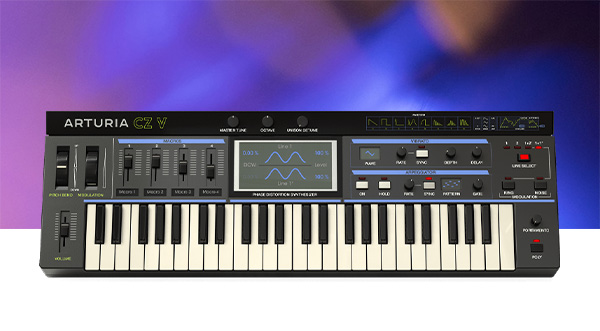 CZ V is one of 3 new stunning vintage instrument recreations that are included in V Collection 7- Arturia's groundbreaking retro synth and keyboard package. Containing 24 instruments, each modelled after a keyboard that changed the face of music as we know it. Within V Collection, you'll find meticulously modeled analog synths, digital powerhouses, incredible performance keyboards, acoustic and electric pianos, organs, a string machine, and even a sampler and tape-replay keyboard.
Breathing life back into the most iconic keyboard instruments of all time, V Collection is the ultimate creativity launchpad, and an essential studio tool for the modern music producer.


LAUNCH OFFER
To celebrate its release, and only for a limited time, CZ V will be available for an incredible price.
Intro offer from $99/99€, ends June 10th.
Street price $199/199€