ALESIS® ENERGIZES THE WORLD OF ELECTRONIC DRUMMING WITH STRIKE AMP 12 POWERED DRUM AMPLIFIER
2000-watt electronic drum amplifier has powerful 12-inch woofer and horn-loaded tweeter for amazing clarity and punch, plus all the inputs and controls required by the most demanding musician.
Cumberland, RI USA (July 9, 2019)—Alesis (alesis.com), the world's leading manufacturer of electronic instruments and components for today's musicians, today announced their new Strike Amp 12 powered drum amplifier for use with electronic drum kits. Alesis developed this high-performance drum amplifier because they recognized the need for drummers playing electronic kits to be able to amplify their sound with power and clarity in order to satisfy the sound requirements of any performance or practice scenario.
First and foremost, the Strike Amp 12 delivers great sound, fully in keeping with the Alesis Strike Series drum tradition. Its 2-way design—a specially-voiced, long-excursion 12-inch woofer and a 1- inch high-frequency compression driver in a computer-optimized waveguide—accurately reproduces the kit's sound with all the clarity and lifelike detail that any drummer would need. But the value and attraction of the Strike Amp 12 doesn't end there. It has all the hookup versatility needed to meet virtually any use-case scenario, such as (2) XLR/TRS 1⁄4-inch combo inputs with independent volume controls and a special EQ switch to tailor the sound to the drummer's exact needs.
The thoughtful touches continue with the XLR output that enables the signal to be sent to another Strike Amp 12 for double the output and a lightweight, angled cabinet that can be used in either vertical upright or horizontal tilt-back position. The Strike Amp 12 can even be pole-mounted with its threaded inserts. Regardless of the usage situation, Strike Amp 12 will fit, no problem.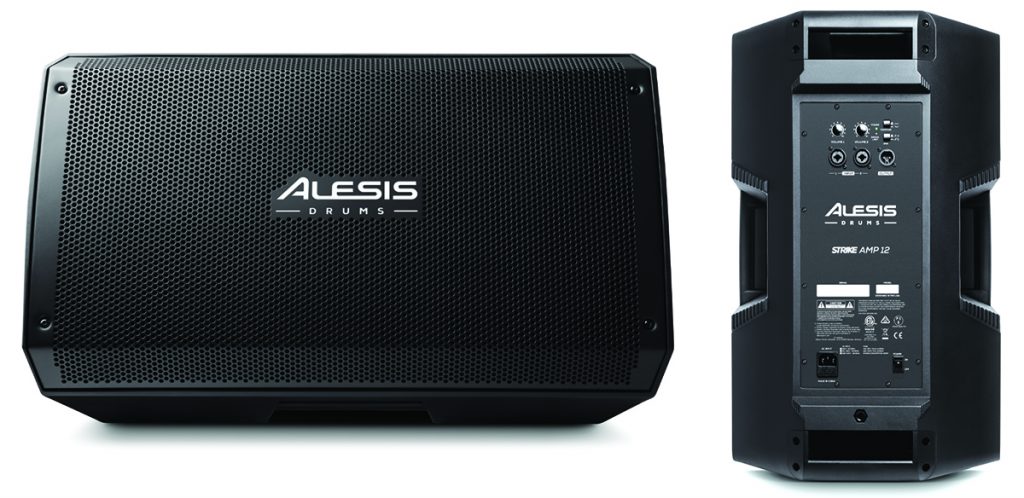 Features:
• 2000 watts of peak power delivers clarity, punch and more than enough headroom for any
performance or practice space
• Specially-voiced 12-inch woofer and high frequency compression driver deliver your drum
sounds with precise, full response across the entire frequency range without any artificial
coloration
• (2) XLR/TRS 1/4-inch combo inputs with independent volume controls and clip indicator
• XLR output to link another Strike Amp 12 or send your performance to another input device
• Lightweight and flexible tilt-back cabinet design that can also be pole-mounted
• Contour EQ switch to control your sound
• Ground-Lift switch eliminates unwanted noise
"The Alesis Strike Amp 12 gives any drummer playing an electronic kit all the power and clarity they need to project their sound out to even the largest audiences," said John Emrich, Director of Drum Development for Alesis. "With a full complement of inputs and outputs plus the mounting versatility to fit anywhere, the Strike Amp 12 is going to quickly become an indispensable part of every drummer's toolkit!"
The Alesis Strike Amp 12 will be available Summer 2019. U.S. pricing is $299.00.